Find Reviews for a Haunt near You! Find Reviews for a Haunt near You!
Find Reviews for a Haunt near You!
Haunted Hills Estate
236 Rolling Hills Estate Road, Uniontown, PA 15401View All Details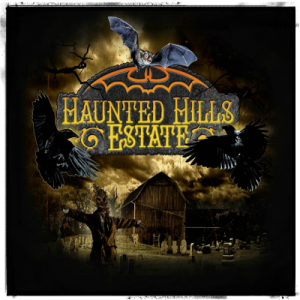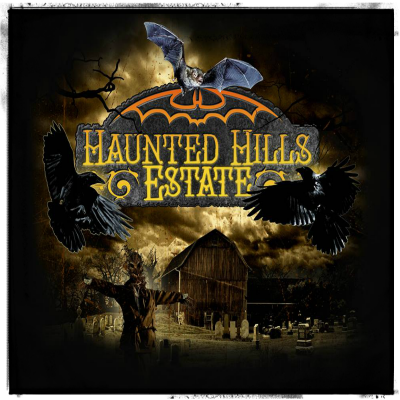 Features:
Free Parking, Food/Concessions, Special Events, "Old-School" (Low Tech), You may be touched, Original Characters, Uncovered Outdoor Waiting Line, Indoor/Outdoor Attraction
Team Scary Potter and the Hauntwarts Express reviewed this attraction on September 26, 2015.
Final Score:

8.37
Summary:
Looking for a unique haunted attraction this Halloween season? Haunted Hills Estate may be exactly what you're looking for. Located in Uniontown, Pennsylvania, Haunted Hills has been testing eager haunt-goer's skills and wits for over a decade with its Challenge Trail. If you are feeling brave enough, you and a group of friends will pass through the hour-long trail, dodging monsters at every turn, engaging in tests of dexterity, marksmanship, and problem-solving. While learning more about the mystery of the sudden reanimation of corpses on the property, you will engage in eight specific challenges, receiving a pass or fail grade for each, competing to prove that you are the most proficient zombie survival expert and also cunning enough to survive the path itself, a feat that very few have proven capable of. This is a haunted experience unlike anything else that you will encounter – a truly interactive challenge. Also available are a separate haunted attraction, Legends, and an escape room, Slaughterhouse Escape.
*The main numerical score for each category is that which has been attributed to THE CHALLENGE TRAIL, as this is the main attraction. Individual scores for the other two attractions will be provided as well.*
---
Cast:

8.57
The Night that we visited the Estate, Legends had approximately 20-25 actors, Slaughterhouse had perhaps 15, and the Challenge Trail had around 30 (plus the challenge guides). As the primary "scarehouse" of the bunch, Legends really felt like it needed a bigger staff. Large sections of the attraction were completely unmanned, leaving many extended dead zones in the scaring. The quality of acting was tolerable, with the Evil Priest being a standout. The Medium, Crimson Crow, was actually the best of the bunch, very believable, with a legitimately creepy delivery. (There is a strong Christian sentimentality associated with her performance which could potentially bother, well, both people of that faith or NOT of that faith) Slaughterhouse's main actors were quite good – the line-guard, Tick Tock was our favorite, and we wished she'd played a larger role in the actual attraction, but Piggy and the actress in charge of the first room were capable and skilled as well. The Challenge Trail's zombies really took us by surprise: excellent placement, great adherence to character, and convincing interactions. We were truly impressed. Some of the trail guides were a little shaky with their characters, but not enough to worry about, and as a whole, we found them to be helpful and fair with their challenges. Mr. Flamethrower's improvisational abilities were particularly challenged by members of our group and he responded professionally.
Challenge Trail: 8.27
Slaughterhouse: 7.91
Legends: 4.62
---
Costuming:

7.75
The Slaughterhouse had good costuming; Tick Tock and her associates were all appropriately outfitted, blood and sinew in spades. We found no fault in the believability of their make-up. Legends was a little rougher, somewhat threadbare in terms of haunted outfitting. The set-piece actors: the priest and medium, were adequately-adorned but the rest of the cast were hit-or-miss, ranging from passable to underwhelming; likewise in the makeup department. The Trail fared better. Truthfully, it's not difficult to create a convincing zombie, and the majority of the trail's ambient scarers were so-characterized, but the guides were also more-than-adequate. We particularly enjoyed the first guide and his wonderful mask, Mr. Flamethrower, and zombie-on-a-rope girl.
Challenge Trail: 7.75
Slaughterhouse: 8.13
Legends: 5.22
---
Customer Service:

7.51
There is a large sign at the edge of the parking lot that would be pretty difficult to miss, and it's a logical self-guided trip to the ticket booth after that. The staff were helpful, offering an explanation of the different available ticketing options, as well as providing concessions. There are two available restrooms on site and even a free bonfire if the cold, autumn wind's become a bit too chilly. There were two different actors entertaining the customers waiting in line. Speaking of the line: we were/are perplexed. There were, at most, 200 customers at the estate the night that we visited. That is a low number for a mid-sized haunt. Between the three attractions, we waited in line for approximately three hours. The line for Legends was especially slow – around an hour and a half for the forty people in front of us to go through. That is easily the slowest-moving haunt line that I have ever experienced by a great margin. The Challenge Trail is unique in its design and requires a good bit of time for each group to go through, so it makes sense; similarly the Slaughterhouse, as they are funneling groups through only 1 escape room. However, Legends is a standard walk-through attraction – it's unconceivable that there should be such a wait to enter on a slow business night. Overall, we spent nearly 5 hours getting through the attractions.
Challenge Trail: 7.51
Slaughterhouse: 7.51
Legends: 3.48
---
Atmosphere:

8.82
Haunted Hills exists on a large plot of land in the middle of out-of-the-way farm country. After purchasing your ticket, you enter a basic hub-area which has the lines for the three attractions. In the center of it all, a bonfire burns invitingly amidst the backdrop of the shriek of a distant chainsaw. Environmentally, Haunted Hills gets it right. The lead-up to the trail includes a long stretch down a sloping hillside. It's hard to explain, but the atmosphere as you're approaching the heart of the Challenge Trail really clicks, making you feel like you're truly embarking on some foreboding quest into the heart of a diseased forest.
---
Special Effects:

8.39
Legends stayed low-tech with its props and was most effective when creating an interactive environment within its scenes (the chapel, the medium experience). When left as eye-candy to appease you between the limited actor-scares, some elements didn't hold up well to scrutiny, appearing to be on the cheap and artificial-looking side. We did enjoy being forced to crawl at one point – those sorts of environmental challenges are always appreciated.
The Slaughterhouse was interesting. Set design was intricate-enough for the attraction's intended aim. We found that the actual escape room was quite dimly lit, perhaps too much so for the amount of puzzles and the VERY limited amount of time we were given to solve them (5 minutes). The loud music didn't help the situation. The chainsaw signaling our failure at the end of the countdown was the loudest that I have ever heard at a haunted attraction.
The Challenge Trail was well-done this year. There weren't any completely forgettable challenges, and we encountered several that we really enjoyed. The obstacle hunt challenge was designed very well, with a nice little surprise embedded that sent several members of our group fleeing and refusing to finish the challenge. In fact, most of the challenges were designed well, giving the "player" a fair chance of success, and being varied enough to stay interesting. The set for each challenge was certainly adequate to present the proper feel for the environment in which we found ourselves.
Challenge Trail: 8.39
Slaughterhouse: 7.82
Legends: 4.10
---
Theme:

7.64
Upon Entering Legends, you begin by interacting with a medium, a psychic. During your several minute interview with her, she establishes a chilling atmosphere, a foreboding warning about a demon that is waiting for you deeper in the attraction, and provides you with a magical dust that will ward this demon off for several seconds to allow you to escape. Several members of your group are specified to cast their dust in precise locations based upon their answers to the medium's questions. The entire interaction is very effective and leaves you gleefully anticipatory of what is about to come. Dust in hand, you are sent forth, anxious and dreadful. And then… nothing. Several minutes later we found ourselves staring at the bonfire in the main hub of Haunted Hills, asking each other "That's it? But what about…?" Apparently the entire build-up with the medium was an empty rouse, and every bit of potency it held toward establishing a compelling narrative was equally mirrored by the incredible disappointment that we felt at its unfulfillment. Almost nothing that we encountered in the attraction-proper had any resemblance to the storyline with which we'd been endowed. It was mostly a random collection of props and actors.
Meanwhile, the Slaughterhouse escape room was a better thematic experience. While we had definite issues with the implementation of aspects of the attraction, its theme was maintained fairly well. Even many of the puzzles in the actual escape room section were butcher-related. Its characters clearly belonged in that environment.
Most surprising this year was the creation and development of a legitimate theme for the trail itself, even including a finale-visit with the frequently-referenced antagonist. All of the challenges related to the over-arching theme and storyline and even followed a logical progression towards something of a conclusion.
Challenge Trail: 8.23
Slaughterhouse: 6.88
Legends: 3.85
---
Fright Effect:

8.85
For the sake of fairness, Haunted Hills's Fear Effect really needs to be considered "Fun Effect", as two of the attractions aren't directly geared toward scaring primarily. The one that IS, though, Legends, is certainly the weakest of the three. As mentioned above, it begins with a great deal of promise, but doesn't maintain the momentum that it fills you with out of the gate. There were one or two decent startles, but the scariest aspect throughout most of the house is definitely the residual foreboding that Crimson Crow instilled in us from the beginning. The handful of startle-scare attempts were mostly predictable and at times confusing. At one point, we passed through a small room. Leading, I saw a man with a chainsaw to the side and walked past him, assuming that he would be leaping toward the middle section of our group. Instead, he waited until we had all gone by him and THEN decided to begin trying to scare us, which really only served to cause a few head scratches. That is a representation of Legends: just a little bit off.
The Slaughterhouse escape room is an interesting creature. We felt that, as a first year escape room, it still needed a lot of tweaking – the early challenges were a little nonsensical, underdeveloped, and not explained very well. It also wasn't clear whether success or failure with these really mattered. The actual escape room really did have promise, with puzzles that seemed original and compelling, and a well-designed environment in which to work. However, there just wasn't enough time to really do more than scratch the surface (literally and figuratively). It is promoted that you will have ten minutes to solve this puzzle, but, for reasons unknown, we were only given five. It would seem logical that something we had done (or more likely failed to do) earlier in the attraction had caused this penalty, but it was never explained to us, and, frankly, left us feeling cheated. Additionally, with such little lighting and loud, blaring music ever-present, it really did feel like an impossible task on a single attempt. Ironically, some of the factors that hurt our enjoyment of the escape room also enhanced its fright effect: the oppressive nature of the escape room really enhanced the feeling of dread as we futily undertook our assignment. With a little more time to have undergone our task, the two aspects of the Slaughterhouse could have probably synergized into a really unique and enjoyable experience.
Fortunately, Haunted Hills did succeed with its third and longest attraction. The fear plus fun unity that was lacking in Slaughterhouse was properly aligned on the Challenge Trail. Most of the challenges were interesting and well-designed, and they were all fun. Traversing the path from challenge to challenge proved harrowing, though, with streams of hidden zombies appearing from every direction. Even the challenges themselves, this year more than ever, were integrated with various well-placed frights. This marriage of typical haunted experience and interactive competition created a very unique attraction, and is definitely the heart of Haunted Hills Estate.
Challenge Trail: 8.85
Slaughterhouse: 6.18
Legends: 4.74
---
Value:

9.46
The Challenge Trail required well over an hour to complete; we were in the Slaughterhouse for about 15 minutes and in Legends for around 20. The Challenge Trail is 15 (14 on Sundays) dollars alone. This is a fantastic deal at less than 2 dollars per challenge, not including all of the scares and startles that you experience between challenges. We really felt that the trail was well put together this year; it had an interesting, coherent theme and plot that it maintained throughout its duration. The challenges were varied and the guides at these challenges were clever and engaging. Even the "downtime" between challenges was kept exciting and eventful with good usage of additional actors and jump scares. Overall, the trail is a lot of fun, and we recommend it.
Legends and the Slaughterhouse are both lacking this year. Slaughterhouse has some interesting elements going for it, but it just felt like it needed a lot more polish to really be an effective attraction. Legends was pretty rough, honestly, but did retain a few of its interesting aspects from past years. Also, as previously mentioned, all things considered, the psychic scene is quite intriguing. Adding these haunts to your Challenge Trail ticket will cost 8 dollars on Sundays or 10 dollars otherwise.
Challenge Trail: 9.46
Slaughterhouse: 4.21
Legends: 4.87
---
Promo Images:
Click to Enlarge
Guest ReviewsGuest Average: 10 out of 10
John – 10/10These guys know how to have fun loved the Twisted Nightmare and the Challenge Trail. This is must do …show more again can't wait for when they open again!!