Find Reviews for a Haunt near You! Find Reviews for a Haunt near You!
Find Reviews for a Haunt near You!
Fallsburg Fearplex
5877 KY-3, Louisa, KY 41230View All Details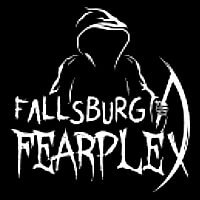 Features:
Paid Parking, Restrooms On-Site, Food/Concessions, Gift Shop/Souvenirs, Special Events, You will NOT be touched, Original Characters, Uncovered Outdoor Waiting Line, Indoor/Outdoor Attraction
Team Zombillies reviewed this attraction on September 26, 2015.
Final Score:

8.56
Summary:
Fallsburg was established in 1987 as just "Fallsburg Haunted House." Over the years, they've evolved into 60 acres of land that offers 6 haunted attractions and is now known as The Fallsburg Fearplex! Their 6 haunts offer quite a variety of scares to quench most haunt-goers' needs while intertwining two themes that go back to the property/town's history. Their signature attraction, Fallsburg Haunted House takes you on a tour through a classically-creepy residence that clearly stood out as their most intense attraction! The Corn Maze, Crazy Creek and Appalachian Nightmare: 3D are more centralized around Fallsburg's "Old Man Clearwater" theme whose "tainted" 'shine has corrupted these hellish hillbillies into the horrendous hill-jacks they are today. If you've never experienced a hillbilly-/moonshine-themed 3D attraction, then you won't want to miss the latter! Backwoods Blackout is just that: a blackout haunt where your sense of vision is albeit stripped away except for the occasional flash… just to keep your night-vision at bay. Will the strobes be enough to help you escape the darkness? Hell's Wagon is an interactive attraction where you get to climb aboard a paintball-marker-lined trailer and "unload on the undead" as they try to prevent you from traversing their territory. For a multi-attraction venue with aptly-themed attractions for their "back-in-the-hills" location, then make sure Fallsburg Fearplex is on your must-see haunted house list this season. What's better? They're open rain or shine!
---
Cast:

8.24
Around 80 paid crew members disperse among Fallsburg's 6 attractions on an average night. The Fallsburg Haunted House had the most actor density given its length, but the other haunts' cast members seemed to be more spread out, which resulted in a few "dead spots" here and there, particularly in the corn maze. Screaming and tyrannical threats were abundant in Fallsburg Haunted House and similar, yet less-intense comments were noted in the 3D attraction. We did notice many of the actors throughout the complex saying things like, "Where you goin'," or "What are you doin' here," which seemed a bit overused after a while and decreased their believability in the end. However, Crazy Creek is where we found the characters with debatably the best dialogue at the Fearplex, including the chain-slinging Mineshaft Murphy and Inbred Iris, who were some of the most memorable as well. It didn't take us long after starting through that haunt before we realized just how tainted "Old Man Clearwater's" 'shine really must have been! Other believable characters included the house's iconic female victim who you may see in some of their pictures and videos, Burnt Benny with his never-ending arm and the crazed female entertaining the waiting line to Crazy Creek who seemed to find it very amusing to hit herself!
Corn: 7.89
Crazy Creek: 9.04
Fallsburg Haunted House: 8.43
Backwoods Blackout: N/A
Appalachian Nightmare: 3D: 7.6
---
Costuming:

9.14
The wardrobe of choice for the corn maze and Crazy Creek seemed to be plaid shirts and jeans, although a few variations were found occasionally. Some burlap masks were noticed as well and did give the characters wearing them an added layer of scariness and detail. Even with that said, each of their costumes did seem to make sense, given their respective scenes and themes. The same can be said for the fellers in the 3D attraction, where we noticed bib overalls and straw hats that equally matched their "colorful" surroundings. Grungy, tattered clothing adorned the monsters in Fallsburg Haunted House, also similar to their old, abandoned, "haunted house" surroundings. This, when combined with their nightmare-inducing masks, helped them complete their dark, evil and sinister demeanors. 5 makeup artists and 5 helpers are stationed in 3 different places at Fallsburg that do a fantastic job at getting all 6 of the attractions' crew ready! We noticed wounds and a lot of grunginess that also helped make these characters more believable! The detail levels for both makeup and costuming ranged from basic to well-detailed throughout the Fearplex.
Corn: 8.83
Crazy Creek: 9.39
Fallsburg Haunted House: 9.1
Backwoods Blackout: N/A
Appalachian Nightmare: 3D: 9.29
---
Customer Service:

8.61
If you use a GPS to find Fallsburg Fearplex like we did, finding where to go can be a bit confusing. Where the destination "flag" was on our screen is actually where Fallsburg Haunted House (the single attraction) is. The trucks and trailers that bring customers back to the Blackout or Hell's Wagon attractions were there too, so we thought, "This must be the place!" We were slightly mistaken. While our navigation device was technically correct, we hadn't quite gone far enough to reach their normal parking lot. When you get close to "your destination," you'll notice a gas station with a church across the road that'll let you know you're on the right track (besides the Fallsburg trucks). KEEP GOING another ¼-mile or so and you'll see their large pole barn and several signs that clearly mark the entrance to their massive, grass parking lot. Oh yeah, you'll need to pay the attendant $3 to park. It had rained on the night of our visit before we arrived, so some areas of the property were a little "tricky" to navigate. However, Fallsburg's staff had been working diligently to put straw down in these areas to combat the mud and water issues. Since then, they've put down a bunch of lime to help eliminate the issue. You'll have to climb up and down a set of stairs in the Fallsburg Haunted House attraction, but no scares were delivered there and they were well-lit for safety. The only other issue we came across during our tour of Fallsburg was an uneven threshold in the 3D haunt that caught one of our team members off guard, but nothing too major. The folks that operate the Fearplex are as nice as they come and eagerly answered any questions that we had for them! Friendly staff members were found at the entrances of each attraction to keep the lines flowing smoothly and handle any concerns that may arise during your experience. Keep in mind that a few of these haunts do wind through Mother Nature at her best, so wear appropriate clothing and footwear.
---
Atmosphere:

8.98
As our winding journey through the hills of Kentucky neared its end, we started noticing the Fallsburg trucks with people-packed trailers, the original, creepy, 100-year-old House and the corn field with trails cut through it. Our anticipation continued to grow after we'd parked and approached the ticket booth when we started hearing the loud, ominous music blaring from the corn field as if to say, "Enter if you dare!" While this music wasn't very noticeable at first, it became increasingly louder, as did their customers' screams, when we started down the entrance trail to the corn field. As we waited to enter Crazy Creek, the line entertainers helped prepare us to enter by giving us a sample of why that attraction has the work "crazy" in its name!
---
Special Effects:

8.45
A mixture of items that have been both created in-house and purchased can be found at the Fearplex. First and foremost, we would like to address the impressive 3D artwork that we found in Appalachian Nightmare. It's likely that you haven't seen anything like this before because the artwork showcases backwoods boys and actually depicted the haunt's story as we progressed! Some of the other effects that we came across include ear-drum-splitting blasts, numerous, authentic-looking shacks, haunted bookshelves, occupied body bags, a planked walkway, poppers, a moonshine still and many others! Sound effects were heard throughout all of the attractions (including the truck's radio for paintball) and some of them were among the most fierce we have heard! A few of the sounds even had us wanting to back-step and skedaddle the other way! Exquisite detail was found in the house and in the 3D attraction while authentic huts, vehicles and other appropriate items helped add realism to the scenes in the other haunts. Appropriate lighting effects (or intentional lack thereof) were noticed in each of the attractions, although the strobes tended to be the most effective at the time of our visit.
Corn: 7.75
Crazy Creek: 8.06
Fallsburg Haunted House: 9.11
Backwoods Blackout: 8.89
Appalachian Nightmare: 3D: 8.44
---
Theme:

9.06
The attraction that started it all, Fallsburg Haunted House, takes place in the old Oddfellows Lodge building that has now been standing for over 100 years! The house has gone through various renovations to properly accommodate the haunted house and, during construction for the 2015 haunt season, it was discovered that a serial killer may have been seeking refuge within those very walls! People have been turning up missing, so the townsfolk often wonder if the two are related. Take your own tour of the house where "history repeats itself" and see if you can find any evidence of foul play! Appalachian Nightmare: 3D actually tells the story of "Old Man Clearwater" and "the feds" who chased and investigated him and his moonshine business during the time of prohibition. If you pay attention to everything around you in this one, you'll likely notice some of Old Man Clearwater's clever hiding spots and more as this three dimensional story unfolds before your very eyes! Backwoods Blackout is designed to be "an assault on the senses." You'll have to feel your way through the pitch black darkness if you want to make it out, but will the flashes of light be enough to help you escape? Or will it strip away your night vision, leaving you domed to wander the abyss forever? For an extra price, you can lock and load on Hell's Wagon and "unload on the undead" with one of the many punishing paintball guns that line Fallsburg's customized trailers! Crazy Creek is a creekside shanty town occupied by the ravenous residents that became just as tainted as Old Man Clearwater's 'shine after just one taste test. Not even a full-sized bus could escape their wrath without getting stuck in the mud! The corn maze was taken out of the attraction and brought back this year and, because of this, it doesn't have an official name yet (…coming soon). This attraction also revolves around Old Man Clearwater and his shine-running, so be sure to watch your back; these aren't your average hillbillies!
Corn: 8.5
Crazy Creek: 9.25
Fallsburg Haunted House: 9.05
Backwoods Blackout: N/A
Appalachian Nightmare: 3D: 9.45
---
Fright Effect:

7.76
Each of the attractions at Fallsburg featured fright techniques that were definitely distinct from one another. As soon as we entered the cornfield, our skin began to crawl due to the horrific sound effects that were echoing from within the rows! Just walking along the path was spooky enough and our visit after a fresh rain storm proved to be an advantage to those that were lurking just out of sight. The drenched dirt and soaked stalks made it much harder for us to hear when something came "shooting" out at us, so they were able to catch our entire group off-guard on multiple occasions! During our hike down Crazy Creek, we ran into some very deranged individuals who slammed chains into everything and threatened us the whole way, which made for a rather "uneasy" experience. The Fallsburg Haunted House offered the widest variety of scares to our group including some very good hiding spots, an overall intense atmosphere, intimidating characters and penetrating stares that kept our group on our toes! That is, until we eventually found our way to the exit, which was a small staircase leading down from the second floor on the OUTSIDE of the building. Those that are afraid of heights might have fun with that one! Their Backwoods Blackout attraction got its name for good reason, and that's because it is pitch black in there! The unlucky first person in the group has to feel their way through this thing to get out, and the darkness isn't the only thing waiting for you inside. We don't want to ruin the surprises, so you'll have to find out the exact horrors that we encountered in there for yourself! Appalachian Nightmare: 3D offers something quite different from the rest: a fluorescent hue of disorientation along with a few startles here and there that tells its story all by itself! For the most part, scares were directed towards everyone in our group and not just the front or back of the line. Although we did encounter a few distractions throughout the entire Fearplex, we expected to come across a few more given how big the place is. The cornfield, Crazy Creek and Appalachian Nightmare utilized pop scares for their finales that didn't really seem to stand out from the rest of the scares they delivered, so we were often left wondering if the attraction had even ended. However, The House did have a good double-team scare before we descended the exit stairs, so they took the lead on this aspect. Blackout's exit also ended somewhat abruptly with no scare… except for the darkness and inevitable uncertainty that comes with it.
Corn: 7.08
Crazy Creek: 7.33
Fallsburg Haunted House: 8.54
Backwoods Blackout: 8
Appalachian Nightmare: 3D: 7.33
---
Value:

8.25
General admission is $22.00 per person and grants you access to Appalachian Nightmare: 3D, Backwoods Blackout, Fallsburg Haunted House, Crazy Creek and the cornfield haunt. If you want to skip the long wait in line, Speed Passes can be purchased for $35.00. The Hell's Wagon Paintball attraction is the only one that you can purchase tickets for by themselves (separate from the other 5 haunts) and are $10.00 per person if you decide that slaying zombies is all the fun you can handle in one night. Extra paintballs can also be purchased on the ride. However, if you know you want to take advantage of all 6 attractions that Fallsburg Fearplex has to offer, it'll cost you $30 for general admission and $40 for Speed Passes. It took our group about 29 minutes to make our way through all of the attractions (including the paintball ride, but not the wait times), which puts Fallsburg's value just above our "average" mark at 1.09 minutes of entertainment per dollar spent. Subtracting the paintball time and extra cost, even with the combo discount, actually brings their value to "below average," so we highly recommend treating your trigger finger if you've got time to go through all 6 attractions. Fallsburg's haunts are set up back-to-back in a big loop around their property so, once you start, you can get to each of them seamlessly. Those with paintball-only tickets can board the wagon from just behind the main building. If you're looking for a haunted cornfield, a classic haunted house, some zombie-slaying fun, getting mind-boggled in some 3D illusions or getting lost in absolute darkness with only your hands to guide you out, look no further than Fallsburg Fearplex because this place has ALL of that! Tickets go on sale 30 minutes before dark and they are open rain or shine!
---
Photos from Review Trip:
Click to Enlarge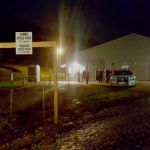 Promo Images:
Click to Enlarge
Guest ReviewsGuest Average: 10 out of 10
Holly Whitt – 10/10We had a preview and will most certainly be back!
Judy – 10/10Fallsburg Fearplex is an amazing place. Wish that it was quicker to get the lines going but overall …show more awesome place.
---
2016 Awards
Best Use of Blood (Given by: Team Zombillies)
Actor Shout Out Award - Female in Trash Can (Given by: Team Zombillies)
Actor Shout Out Award - Guy with the Bear (Given by: Team Zombillies)
---
2015 Awards
Actor Shout Out Award - "Inbred Iris" (Given by: Team Zombillies)
Actor Shout Out Award - "Mineshaft Murphy" (Given by: Team Zombillies)
---