Find Reviews for a Haunt near You! Find Reviews for a Haunt near You!
Find Reviews for a Haunt near You!
USS Nightmare
101 Riverboat row, Newport, KY 41071View All Details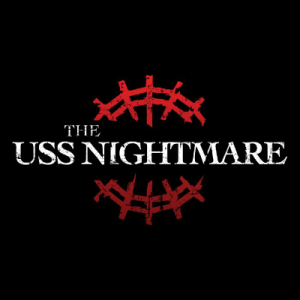 Features:
Free Parking, Restrooms On-Site, Food/Concessions, Gift Shop/Souvenirs, Optional Games/Midway, Special Events, "Hi-Tech" Attraction, Original Characters, Covered Outdoor Waiting Line, All-Indoor Attraction
Team Zombillies reviewed this attraction on October 1, 2015.
Final Score:

9.58
Summary:
"The former dredging vessel with a deep, dark past" and its un-dying (or "un-DEAD") crew continues to incessantly keep this cursed boat afloat! With some new changes and additions for 2015 (USS Nightmare's 23rd season), new and returning customers will likely find frights aboard this 20,000 sq. ft., TRULY-haunted steamboat that serves scares in the Cincinnati scene. As the Captain's First Mate welcomes you aboard, make your way through the cargo hold (if you can escape the precarious encounters within) and up to the second deck. Here, you'll meet Captain Mitchell and his beloved daughter, Anna, along with the rest of the demented "toys" and creatures that inhabit the ship. After descending back to the first level, you'll encounter the crazy conjurers that diligently develop new crew members from the depth of this dark dredge and the mechanics that keep the keel connected. However, there are many twists and turns through the catastrophic carnage that resulted from the USS William S. Mitchell's fateful doom, so be on your toes for whatever else may be lurking in the bilge of this forsaken boat!
---
Cast:

9.64
We aren't sure if the beings we came across were live, dead, or something in between, but most of the 44 actors aboard USS Nightmare definitely had a knack for bringing their story to life. The greeter in the first scene was particularly interactive with our group and made several references to The Captain. He also worked very well with his surroundings to help jump-start the theme for us. The same can be said for nearly all of the characters and monsters throughout the dredge. Each of them remained very much in character, and only a select few had roles that didn't spark some type of verbal interaction with our group. No matter what we said back to them, they were never at a loss for words and seemed to always reinforce the theme in one way or another! For example, several of the crew members in the cargo hold area wanted to put us in their boxes. Even when we said, "[We] won't fit," they offered to chop our arms and legs off so we would! Anna and her dad, Captain Mitchell, were great paired together and worked with each other to make each of their roles more believable as well. We could go on for quite some time listing all of the exceptional encounters experienced at USS, but let's just say that similar interactions were plentiful throughout our tour, so be prepared for anything during your visit! We will say that a few of the most memorable characters were the Night-watchman who just wanted his bottle back, the Housekeeper who definitely could've used some help, and the Doctor who offered to "loosen up" one "up-tight" member of our group!
---
Costuming:

9.77
With a makeup crew of over 20 artists, including several that have worked for movie-makers and been featured on popular TV shows (like Face-Off), nothing short of spectacular is expected from USS Nightmare and, this year, they delivered! Quite a variety of makeup techniques are utilized throughout the dredge. Ranging from fundamental designs, such as with the vampires and clowns, to much more complex compilations, as with the mechanics and many of the workers in the cargo hold area, The Mitchell's makeup artists are highly-skilled to say the least. Generally speaking, most of the costumes seemed to match the areas and characters they were found with, except for a couple that seemed out-of-place at first glance; particularly the wedding dress on the actress in the rat compartment. However, when we asked one of USS' managers about it, he clarified that she was actually "in a crate" with rats in the cargo hold area because that's where Anna put her when she decided she "didn't like" the prospective mother (…which makes sense; she can be VERY hard to please). Very few masks were noticed during our tour of the dredge, but those in use seemed to be of good quality and enhanced the characters wearing them, especially the ones worn by the mechanics near the end of the walk-through. Prosthetics and appliances were actually their "go-to" choices and most of them are actually custom-sculpted and molded in-house! Mix those in with the aforementioned, talented, airbrush artists and some occasional blood here and there and you'll find yourself staring at the undead crew of the USS Nightmare! A few of the most memorable makeup jobs were the Doctor with a razor blade stuck in his face, the scientist with her torso skin missing, another "sparky" scientist with her hair standing straight up, a well-camouflaged ghillie suit, and the territorial tyrants in the mechanic shop.
---
Customer Service:

9.6
After we made our way through the gates to the riverfront, a well-placed sign clarified which way to turn to get to USS Nightmare's free parking lot. The ticket booth has a partially-covered line and the queue line down on the boat is mostly covered as well. Upon boarding the vessel, you can get your group's picture taken in front of a green screen and then pick up copies with multiple backgrounds in the gift shop area after your tour is complete. The Captain and his First Mate were working the queue area while we waited, which helped pass the time during our visit (along with checking out the cool, original winches, gears, cranes and cables)! Because USS Nightmare really is on a floating steamboat on the Ohio River, you will have to traverse a loading ramp when boarding and leaving the ship. There are also several walkways made of grating, some padded head-knockers and a few ramps here and there, so be mindful of these areas and wear appropriate shoes during your tour of the vessel. Despite those areas, USS Nightmare actually does a very good job at minimizing hazards; anything that you'll need to maneuver around is likely intentional and they're even wheelchair-accessible! Friendly USS Nightmare staff members and crew members from "The Mitchell" can be found at the ticket booth, near both ends of the queue area, at the exit of the attraction and in the gift shop area if you require their assistance or have any questions for them.
---
Atmosphere:

9.95
Upon our arrival, we could hear the suspenseful music and warning for those with health conditions that always fills the air on the banks of Newport, KY successfully setting the tone for a haunted steamboat! The overall looks of the nearly-300-foot vessel and the giant, inflatable skull above the upper deck (see pics below) provide further proof that you are, in fact, getting ready to board one of the only steamboats in America that's TRULY haunted… in more ways than one! Seeing the damage imparted to the rear of "The Mitchell" also solidifies their theme (mainly because it's true) and, thus, makes it appropriately believable. For those who are serving their first tour onboard USS Nightmare, a video in the queue area explains the ships history and introduces their "twist" that makes them even more unique! The Captain's First Mate explains the rules that you'll need to follow during your tour of "The Death Dredge" and also helps set the scene for what's to come inside.
---
Special Effects:

9.73
You will run into quite a few different effects within this 288-foot, floating dredge, including things you probably haven't seen before! Some of the effects have been purchased, some were created in-house, and some were even custom-made just for "The Mitchell!" The boat also showcases all of its original/authentic mechanical parts and structure! The sound effects were very noticeable this season and most of them were custom-created specifically for USS Nightmare. We noticed that they seemed to be louder and creepier after the claustrophobic passageway, but scarce in some areas on the first level. We were getting goosebumps just from walking down the dark hallways that are accompanied by some of these sounds! We even knew when we had gotten close to Anna's room because of the creepy children's voices that inhabited the same space. Walking through this dark boat with just the sound effects would be extremely creepy, but add in some live rats, tons of corpses, a shaking catwalk, air canons, a spraying toilet, thick fog, a guard dog, thunder with a bit of a rain, and a very large, hungry creature known as "The Impaler" and this ship springs to life right before your eyes. You'll likely question if this is a haunted attraction… or something far more sinister! Smaller, yet impressive additions were added to many of the rooms that kicked up their authenticity just a bit more. Some of these included a steaming food table, smells and a few water effects that left us knowing, without a doubt, that we were truly re-living the past of "The Death Dredge!" Accent lighting, flashing black-lights and effective strobes also intensified several of the scenes. We could go on for days talking about all the details and effects that encompass this boat's dilapidated walls, but paying them a visit so you can take a look for yourself will serve them more justice. Just don't get too close to anything that you don't want ON you! Oh, and make sure you hold on to the rails while walking through the vortex tunnel, we would hate for you to lose your balance!
---
Theme:

9.79
The U.S.S. Nightmare is a dredging vessel with a very dark and destructive past. Named after the ship's captain, the William S. Mitchell was a dredging machine that would pick up and scrape things from the bottom of the same river that she floats above to this date! During her 45 years of service, 112 crew members lost their lives onboard the vessel, which caused the surviving crew members to nickname her "The Death Dredge." Anna, Captain Mitchell's daughter, spent her life aboard this boat with her father. One day, the dredge broke itself free and ferociously made its way down the river for miles, slamming into four bridges along the way! When the boat was finally stopped, it was thought that no one was on board. Upon further investigation, search team members were traumatized at what they found on this ship. Not only did they find out that there were, in fact, people on board, but that "their bodies had been tortured and mangled to an unimaginable degree." This tragedy is known as "The Mitchell Massacre." Both the Captain and Anna were onboard at the time, however Anna's body was never found. The boat remains in the condition it was found in after the massacre, and you will notice some of its damage as soon as you lay eyes on it! All of the crew members who worked on the ship are still there to this day, tormented by its dark and destructive past and forced to relive it for eternity! When you step aboard, you will experience the life of Captain Mitchell, his daughter, Anna, and all of their crew that manned the boat as it dragged the river tirelessly. We must warn you, Anna and her dad weren't exactly "normal people" as they mercilessly tormented those who boarded the ship and still do now! This season, Anna was found searching for a "new mommy." Even though we noticed a few potential suitors for her and the Captain, she apparently becomes quite jealous of them when she realizes that she won't have her dad all to herself anymore and dooms them to lives filled with heartache and torture! The captain tries to please his daughter in every way that he can, which is why you will also see clowns aboard the ship. They were onboard and entertaining Anna and the crew at the time of The Massacre. All of the boat's history can be found and watched on their website as well as in the queue area before beginning your tour. If you have never been to the U.S.S. Nightmare, we suggest watching their videos because it will make the theme more apparent and enjoyable during your walk-through. The crew followed the theme very well during our visit, but some of the smaller, more-subtle details of the storyline may not be as apparent since it isn't very easy to find that information before entering.
---
Fright Effect:

8.84
The dredge was alive with different types of fright techniques while we made our way through its passageways this season! They caught our review group off-guard on multiple occasions and some of the same inhabitants even startled us multiple times by themselves! Some of the scare techniques that we came face-to-face with include deranged dialogue, sudden surprises from all directions, vibrating floors, fog-filled corridors, unexpected, wet encounters, and a violent victimization between the Captain and one of his wives! Anna was exceptionally sinister this season and worked very well with the Captain in making our group feel rather uncomfortable, especially when they teamed up against us! Scares proved to be rather difficult to predict this season due to the clever hiding spaces in the overall darkened and foggy atmosphere. A few effective distractions were also used against us, though we believe implementing more of them would help this crew provide even more frights! The finale of the attraction was stronger this year than in the past and had customers fleeing out the exit rather quickly!
---
Value:

9.35
General admission to walk aboard this dire dredge Thursday through Sunday will cost you a monetary payment of $20.00, but they might also try to talk you into cooking, washing the dishes, or cleaning some crappy toilets as part of your payment too! If you go on a Wednesday, general admission is reduced to $17.00. RIP Express passes can be purchased for $25.00 so you can start your service even faster, however they can only be purchased online! It took our group around 31 minutes to narrowly-flee our cruise, bringing this value to 1.55 minutes of entertainment per dollar spent! When you combine this value with the quality of entertainment provided on the vessel, along with its legitimately-menacing atmosphere inside and out, the U.S.S. Nightmare is a haunt that should not be missed during the 2015 Halloween season! Looking for something even darker than their normal haunting experience? The Unrated eXtreme Captain's Tour is probably for you, then! This tour is hands-on and not intended for the younger crowd! Extreme tour tickets can be purchased for $27.00 at the door or $25.00 online. If you're looking for something that IS for the faint of heart or little ones, they'll offer a Lights-On tour on October 18th from 4-6 pm at $8.00 per person ($6.00 online). Be sure to visit their new website to find coupons and group rate, season pass, and special event information!
---
Photos from Review Trip:
Click to Enlarge
Promo Images:
Click to Enlarge