Find Reviews for a Haunt near You! Find Reviews for a Haunt near You!
Find Reviews for a Haunt near You!
Wells Township Haunted House
101 Market Street, Brilliant, OH 43913View All Details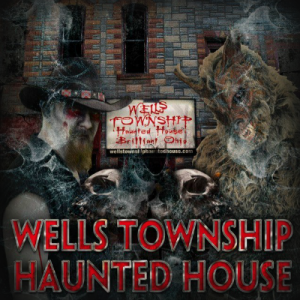 Features:
Free Parking, Restrooms On-Site, Food/Concessions, Gift Shop/Souvenirs, "Hi-Tech" Attraction, You may be touched, Original Characters, Uncovered Outdoor Waiting Line, All-Indoor Attraction
Team Mysterious Misery reviewed this attraction on October 2, 2015.
Final Score:

9.18
Summary:
Wells Township is in its 7th year of operation and it is easy to see why they stay at the top of the must-see list of haunts in Ohio! Each year they strip away everything and rebuild the haunt from scratch. Taking ideas from its cast gives them fresh new ideas. They do a great job at using their resources and ingenuity to make their new ideas come to life. As many times as we have visited this haunt, they still blow me away with the turnaround of their gutting and remodeling. You will never have the same experience two years in a row! Mr. Norman has a huge passion for his haunt, as well as his team and it shows each night and in each scene. This year they already experienced record breaking crowds on opening night, which shows the demand for this haunt. They have also added an additional attraction with zombies where your competitive nature takes over. It is kind of like flag football, but here you have to escape zombies instead of people all while trying to keep your flags. The guys in our group really enjoyed this addition. Once again, the opening scene is amazing and it will make you rethink Christmas time. So grab some friends, make the drive and prepare to enjoy everything from Mr. Tickles, dark mazes, "thrill rides" and even going down a slide! This is one haunt you don't want to miss!
---
Cast:

9
Wells Township has one of the largest non-paid cast out of all the haunts our team visits. They need 50-60 to run just the haunt on a nightly basis, but they have them so well-trained that if a pandemic were to hit, they could make it work with only 25 of their cast members. Wells Township's cast attends classes and conventions so they can gain additional skills and keep their existing ones working at full speed. This year Wells has some new actors who have never worked before and they blended in so well that in most cases we couldn't notice which ones they were. So shout out to the newbies, it can be hard to get adjusted. We wanted to give a shout out to Mr. Tickles, the creepy ass clown. He can be over-the-top in a spine tingling way. We cannot forget Nix and Brisket who made our tour amazing. Overall, Wells always has a cast that expresses their passion year after year, which helps make this a top haunt.
---
Costuming:

9
Wells continues year after year to give their customers original characters. With the makeup and costuming that they use, it helps to create a character that just isn't in the story, but tells the story too. You will not find the normal Jason or Freddy here. What you will find is Well's own characters like Mr. Tickles, the marionette maker, and the witch doctor. So if you are looking for one-of-a-kind characters, this is the place to be!
---
Customer Service:

9
Wells Township continues to provide excellent customer service each year. Mr. Sean Norman and his amazing cast and crew are amazing at what they do. They are always up to code with safety plans in place, and always have police present in case of an emergency. Some of the staff also wear headsets to make sure things are quickly taken care of and calls are answered. Safety is a priority at this haunt. Here are some things you need to know when you plan a trip to Wells. Waiting is outside so please dress for the weather. They also have a gift shop if you need to pick up an extra t-shirt, or hat, etc. Since waiting is outside they have concessions with warm food and especially yummy hot chocolate. They have fire pits so you can huddle and be warm and always have a good band, DJ, or other entrainment around. You don't have to stand in line at Wells because they don't have a queue line! Instead, your group gets a number that will show up on the number board and then they will call for your group. Since there is no queue line, you have plenty of room to roam, mingle with the crowd, or take plenty of pictures. It is nice to have time to enjoy the entertainment, browse the gift shop and eat dinner (if you are not too nervous) instead of standing in line. Parking can be a little tricky so always be sure to pack your patience. It can be muddy since its outside so don't wear your new "fresh" shoes. Wells is always friendly to their customers, they welcome other haunts, and their passion for their haunt shows through their awesome customer service.
---
Atmosphere:

9
Wells consistently provides an atmosphere that is safe, fun and scary all at once. It is almost as if this haunt is bi-polar. You always get the safe feeling from the presence of workers and police outside the attraction, but when walking back to your car in a darker place it is very spooky at night. With no queue line, the outside always feels like an awesome party that you were glad you were invited too. The cannon balls, DJs, photo ops for selfies with characters and more bring this party to life before you enter! Eat, drink (hot chocolate) and enjoy the night with a group of friends all you want. However, once your number is called and you are guided to the front, that's when the party ends. You will be given the rules and meet your tour person. Then you can look up at the tall brick building towering in the dark and think "Oh Snap, It's about to go down!" Believe us, things really are about to go down!
---
Special Effects:

9.5
Since Wells had such good special effects during our last visit, we thought it was practically impossible for them to do that again. Well they proved us wrong, and once again we are eating our words (we seem to do that a lot here). One of the things that Wells continues to impress me with the most is their ability to create an idea and properly execute it using every day items! They do not need to spend thousands to get the effects they want because they can make them work by using their ingenuity and creativity. They continue to be trend setters by introducing new technologies in their haunt and trying things that are outside the box. Wells always does an amazing job at the balancing act of old fashion scares and news scares that involve high-tech elements. They have some unique concepts to their haunt. The vortex tunnel is the longest one that we have seen. The holographic projection makes some parts very freaky. When ask if you want to volunteer, we suggest that you don't or you may have your brain squished! The alternate ending is amazing when it comes to special effects. Some of the effective special effects are not large in scale, but are just the perfect combination of lighting and timing that just may make you scared of marionettes forever. Always be prepared to move because some of the special effects will make you feel like you are at an amusement park.
---
Theme:

N/A
Well's Township does not stick to an overall theme. They gut and rebuild the haunt every year, offering something completely different to experience each year.
---
Fright Effect:

9
Wells Township continues to deliver on not only frightening you, but also on entertaining you. There will be moments between the screams that you will get a chance to laugh at someone in your group. From just normal jump scare tactics, plain distractions or a full on assault on your senses, they offer a scare at every level. With the amazing cast that they have and the costuming for each of the cast members, each scene tells a story that you quickly become immersed in. The moment you are told to sit down and then you fly backwards and get pulled back to the center lets you know these folks aren't messing around! Then claustrophobia may set in because you can't get out of a tight maze, or you may feel like you're on an amusement park ride and then the worst nightmare happens ripping away the sense that you might be at an amusement park. Yep, Wells truly delivers and you should put it on your visit list.
---
Value:

9.8
Wells Township Haunted House has always given its victims a bang for their buck. $13 is a steal for the quality of entertainment and the nightmares you get from this haunt. We even think the VIP tickets at $25 are a good price for this haunt. Here are some of the pricing details you may need to know for Wells Township:
General admission is $13.00 and available ON-SITE ONLY!
Internet tickets are $18.00 and available ON-LINE ONLY!
You MUST PRINT OUT YOUR TICKET. Bring your ticket to the Internet Ticket Reception Window located at the attraction. Purchasing an Internet Ticket provides you with a separate ticket line dedicated for VIP and Internet Ticket holders ONLY. Pre-assigned group numbers await you at this window that are separate from General Admission. Internet Ticket groups will be assigned on a first come, first served basis.
VIP tickets are $25.00 and available ON-SITE ONLY!
Pre-Assigned entry times have been set aside for those wishing to upgrade to VIP status. Once you purchase a VIP, you pick a time you want to enter the haunt, based on availability. This guarantees your entry time in the attraction. General Admission and Internet tickets can be upgraded to VIP if you pay the difference.
REFUNDS:
The show starts once you arrive at the attraction. General admission refunds will be made in the form of a pass for another day. Internet tickets, VIP tickets and passes ARE NOT REFUNDABLE!
---
Guest ReviewsGuest Average: 9.88 out of 10
Jenn Harris – 10/10The best haunted house I have ever been too. Everything is so realistic. From the props to the …show more characters. If you're looking for a great time & a great scare, make sure to visit WTHH!!
---
2015 Awards
Most Interactive Queue Entertainers (Given by: Team Mysterious Misery)
Most Interactive Haunt (Given by: Team Mysterious Misery)
Actor Shout Out Award - Mark Miller, A.K.A. "Mr. Tickles" (Given by: Team Mysterious Misery)
---
2013 Awards
Highest Rated Haunt (Given by: Team Mysterious Misery)
---
2012 Awards
Highest Rated Haunt (Given by: Team Mysterious Misery)
---