Find Reviews for a Haunt near You! Find Reviews for a Haunt near You!
Find Reviews for a Haunt near You!
Carnival of Horrors
1145 West Steels Corners Road, Cuyahoga Falls, OH 44223View All Details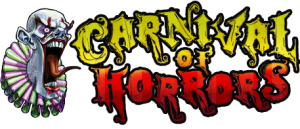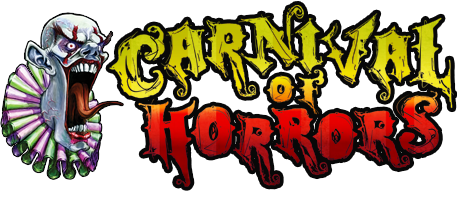 Features:
Free Parking, Restrooms On-Site, Food/Concessions, Original Characters, Uncovered Outdoor Waiting Line, Indoor/Outdoor Attraction
Team Scary Potter and the Hauntwarts Express reviewed this attraction on October 2, 2015.
Final Score:

7.54
Summary:
The Blossom Music Center is playing a new tune this October – the eerie, circus melodies of one really demented big-top are returning. Goodbye rock-n-roll, hello Carnival of Horrors. Back again to offer Cuyahoga Falls, Ohio another Halloween season full of the horrors and hazards of a terrifying festival of fear, it includes 4 haunted attractions for one ticket price. The Fun House is a journey through an abandoned haunted Fun House…abandoned, but not empty. The Wicked Woods is a walk through a dark forest, where only a dim flashlight can protect you from the horrors around you. Insane Asylum is a dilapidated mental institution, now turned into a winding maze of escaped, tormented inmates. The Freakshow is a nightmare come to life, where you are forced to navigate these horrible halls in fully-immersive 3-D. What are you waiting for? The tents are opening; get ready for the show.
---
Cast:

8.05
There were between 50-60 scarers working the night that we visited, plus a handful of line-scarerers and the line-keepers of each attraction. We liked that even these ticket-takers were in and maintained character throughout our interactions with them… even to our slight detriment. I like chocolate, don't get me wrong. However, did I NEED my tickets covered in the delicious cocoa treat? Possibly not. This level of at-the-gate haunting is fairly unique to the Carnival and one of their better attributes. With every actor that you interact with in character, we weren't jerked back out of the experience after each attraction. We really liked the antagonistic nature of many of the actors in The Wicked Woods. Bantering back-and-forth with them was the highlight of our night, especially the barking man…or dog. We never really figured that one out. We had the impression that they were more concerned with irritating us than scaring us, and, perhaps surprisingly, this worked. Not every actor-scare needs to be a quick "boo" and retreat to be successful. The Insane Asylum's crazed occupants get 2nd place here. Though there weren't many of them (perhaps 10 floating through the attraction), they were very interactive, clever, and creepy, becoming more so the more times we lost our bearing, chose the wrong path, and were forced to reengage them. The Freakshow's main strength was its 3-d interesting 3d effects, but it still possessed a few interesting characters, especially the female monster in the door room. The acting in The Fun House overall felt a little lazy, with a few half-hearted attempts. Again, like The Freakshow, there was an occasional stand-out amongst the cast, and a few moments of genuine creepiness.
The Fun House: 7.52
The Wicked Woods: 8.63
Insane Asylum: 8.41
The Freakshow: 7.63
---
Costuming:

7.1
We believe that most of the costuming throughout the attractions was appropriate, though only a few outfits stuck out as above-average. The "leaf-monster" (for lack of a better term) in The Wicked Woods is worth a double-check and a quick flashlight highlight. It is a terrifying full-body costume that blends in with the environment. The make-up effects on the faces of several of the actors in The Insane Asylum were impressive and giddily-repulsive. We also thought that the costume of the Rabbit in The Fun House's maze was very detailed and well-done, as were a few of the environmentally-blending adornments in the 3-D Freakshow. There were an above-average amount of street clothes visible, unfortunately, but overall there were enough interesting masks and costumes to give you a good feel for the horror that is taking place around you.
The Fun House: 6.96
The Wicked Woods: 6.67
Insane Asylum: 7.59
The Freakshow: 7.18
---
Customer Service:

7.56
Carnival of Horrors exists within the Blossom Music Center, a gigantic, outdoor park-like area comprised of parking lots, fields, and lots and lots of roads. Getting to Blossom isn't a problem, and there's a big sign for the Haunt in question at the entrance to the location. Thereafter, however, there is the possibility for a bit of confusion or frustration if you attend on a slower-traffic day. On busy nights, you just follow the cars in front of you for a mile or so, follow directions from the parking spotter and land your vehicle without incident. On slower nights, though, there is a definite path established to point you in the right direction, but not many signs to really idiot-proof the trek. It would be nice if the path were a little better identified, either with spotters or more informative signage. After parking, it is about a ten minute to the ticket booths and the attractions. Again, this could be made a little clearer, but nine times out of ten, customers won't have any major issues. The staff that we encountered was helpful. There is a concession stand off to the side as you approach the first attraction and a large restroom area available. While in line, the ticket-takers and/or various line-haunters will keep you entertained, either through direct interactions with you or by interacting with each other. We actually really enjoyed a slap-stick-like routine between two actors and the ticket-taker from the Fun House. Their dialogue felt genuine and clever as they harassed one another. The small bunny-clown involved was one of our favorites.
---
Atmosphere:

8.37
The potential drawbacks of the haunt's location actually benefit its atmosphere to a degree. The drive through an abandoned park (especially if you're increasingly concerned that you may have missed a necessary turn) at night is always at least a little adrenalizing, and the lengthy walk through that park becomes even more so as your anticipation peaks as you approach the attraction. It's actually quite quiet until you're in sight of The Fun House, and its bawdy circus anthem begins to drift over to you. The building's animated clown face facade is a perfect foreboding of the carnival terrors that await inside. Though, until you've reached this point, an ignorant tag-along would have no way to establish whether they were marching toward a haunted attraction, a night concert, or a nightcrawler-digging crusade.
---
Special Effects:

6.85
The 3-d effects of The Freakshow put it significantly above the other attractions' special effect tallies. It was difficult not to hold our collective breath as we carefully plodded across a bridge that legitimately appeared to hover above a very wet demise, and we found ourselves becoming increasingly frustrated as we continuously tried (and failed) to find the proper method of extracting ourselves from the "Room of Many Doors." Eventually we admitted defeat and let the group behind us discover (quickly) the correct means of escape, smacking our heads in their wake. The Fun House had a well-executed "vinyl maze" that we enjoyed, and a very interesting room full of strange, swinging lights that made us feel like kittens staring at a lazer pointer. This effect resurfaced briefly in The Woods. Insane Asylum's fence maze-and-fog setup was mostly effective, twisting our group around the same handful of turns several times before we were able to free ourselves. Unfortunately, The Fun House did have several rooms that were basically just black-painted walls with nothing or nearly nothing inside. There was a sparse use of effects throughout. Also, The Wicked Woods literally had no set design at all (excluding the one light-effect previously mentioned). For a Haunted Trail, this isn't necessarily a bad thing, as the darkness and the woods, themselves, are meant as the primary backdrop for the experience. However, it was just a little too bright (even without the provided flashlight) as we went through causing us to see most of the actors before they had made their moves. Also, The Freakshow could certainly benefit from a new inventory of glasses. The ones we received were in poor condition. One member of our team was forced to hold them against her face because they were too disfigured to be properly worn.
The Fun House: 6.32
The Wicked Woods: 6.13
Insane Asylum: 7.18
The Freakshow: 7.76
---
Theme:

7.85
Clowns, clowns; everywhere clowns. The Carnival of Horror's overarching sideshow of gruesome chaos theme holds up through each attraction. We didn't see anything that stood out to us as being particularly out of place or illogical within context. It's true that the theme is far from unique or original, but there was enough diversity between the attractions to keep the experience fun and exciting, and interactions with the specific stand-out performers validated the theme. 3-d and circus themes are basically the peanut butter and jelly of the haunt world.
---
Fright Effect:

6.96
Without giving too much away, Carnival of Horrors' best scare tactic involves bright lights and hidden actors (primarily occurring in the Fun House). Several times we found ourselves progressing through an overwhelming light source of some type, only to suddenly come face-to-face with a carnivorous clown as the "fog" cleared. The Carnival's placement of effects and actors in these rooms was spot-on, giving the actor the best chance of providing a quick, disorientating startle. We felt that, overall, the Carnival's tortured artisans did a pretty good job of distributing scare attempts across our entire group, and succeeded at several impressive startles. As mentioned previously, the actors in The Wicked Woods were often less concerned with a quick startle than maintaining a lingering, terrifying presence. At that they were quite successful. The actual startle attempts provided therein, though, were not executed very well. Likewise with the maze – in that environment, there was less emphasis on quick scares, with the actors embracing their twisted personas to freak or gross us out with extended maniacal dialogue.
The Fun House: 7.34
The Wicked Woods: 6.71
Insane Asylum: 7.29
The Freakshow: 6.50
---
Value:

7.59
Entrance into all four attractions is $21 or $25 dollars for a speed pass (one dollar cheaper if purchased on-line), though there are also 3 dollar off coupons available at several participating retailers. We spent around 35 minutes in the attractions all-together (this can vary a good bit depending on how adeptly you navigate the Insane Asylum). That's around 1.7 minutes of entertainment per dollar spent, which is a really good value for a haunted attraction. If you're in the area, consider giving Carnival of Horrors a shot this year – with four frightening forays into this Carnival of Evil, you are sure to have a terrifyingly good time!
---
Promo Images:
Click to Enlarge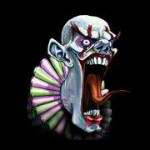 Have you visited this attraction?