Find Reviews for a Haunt near You! Find Reviews for a Haunt near You!
Find Reviews for a Haunt near You!
Fright Manor
2909 South Meridian Street, Indianapolis, IN 46225View All Details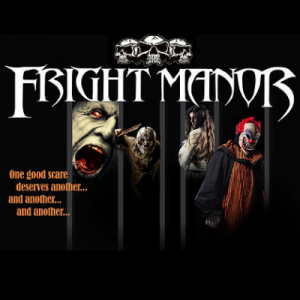 Team Zombillies reviewed this attraction on October 3, 2015.
Final Score:

8.96
Summary:
Fright Manor has been in their current building since 2009, but they've been conjuring up scares since 1982! For 2015, they have decided to change things up quite a bit and are now offering three different haunted attractions under one roof: Dark Mayhem, Demented and Psychomanthium. Fright Manor is an old-school-style haunt showcasing a lot of new creativity this season. The haunt has also decided to run completely in reverse this year, so you are entering where the exit used to be last year! We have been to Fright Manor quite a few times and we have to admit that going in reverse made things quite a bit different from years past. It's like a whole new haunt! After you figure in all of their other changes and new surprises for 2015, you shouldn't miss out on this traditional haunted house this Halloween season! Just be sure you say "Goodbye" to the Ouija board before you leave!
---
Cast:

8.79
During our newfound venture through the labyrinth of Fright Manor, we came across several original characters and everything from clowns and vampires to mental patients, one of whom that wanted to cook us supper! Or was it cook 'US' for supper? Either way, once we noticed the maggots in the simmering pot of eye balls, we decided we weren't hungry anymore. We did reunite with our old friend, the "Grave Digger," who's always sizing us up (or down, in one of our Team members' case…) for the perfectly-sized coffin. Throughout our endeavor, it became clearly evident that Fright Manor has some seasoned, veteran actors in their group of 50-strong cast members! Several of them used appropriate dialogue for their characters and scenes, which made them much more believable and enhanced their roles. Despite the size of this corrupt crew, we still found a few "dead spots" where no actors were present. Amidst those we DID see, "Michael Myers" and "Jason Voorhees" were built appropriately for their parts and proved they meant business by striking their sinister blades against our surroundings. A gas-masked fiend was also among the most memorable, along with his "sparky" personality. Other notable characters include the whistle-blowing guard and the irate, inbred, appliance mechanic who wanted to cut our heads off and use them for disco balls! The aforementioned preposterous patient and the preacher had debatably the best dialogue that we experienced during our review visit; the latter apparently deemed it necessary to sprinkle us with Holy Water before allowing us to eventually exit his expanse.
---
Costuming:

8.65
Fright Manor's characters adorn themselves with quite a variety of costumes to achieve their desired looks. Outfits ranged in complexity from distressed, bloody and grungy street clothes, patient gowns and lab coats to 100% custom creations designed by the actors themselves. While some of them were made with vibrant colors and crazy designs, as with the clowns that we encountered, others were made to blend in with their surroundings and camouflage them until the perfect time to strike! Whether they were in impermeable pitch black darkness, wooded, outdoor décor or embedded in a pile of stuffed animals, several of these characters had obviously mastered their hiding spots through clever costume selections. Makeup was okay for the most part. Even though some of the final products were more elaborate than others, most of them seemed to match their surroundings and "belong" in their scenes. One particular custom-made facepiece made the inbred appliance mechanic look incredibly disfigured, which helped him achieve the "inbred" part of his character. The vampire we encountered was also believable-looking and the burlap costume in the outside attraction was noted as being very creative by our review group. Masks can be found occasionally throughout Fright Manor and were necessary for "completing" the characters that were wearing them, especially "Michael" and "Jason." One actor even had a glow in the dark mask that never fails to give our group a scare! Several of the characters that wore masks suffered from muffled voices, however, which decreased their effectiveness as a result.
---
Customer Service:

9.56
Several large and well-lit signs and banners were easily spotted as we approached Fright Manor. An additional sign pointed us in the direction of their large, free parking area. Several flaggers monitored the parking area and helped us find a spot very quickly. It's never fun when you are circling around a parking lot at a haunt and losing your place in line! Fright Manor is easy to navigate. The ticket window is near the front of the building while the queue area starts around back (which is also where their restrooms can be found). The waiting line runs along and in front of a large stage/platform where bands will play in the coming weekends (Saturdays), keeping the crowd entertained while waiting. There is also a concession stand near the queue area that offers warm food and cold drinks. Very helpful and friendly staff members were found inside the ticket booth, at the entrance to each attraction, and roaming about outside who are happy to help just in case any questions or concerns are to arise. Before entering the attraction this season, you can take a selfie or have your picture taken with "Adam," Fright Manor's ghostly child who they believe truly does haunt the building! Navigating the interior of Fright Manor was rather easy, and we didn't notice any safety hazards.
---
Atmosphere:

9
The atmosphere at Fright Manor may not seem very creepy at first, but upon further investigation, it becomes more obvious that you are at a haunted house. Appropriate and loud hard rock music filled the air outside the attraction along with some spooky theme music that may ring a familiar tone in horror fans' ears. Multiple spooky works of art were seen lining the exterior walls of this building that further enhanced the idea that the building probably encased something equally sinister. While we waited our turn in line, multiple chainsaw growls and screams seeped from within the wooden walls, which helped increase our anticipation before entering! If you have been to Fright Manor before, you will notice a bit of renovation near the entrance to the attraction this year. Wild characters reside within that renovation and, every now and then, they would perch themselves up high and interact with those waiting in line.
---
Special Effects:

8.73
The effects used at Fright Manor consist of pieces that have been both purchased and constructed in-house. With that being said, it is possible to come across quite a few creations that you haven't seen before. We noticed many new effects at Fright Manor this season, including strategically placed mini-lights that helped enhance the scenes they were found in. When we first entered the attraction it was rather quiet and, although we came across additional muted areas throughout the building, appropriate and realistic sound effects accompanied the majority of the scenes. Some of the effects that we came across include a ghostly rocking chair, air cannons, a skeletal prisoner violently trying to escape, poppers, several hidden effects that reveal themselves in the dark, multiple chainsaws, several razor-toothed beasts and many more! The décor in Demented let us know without a doubt that we were in a hospital/mental facility due to its respective décor, however Phsychomanthium showcased the greatest detail that we came across at Fright Manor. Some of the more elaborately-detailed areas include the church, morgue, voodoo/séance area, cemetery and woodlands.
---
Theme:

8.65
Fright Manor consists of three consecutive haunted houses, all of which operate on a different theme. First you will enter Dark Mayhem: an outdoor maze consisting of "pure chaos, madness, and confusion!" We feel sorry for anyone that's afraid of chainsaws in this one because you will likely experience all three of those! Next, you will be admitted to what used to be known as "Southside Sanitarium," but because the inmates and unruly patients have taken over, it is now known as "Demented." Somehow these deranged killers and psychopaths have managed to obtain weapons and power tools, so we wish you luck as you attempt to make your way through the hospital! If you do, indeed, end up escaping, you will arrive at Psychomanthium. Within this attraction, the beings at Fright Manor conjure the dead, so anything that is or related to being dead might be found here. Coincidentally, they'll want YOU dead too! Each of the attractions and their characters followed the three themes quite well, especially in Demented. A TV displaying an interview of Dr. Butcher can be found in the first room of Demented that gave us a better idea of what the attraction entailed and helped us to understand the theme before proceeding.
---
Fright Effect:

8.91
Fright Manor delivered multiple types of frights that included entrapment, intimidating madmen, jeopardizing stares, complete darkness, throwing sparks at us, loud commotions, good hiding spots and multiple run-ins with growling chainsaws! We have to give it to them, though; they did successfully startle us more than once! Beware of the dark in this place, as they may prey on you just when you can't see anything! We fell victim to several effective distractions during our tour, although we would still like to see a few more of them throughout this large building. The majority of the scares were hard to predict since we never really knew from what or where they were going to derive. Also, their timing was pretty precise most of our way through, which kept us on guard and wondering what was going to happen around each corner! Clever hiding spots existed in multiple areas of the attraction that also helped the characters deliver scares. We were impressed with the startles that we suffered during our visit at Fright Manor this year, and we can't wait to see what they pull out of their bag of tricks next year!
---
Value:

9.42
General admission tickets to enter all three attractions at Fright Manor are $20.00 per person. If you have a Military I.D., general admission will be reduced to $15.00. Although we really don't recommend that you take them, children 5 and under may enter for free. Fright Manor wants to give their customers the best deal possible so, this season, they are offering something quite unique. Once you've paid your way and gone through the haunt, you can return at a later date with two, paying friends and receive FREE admission (good all month)! What's better? You can do this as many times as you want! It took our group around 34 minutes to travel through the three attractions, bringing this value to 1.7 minutes of entertainment per dollar spent, which is a great value alone. After adding in the fun and frights that are offered at this attraction, this becomes a pretty competitive value! They also offer a printable, $2.00-off coupon on their website. It gets harder and harder to entertain AND scare avid haunted house goers, but we think this haunt did a great job at both during our visit. We had a really good time visiting Fright Manor this year, and the people exiting the attraction after us seemed to be very pleased as well! Fright Manor is also a part of Indy Haunts (IndyHaunts.com), where you can receive discounts to four Indianapolis haunts. If you're looking for more of a traditional haunted house that knows how to give some old-school scares, then be sure to visit Fright Manor for the 2015 haunt season, where, "[They] want to hear your dates scream!"
---
Photos from Review Trip:
Click to Enlarge
Promo Images:
Click to Enlarge
Have you visited this attraction?
---
2016 Awards
Scariest Old-School Effects (Given by: Team Zombillies)
Actor Shout Out Award - "Damien the Clown" A.K.A Aaron Mason (Given by: Team Zombillies)
Actor Shout Out Award - "Freddy Krueger" A.K.A Justin Danz (Given by: Team Zombillies)
Actor Shout Out Award - "Grinder" A.K.A Jason Baker (Given by: Team Zombillies)
Actor Shout Out Award - "Lust Lady" A.K.A Charity Brewer (Given by: Team Zombillies)
Actor Shout Out Award - "Torture Girl" A.K.A Kayelynn Woodlock (Given by: Team Zombillies)
---
2015 Awards
Most Realistic Costume - "The Stuffed Dog" (Given by: Team Zombillies)
Actor Shout Out Award - "The Gas Masked Sparky Guy" (Given by: Team Zombillies)
Actor Shout Out Award - Cris Shortt, A.K.A. "The Grave Digger" (Given by: Team Zombillies)
---
2014 Awards
Actor Shout Out Award - Chuckles the Clown (Given by: Team Zombillies)
Actor Shout Out Award - Dr. Butcher (Given by: Team Zombillies)
Actor Shout Out Award - The Grave Digger (Given by: Team Zombillies)
---