Find Reviews for a Haunt near You! Find Reviews for a Haunt near You!
Find Reviews for a Haunt near You!
Cheeseman Fright Farm
147 Kennedy Rd, Portersville, PA 16051View All Details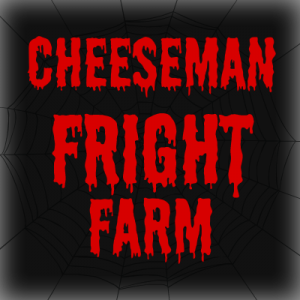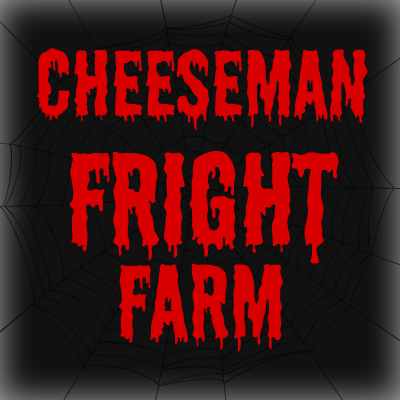 Features:
Free Parking, Restrooms On-Site, Food/Concessions, Gift Shop/Souvenirs, "Old-School" (Low Tech), You will NOT be touched, Uncovered Outdoor Waiting Line, All-Outdoor Attraction
Team Scary Potter and the Hauntwarts Express reviewed this attraction on October 4, 2015.
Final Score:

9
Summary:
Welcome to Cheeseman's. Through the bulk of the year, they exist as a fairly ordinary family farm, but every September and October something sinister invades. Take a trip down to Portersville, Pennsylvania during this Halloween season and become quickly acquainted with the horrors yourself. Their set-up is different from anything you've seen before. Yes, there's a haunted hayride; yes, there's a terrifying trail, but Cheeseman's has consistently remained one of the best haunted attractions in the Pittsburgh area for three very specific reasons: atmosphere, atmosphere, and, oh yeah, atmosphere. Details as to what, specifically, that means below.
---
Cast:

8.21
Cheeseman's Fright Farm features approximately 100 paid actors per night, lurking amongst the cornstalks, hiding behind hay bales and waiting in every darkened corner for you. We found some of these to be quite good. "Mr. Wrecking Ball", brief (and unexpected) as his appearance was, was most enjoyable for us. We also engaged in a few very colorful conversations with the emcee/barker who was casting insults at all unsuspecting customers. Additionally, several of the non-actors joined in the fun, playfully harassing and teasing our group. In particular, the man docking our tractor was adamant that we would be unable to disembark without repeating the Pittsburgh Sports fight song to his complete satisfaction. This exchange led to one obstinate passenger being forced to enter the haunted trail by himself. These unusual worker-interactions were a huge plus toward the overall interactive nature of the attraction. The actors in the trail/maze/buildings were all decent to very good, and were plentiful enough to limit the amount of dead spaces during the trip to only a few brief lulls. The hayride had plenty of actors, however this was mostly because there were very few hayride scenes at all. These actors waded into the group, searched for the "weakest links" and then committed whole-heartedly to continuously terrorize the individuals most susceptible. Viewing the ensuing chaos was very enjoyable.
---
Costuming:

8.05
Without question, the best costumes at Cheeseman's show up in the maze. Because that area was particularly expansive this year, so too were the wonderful masks possessed by the actors within. The various scarecrow and hay monster designs were quite well done, allowing the actors to blend into their environment perfectly for undetectable scare-assaults. There is a new area which is very brightly lit. In this environment, costumes are much thoroughly scrutinized because, well, it's so much easier to see them. Fortunately, the main actress inhabiting this zone had one of the best make-up jobs in the entire attraction – a wonderful, terrible bloody mess. Accolades aside, she still tried to eat us so I'm canceling my friend request. Elsewhere, costuming was fair – Cheeseman's does a great job of adorning the top portions of their cast members in logical, creepy apparel. We would like to see more full-body costuming, though – we spotted a few instances of ordinary street clothes being worn. However, again, Cheeseman's had a great, varied collection of masks and face make-up that was crafty enough to attract the attention of our eyes and eerie enough to invoke the locomotion of our feet.
---
Customer Service:

9.5
If you aren't from the area, getting to Cheeseman's can be a bit of an adventure (see atmosphere), but that's what GPS's are for, right? The farm itself, however, is very well-lit and there is NO way to question that you're at the right spot. They have stake-lights and spotters available to help you park on busy nights. There is a giant barn that serves as the main hub as you buy tickets, peruse an ample variety of souvenirs (more so than most other haunts – and lots of pumpkins!) and two different food stands. There's even a non-scary, small corn maze for restless young ones. All of the staff that I've encountered have been friendly and helpful (shout-out to Vick for all of his assistance, information, and conversation!) The food at Cheeseman's is quite good. Last year marked the introduction of a wood-burning oven used to make delicious pizza. However, the stand-out cuisine for your humble author remains their pumpkin pie. Pro tip: actually, no, don't eat any pumpkin pie – save it all for me.
---
Atmosphere:

9.95
The drive out to the farm is legitimately scarier than 47% of the haunted attractions I've been to. Small, windy, country roads in the middle of an October night have haunting power all alone. Five minutes through this foreboding hillside, you reach the attraction. There may be other homesteads around, but you would never know it. When you begin the attraction, you start on a pretty unassuming hayride, but as you are towed away, slowly, from the bright pomp of the main hub area, the creepiness begins to settle in. By the time the scaring starts, you have ridden maybe a quarter-mile and watched the friendly, welcoming barn disappear behind you. Cue fear.
Maybe you've been on scary hayrides in the woods before. I'll grant you that. However, remember, you're assuredly working your way further from the barn now – quite certainly in the middle of nowhere as we finish our hayride and then… out you go. "Wait, what?" Yes, far removed from any semblance of humanity, you get deposited from your cart and the main section of the haunt begins. It is an absolutely FANTASTIC environment; it really needs to be experienced to fully appreciate. No cars driving by, no "bright lights/big city (heck, not even a small city)" – it's just you vs an army of monsters that have been waiting all night to have their turn at you.
Atmosphere? Check.
---
Special Effects:

8.85
Cheeseman's changes the majority of their attraction each year, always trying out new props and set designs. We find that this keeps the experience always feeling fresh and new, though they do bring back a few of their must-see effects. Most importantly, a longtime fan-favorite scare/prop from the wagon portion of the haunt has returned this year after a brief hiatus to no small amount of fanfare from our group. As one of the most exciting and inventive portions of the attraction, it was a welcome reunion. There were several new stand-outs for this season as well. At the top of the list was probably the VERY effective "purple fog" room – a clever combination of different environmental characteristics made this room uniquely disconcerting. There was definitely an increased use of environmental distressors overall; it seems like Cheeseman's has found a successful niche here. Also, a horde of very creepy "stand-ups" (I guess one might call them) were scattered throughout the path's periphery, with a trio of golem-sized, intimidating scarecrows being the most impressive. Towering over us, we skirted their lane quickly, very hopeful that they wouldn't awaken and crush us. An old favorite, the birth canal, has been improved upon, now much longer than most that we have traversed elsewhere and frustratingly-tight. Don't pause your momentum after entering, you may never be able to regain it! (aka: we loved it). We really like that CFF uses mostly homemade sets and contraptions to administer their hauntings; it gives the haunt a very rustic, old-school feeling and is much creepier for it, and the ever-present strobes are constantly working to further skewer your perceptions. As mentioned, the atmosphere is already tense and eerie, and most of the set designs work very well to accentuate it.
---
Theme:

N/A
N/A
Cheeseman's never used a specific theme for their attraction.
---
Fright Effect:

8.65
Cheeseman's is scary and they will assail you with many different types of scares. They have effective jump-scares, distraction-scares, prolonged harass-scares (a Cheeseman specialty), and environmental trickery, but most importantly, all of this creepiness is compounded by the increasing dread that one experiences through the wonderful atmosphere. Even more, Cheeseman's is fun – it contains three of the four major types of attractions: hayride, trail, and maze, and employs them back to back to back. I find that this has a significant fright effect advantage over haunted attractions that are broken up into multiple attractions. There's no restarting, no slide back into normalcy between attractions. You start scared and you stayed scared. It's a rollercoaster that only goes down until you crash into the bottom face-first. Unfortunately, I can't tell you about the two most memorable fear-attacks this year for the same reason that birthday gifts are not wrapped in zip lock baggies. However, understand that one of these occurs on the tractor and one within the trail. Pro tip: at Cheeseman's, if possible, always sit at the back of the hayride. Also note: when you have finished the attraction, there's a brief lull as you wait to be picked up, and members of the cast remain to scare you during this period. It's generally difficult for these "post-haunt" scares, but the cast always manage to keep people jumping, even as they're (relievedly) boarding the ride back to safety. So much of your journey will occur with you being unable to see much of what is in front of (or behind) you but, no worries, the friendly creatures inhabiting the Fright Farm would never take advantage of that to your peril. Would they?
---
Value:

9.78
Cheesemans is only a paltry 16 dollars per person for what is essentially 2 attractions worth of content. Our visit lasted approximately 35 minutes, putting the sca-lue well over the 2 minutes per dollar of entertainment level, which is a rarity for a professional haunted attraction. While increasing the quality of their attraction each year, the Fright Farm has managed to keep its costs low, making one of the best values in the Pittsburgh area. With all that money you're saving, you know what you should do, right? Visit the Fright Farm, let their mischievous monstrosities get you all scared-up; then, afterward, relax in the dining area and use that excess scratch to buy up a couple pieces of that wonderful pumpkin pie. Hey, you just escaped from the Fright Farm, right? You deserve it. And maaaaybe if you can't finish your second slice, or you're feeling a little generous… could you maybe slide that plate my way?
I can say in complete honesty that every time I have taken a group to Cheeseman's everyone has enjoyed themselves and the drive home has been a giddy recollection of favorite moments. Absolutely worth your time and the price of admission. Don't miss a chance to visit this haunted season!
---
Have you visited this attraction?