Find Reviews for a Haunt near You! Find Reviews for a Haunt near You!
Find Reviews for a Haunt near You!
The Final Resting Place Haunted Junkyard
988 Polk Road, Sabina, OH 45169View All Details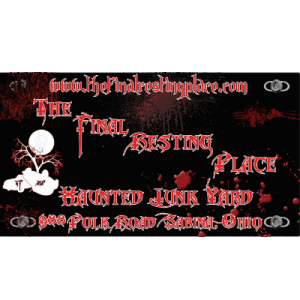 Features:
Free Parking, Restrooms On-Site, "Old-School" (Low Tech), You will NOT be touched, Original Characters, Uncovered Outdoor Waiting Line, Indoor/Outdoor Attraction
Team Mysterious Misery reviewed this attraction on October 9, 2015.
Final Score:

8.25
Summary:
The Final Resting Place Haunted Junkyard is in their 4th year of operation. It is easy to see why this haunt has quickly become a haunt that more people are talking about! Dave Hurst, Arthur Pauley (owners) and their amazing crew have so much passion for their haunt that it shows! These amazing volunteer cast members work from 8- Midnight every night stewing up scares! You may also see some of your favorite cars at the Junkyard. If you have a car junkie in your life, this is your haunt to visit for the season. They have celebrity cars, old cars and unique cars with modifications where some things still work so they can offer you a fright. For only $10 and receiving scares throughout 3 acres, we feel this haunt is worth the trip. The Final Resting Place is one to add to your list!
---
Cast:

8
The Final Resting Place has an all-volunteer cast. They take time out of their busy schedules to come in and give you a scare because they love doing it so much and have fun with it. This is a very hard working cast and their passion for their haunt was obvious to us rather quickly. Since there are only 20-30 actors who cover the 3-acre haunt, they have to hustle. While going through this haunt the cast members were everywhere and it did not feel like there were only 20-30 of them. They do an amazing job at staying in character. I was very impressed by the amount of work they do for such a small cast. Shout-out to the car salesman, you almost got me into that new ride! Also a Shout-out to Sick Boy for just being one creepy dude!
---
Costuming:

8
The Final Resting Place does all of their own makeup and costuming in-house. You will see many masks in this haunt, but they are not your everyday masks. They are unique, match the characters wearing them and they helped tell the story. Costuming never seemed to be out-of-place and helped to enhance each scene. They did an overall great job with their own makeup and costuming.
---
Customer Service:

8
When you get close to The Final Resting Place Haunted Junkyard you will be treated with a large sign that is lit up so that you will not miss this place! It also comes with FREE parking, which is a bonus! You will then interact with great people to get tickets and be led to the haunt. Remember this haunt is CASH ONLY and there is no ATM on-site. They are prepared and have radios to contact one another if an emergency shall arise. The hospitality towards our group was great and we enjoyed meeting each of the crew members after they scared the hell out of us!
---
Atmosphere:

8
As soon as you pull up to The Final Resting Place you will see a giant well-lit sign with an arrow pointing you to the parking lot. Free Parking is always a bonus in our book. Once you go inside you will meet a few wonderful staff members who will assist you in ticket sales and getting your group ready. Then you will be led to the start of the haunt. Because it is exactly what it says it is, a junkyard, it gives off an eerie feeling. As you walk the long path to the start of the haunt outside, you can hear the screams of others and the creepy lighting in the yard says you are not in Kansas anymore!
---
Special Effects:

8
The Final Resting Place Haunted Junkyard has a creative team who are capable of hand-building anything they can think of! This team is a nice bonus for the haunt because they can come up with unique special effects that are exclusive to The Final Resting Place. This haunt offers various effects from flames from car hoods to people's fingers. It also offers cars with working features that go off at just the right times to scare you. They use many tricks we see in the business but in more unique ways from other attractions, helping them scare the hell out of you!
---
Theme:

9
The Final Resting Place Junkyard does an amazing job on their theme. They have a unique theme that we have not come across yet and I think that is what makes this attraction so unique. You can read the whole story on the website so that you are prepared when you go. Here is a short part of it from the website: In the 1950's The Final Resting Place was a place where car enthusiasts could be buried with their cars because in that time people loved their cars. The haunt did so good that the greedy owners started burning bodies instead of burying them and stacking cars because they didn't want to buy additional land. Even in death these people loved their cars and soon things started happening. The owners got a priest and others to settle the spirits but the last thing that was heard were screams and drag marks were found. The Final Resting Place does a great job at bringing this to life with all the unique cars and the people that you come across.
---
Fright Effect:

8.5
The Final Resting Place utilizes everything it already has to offer many levels of scares. Since this haunt is based off of a junkyard there is a lot of metal around that they use to their full benefit! They are great at providing jump scares and creepy stares. Between the loud sounds and strobe lights, they get you disoriented very quickly which is great for them. Once you're disoriented, even the slightest jump scare will seem huge. The cast is amazing and is always in the right places to be in your face or even want to play a game with you. Being outside also offers a special element of fright because you just never know what's going to happen. Before you go you might want to brush up on your hide and seek skills, you will need them!
---
Value:

8.5
This haunt is CASH ONLY! There is no ATM on property and the closest one is a little drive away. So come prepared with plenty of cash. We feel that for the longer length of this haunt that $10 is a drop in the bucket and a very fair price! This is one of the cheaper haunts around these days and we recommend you pay them a visit, especially if you enjoy roaming through junkyards and looking at old cars! Prices are as follows:
$10 General Admission
$8 a person if you bring a group of 10 or more
Kids 7 and under are free with a paying adult
---
Promo Images:
Click to Enlarge