Find Reviews for a Haunt near You! Find Reviews for a Haunt near You!
Find Reviews for a Haunt near You!
Haunted Hills Hospital
4700 Central Ave, Lake Station, IN 46405View All Details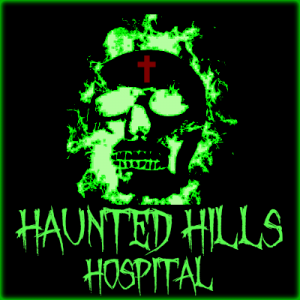 Features:
Free Parking, Paid Parking, Food/Concessions, Gift Shop/Souvenirs, Special Events, You will NOT be touched, Original Characters, All-Indoor Attraction
Team Zombillies reviewed this attraction on October 10, 2015.
Final Score:

8.84
Summary:
Our 2015 visit to Haunted Hills Hospital ("HHH") was also our second and many drastic improvements were made quite apparent to our review group! HHH is a small haunt located at the owners' residence that wraps around their entire yard, but you can't tell once you enter the gates of this sinister asylum. Even though it only lasts for a mere 13 minutes, this hospital packs a punch for its size with over double the number of crazies from last year and several new and improved scenes that, together, bring the story of "Hills Hospital" to a repulsive reality. Combine that with one of the cheapest ticket prices available and you'd better be sure that Haunted Hills Hospital is on your list of must-see haunt in Northwest Indiana!
---
Cast:

9.16
Over double their size from last year, up to 120 actors and actresses either work in, or are admitted to, Hills Hospital on a typical night. During our visitation, we came across some very strange people. After the receptionist checked us in and gave us our rules, a variety of residents began pummeling or group with insane acts of… well… inanity! From patients playing patty-cake with doors and brawling with one another to doctors mutilating people and a voracious voodoo scene, we just never knew what the next scene would have in store for us. Dialogue use seemed much better this year as several of the actors directly interacted with our group. Dr. Cropsey was as crooked as ever and asked us if we wanted the procedure that he demonstrated performed on us as well, "…for free" and with "no insurance required!" "Jinx" was noticed in the queue area and several rooms inside the attraction and definitely helped reiterate the "Hospital" theme. Others wanted to boil us, butcher us and another even made one of us duct tape the others' hands together before separating us. A rather vulgar prisoner was also very believable, although he seemed a bit out-of-place amidst the doctors and patients. A benefit of having so many characters in such a comparatively short attraction is the ability to cram 6 or 8 actors in a single room to create some very intense scenes. The clown area and the room with all of the patients fighting with one another were undeniably the most intense in the Hospital. Their rooms were filled with insane laughter and screams that made our eyes the size of golf balls before finally escaping all of the mayhem! None of them really broke character, although some of their roles weren't made clear to us when we encountered them. As a rule, most of the actors' scripts were in-line with the overall theme or, at least, their respective scenes, which helped increase the realism of the experience.
---
Costuming:

9.34
We aren't sure if it's just the side effects of the meds they gave us or what, but the costumes and makeup at Hills Hospital also seemed to have improved quite a bit as well! Several sets of colored contacts, pretty decent makeup jobs and even special nails were noticed during our tour. The costumes themselves seemed complete, appropriate for the theme and consisted of nurse scrubs, lab coats, straight-jackets, clown suits, overalls and more, depending on the characters. Some of the areas were very dark, so we weren't able to see all of the details of the monsters in those areas. The ones we could see used bruises, aging and several types of wounds, exposed body parts and blood applications to increase their realism. We also noticed several unique malls during our visit, many of which we have never seen at any other attraction! It really threw us off when we entered the clown room and each of them were dressed alike with colors that matched their black and white room.
---
Customer Service:

9.53
Our GPS brought us right to the location of HHH. Free parking can be found in an adjacent parking lot and several flaggers were on duty and ready to assist customers needing to cross the street. The sign above their driveway, flames, exterior décor and lights established that we had arrived at the right place. Multiple tents were set up where you could purchase haunt shirts, glow necklaces, food, drinks and play games towards the end of the attraction. Navigating the property was rather easy, as the ticket booth and multiple waiting lines were appropriately labeled with signs. There were a few uneven spots throughout the haunt so just be careful, and always watch out for the patients on the floor! Queue entertainment consisted of plenty of roamers including "J.A.X, the clown," "Reaper," "Bunny," "Jinx," (an escaped patient) and a 7-foot-tall, gas-masked fiend who knew how to keep us amused while we stood in line. Watch your cell phone though, Bunny likes to take them!
---
Atmosphere:

8.58
Although HHH takes place at a private residence again this season, they sure did try to provide the best atmosphere out of what they have! Loud, hard-rock music filled the air as we waited in line, as did screams from patrons in the queue area as they were targeted by the many roaming actors. The towering sign that was accented with flames helped let us know something was here that we, as haunt-goers, were about to enjoy quite thoroughly! The ticket booth, tiki torches, hospital facade and watch tower out front made it quite obvious that this was a haunted house. Watching the many unique roaming actors entertain the crowd help build our anticipation to enter and, after doing so, the receptionist continued by explaining the warnings. Finally, a bell rang to let us know that we were up next, and that's when all Hell began to break loose!
---
Special Effects:

8.28
The effects at HHH were a mixture of things that were built in-house and others that were purchased and later modified so they better suited their respective surroundings and patient abuse! Realistic and pertinent sound effects were playing throughout the majority of the hospital, which intensified the creep factor in the scenes we heard them in. Loud music and dub step was heard in other areas, while some of the characters were so loud in one scene that their screams and cries were all that we could hear! It was evident that quite a bit of time was spent decorating some of the scenes, which helped bring the hospital to life as a whole. Some of the effects that stood out to our group include a never-ending shaft, a custom Ferris wheel, a boiler room, a ceiling surprise, poppers and brainy usage of a real ambulance!
---
Theme:

8.43
Haunted Hills Hospital follows a hospital theme, but it is far from any ordinary hospital. A small excerpt we found on their web site states that, "Hills Hospital was one of the nation's dirty little secrets. This was the place where the most psychotic prisoners that were too evil for a mental facility were sent to rot and die." Our journey began as we were greeted by the receptionist and welcomed to Hills Hospital. We were then warned not to touch anything and, if we did, we would be chased down! That was by far the mildest part of our journey because, after she released us into the hospital, we instantly became bait to these fiends! We can't explain some of the devious acts going on in this haunt, but the receptionist sure was right, you definitely don't want to touch anything! There were experiments taking place on humans, loose patients everywhere, barred prisoners and other unexplainable creatures that all seemed to be set on hurting us or they acted like they were extremely delighted to see a human. So was this theme obvious? Yes! Did everything make sense? Well for the most part, yes. There were a few things that we came across at HHH that didn't match the theme as obviously as others, but we suppose this hidden hospital could house just about anyone…. or anything. Since the attraction takes place behind a house, the location doesn't really heighten the fact that you're at a hospital. However, they have done their best at decorating the hospital's entrance and, once inside, it seemed much more like an actual mental facility until we (narrowly) escaped back into reality at the exit of the attraction.
---
Fright Effect:

8.43
Haunted Hills Hospital utilized multiple levels of frights during our visit from intimidating characters, uncomfortable dialogue and clever hiding spots to sinister scowls, ear-piercing screams and a chainsaw pursuit! They also insisted that one of our group members needed to duct tape the other's hands together! Of course, they took advantage of the opportunity. That group member was leading the pack so, now that an additional sense was taken from them, it put them a little more on-edge as they led their way through the remainder of the attraction! We would also like to mention that the person unable to use their hands was later split up from the group and traversed a portion of the attraction alone! If you fall victim to this experience, we wish you luck! Many of the characters provided effective distractions for one another. At one moment, we were walking along and one would get us from the right while another would follow from the left! We started out with only two group members, but eventually gained a few more when another group caught up to us. In that light, they seemed to be interacting with the front, middle and back of the group pretty evenly rather than just going for the same person every time. Two additional scares stood out from the others, and both were rather simple. One included an actor dragging something along a dark passage while running towards us and the other involved a shaker. We don't want to ruin any surprises but they succeeded in nailing at least one of our group members with each of those techniques!
---
Value:

8.98
General admission to meet the craziest of the crazies will cost you $8.00 per person! This is the cheapest standalone attraction that we have come across so far this season! It took our group about 13 minutes to navigate our way through this irrational facility, putting their value at 1.63 minutes of entertainment per dollar spent. And let us tell you, they sure did entertain us for the entire 13 minutes!! They also offer multiple ticketing options this season. For $13.00 you can purchase the "Emergency" Fast Pass, which will allow you to skip the long, general admission line (if that's the case). If you really want to go all out, for $20.00 you can purchase their "Insanity" VIP Pass that will allow you to not only skip the line, but also get you a Haunted Hills T-shirt and additional merchandise! If you are in the area of this attraction, we highly recommend that you pay them a visit! The acting was very intense, they knew how to keep us entertained the entire way through and even snuck in a few scares as well!
---
Photos from Review Trip:
Click to Enlarge
Promo Images:
Click to Enlarge
Guest ReviewsGuest Average: 9.75 out of 10
Corey Gensimore – 10/10This is probably the most craziest and scariest haunt I have EVER been to.
---
2016 Awards
Actor Shout Out Award - Dr. Cropsey (Given by: Team Zombillies)
Actor Shout Out Award - Dr. Faust (Given by: Team Zombillies)
Actor Shout Out Award - Rabbit (Given by: Team Zombillies)
---
2015 Awards
Most Improved Attraction (Given by: Team Zombillies)
Actor Shout Out Award - Dr. Cropsey (Given by: Team Zombillies)
Actor Shout Out Award - Jinx (Given by: Team Zombillies)
---
2014 Awards
Memorable Moment (Given by: Team Zombillies)
Actor Shout Out Award - Doctor Cropsey (Given by: Team Zombillies)
---