Find Reviews for a Haunt near You! Find Reviews for a Haunt near You!
Find Reviews for a Haunt near You!
Haunted Expedition
3754 Wexford Run Road, Wexford, PA 15090View All Details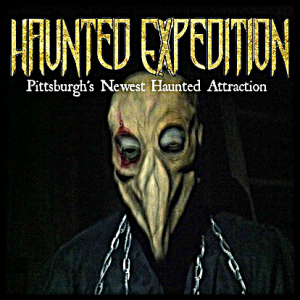 Features:
Free Parking, Restrooms On-Site, Food/Concessions, Gift Shop/Souvenirs, "Old-School" (Low Tech), You will NOT be touched, Original Characters, All-Outdoor Attraction
Team Scary Potter and the Hauntwarts Express reviewed this attraction on October 9, 2015.
Final Score:

6.3
Summary:
A new haunted attraction has moved into the neighborhood, Wexford, and it's bringing some new ideas to the Scare Scene. Choosing interactivity over gore, The Haunted Expedition has arrived with a unique blend of old-school style haunting and storyline-based scares, featuring three different interactive scenes this year as the centerpiece to their attraction: The Doctor, Welcome to the Freak Show, and John Oliver's Tavern. That attraction, mind you, includes 2 hayrides and a haunted trail as well. So head on out to Wexford, Pennsylvania, if you believe that you have what it takes to survive the Expedition.
---
Cast:

6.23
There were between 20 and 25 actors the night that we visited Haunted Expedition. We definitely felt that the quality of cast members was the attractions strongest element. Acting amongst the three major scenes was variable: the doctor was decent; the two characters at the "freak show" did quite well and played off of each other entertainingly. Unfortunately, the actress in John Oliver's wasn't very convincing. The recorded introductory actor was certainly the best of the lot, though we really felt that his performance would be significantly more effective if it were performed live instead of being watched on a television. The monsters hiding against the corn stalks, haunting the trail were commendable. They definitely worked very hard to scare and re-scare our group, several refusing to take no (scare) for an answer. Sadly, large portions of the trail were vastly undermanned, and we spent a good deal of the walk alone. We're not sure if the hayrides were intended to be part of the haunted portion of the attraction or not. There was one actor that appeared as we rode them. With all of the available, under-utilized space of the hayrides and trail, we really felt like a few dozen more cast members could really give the Expedition a huge boost.
---
Costuming:

4.87
Most of the outfitting throughout the attraction was from the neck up. We did see some interesting and clever masks show up. A character with what appeared to be quills jutting out of his mask was quickly labeled "Mr. Porcupine" and remained as our favorite costume. The jester from the freak show was adorned in a convincing ensemble as well. We would have liked to have seen more filled-out costuming designs (most non-scene actors wore just a mask and street clothes). Several of the mask-only actors didn't even tuck their masks under their shirts which tended to ruin the illusion. Overall, most of the costumes were at least adequate for their respective characters.
---
Customer Service:

7.29
All of the employees that we spoke to were friendly and helpful. There was also a concession stand available in the center of the waiting area with various food and drink options. Though there weren't any specific forms of entertainment available for people waiting in line, we actually didn't see a line during our time on the premises, rendering that a moot point – spending only a few minutes between acquiring our tickets and boarding the hay ride (with normal tickets) was great! Being stationed at a popular local farm and market, we assume that most locals would have no trouble finding the location, however, there was really only one small sign out front that indicated that The Haunted Expedition did, indeed, take place there, and it was nearly invisible from the road (it wasn't lit up in any way). Still, with a gps, out-of-towners (like us) will have no trouble reaching the property and a quick glance around makes it clear that you're in the correct place. Parking is free and self-guided.
---
Atmosphere:

8.25
Haunted Expedition is fortunate to occur in a setting with such a great natural atmosphere. We always love attractions that are placed in an isolated section of farm or woodland – it provides a realistically creepy ambience even before the first "boo" is uttered. The Expedition increases this by hauling you further out into the dark of night to drop you off for the trail. Even during the long stretches of trail that we did not encounter any actors, the rustle of wind through the corn allotted us a mild surge of adrenalized fear to maintain until we reached another haunted scene. There was certainly potential for the attraction to expound upon this atmospheric creepiness, but it did work well on its own.
---
Special Effects:

5.18
The Expedition pledges a no-animatronic experience, and they certainly uphold that maxim throughout the attraction. Choosing this more naturalistic, actor-drive approach to haunting, the amount of "special effects" in use were fairly scant. The only really set-design utilized was within the three major scenes of the trail. Of these, the doctor's office was likely the most well-developed, an array of medical tools on a counter amidst several other pieces of furniture. The freak show was fairly threadbare, though John Oliver's did have some promise. To remain spoiler-free, let me just say that the "atmospheric effects" of that location were somewhat less effective because of timing and placement, though we appreciated their inclusion and the idea behind the design. We're still trying to figure out why the first portion of the trail had random pieces of furniture scattered throughout.
---
Theme:

5.63
The introductory sequence performed by the recorded narrator really hinted at a great deal of promise and definitely got us excited for the remainder of the experience. Walking through an entire town that was slowly being taken over by demons – yes! Most attractions that we visit cycle between the same dozen themes so the possibility of an entirely new one was very exciting. Unfortunately, that theme didn't really come up again much until the last scene in John Oliver's. Scene one with the doctor – perhaps he was being possessed by demons? However, the "freak show" really didn't fit with the theme at all, and as a matter of fact, wasn't actually a freak show at all. The interaction at John Oliver's did exist within logical thematic boundaries, but it came at the end of the attraction, and served as a pretty lackluster finale to the experience. The scares of the haunted trail didn't really seem to have much to do with any specific theme.
---
Fright Effect:

6.98
As mentioned under "Cast", the scare-a-holic actors within the trail were adamant about getting their scares. Many of them appeared, disappeared, and then reappeared shortly thereafter in a different location. This was a well-executed strategy to get more scare attempts out of a limited number of cast members. One thing that we made note of was the skill of the actors to blend into the environment (usually amongst the stalks and grass) before pouncing. Without actual scenes to distract the customers or for them to hide in, we really did admire the amount and quality of opportunities they created for themselves. We also had to tip our collective, metaphorical hats to a particularly clever and surprisingly scare in one of the scenes. This scare really "grabbed" our attention. Outside of that, the scenes did have lots of potential for prolonged, psychological frights, but weren't particularly effective.
---
Value:

5.98
We spent approximately 18-20 minutes walking through the trail and haunted scenes, with an additional 10 minutes or so spent on the hayrides. Admission through the attraction is 15 dollars, putting the sca-lue at 1.3 minutes of haunted entertainment per dollar spent (2.0 if you included the non-haunted hayrides). This is a decent value when compared with other attractions. The scenes each last one to two minutes, with the remainder of the time being spent walking along the trail (and coming face-to-face with the trail monsters!) For an additional five dollars, you can purchase a "no-scare necklace" that will cause the monsters to ignore you completely – a good option for small children and the chicken-hearted. The Haunted Expedition shows a lot of promise – they have a great location and some good ideas (we love interactive/story-based attractions!), and will surely just get better and better each year.
---
Promo Images:
Click to Enlarge
Have you visited this attraction?