Find Reviews for a Haunt near You! Find Reviews for a Haunt near You!
Find Reviews for a Haunt near You!
Faristons Haunted Forest
370 Shackle Road, London, KY 40744View All Details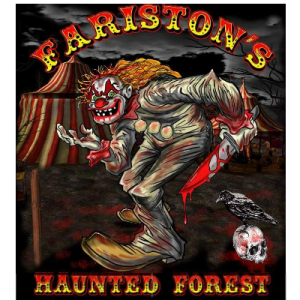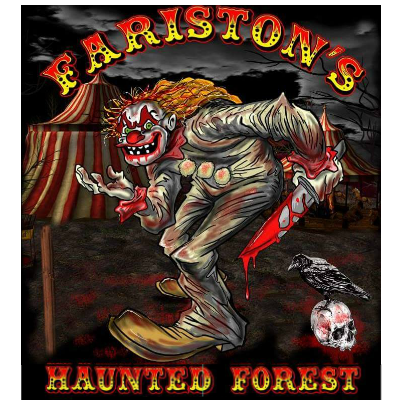 Features:
Free Parking, Restrooms On-Site, Food/Concessions, Gift Shop/Souvenirs, You may be touched, Movie Characters, Uncovered Outdoor Waiting Line, All-Outdoor Attraction, Family Friendly
Team Zombillies reviewed this attraction on October 16, 2015.
Final Score:

7.32
Summary:
Fariston's Haunted Forest, now in their 16th season, offers a 1/3rd-mile-long, wooded trail for folks looking for frights in London, Kentucky. Being our first time reviewing Fariston's, we weren't sure what to expect before we arrived. What we found was a variety of classic creatures, characters and scares! While they aren't a "high-tech" haunt with a lot of (what we call) "eye candy," they do have some original scares and a very reasonable ticket price that allows the experience to be easily enjoyed by those in London and the surrounding areas. If you're looking for a frightful forest with some characters that everyone loves to be scared by in Southeastern Kentucky, be sure to look up Fariston's Haunted Forest this season!
---
Cast:

6.96
Around 50 actors, actresses and crew members staff Fariston's Haunted Forest. We did come across a few "dead spots" between scenes, but this number did seem to provide each of the scare zones with enough staff to keep the creepy encounters flowing consistently. Generally speaking, most of the dialogue used by these fearsome fright-givers tended to be generic, often-heard lines like "Get out," "Wanna play," and "He's gonna get you," but most of the characters made it work for their respective areas to the best of their ability. However, the creatures (i.e. the zombies, scarecrow, etc.) that we saw did have some great vocals for their characters, which made them much more believable. Some of the monsters that we met include the Devil himself, a scarecrow, the Creeper (from "Jeepers Creepers"), Michael Myers, Freddy Krueger, "Dr. Tongue," a werewolf, a girl resembling "Samara" (from "The Ring"), clowns and even Santa Claus. Before you get too excited, trust us, you don't want the presents THIS jolly old elf has to give! A couple of the actors did break character during our visit. However, most of them stuck to their roles pretty well aside from that, although their interactions with us suffered after their initial scare attempts. Among the most believable were the Creeper, Freddy, Santa, the scarecrow, Samara, and the ghouls that attacked us from up in the trees. A big highlight was how a couple of groups of the actors worked with one another to provide some VERY effective distractions! That's a feature that only a select few haunts have mastered and, in those scenes at Fariston's, it made their 16 years of experience quite apparent.
---
Costuming:

7.33
One makeup artist works to make sure each of the characters at Fariston's look their respective parts on a given night, although some of the actors apply their own makeup as well. While most of them appeared to belong in the scenes they were in, a few seemed to be randomly placed along the trail with no apparent scenery or décor to accent their characters. Masks of varying quality seemed to be the "weapon of choice" for most of the "neck up" costuming. Makeup, when used, was equally diverse, but most of them either had none at all or white faces with darkened eye sockets. The same can be said for the costuming articles themselves. Some (like the Creeper and scarecrow characters) sported very complete and believable outfits while others appeared to be much less complex. In summary, the vast majority of them looked decent and were able to at least convey their identities with ease.
---
Customer Service:

8.63
As you near Faristons' entrance, you'll notice multiple signs that'll let you know you're on the right track and others that warn you of the single-lane road ahead. Drive cautiously; passing exiting vehicles in this area can be very difficult if you meet in the wrong area. However, after you arrive, parking is made easy thanks to the multiple flaggers that are strategically guiding vehicles to and from their spots. The friendly staff members in the souvenir stand and ticket booth were able to answer any questions we had and direct us to the queue area. "Pinhead" was seen working the crowd near the ticket booth, where faint, eerie sounds could be heard as well, and he also reappeared near the trail's queue line for some pre-haunt scares! Truck-pulled trailers haul customers down a path that runs parallel to the haunted trail that ends where the actual beginning of the trail is located. Navigating the woods is relatively easy with different kinds of lights to guide you, although a few "boobie traps" provided some extra surprises during our walk-through, so watch your footing. If you venture out to Fariston's after rain, management informed us that things can be pretty muddy in the woods. However, they also said that most of their customers have enjoyed the extra challenge escaping the monsters. A few good features include a souvenir stand that's located at the exit of the trail, portable restrooms near the ticket booth and a concession stand near the queue area where they're serving up snacks and FREE hot chocolate all night long!
---
Atmosphere:

6.92
Fariston's Haunted Forest is on the outskirts of London, Kentucky and, while the close-neighboring houses didn't quite give off a creepy feel, the eeriness seeped in as we got closer to the woods! As we approached the ticket booth, the atmosphere quickly changed quite a bit! Two staff members fully dressed in costumes greeted us from their well-decorated hut while a towering Pinhead welcomed us with a menacing chuckle! After we received our tickets, we followed a dimly-lit path down to the waiting area which was actually a fairly dark portion of the tall timbers. With Mother Nature now encompassing us, an overall-spooky atmosphere took over while we waited our turn. Unexplainable sounds could be heard from near the ticket booth during our visit, but it was rather quiet while we stood in line other than the screams, chainsaws and vehicles that echoed from within the timbers. The revs of truck engines as they pulled in to pick up passengers did help in building our anticipation to jump aboard as well as the arrival of Pinhead in the queue area as he preyed upon terrified guests!
---
Special Effects:

6.83
Most of the effects at Fariston's have been created in-house and, because of that, we came across some unique items deep within these woods. Appropriate sound tracks accompanied the more "familiar" scenes which included a Rob Zombie hit, the "Halloween" theme song, "Jeepers Creepers" and a Christmas tune. While these tracks heightened the authenticity of the scenes they were heard in, we came across quite a few quiet areas where the only things that we heard were the sounds escaping from other scenes. Scenes such as the graveyard and Christmas area sported decorous elements while the cornfield and a few portions of the trail had enough authenticity on their own. Quite a bit of black plastic was randomly noticed throughout the timbers, mostly functioning as walls and greatly hindered the realism of the scenes where it was encountered. Basic lighting was found in many of the scenes; landscaping lights placed along the corn maze path gave us the right amount of lighting we needed to see while string lights were found lining most of the wooded trail. Some additional effects that we came across within the forest included traps (spongey holes), a school bus with a hole in the roof, a wobbly bridge, a screen surprise, a vortex tunnel, sliding floors, a warm surprise and multiple gadgets that allowed several of the creatures to attack from high above!
---
Theme:

N/A
N/A – Fariston's Haunted Forest does not follow a particular theme. However, we can tell you that it is likely you may come face-to-face with familiar horror movie villains!
---
Fright Effect:

7.45
This haunt receives a higher score in this category than in others because they were actually pretty good at catching us off-guard! Their most potent ingredient proved to be distractions and they managed to provide our group with a double distraction (one actor kept us off-guard for one scare while THAT scare kept us off-guard for another)! We don't come across those very often, and it was quite impressive so kudos for that (Doctor, Flame, Freddy)! Some of the other types of frights that our team endured were a drop panel surprise, disorientation, intimidating characters and a growling chainsaw finale! Surprises also derived from much unexpected places above and below our group! Although there were only two people in our group, they did a good job at targeting us both. However, we feel that some of the crew gave up too soon on scaring us and reset rather than reverting to a different scare-approach when there wasn't a group close behind us.
---
Value:

7.1
General admission to take the trek through Fariston's Haunted Forest will cost you $10.00 per person. It took our group around 14 minutes to conquer the trail, bringing this value to "above average" at 1.4 minutes of entertainment per dollar spent! This haunt strives to provide the best experience to their customers and we must say we had a fun time while paying them a visit! They succeeded in catching us off-guard on multiple instances, showed us a few things our review group hasn't seen before and gave us quite a few laughs throughout our visit. If you are in the London, Kentucky area and walking through the dark woods inhabited by creatures and villains on an October night sounds like fun to you, be sure to visit this family owned and operated haunted attraction this season! Pinhead will be waiting to greet you!
---
Photos from Review Trip:
Click to Enlarge
Have you visited this attraction?
---
2016 Awards
Actor Shout Out Award - Forest Crawler (Given by: Team Zombillies)
Actor Shout Out Award - Leatherface (Given by: Team Zombillies)
Actor Shout Out Award - One-eyed Ghoul (Given by: Team Zombillies)
---
2015 Awards
Actor Shout Out Award - "The Creeper" (Given by: Team Zombillies)
Actor Shout Out Award - "The Scarecrow" (Given by: Team Zombillies)
---