Find Reviews for a Haunt near You! Find Reviews for a Haunt near You!
Find Reviews for a Haunt near You!
Wicked World Scare Grounds
5817 Tates Creek Road, Nicholasville, KY 40356View All Details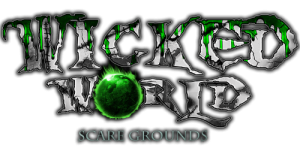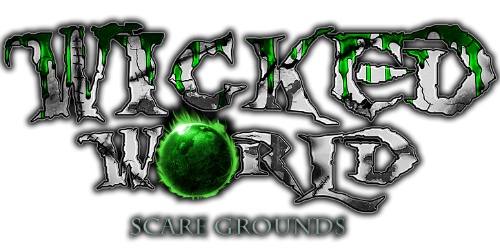 Features:
Free Parking, Restrooms On-Site, Food/Concessions, Original Characters, Indoor/Outdoor Waiting Line, Indoor/Outdoor Attraction
Team Zombillies reviewed this attraction on October 16, 2015.
Final Score:

9.14
Summary:
Wicked World Scaregrounds is now in its 6th season at its current location and offers 3 separate attractions! "(No) Mercy Hospital," their flagship attraction, continues the story of the malevolent medical facility that's incessantly cursed by an evil "Darkness" that wreaks havoc on the patients and resident staff. Will YOU make it through without succumbing to it yourself? "Darkwood Carnival" is aptly themed around a 1930's carnival show where people once flocked to attend due to its greatness! That is, until people started disappearing for no apparent reason (see "Theme" for more info). Take the trek on this trail that twists its way through the dark timbers of WWS, but be sure to watch your back! This trail has a lot of new additions for the 2015 season, so there are quite a few new things to see… even if you've been here before. Wicked World's newest attraction, "Quarantine," gives you the change to hop aboard "General D.K.'s" train and visit "Fort Greenwall," where the government has been secretly experimenting with creating "disposable soliders" for years unbeknownst to the public…until now. Behold the sinister experiments within… that is, if you think you can make it out without becoming an "experiment" yourself! With 3 separate attractions that can be enjoyed together or individually, Wicked World Scaregrounds offers one of the best values in the tri-state area, so make sure you pay them a visit this season!
Mercy Hospital: 9.35
Darkwood Carnival: 8.95
Quarantine: 9.11
---
Cast:

8.96
Over 70 cast members wander Wicked World and wait for passing patrons to trek through their 3 treacherous attractions on an average night. This number seemed to fill Mercy Hospital pretty well, but Quarantine seemed just a tad on the thin side and Darkwood Carnival had several long stretches of empty space between actors during our visit. Some of the actors provided "pop" scares during our visit (which involves jumping out, scaring and quickly resetting), while most of the others had excellent dialogue and interacted with our group very well. The latter particularly applied to Mercy Hospital during our visit, however many characters were very memorable to us during our tour of the Scaregrounds. Some of the most memorable from the Carnival include "Roadie Fisher," who did an excellent job at introducing us to Darkwood Carnival, "BoBo," who used a horn and sang us a tune, "The Ring Leader" in the vortex tunnel that made us play Limbo on our way through, and "The Strong Man" who killed "fish boy" (a character from last season) and showed us his head to prove it! Quarantine's main character (General D.K.) was noticed multiple times during our tour and typically interacted with us on each occasion in ways that kept the theme flowing smoothly. Also, the doctor who warned us that he'd been bitten and was about to "turn" made his character very believable by following through with that statement. Mercy Hospital featured a variety of patients and staff members and each of them reiterated their "good-hospital-gone-VERY-wrong" theme! It was hard for us to pick out very many that stood out from the others here, but some of them include "Carnage," "Slashton," "Dr. Drizz," who was entertaining the queue area this year, the rabbit and "Silas." Catching the characters at Wicked World out of character proved to be a daunting task as each of them seemed to have great acting skills and matching dialogue for their roles and scenes!
Mercy Hospital: 9.35
Darkwood Carnival: 8.82
Quarantine: 8.71
---
Costuming:

9.63
The costuming at Wicked World proved to be one of their strong suits this year with some of the best-looking characters we've seen so far this season. Starting with the Carnival, each of the monsters were of the freakish and clownish variety and included characters like "Roadie Fisher," a werewolf, freak-show entertainers, classic carnies and, hey, plenty of clowns! "Roadie" was the first guy we saw during our visit. He had good wound makeup, a mouth full of sharp teeth and his plaid shirt and overalls (along with his dialogue) rang a big "carnie" bell for our review group. The scales on his face and the snake on his shoulder reinforced his placement in the wooded area surrounding the carnival and that he'd possibly been further affected by the nearby freak show. The rest of Darkwood's actors did reiterate the carnival/clown/freak show theme quite well for the most part. Quarantine's characters were obviously military-related with tons of army camo and a few doctor/medical outfits to specify the "experimentation" side of their story. Makeup seemed to be adequate with flesh-wound appliances and grungy blood accenting most of the characters. However, a few good masks were noticed and accented the characters wearing them very well also! Mercy Hospital came out on top during our visit of the three attractions that Wicked World has to offer. Each and every one of the hospital staff, patients and demonic creatures within the facility looked spot-on for their roles with aged and distressed scrubs, lab coats, maintenance apparel, and more. We even noticed some "improperly used" medical devices (like syringes) in places where we didn't think they were supposed to go and torture devices that signified the sinister acts they've committed during their entrapment! Throughout the Scaregrounds, most of the characters seemed like they belonged in the scenes where they were encountered and matched their respective themes very well.
Mercy Hospital: 9.74
Darkwood Carnival: 9.5
Quarantine: 9.64
---
Customer Service:

9.25
Our route to Wicked World from Indiana led us through Louisville. We mention that because we started seeing signs (in this case, a billboard) before we'd even crossed the bridge into Kentucky! Even though we didn't spot any others until we'd arrived, our trusty GPS led us right to their Tates Creek Road entrance with little effort. There, we noticed the nice, big, well-lit sign that verified we'd "… arrived at [our] destination." Multiple parking attendants led us into the grassy hillside lot and another on an ATV escorted us to our spot with haste unequaled by that found at any other attraction we've visited to date! Friendly staff members at the ticket booth were available for assistance with helping customers choose from their different packages and others were dotted throughout the Scaregrounds to help with any other questions or concerns that arise. "Noodles" looked like he'd drank about 3 cases of Monster energy drinks as he startled the unsuspecting subjects in the midway area with his surprisingly-accurate sliding skills for the duration of our visit. Each of the queue lines were pretty easy to find, although the one for Quarantine seemed a bit "off by itself" compared to Mercy and Darkwood. Actually navigating the haunts was relatively easy for the most part; just be mindful that the Carnival is an outdoor trail with some inherently-uneven terrain here and there (however, some is intentional). Lastly, we can't forget to mention their concession stand; a variety of food and drinks can be found here and we prejudicially recommend the deep-fried Oreos and fresh-squeezed lemonade… yes, it's a weird combination, but no one's ever accused Team Zombillies of being exactly "normal."
---
Atmosphere:

9.05
The image of "Rage" depicted on Wicked World's entrance sign is a dead giveaway (pun intended) that you've arrived at a haunted house! The variety of roaming actors reinforces that fact and their assorted characters let you know that there's a variety of themes to be discovered. Carnival ride sounds could be heard from near Darkwood's entrance, which helped prelude the haunts theme, and a plethora of intense songs could be heard near Mercy Hospital's queue area. The sounds of screams echoing from various locations and the eerie sound of a custom machine gun combined to increase our anticipation to get started with the haunts! Darkwood's façade was very fitting with a towering roller coaster high above the entrance and the nearby dunk booth with "Gimpy" perched above his inevitable drenching spot was a nice touch too. Mercy Hospital is reminiscent of a warehouse at first; but, once you enter this dark establishment, a malevolent movie plays and your exit leads to the well-detailed entrance of the actual facility.
---
Special Effects:

8.91
Several sounds were heard seeping through the scenes at Wicked World Scaregrounds. Appropriate, carnival-themed music was heard both inside and out of Darkwood Carnival, but several long stretches with no sound were encountered as well. Sirens, alarms, screeches and slobbers were heard during our tour of Quarantine, which fit the military/zombie themed scenes very well. Some very creepy sound effects were emitted from the sinister sets inside Mercy Hospital, which also seemed to increase the intensity of that attraction. Due to the diversity of Wicked World's attractions, an equally-varying set of animatronics and special effects are utilized. We don't want to ruin them all, but some of these include a swampy area, an air tool surprise, "Bosom Betty," "Pickles'" sideways house, multiple CGI apparitions and more! Mercy Hospital took the lead in scene detail in this category as most of its sets are put together very well and albeit a few stones were left unturned, so to speak. While we did still come across a few blank walls here and there, the majority of the scenes were very well-detailed and some areas even included paint that looked like it was peeling off of the walls! Cleverly-disguised drop panels, angry animatronics, sparking surprises, a rickety elevator and a realistic boiler room truly helped create the experience of walking through an old, seemingly-abandoned haunted hospital. Darkwood's lengthy, empty spaces leave lots of room for future additions, but the areas that were complete proved to be very effective at setting the scenes, literally, for our imminent encounters. Some of Darkwood's effects include movie character statues, broken-down carnival rides and games and ghostly visitors just to name a few. Quarantine's special effects, especially the sirens, rotating lights, biohazard/radiation warning signs, barreling barrels and the "experiment" containment/assembly areas, created a very fitting environment for a top-secret government complex and added a lot of believability to the theme for our group.
Mercy Hospital: 9.34
Darkwood Carnival: 8.34
Quarantine: 8.68
---
Theme:

9.43
Each haunt at WWS follows its own, diverse storyline and the details for each one can be found on their website. Mercy Hospital, or "No" Mercy Hospital for those who are familiar with it, will pull you back in time to the 1950's. "The Darkness" has taken over this hospital, endlessly trapping many patients and staff within it and forcing them to take extreme measures to survive! Now re-opened after 60 years, you can witness the cannibalistic and experimental behaviors of those within for yourself… if you dare! However, there is a bit of a kicker; the staff members have retaliated against the darkness… but are they powerful enough to destroy it? The "Greatest Show on Earth" is said to take place way out in the woods near the spot where one of the best carnival barkers from the 1930's was beaten to death for pushing his crew too hard to perform. The barker's name was "Ivan Darkwood" and this show, known as "Darkwood Carnival," takes place on these very grounds! Is this carnival related to Ivan? The word is, if you visit this carnival, "you'll enjoy yourself so much, you'll never leave!" Wicked World's latest attraction, Quarantine, just might have you re-thinking how much you can trust the Government! This Government-operated experimentation facility was a well-kept secret… that is, until now! This research amenity houses experimental beings known as "disposable soldiers." However, they don't just reanimate dead soldiers; they have begun working on subjects from the public too! Will you make it through? Or will you become zombie bait like we did? The basic storylines of Darkwood Carnival and Mercy Hospital were explained to us before we actually entered. Before going into Quarantine, we boarded a train that took us out to the research facility. However, the experimental tendencies of the haunt were not explained to us before entering, which in the end, made it easier for them to trap us! Many of the characters that we came across in all three attractions matched their themes appropriately and some even helped tell the story a bit. In Mercy Hospital, the characters uniquely worked with one another in various areas which helped bring the overall hospital environment to life!
Mercy Hospital: 9.68
Darkwood Carnival: 9
Quarantine: 9.62
---
Fright Effect:

8.47
Between the three attractions at WWS, frights were delivered on a variety of levels from creepy stalkers, threats and untamed, flesh-eater encounters to becoming human targets, pitch black areas, chainsaw chases and run-ins with some downright scary characters! They went for everyone in the group instead of just the front or back, so we all became objects of interest at some point in time. We fell victim to camouflaged hiding spots and some clever distractions at multiple times which helped keep the scares more unpredictable. The finale for each attraction varied and, because we don't want to ruin any surprises, we're just going to leave it at that! While being sinisterly entertained by those within the Darkwood Carnival, they tried to convince us to give them our teeth, wanted to drain our blood, convinced us to enter a claustrophobic area and threatened to bash our head with a baseball bat! In Quarantine, we had many vicious zombies attacking us, they trapped us in a pallet maze (which made it easier for the zombies to catch us) and we even had to dodge falling barrels!
Mercy Hospital: 8.83
Darkwood Carnival: 8.08
Quarantine: 8.49
---
Value:

9.4
General admission to any of the three attractions at Wicked World Scaregrounds will cost you $12.00 for one haunt, $20 for two haunts or all three haunts for $25.00. It took our group a total of 53 minutes to traverse all three of the attractions (not including wait times) which brings the combo ticket value to 2.12 minutes of entertainment per dollar spent! That's among the best values that we've seen this season! Due to the diversity of each haunt at WWS, and the combo ticket's great value, we recommend that you take that route and go through all 3 during your visit! Fast Pass information can be found on their website if you are interesting in skipping the long waits in line. If you can absolutely only make it to one or two haunts, be sure to check out the theme category above to try and find the one that you might enjoy the most. WWS continues to improve each season by offering more frights and spooky-entertainment for their customers' dollar. If you're near the Lexington, KY area this haunt season, we highly recommend that you pay them a visit, where they offer, "three times the terror, three times the fear!"
---
Photos from Review Trip:
Click to Enlarge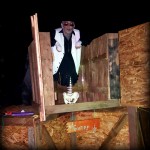 Promo Images:
Click to Enlarge
---
2016 Awards
Scariest Actor - Cujo (Given by: Team Zombillies)
Most Realistic Costume - Roadie (Given by: Team Zombillies)
Best Clowning Around (Given by: Team Zombillies)
Most Interactive Queue Entertainers (Given by: Team Zombillies)
Most Evident Character Backgrounds (Given by: Team Zombillies)
Actor Shout Out Award - "The Barker" A.K.A Evan Lawson (Given by: Team Zombillies)
Actor Shout Out Award - Darkwood, "Ivan Darkwood" A.K.A Shorty Smith (Given by: Team Zombillies)
Actor Shout Out Award - Mercy, "Lucious" A.K.A Randy Wayne Smith (Given by: Team Zombillies)
Actor Shout Out Award - Mercy, "Milosha" A.K.A Sara Sakowich (Given by: Team Zombillies)
Actor Shout Out Award - Mercy, "Nurse Lilly Ann Patterson" A.K.A Belinda Smith (Given by: Team Zombillies)
---
2015 Awards
Most Interactive Queue Entertainers (Given by: Team Zombillies)
Actor Shout Out Award - Ashton Lester, A.K.A. "Slashton" (Given by: Team Zombillies)
Actor Shout Out Award - Evan Lawson, A.K.A. "Irish, the Scottish Clown" (Given by: Team Zombillies)
Actor Shout Out Award - Jarmen Wadkins, A.K.A. "Carnage" (Given by: Team Zombillies)
Actor Shout Out Award - Lisa Saunders, A.K.A. "Victoria Meelwurhm" (Given by: Team Zombillies)
Actor Shout Out Award - Randy Wayne Smith, A.K.A. "Silas" (Given by: Team Zombillies)
Actor Shout Out Award - Skylar Cannon, A.K.A. "Roadie Fisher" (Given by: Team Zombillies)
---
2014 Awards
Creepiest Vocals (Given by: Team Zombillies)
Best Introduction of the Theme (Given by: Team Zombillies)
Actor Shout Out Award - Fish Boy (Given by: Team Zombillies)
Actor Shout Out Award - Schizo Clown (Given by: Team Zombillies)
Actor Shout Out Award - Spider Sprinkles (Given by: Team Zombillies)
Actor Shout Out Award - Train Engineer (Given by: Team Zombillies)
---