Find Reviews for a Haunt near You! Find Reviews for a Haunt near You!
Find Reviews for a Haunt near You!
Blood Moon Farms
7265 Columbiana Canfield Road, Canfield, OH 44406View All Details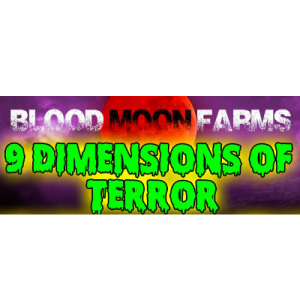 Features:
Free Parking, Restrooms On-Site, Food/Concessions, "Old-School" (Low Tech), You will NOT be touched, Original Characters, Uncovered Outdoor Waiting Line, Indoor/Outdoor Attraction
Team Scary Potter and the Hauntwarts Express reviewed this attraction on October 16, 2015.
Final Score:

7.82
Summary:
Formerly the Haunted Scaregrounds, Canfield, Ohio's staple haunted attraction has undergone a massive transformation. Now dubbed "Blood Moon Farms", these foreboding fairgrounds have received the proverbial shot-in-the-arm. Containing NINE ATTRACTIONS (Barn of Evil, Mange's Pet Emporium, Tingling Brothers, Barbie's Scream House, The Gateway, The Witches of 5 Points, Slaughterhouse, Haunted Farmhouse, Harvest Hayride), this haunted attraction is enormous, and better than ever before. So come to the Canfield Fairgrounds this Halloween season and witness an all-new horrific harvest. It's going to be a real Barn-burner.
---
Cast:

8.67
We encountered a very wide variety of monsters, mutations, and crazed convicts – at least 100 in all. Most of the attractions felt like they had just enough actors, though would probably benefit from adding a few more. Our general impression at the end of the eighth attraction was that the characters we had experienced were actually a lot more interactive than most other locations that we've been to. Yes, there were plenty scare-and-get-out haunters, but at least a third of the characters that we encountered conversed with us and maintained sustain interactions. This is a departure from the standard haunted house formula and it really worked to Blood Moon Farms' favor. Being a new attraction, the actors aren't quite as adept at portraying darker, more serious personas, but when the actors were placed in more versatile, potentially light-hearted roles, they seemed to excel. These encounters were definitely the highlight of our night. Mange's Pet Emporium featured the highest concentration. Beginning with the gentleman watching the line to enter the attraction (a jolly chap, he was), we were graced with colorful character after colorful character. I love Mr. Pig. There, I said it. Though, the other carnivorous (yet cuddly) creatures were enjoyable as well. It was our favorite of the attractions for good reason. Unfortunately, we did encounter a few instances of overt character-breaking including a few monsters taking off/putting their masks back on and an actor sitting in the middle of an otherwise creepy lightshow, drinking a jug of water.
---
Costuming:

6.35
To continue what appears to be a developing trend, the costumes in Mange were the clear winners. The variety of "manimals" lurking throughout the attraction was impressive. The dim lights occasionally forced us to lean-in and contemplate which particular animal stood before us, but the increased requirement for detail-attention made us enjoy the proceedings even more. The animal costumes were all well-designed and effective. Elsewhere, the costuming was mediocre to pretty good. We saw some very interesting masks and make-up work, but did also experience quite a few "mask-and-your-done" costuming jobs. Mostly, outfits of the actors were just detailed enough to not detract from their characterizations. We didn't experience any moments in which an underdeveloped costume truly distracted us, so their totality was certainly adequate.
---
Customer Service:

6.89
Upon arrival, we noticed two things: the haunt was well-lit, with a visible sign to assure us that we were in the correct place. Also, though, there were no parking spotters. While not always strictly necessary, their lack resulted in a somewhat chaotic parking experience – nothing too extreme, but mildly inconvenient. Parking was free, though. The main thoroughfare is well-stocked with everything to keep customers satisfied – plenty of restrooms and concession stands (PLENTY of concession stands…yum). We found the staff to be helpful and friendly, especially the gatekeepers at each attraction. HOWEVER, we experienced a unique situation as we waited to board the final attraction, the Haunted Hayride. Long story, short, from what I was told, the Hayride operators (or perhaps the cast also) took a break at the same time… for approximately 40 minutes. The ride literally shut down as the crowd of customers attempting to ride it began piling up. Withholding personal judgment, I do need to say that I have never experienced a scheduled, full-shut down like this. Could the riders (there were five, I believe) and/or actors have not staggered their breaks so the ride could have continued, simply with less tractors going? The mood of nearly every customer around us during this period grew to be sharply negative, so perhaps this is something that could be addressed in the future.
---
Atmosphere:

8.75
The fairgrounds definitely provide a suitable environment for a haunted attraction. The storylines for the various attractions all concern the titular farm, so the fairground is about as close to that habitat as possible. The entire haunt feels like a carnival/farm hybrid, with the path between attractions feeling a lot like a tour of side show attractions. It definitely succeeds in making you feel connected to the experience throughout your hour-long trek. Within the oppressive throngs of a cityscape, this type of haunted attraction just wouldn't have been nearly as effective.
---
Special Effects:

6.47
Set Design at Blood Moon Farms was highly variable. A few of the attractions (The Haunted Barn and Slaughterhouse) had quality scene displays. The Barn, by far, was the most fleshed-out (PUN warning), well put-together attraction, with a variety of clever sets, including some great light work (one hallway, which I'll call "Hubble's Hall" was really cool), a frustratingly well-crafted vinyl maze, a string of checkered hallways that turned the floor into the chief protagonist, and one sinister "hair-raising" animatronic that really made us "howl." The Slaughterhouse was simply designed, but had just enough fog and props to be effective (bolstered by good actor scares); Mange's, too, was more focused on actor-scaree interactions than immersive set design, so its minimal design was adequate. The rest of the attractions were a little too threadbare. A lot of the houses really only seemed to have a few handfuls of props scattered around. There were definitely pockets of creativity that stood-out in each (the climax of The Gateway features the best effect of the entire haunt), but we would have really loved to have seen MORE in each attraction. With so many actors, it really felt like they needed more to work with – more fully-realized sets, more props and more effects.
---
Theme:

8.09
With nine individually-themed attractions, Blood Moon Farms covers a lot of thematic ground. It was nice to see that these themes varied from those most commonly-used by haunted attractions (for the most part). Also, the web page gives detailed back stories for each haunt, making the themes more developed. Walking through several of the attractions, it was somewhat difficult to understand exactly what the designer had intended the theme to be (Barbie's Scream House, The Gateway). This was largely due to the limited set designs (see special effects), but also some confusing prop and soundtrack decisions. The most befuddling aspect of the night, though, was our venture through The Witches of 5 Points, which, inexplicably, had a dance music soundtrack playing for sections of it. Witches + dance music = perplexed reviewers. It didn't ruin the experience of the attraction as a whole, but did distract the heck out of us for a couple minutes. Still, the Barn, Mange, Slaughterhouse, etc all had pretty obvious themes, and stuck to them without any gregarious deviations.
---
Fright Effect:

7.85
If you love air horns, you absolutely can not miss this haunt. No, really, if the idea of being repeatedly blasted in the ear by loud horns is feverishly appealing to you, behold: Nirvana. That being said, despite those devil horns being the most common non-actor scare in use, they do have a lot going for them. There were 3 or 4 really good physical scarers – these drawn-out, creepy crawlers are a nice deviation from the usual jump-scares. "Table Girl" was the queen amongst this lot, a one-trick pony, yes, but that single prestidigitation was all she needed – simple but effective. Speaking of prolonged frights, the Slaughterhouse offered a different flavor of drawn-out doom. While Mr. Pig (part deux) snarled his way into our hearts, the last actor achieved the most effective psychological scare of the night, which occurred before we'd ever even seen him. Sound can be a great tingler of the senses. A prop scare, specifically a "portrait scare", surfaced many times during our visit that we hadn't seen before, and it was successful in startling us. Standard actor jump-scares were mixed, but not particularly ineffective beyond those mentioned. There just wasn't enough "shade" for the cast members to hide in, and definitely not enough ambiance to really work us into chattering teeth mode – again, the lack of effective set design really hurt the ability to generate proper scares in many cases. Worst of all, of the few animatronics employed, twice we watched an actor push a button to engage it. There aren't many worse ways of destroying mood and immersion than watching an actor-monster walk over to a button on the floor, stomp on it (or worse: hold it in his hand and squeeze it), and then have an inanimate object spring to life in a failed scare-attempt. We understand that many of these effects are manually-controlled, but we should never SEE you controlling it.
---
Value:

9.48
A trip through all nine attractions costs $20, with an optional $5 fast-pass upgrade (more on that in a moment). We spent nearly a full hour traversing the nightmarish realms of the first eight attractions, spending perhaps five minutes in line total. That's around 3 minutes of entertainment per dollar spent which is a FANTASTIC deal. Understand, we did opt to spend the extra scratch to get the very reasonably-priced fast-pass, and this was THE GREATEST DECISION OF OUR NIGHT. At only a 25% increase to the standard ticket cost, one (we) may assume that most people would choose this route, thereby nullifying its effectiveness. Not so, friends. 1-2% of people elected for this option, so we whizzed right past the populace. If you are going to visit Blood Moon Farms (and you should), GET THE FAST PASS, and thank us later.
You may have noticed that with one exception, I have seemingly ommitted mentioning the ninth attraction, the Hayride. Perceptive. Honestly, though, the Hayride was largely forgettable – little to no set design. Frankly, it was : ride a little ways, stop, several actors appear and get on hayride, "booga booga", actors leave hayride, repeat." Even without the debacle mentioned previously, it was the weakest of the attractions, and can easily be skipped. There is an option to pay ten dollars to just ride the hayride – don't. The first eight attractions are fun, all worth the time and money to enter their demonic doorways. They do vary in quality, entertainment value, and fright effect (<3 Mange), but are a great way to spend a haunted hour. If you have been to the Canfield haunted attraction before, know that this year, it is MUCH bigger (the Haunted Farmhouse is large enough to be its own attraction), and completely different than years past. Definitely buy the full pass and definitely check out all 8 or 9 attractions; we whole-heartedly RECOMMEND that you experience Blood Moon Farms this season. Oh, and when you visit, remember to send my love to Mr. Pig. I miss him something awful.
---
Have you visited this attraction?