Find Reviews for a Haunt near You! Find Reviews for a Haunt near You!
Find Reviews for a Haunt near You!
Trails of Terror
2742 E 1100 S, Markleville, IN 46056View All Details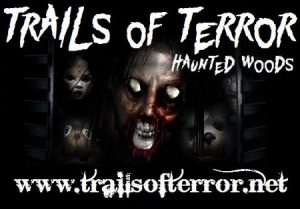 Features:
Free Parking, Restrooms On-Site, You will NOT be touched, Movie Characters, Uncovered Outdoor Waiting Line, Indoor/Outdoor Attraction
Team Zombillies reviewed this attraction on October 17, 2015.
Final Score:

7.16
Summary:
Trails of Terror is in their 11th season of providing frights throughout their 6 acres of haunted woods. Before our review visit, the owner informed us that they'd suffered a catastrophic natural incident that rendered many of their special effects inoperable, so we didn't know what to expect. What we witnessed was mostly a dark trail with the faint glowing of the few lights and sounds they were able to salvage, but the natural creepiness of ToT's timbers rose to the occasion and assisted the actors in creating a very unique and spooky experience for our review group! To accent the darkness, one of the staff members gave us one small, plastic, pumpkin-shaped flashlight to help us find our way through the abyss. Trails of Terror offers a second attraction that's an escape room themed around the legendary "Saw" movies! Customers must listen very carefully to the directions given from the Jigsaw puppet if they wish to stand any chance of escaping the terrifying enclosure. Think you've got what it takes to make it through both attractions at ToT? If you're in or around Markleville, Indiana this haunt season, give them a visit, "…prepare to be scared and be ready to face your fears!"
---
Cast:

6.64
Trails of Terror's cast members spread themselves pretty evenly throughout the woods during our visit, but several "dead spots" were encountered, mostly between the main scenes, where no actors made themselves known to us… we think. At one point, we thought we heard the raspy breathing of someone off in the brush. Was someone really there? The uncertainty chilled our review group debatably more than any other actor we've encountered to date! We do know for a fact that a horde of zombies calls this hollow their home, so be aware of your surroundings at all times. Dialogue amongst the actors was limited to short phrases and war cries, but their timing was accurate enough to still deliver some good scares along with them. One crew member did break character and non-chalantly chat with us as we waited for the gap between us and the preceding group to lengthen (ironically, about how some groups can take FOREVER getting through various scenes). Discounting this conversation, the clowns were some of the most interactive characters that we found as they cracked jokes, hummed a circus song and even snuck in a distraction-type scare while our guards were down! The actors in the escape challenge attraction were either hidden from sight (giving us hints, when needed), attacking us with chainsaws or serving sinister stares, in the case of the Jigsaw puppet, as we passed through their areas. Some of the most memorable actor encounters include those with the zombies, the clowns, the goons in the junkyard and the chainsaw-bludgeoning butcher due to their effective performances.
---
Costuming:

7.58
While not the most detailed or elaborate costumes that we've seen, Trails of Terror's characters identified themselves by using a broad range of authentic clothing articles. The zombies were appropriately dressed in tattered apparel with that "fresh-from-the-grave" look, the clowns and doctor were adorned with equally theme-related outfits and various other characters wore camouflage and ghillie suits to help them blend in with their surroundings. Makeup was adequate, when used, but it seemed that most of them utilized common, latex masks that still seemed to serve their characters some justice. A couple of the more-iconic masks that we noticed were those worn by the Jigsaw puppet and "Pighead." Nearly all of the costumes at ToT matched their respective scenes pretty well, although the ghillie suit that sprang from a window in one of the decrepit shanties seemed a bit out of place.
---
Customer Service:

7.94
A large sign at the intersection and another sign at the parking area entrance let us know we had finally arrived. Plenty of free and grassy parking was available. Things were set up a bit differently than last time we were here, so it took us a few to figure out where we were supposed to go; once we found the ticket booth, we were good to go. We showed up to this attraction very near to their closing time and, because there was no waiting line, we are unsure of what all they may have in the way of queue entertainment. However, for the short amount of time that we were in line, multiple actors interacted with us including multiple chainsaw attackers! We didn't have any problems navigating the darker areas of the trail due to the pumpkin light that we were given prior to entering that served as our only form of consistent illumination. Friendly staff members were found in the ticket booth and at the entrance of each haunt who were more than happy to assist us with any questions we had. An additional actor came up and entertained us while we were waiting in the second line, which helped in passing our wait time.
---
Atmosphere:

6.67
This attraction seemed to take place at the owner's house, which was not very spooky upon arrival. As we neared the ticket booth, the only sounds that were heard were a screaming chainsaw and customer screams from way off in the distance. It was late when we arrived and there was nothing going on. Once we got to the head of the trail, things began to get a bit darker and the true creepiness of the woods helped in preparing us to start our journey! Well, for some of us; the first person in our group didn't want to enter the darkened path (but we finally talked her into it). As we waited our turn outside the barn, loud bangs echoing from inside kept us wondering what was going to happen to us once we got in there! A realistic (and apparently hungry) zombie joined in on our waiting line fun and didn't let us forget that we were at a haunted house.
---
Special Effects:

6.25
As stated in "Scare Factor" above, we were informed upon arrival that some of the effects at Trails of Terror weren't working properly and that their air effects were, unfortunately, not working at all. We are still going to proceed with this category and elaborate on what we did experience during our visit. We did see a few air-controlled props while we were there, but it's the ones that we couldn't see that you should be on the lookout for! Rap music was blaring in the clown area while a few other creepy sound effects were heard in other scenes on the trail. The barn was completely quiet other than the sounds from the TV, a stalking actor and footsteps from the floor above us. A mixture of effects were present at Trails of Terror and some of the more original ones added an authentic feel to our journey such as large tires, rusted wheels and other vintage and unique items. The graveyard and the spider's nest were two of the most detailed scenes that we came across while the junkyard and multiple shacks served as some of their most realistic settings. Other effects that our team ran into include a sparking electrical box, rotating red lights, egg sacks and several guard dogs.
---
Theme:

N/A
Trails of Terror feeds on a variety of classic scares and phobias. You can expect to see anything here from zombies and butchers to a few familiar characters, clowns, spiders, chainsaws and unexplainable beings as well!
---
Fright Effect:

7.25
Trails of Terror didn't even wait for us to enter the wooded trail before they greeted us with a growling chainsaw! Portions of the trail were very dark (mostly between scenes) but provided an overall spooky feel to our group since we kept looking over our shoulders, waiting for something to pounce on us! The majority of the actors had good hiding spots, perfect timing and, even though we only encountered them in the obvious scenes, they still managed to catch us off-guard. Some of the other types of frights that we came across included ferocious zombies, a relentless chainsaw attacker on the trail, loud bangs, sinister stares, creepy voices of direction and multiple stalkers. The scares seemed to be directed more toward the front of our group on the trail, but seemed to be more even amongst all of us in the barn. We came across one distraction from the zombies who were trying to maul us that proved to be one of the most effective scares that we came across. We came face-to-face with a growling chainsaw once again at the exit of the barn that we thought they were going to cut our legs off with!
---
Value:

7.8
Regular admission to take your turn walking through the Trails of Terror will cost you $13.00 per person. Our group spent approximately 17 minutes on the trail and another 5 minutes escaping the "Saw" entrapment. That's a combined 22 minutes of walk-through time which puts this value at 1.69 minutes of entertainment per dollar spent. The time that it takes you to free yourselves from the terror within the timbers and escape the "Saw" barn will vary depending on how fast you can run or if you can't figure out how to get out! The only advice we can tell you is to watch the TV and pay close attention to the directions! Despite the electrical issues that were present on the trail during our visit, we still had a great time and some screams were left in the woods by a few of our group members. We're sure that their full show is something that shouldn't be missed, so be sure to pay them a visit this haunt season if you are in the Markleville, IN area!
---
Photos from Review Trip:
Click to Enlarge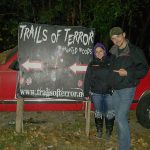 Have you visited this attraction?
---
2015 Awards
Actor Shout Out Award - "The Chainsaw Butcher" (Given by: Team Zombillies)
---
2012 Awards
Actor Shout Out Award - Michael Myers (Given by: Team Zombillies)
Actor Shout Out Award - Santa (Given by: Team Zombillies)
---