Find Reviews for a Haunt near You! Find Reviews for a Haunt near You!
Find Reviews for a Haunt near You!
Haunted Hillside
7209 PA-819, Mount Pleasant, PA 15666View All Details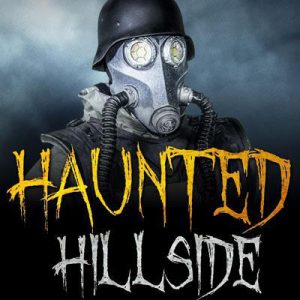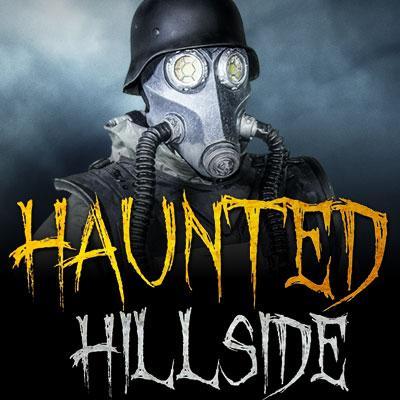 Features:
Free Parking, Restrooms On-Site, Food/Concessions, "Old-School" (Low Tech), You will NOT be touched, Original Characters, Uncovered Outdoor Waiting Line, All-Outdoor Attraction
Team Scary Potter and the Hauntwarts Express reviewed this attraction on October 17, 2015.
Final Score:

9.36
Summary:
Back for its third year of operation, Mount Pleasant, Pennsylvania's Haunted Hillside returns for another year of its unique haunted formula. Eschewing standard traditions within the industry, the safety of one-off boo's from actors in rubber masks is gone. The Hillside has created a story-based interactive experience that puts YOU as the central character in an evolving script. Prepare yourself for a haunted experience unlike any other as you travel through Quarantine, Salvage Yard, Forest of the Forgotten, Scarecrow Alley, and Helltown, surging toward an explosive climax that must be seen to be believed. Haunted Hillside awaits.
---
Cast:

9.52
Haunted Hillside has cast itself as a significant departure from the standard boo-house formula, choosing, instead to focus on becoming a fluid, character-driven, interactive horror story instead of the usual startle-fest, held together by seemingly unrelated one-off scenes. Is this claim valid? Absolutely. There have been a variety of "story-based" attractions emerge lately to varying degrees of success, but The Haunted Hillside has handily eclipse most of them. One of the defining characteristics that has benefited them thus is a wonderfully-adept cast. Scene-to-scene, the actors were believable, adaptive, and their characterizations carried much more depth than the spookers at a normal haunt. So much of the satisfaction of an attraction like this requires genuine cast-costumer interaction and the crew succeeded admirably. The colorful denizens of the Hillside are a sometimes-quirky/sometimes-menacing menagerie, but all of their performances were effective. From the soldiers of quarantine who gleefully berate you in the name of public safety, to Bubba's loveable disposition for blondes, and the Killbillies' vicious family tree, there's a lot to love about interactions with the cast. In all, approximately 80 different mutants, monsters, and madmen roam the Hillside, and that felt like a reasonably-sized company. Several of the less-interactive scarers that scatter the path could have used a bit of a sprucing up, but on the whole, the non-scene actors were lively and dedicated to eliciting scares. Witches and scarecrows alike, the whole group of performers at Haunted Hillside were one of the most entertaining that we have experienced. Personal note/fantasy: if Bubba and I ever embarked on a two-man stage act, the throngs of adoring fans we would amass…
---
Costuming:

8.77
Haunted Hillside has partnered with production company Standard Art Works to produce the costumes and make up (and special effects) for the attraction. Because they designed everything in-house, the art style of Haunted Hillside has a very unique feel to it. Most importantly, this has resulted in some VERY clever and compelling outfitting of the actors. Hands-down, the most impressive piece occurs in the graveyard section. We literally froze in place and just stared at this creation until the group behind us threatened mutiny if we didn't regain locomotion. The design work of this and several other costumes displayed was very – I apologize for using this word again, but it is truly the most appropriate – UNIQUE, intricate with a keen detail toward realism and functionality. Garb of the rank-and-file scarer was good, don't get me wrong, but the primary roles each received a little (read: big) something extra for their adornments. I can be a little…harsh on haunts for sloppy or lazy costuming, but there really wasn't anything to negatively note amongst the Hillside's costumes, and quite a few to love.
---
Customer Service:

9.59
Finding the Hillside was no trouble at all: our gps took us precisely to their doorstep, and if we had somehow missed the blinking sign, the giant projector screen and bonfire probably would have caught our attention. Parking was a breeze; we were guided by two extremely helpful spotters. Note: before you can enter the grounds, you will be wanded down by an impressively sensitive metal detector. Humming "Back in Black" too loudly will make the thing scream at you. In order to avoid long, unpleasant waits in line, HH uses a timed-ticketing system. Instead of staring at the back of a stranger's head for an hour or two, you can relax by the fire, have a snack from the concession stand, and watch the introductory films for the attraction on a movie screen that Godzilla may consider excessive while you wait for your allotted time to board the wagon. We spoke to a spotter, security guard, and several crew members before our journey began and they were all friendly and helpful. Pro-tip: the hot chocolate we had was significantly above-average. At one dollar per cup, it is recommended that every patron give it a go and have a bit of cocoa by the fire before you leave.
---
Atmosphere:

9.64
Oh, but I do love farm haunts. Seclusion plus nature create a fitting back-drop for a haunted attraction. The atmosphere of the entrance area may be relaxed and welcoming, but as soon as you saddle up onto the hayride, things begin to tense up immediately. While the hay ride is not "haunted", that doesn't mean it can't be scary, or at least a bit nervy, as you watch the warm safety of the main hub disappear and the encroaching darkness of the woods approach. It is the crew of Haunted Hillside doing the story-telling, and though they may have had a hand (or several) in painting the canvass, the largest swath of color has definitely been applied by the environment. Just enough lighting exists within the attraction to keep you from inadvertently kissing a tree, but most of the time, the Hillside lets nature do the talking. Hillside enhances the natural creepiness of the landscape in a very effective fashion.
---
Special Effects:

8.57
Similar to costuming, all of the special effects, props, and set design in use were created in-house. While this resulted in an apparent less-is-more aesthetic for much of the set design (the junkyard section being a glaring outlier), the natural setting of the trail filled in any peripheral gaps in scenery. Considering the disposition of this particular attraction, it seemed like there was just about the right amount of visual "noise" as we passed through. The cemetery, for instance, was minimalistic, certainly less prop-laden than many others that we had seen, but the custom design of it, and its general arrangement, just made it work; the CORPSE section at the beginning of the haunt function in a similar faction. The two set pieces that were the most prominent were a certain tree that we passed, or: through, that was wonderfully designed (we only wished that it had led to some dark, treescape tunnel), and the Killbillies' lair. More on the latter in fright effect below. Also, the "tree-weaving" effect that they used for a portion of the trail gave that section a unique fantastical quality that we loved. The Hillside didn't employ animatronics for the most part, though there was one random animal effect that worked out very well. Again, it appeared to be homegrown and was much more memorable for it. As for sound effects, the environmental sounds used during the corn maze were very clever, and served as a successful distraction for the hay-wrought havoc that was coming. Also, the blacklit effect used in the graveyard in contrast with the spirits who resided there, fantastic.
---
Theme:

9.83
I must say, Hillside has one of the most expansive back stories of the haunts that we've experienced. Pro tip: If you are even considering visiting the attraction this season, DEFINITELY get caught up on the story beforehand. There is a write-up on their website as well as four different short films that flesh out the developing storyline. Your trip through Haunted Hillside will be a lot more complete, and you'll understand the scenes much better if you prepare yourself this way. Also, the story continues year-after-year, so if you visited last year, expect things to pick right back up where they left off. This is a really creative way to construct a haunt. Most attractions will have a paragraph or two of backstory on their webpages to provide a bare-bones narrative to accompany their haunt, but they often turn out to be fairly generic and rarely have much impact on the actual attraction. Hillside, though, really does unfold like a multi-act story, displayed through short vignettes that you are able to interact with. It's difficult to really explain the sensation of immersion that you receive when ACTUALLY confronted with a well-constructed and executed narrative, but Hillside delivers it admirably. We will take this type of thematic progression over "Come out to Scary Zombie House: It's a scary house…with zombies!" any day.
---
Fright Effect:

9.32
It's difficult to review the Hillside's Fright Effect in a traditional fashion. One of the scenarios, a superbly-manufactured set piece that drew the "walking through a storyline" motif to its horrifying apex, is legitimately and immediately frightening. A segment near the beginning also attempted a similar terror-uproar less successfully, lacking enough of an emotional "umph" to be fully realized (and perhaps existing too early in the experience to have picked up the necessary kinetic momentum). Apart from these bookends, the haunt-proper seeks to establish a creeping dread, fasten it to your shoulders, and force to you bare it as your unholy albatross through the remainder of the journey. In this, it is surprisingly efficient. Interspersed throughout, though, various actor-based jumpscares are scattered. Honestly, these weren't particularly effective, partially because they, realistically, just aren't even needed *. It would have been nice to have seen this man/monster-power relocated to the more wildly chilling (and interesting) scenes. "Getting scared" within a haunted attraction is really just (for most people) one iteration of "having fun," and within that realm – Haunted Hillside is absolutely successful. Be it comical-to-creepy interactions with the uniquely-demented denizens, to "deeper" scares that can only be achieved through a prolonged interaction, Hillside gets it right, and this is solely due to their incorporation of story-based extended-sequences – jump-scares can NEVER attain the same level of legitimate, sustained fear. Has Haunted Hillside perfected this maxim? No, but they do it well, and they do it better than most.
* – To contradict myself, slightly, there ARE effective jumpscares within the cornfield section of the attraction. In my defense, though, I consider that entire segment a large set piece and individual scene. Corn mazes are usually… disappointing. If you attend a 3-attraction haunt, you can rest assured that the least amount of work has gone into the corn maze, and that you'll spend most of your time bored, and none of your time scared. The corn "maze" section at Hillside is actually entertaining AND scary. The actors within were very adept at haunting, and the entire section was well-produced, enjoyable, and by far the best portion of the entire haunt at garnering jump-scares.
---
Value:

9.66
20 dollars, one ticket, one hour. That puts the SCA-LUE at 3 minutes of entertainment per dollar (well) spent, ranking it near the top in this category. Though we had a fantastic time on our trip, and do, honestly believe that most haunt-goers will enjoy the Hillside this year, understand that a small percentage will better spend their time elsewhere – those concerned only with the most gruesome, extreme, in-your-face terror-assaults, yes, this is not your haunt; that is not what Hillside does and you will hate it.
To the vast majority of customers, though, understand that Haunted Hillside is a great experience. Equal parts scary, wickedly funny, and massively entertaining, there is a lot to like here for most haunted persuasions. Again, PLEASE do yourself a favor and get caught up on the story before entering the haunt, either through their website or at the attraction itself on the film projector (while enjoying that awesome hot chocolate!).
We didn't know what to expect when we arrived at the Hillside, but all of our trepidations were quickly laid to rest, replaced by that rare, bubbling excitement that only manifests during truly quality haunted attractions. Visiting the Hillside – good decision? Great decision. Check out this unique haunted attraction for yourself; you will not be disappointed. Highly recommended!
---
Have you visited this attraction?