Find Reviews for a Haunt near You! Find Reviews for a Haunt near You!
Find Reviews for a Haunt near You!
Terror in the Trees Haunted Attraction
444 Jacobs Cemetery Road, Lucasville, OH 45648View All Details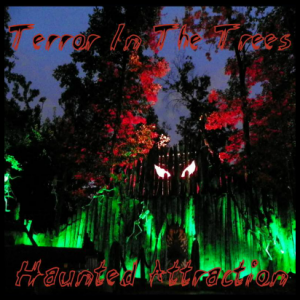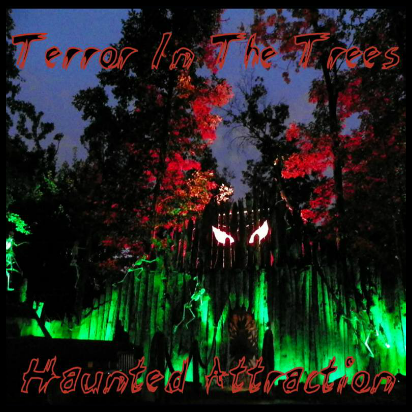 Features:
Free Parking, Restrooms On-Site, Food/Concessions, Gift Shop/Souvenirs, Special Events, You will NOT be touched, Movie Characters, Uncovered Outdoor Waiting Line, Indoor/Outdoor Attraction
Team Mysterious Misery reviewed this attraction on October 23, 2015.
Final Score:

7.81
Summary:
Terror in the Trees is in its 4th year of haunting patrons. Mr. Johnson and his team have an amazing haunt and they keep growing and getting better. Located off the main roads in Lucasville, they will be sure to show you a great time. This is an outside haunt so dress warmly and be ready to be frightened! This is one of the better self-guided tours that we have been on, as they have areas where you get stopped so you don't run into as many groups. As the name implies, Terror in the Trees takes place in the dark woods so not only do you have the haunt to scare you, but your powerful mind just might enhance the scares or play tricks on you. Make sure you stop out and visit Mr. Johnson and his crew this season as their haunt is a very good one! We cannot wait to watch them grow and enhance what they have now because they are on the right track to having something phenomenal!
---
Cast:

7.5
Terror in the Trees takes about 45 cast members to run every night. There are between 35-40 cast members working inside the haunt while the rest are used to work other areas of the attraction. This is an amazing cast that may be smaller in size, but they get around so effectively in the dark that it feels like you come across way more monsters than 40. Terror in the Trees has not rolled out to a complete pay scale yet so much of the cast is volunteer. This cast does a great job at being in character and giving you a fright everywhere. We have to shout out to Dwight Holsopple Jr. aka Granny. Your grandma will never be cool as this Granny. We also would like to mention Justin who was the amazing stilt walker that night.
---
Costuming:

7.5
Terror in the Trees utilizes many masks due to the nature of them being outside. Makeup wears off too easy and then they have to get it retouched several times during the night. Masks at this haunt give the actors the ability to keep scaring you all night long without worrying about their makeup. It also gives them the ability to be two distinct characters towards the same groups that run through if necessary. However, they do have Shannon on board who is their makeup artist. I could easily point out the work that Shannon did because it was done so well. The rest of the costuming fit their scenes and helped tell the stories.
---
Customer Service:

8
Terror in the Trees provides amazing customer service; Mr. Johnson and his team are amazing. They have signs as you enter along the road that state, "Terror in the Trees 1500 feet, 1000 feet" and so forth so that on this dark county road you know you are going the right way. You will be greeted by an awesome parking lot attendant who will explain things to you. There is also security in the parking lot. There are crew members everywhere in case you have a question or concern. They are up to date on emergency plans and fire codes. They also have a veteran station where your purchases help the veterans. A movie was showing in the queue line. They have shirts and food that you can buy. However, my absolute favorite thing is that they had port-a-potty that had lights! They do a great job in this area.
---
Atmosphere:

7.5
Terror in the Trees is exactly what it says. As you approach you will see the eyes burning red in the trees watching you. There are plenty of screams and they are loud. You know from the moment you walk up to buy tickets that you are in for a frightening good time. It is on the darker side so you can't see what is waiting for you as you stand in the queue line. So you just never know who may sneak into your group to say hello. This is an outside haunt so that element of being outside with your powerful mind playing tricks keeps you on edge.
---
Special Effects:

7.5
Terror in the Trees is always expanding in this area and they are being efficient as they do it. They have some great special effects that you have probably seen at other haunts, but not used the way they are used at this haunt. Some of the things that caught our attention were the well-placed mazes that are full of special effects to throw you off. The 3D house itself is an amazing special effect, and their vortex tunnel is very disorienting at this haunt!
---
Theme:

8
Terror in the Trees plays on Nyctohylophobia. Nyctohylophobia means the excessive, often irrational fear of forests at night or dark wooded areas. The name of the haunt, Terror in the Trees, is exactly that. The haunt is in a wooded area and they added everything that can terrify you in one place. So when it comes to theme, Terror in the Trees can use their creativity until their hearts bleed and that is exactly what they have done. It will be great to watch them grow and expand with this unique theme.
---
Fright Effect:

8
Most people may consider or think that this a little backyard haunt compared to its competition, but in this area it does its job! Going through Terror in the Trees, I witnessed people in my group jump and get startled like never before! It was pure enjoyment for me as our group has been through many haunted houses year after year and it usually takes a lot to scare us. The frights never stop as you walk through each acre of the haunt. There were hidden people, drop doors and so much more. Some of your favorites can be found placed throughout. There are also well thought out props and clever positions of people that are even better at providing scares!
---
Value:

8.5
Terror in the Trees offers an amazing value for the length of scares you will get. The pricing here is an absolute steal! The admission is only $10! For $13 you will get the Last Ride simulation & a trail ticket which is also a great value! They do offer group rates if you call ahead.
---
Promo Images:
Click to Enlarge
Guest ReviewsGuest Average: 10 out of 10
Angie – 10/10Was scared shitless!!
Karla – 10/10Terror in the Trees r a blast…we go several times each year n they have become a major part of our …show more Halloween tradition…we have a Haunted Roast n Ride every year n Terror in the Trees is the main attraction for our night ride!!! All our friends love them as well n can't wait till October!!! We Love Terror in the Trees!!!
---
2015 Awards
Best Usage of Fog (Given by: Team Mysterious Misery)
Most Creative Old-School Effects (Given by: Team Mysterious Misery)
Actor Shout Out Award - Dwight Holsopple Jr., A.K.A. "Granny" (Given by: Team Mysterious Misery)
---
2014 Awards
Actor Shout Out Award - Freddy Krueger (Given by: Team Zombillies)
---