Find Reviews for a Haunt near You! Find Reviews for a Haunt near You!
Find Reviews for a Haunt near You!
Skeletons Lair Scream Park
48 Locketts Dream, Scottsville, KY 42164View All Details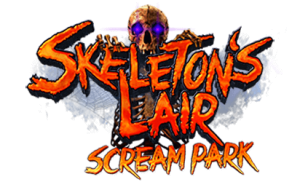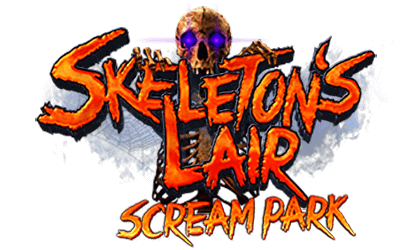 Features:
Free Parking, Restrooms On-Site, Food/Concessions, Gift Shop/Souvenirs, Optional Games/Midway, "Hi-Tech" Attraction, You will NOT be touched, Movie Characters, Original Characters, Celebrity Appearances, Uncovered Outdoor Waiting Line, Indoor/Outdoor Attraction
Team Zombillies reviewed this attraction on October 23, 2015.
Final Score:

8.72
Summary:
Skeleton's Lair is a brand-new haunt for us, but they've been in the haunting business for 16 years as of 2015! These guys and gals do their best to theme their attraction around something different every year and, this year, they've decided to go for some classic movie villain scenes. Near to Bowling Green, Kentucky, the folks at Skeleton's Lair thought this would be fitting since horror icon John Carpenter is originally from there! Their four, featured attractions include "Skeletal Visions 3D," a mind-warping assault on your sense of sight, "Skeleton's Lair Haunted Woods," which is their longest, flagship haunt, featuring a wide variety of highly-detailed scenes with lots of familiar faces, "Gold City Ghostride" which is a relatively short haunted hayride-style event that also has several high-intensity scenes and scares and, finally, the "Doomsday Doll Factory" that has a self-explanatory theme that also ties into the movie character feel that's present throughout the complex. Spanning 15 acres, Skeleton's Lair offers lots of unique scares, accurate villains and realistic scenes that you won't want to miss, so be sure to check them out if you're in South-Central Kentucky this haunt season!
---
Cast:

7.79
On a typical night during haunt season, Skeleton's Lair employs around 50 actors and actresses to fill their scenes and serve up scares to those that are brave enough to wander their way. Each of the main scenes were adequately staffed, but the spaces between them tended to be a little empty feeling with some missed scare opportunities. Management informed us that more than half of these are returning veterans and this experience shows in their presentations and dedication to remaining in character. Many of them, especially Freddy, Michael and the Creeper, delivered very believable performances when we encountered them and Freddy even licked his bladed finger while proclaiming, "Every town has an Elm Street!" However, some of the other actors didn't effectively follow through after their initial scares, which left those scenes feeling a bit unfinished.. The Joker and Beetlejuice, verbally interacted with our group quite well and made us feel more entertained and involved in their scenes. Watch out, now… Beetlejuice is a good hider! Skeleton's Lair also had several believable victims during our tour with the one in the Creeper scene delivering a very authentic performance equal to that of her assailant. The movie villains themselves, much the same as Freddy, used character-related dialogue (when necessary) and definitely seemed to shine above the more-original actors as a result.
---
Costuming:

8.83
The costumes that we noticed throughout the Skeleton's Lair complex varied from street clothes and a few bloody wounds to highly-intricate designs with silicone masks, accessories and even stilts! As a rule, most of the characters looked like they belonged in their locations, but a few seemed like they were randomly placed. Only one clown was noticed in the 3D attraction, but their costume was just as intricate as their surrounding scenes (if not more). Since the main trail has a wide selection of scenes, a vast collection of costumes was incorporated so that each of the actors could look their respective parts. Some of the most memorable from this attraction include the Joker, Jason, Michael, Freddy, the Creeper, the fireman and Beetlejuice. Leatherface and his accomplice, the redneck chainsaw attacker, and the original character on stilts were also quite believable-looking in their hayride attraction. Each of the cast members in the Doll Factory were dressed appropriately for their theme, which helped bring it to life (literally) and left us with the impression of them having the best costumes at Skeleton's Lair! Makeup seemed to range just as drastically as the costuming articles, ranging from little or none to well-done and -detailed applications.
---
Customer Service:

9.31
Several lights and a small sign are visible near the road to show customers where to pull into the free, grassy parking lot. Multiple flaggers were present during our visit and personally informed us of where the closest parking spot was located. After making our way through the woods to the ticket booth area, hanging signs were seen labeling the different lines to enter based on if you had pre-purchased tickets or not. Halloween rock and pop music could be heard echoing throughout the complex as Michael Myers gazed upon the oncoming crowd and a roaming queue actor kept customers entertained while waiting in line on the night of our visit. Each of the staff members at the start of each attraction were very friendly and able to assist our group with any questions that we had. After the last haunt, a gift shop was offering refreshments, shirts and souvenirs and housed special guest Tom Morga for an extra treat. Navigating the attractions themselves was fairly smooth, but keep in mind that this is a haunted, outdoor trail that partially runs through the woods and several multi-story, artificial scenes, so watch out for stairs, uneven thresholds and the occasional tree root. Oh yeah, and leave your flip flops at home… especially after any amount of rain!
---
Atmosphere:

9.33
The lights in the parking area, the large "Skeleton's Lair" sign that led into the woods and the overhead lighting thereafter coalesced with the wooded surroundings to initiate an incredible atmosphere as we made our way to the ticket booth! From there on out, the Rob Zombie music and various Halloween tunes eradicated any silent queue areas (as if the screams of customers and chainsaws didn't take care of that anyway). As we looked towards the first attraction, several strands of globed rope lights were noticed guiding customers in the right direction and topped off the start of our visit with an ominous glow. Each of the separate attractions, except for the hayride, featured their own, creative facades that helped prepare our group for our upcoming endeavors!
---
Special Effects:

8.84
The special effects at SL consist of a mixture of items that have been purchased and built in-house. We came across some very impressive and original effects here that we haven't seen anywhere else! Many of the scenes featured exquisite, authentic and several small details that brought the scenes to life! In the 3D area, we thought the artwork was literally going to either reach out and grab us or cause us to fall to our doom! The Skeleton's Lair Haunted Trail was among the most elaborately-detailed outdoor trails that we've seen to date, featuring full-sized buildings complete with wooden siding, realistic facades, and even upper balconies that allowed the cast members to taunt us before entering! On the hayride, we encountered even more towering buildings and, when we first entered the Doll Factory, we immediately had to hop across giant buttons that lined the floor of the entrance! Appropriate sound effects and horror movie tracks accompanied many of the scenes and sent chills down our spines on multiple occasions, especially in the Doll Factory! Other effects that we came across included ignited dynamite, a disorienting vortex tunnel, vigorously shaking hands and cell bars, precisely-placed poppers, life-sized wax figurines, a maggot-iced birthday cake, CGI's, spiked floors, a unique bus surprise, slicing saws, a fireball, a Cerberus and much more! Multiple types of flying apparatuses were also used that aided the actors in providing unexpected startles from above! We would also like to make note of the Creeper's tunnel and other fun and slick surfaces that we encountered; these areas aren't all that common in haunted houses and added some welcomed fun when they were encountered!
---
Theme:

8.8
Although each attraction at Skeleton's Lair has something different to offer, the whole park loosely incorporates an overall theme that cumulatively intertwines within each of the haunts. This year, that theme is "Famous Faces of Horror." Some of those familiar facets were Freddy, Jason, Michael, The Creeper, Bettlejuice and characters from "Saw" just to name a few! While this isn't the most original theme out there, needless to say, the creators at Skeleton's Lair also throw in a few of their own original characters in order to keep things different and less predictable. Possibly the most original haunt at S.L. was the Doll Factory, although the Jigsaw Puppet was cleverly placed here to maintain the continuity of the theme, which is a plus in this case.
---
Fright Effect:

7.63
A variety of scare techniques were put into effect at Skeleton's Lair, ranging from loud blasts, gruesome sights and shuddersome stalking to effective hiding spots, untamed monsters, intimidating creatures and multiple run-ins with bad-tempered chainsaw assailants! We must say that we were impressed with some of the scares that we witnessed while on the hayride. The heftier frights, including distractions and chainsaw chases, were saved for the hayride, which made for more effective scares than our review team is used to for an attraction of this type! The trailers are also much lower to the ground than any we have ridden before, so that made the scares much more personal as well! They were able to get right into our faces without having to climb, could quickly jump on/off the trailer, etc. Scares were delivered from all directions during our visit (including from above us), so this made the majority of the frights unpredictable to our group and others who caught up to us. Only one of the finales really stood out to our group, but we won't ruin any surprises for those who haven't seen them yet.
---
Value:

9.23
General admission tickets granting you access to the haunted hayride, haunted woods, and the 3D zone will cost you $22.00 per person. Combo tickets to all three of those attractions plus the Doomsday Doll Factory are available for $30.00. "Famous Faces Fast Passes" are also available for an additional $10.00, which will allow you to by-pass the long wait lines. Our group spent a total of around 42 minutes in all four of the attractions and that's not including any wait times. That brings the value of the $30.00 combo tickets to 1.4 minutes of entertainment per dollar spent. The Doll Factory was a very unique attraction and we believe it is worth the additional $8.00 to experience, making the combo tickets for all attractions the best bang for your buck here. That is, unless you're strapped for time and, in that case, the other three attractions were still worth their price as well! Each season, Skeleton's Lair also tries to have at least one special celebrity guest appearance for their visitors. This season, it was Tom Morga, the only actor to actually play all three roles of Michael, Jason and Leatherface on-screen! It was great to be able to chat with Tom while visiting the attraction and get an autographed Jason mask while we were at it! Be sure to visit their website for possible special offers and discount opportunities! Skeleton's Lair also donates a portion of their proceeds to the American Red Cross of South Central Kentucky as well as a few other organizations. If you are on the lookout for a Halloween-style, fun-filled and spooky evening, we highly suggest that you stop by Skeleton's Lair and check out their four enticing haunted attractions during the Halloween season!
---
Photos from Review Trip:
Click to Enlarge
Promo Images:
Click to Enlarge