Find Reviews for a Haunt near You! Find Reviews for a Haunt near You!
Find Reviews for a Haunt near You!
Backwoodz Oddities Haunted House
832 Valley Road, Waverly, OH 45690View All Details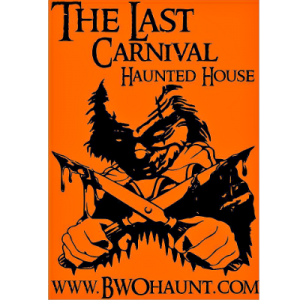 Features:
Free Parking, You will NOT be touched, Original Characters, Covered Outdoor Waiting Line, Indoor/Outdoor Attraction
Team Mysterious Misery reviewed this attraction on October 23, 2015.
Final Score:

7.87
Summary:
In its 6th year of haunting patrons, The Last Carnival is a must-see to add to your haunt list! Alan and his amazing all-volunteer crew have a passion for their haunt on Valley Road that bleeds through the walls. Alan- the man with the plan- keeps everything together and is a multi-talented force that has a great thing going. It is a privately funded, personal haunt that keeps growing and keeps the scares coming. The Last Carnival is a ten thousand square foot haunt that will offer you many frights from clowns, fortune tellers and other oddities. You know when your GPS loses signal you are in for a real treat. Get a group together and make sure you visit Alan and his crew in the many haunt seasons to come. With Alan's creative mind behind this haunt, we are sure that it will continue to grow and expand and we are excited to see it!
---
Cast:

8
The Last Carnival has an all-volunteer cast, which always makes me smile. This tells me that they are taking time out of their weekends to scare you because of their passion for their haunt. It takes on average about 25 people to run the haunt and keep it in freighting fashion for providing top scares. You can tell much of the cast has been with this haunt for a while because they know their parts and do them really well. No one ever seemed out of place and they were always in your face. After going through the haunt I got to meet with the cast and their passion is very true. They also do actor training and safety classes. My shout out is to the fellas in Room 2; Burt, Austin and Greg. You didn't always have to scare me but you entertained me the whole way through and back through and through again!
---
Costuming:

7.5
The Last Carnival costuming does a great job at keeping with the scenes. Whatever the room may be the costuming enhances it. They do a great job at thinking out what characters should go in each theme to make them come to life to their fullest. Alan is the man with the plan and make up is one of his specialties! He did lots of great work on many characters. The ring master especially stuck out to me due to the amazing detail in their makeup.
---
Customer Service:

8
The Last Carnival does a good job at customer service. The outside is a very friendly group who is there to answer all your questions and is ready in case of any emergency. They have plans in place and are up to date with codes and procedures. All of the actors in this haunt go through safety classes to ensure you are safe as well as the cast. They have shirts for sale and we recommend getting one as they are very cool looking. Also in the first few weekends of October, they offer Trunk-or-Treat and extras for the little ones in the community. One of my favorite things about this haunt is that $2 from every ticket goes to the Southern Ohio Survivors. You can upgrade to VIP for hard candy because the hard candy gets donated for those in chemotherapy. So not only does this haunt provide you with good customer service, but they are going out of their way to pay it forward to the community.
---
Atmosphere:

7.5
Backwoods is not enough to describe it. When you are off the beaten path on dark country roads and your GPS no longer works, you know you are in for a good time! When you pull in the big white tent with lights just screams carnival. You get your tickets from a ticket booth like at an old fashion carnival and you can hear plenty of screams. At this moment you start thinking what would be in a carnival that I could possibly be scared of… a lot!
---
Special Effects:

8
Alan is amazing at prop building and he uses this to his advantage at The Last Carnival. He has built some unique effects that we have not seen in other places. Mr. Bones and the Ouija board really stood out to us. We came across many unique things such as special lighting on props that gain your attention, doors that take special force to open and others. However, Room 2 is a special effect all by itself. You have to go and witness it for yourself as you may get in but you may not get out!
---
Theme:

8
The Last Carnival is the theme of this haunt. You can go to their site and read more of the story, but here is just a little part: Erasmus takes pride in how unusual his carnival is, but knows there is more to the carnival than meets the eye. This carnival has been moving from small town to small town for over 150 years. Erasmus has lost count of how many victims have entered. No one has ever kept count of the few that have escaped.
The darkness of a human soul is what fuels the carnival. No matter how good of a life you live, there is darkness in you somewhere and it will be drawn out. Each step of the way you are going to encounter increasingly darker and twisted acts. Your reactions will decide your fate. After you have been judged, you will be punished and the Carnival will be fed!
This is a theme that continues throughout the haunt and was utilized to its full effect. If clowns and carnivals are not your thing, this haunt will still offer you scares a plenty based on theme. We cannot wait to see the expanding and growth with the theme as the ideas are endless. We know the team always has their wheels moving for new ideas.
---
Fright Effect:

7.5
This is what most consider an off the beaten path haunted house. It is not your notorious big named haunt, but it holds its own in an ever-growing industry. This is a privately funded haunted house ran by a couple with a passion for haunting and the scares are there. They do an amazing job at using distractions so you disorient yourself. Hidden exits are huge at this haunt. At one point I was like just get me out of here already! Just when you think you are out, you are back where you began. You may lose your group until the end. You know it is scary when they have pee checking stations to make sure you haven't peed yourself yet!
---
Value:

8.5
We think $10 is a great value for this haunt. If you factor in that $2 per ticket goes to charity, you are actually only paying $8 which is even better. Depending on how much time you play in Room 2, your $8 is worth the length of time and the amount of scares that can be experienced in this haunt!
---