Find Reviews for a Haunt near You! Find Reviews for a Haunt near You!
Find Reviews for a Haunt near You!
The Haunted Hydro
1333 Tiffin Street, Fremont, OH 43420View All Details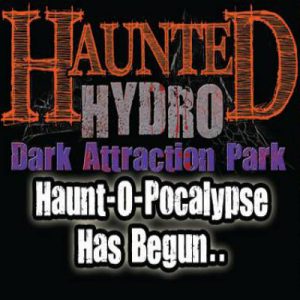 Features:
Free Parking, Restrooms On-Site, Food/Concessions, Gift Shop/Souvenirs, Optional Games/Midway, "Old-School" (Low Tech), You will NOT be touched, Original Characters, Indoor/Outdoor Attraction
reviewed this attraction on October 11, 2015.
Final Score:

9.09
Summary:
Haunted Hydro is in its 26th year. It is operated by Bob and Beth Turner, their daughter, Kaitlin and many dedicated employees and volunteers. The set changes yearly to keep things interesting, and every year there are major improvements. From time to time, they hit a few rough spots, but they seem to be able to handle them and come out the better for them.
---
Cast:

9.17
It is obvious that the actors are well trained; they are alert to the needs of the guests and interact well. They achieve their frights and stay in character. Some actors are well seasoned. Their characters are well-developed and they easily pull off a good fright. I have read some critical remarks about the actors getting a little over enthusiastic and being too extreme, especially for younger visitors. We did not see this on the night we visited. I believe the Turners reinforce training and try to stay on top of actors' behavior or effects that are not working out well.
---
Costuming:

8.8
I saw no cheap masks or shabby costuming. Characters were well made up, exceptional in most cases, but very good in others.
---
Customer Service:

9.48
With the aid of today's technology, GPS, we had no trouble finding the Haunted Hydro. Directions are also on the website. The haunted attraction is easily identifiable from the road. It is well lit with a large facade of towers and gargoyles. The parking area is more than adequate with security and staff to assist in parking.
---
Atmosphere:

8.47
Did the atmosphere outside prepare you for what was inside? No, inside was absolutely awesome, so that is a good thing!
---
Special Effects:

9.43
Out of all the questions we answered to come with the scores for each category, we gave two 10s; one was in staff members being friendly, helpful and easy to find. The other 10 was in impressive effects. My favorite room was a total black out hall and room. Initially we were surprised by an actor up high, and then plunged into absolute darkness. After feeling our way around, suddenly a low lit area just appeared. I swear it wasn't there before. A "how did they do that?" moment.
---
Theme:

8.68
When the doors open, there is a pre show of "Ghoulabration" dancers. The program is somewhat mediocre, but a few of the performers are exceptionally funny and entertaining which helps with the over-all entertainment value. I consider this more of a distraction while Mr. Turner explains how things work, and the actors get ready without it looking like instructions or preparation time. The theme is about the Hydro of the past, when it was a water treatment plant. It leaves the actors pretty open, but the room décor fits well.
---
Fright Effect:

9.22
Small groups are sent through. All members of the group get equal attention. There is no rush job. You have the time to enjoy the room designs and to explore the effects. They have a new program called "Shock Collar". It is to experience an extreme haunt encounter. We chose not to go quite that extreme. I believe you have to eat something disgusting and suffer some disgusting smells which most of us were not interested in, but we did crawl inside a real casket, was shut in and rolled down a slope. This was pretty awesome, but may not be for anyone who is claustrophobic.
---
Value:

9.5
Tickets can be purchased in advance. If you buy your tickets at a local service/gas station, there is a $3.00 discount. There are also coupons available for a $2.00 discount at the door. Buying ahead eliminates waiting in long lines. You can purchase Freak Pass combo tickets that include admission to both the Haunted Hydro & Carni-ville of Freaks for $20.00. A super-sized Freak Pass option is available for $25.00 and includes admission to the Haunted Hydro, Carni-ville of Freaks, Torture Chamber Escape Room and 1 FREE hit on the Haunted Hooptie! VIP front of the line upgrades are available for $10.00 per ticket. Parking is always free at the Haunted Hydro!
*Our team consisted of two team members that identified themselves as Scare Factor members and two anonymous visitors.
---
Have you visited this attraction?