Find Reviews for a Haunt near You! Find Reviews for a Haunt near You!
Find Reviews for a Haunt near You!
ScareHouse
118 Locust Street, Etna, PA 15223View All Details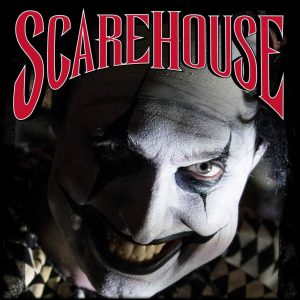 Features:
Free Parking, Food/Concessions, Gift Shop/Souvenirs, Special Events, "Hi-Tech" Attraction, "Extreme" Attraction, You will NOT be touched, Original Characters, Indoor/Outdoor Waiting Line, All-Indoor Attraction
Team Scary Potter and the Hauntwarts Express reviewed this attraction on October 22, 2015.
Final Score:

9.33
Summary:
Yuletide? No, yuleSCREAM. Such is the mantra of Scarehouse's 2015 season. Located in Etna, in the greater Pittsburgh area, Scarehouse is back with three attractions (two all-new), plus their extreme Basement experience. The Summoning returns, its twisted journey from marked to master scarier than ever. New this year are Trick 'R Treat: Hallowed Grounds, and Krampus : Come All Ye Fearful. Each based upon their respective films, they allow you to visit worlds too bizarre and terrifying to be left to the silver screen, but are you brave enough to explore them? If so, come out this Halloween season and experience the yuletide horrors for yourself.
---
Cast:

9.5
There are a lot of interactive encounters as you pass through Scarehouse's dark halls – dates with a fortune teller and even ol' Saint Nick, himself, await brave haunt-go'ers, and these roles are filled by very capable actors. There is an admirable fervor amongst the "boo"ing resident monsters and a believable pallor to the interactive creatures. It was fitting, of course, that the actor playing the red-suited-one even spoke a passable bit of German. We didn't encounter any actors breaking character (except for one spook who was helping a distraught woman return to her group – no problem with that), and most held their scares until we were beyond their range. There were plenty of dark denizens inhabiting the scenes the night that we visited, leaving very little dead space. Overall, it was a well-assembled, professional cast that gave us a good shrieking.
---
Costuming:

9.96
When discussing Scarehouse's strengths, the beginning of the conversation necessarily begins with costuming. There are plenty of attractions that claim "Hollywood-level makeup!" or something of that ilk. And, granted, many attractions do have commendable costuming. However, there are not many haunted attractions on Scarehouse's level in this category. At Scarehouse, this really isn't a bloated hyperbole – their make-up and wardrobe quality really is that high. Also note that this is extended to the line-actors as well. One look at the gentleman inside the building, near the head of the line (some years he's on-stage; this year we didn't see him up there during our visit) and you'll have a pretty good idea that you're about to see something unique. Instead of creating a few thoroughly made-up actors (usually the "most important"), and breezing through simple generic designs for the rank and file, it really seems like every actor gets the full-treatment. The only section with characters lacking a particular visual flair was Trick 'R Treat, where the simple, uniform design of the actors' attire was completely thematically intentionally. Wonderful costume work all around.
---
Customer Service:

8.65
Please ensure that you travel to the Pittsburgh Zoo, NOT Scarehouse, as that is the location of the parking lot. For anyone wishing to visit who doesn't take note of this important detail ahead of time, it will likely become a frustrating night. While understanding the necessity of the decision to have this sort of system in place, it is, truthfully, something of a hassle, and a time-suck (20 extra minutes to ride the bus twice, etc), but it could be much worse. The wait at the zoo is a pleasant one. There is a food vendor, a movie screen showing a Scarehouse trailer, and an actor or two patrolling the grounds to surprise unsuspecting customers. After your bus trip, and you reach the House, itself, there are more line scarers, with additional vendors and restrooms around the side of the building (which you also pass by as you exit the attraction). The employees that we interacted with were all helpful and pleasant. Online, you can purchase timed-tickets which does shorten your wait in line (which can be very long on busy nights) a good bit. It is also possible for the attraction to sell out entirely, so buying tickets ahead of time is a great idea.
---
Atmosphere:

8.31
When Scarehouse transitioned to their current system of parking off-site and being bused to the haunt en masse, I think it definitely benefited the atmosphere. Standing in a potentially hours-long line, wrapped around a building in the middle of a city wasn't terribly haunt-stimulating. Spending time in the dark lot at the zoo instead is a little more scare-appropriate, though you do still spend some time waiting alongside the Scarehouse building outside. As soon as you enter the building's lobby, though, it's a different story. It's a nice throwback facade to the earlier days of cinema (they used to show film trailers of old horror movies here as you stood in line but this has, sadly, ceased) and is a great aesthetic to transition you, and prepare you for the haunt. I realize that with the huge amount of patrons to be welcomed every night, it would be impossible to do so, but it would still be great if somehow the majority of the waiting experience took place in an interior location like the lobby. It would greatly benefit the atmosphere of the pre-attraction experience.
---
Special Effects:

9.69
Production company Legendary has become involved with Scarehouse and its influence is certainly felt. The set design of Trick 'R Treat is wonderful, immersing you in a monochromatic dreamscape. The simple but incalculably shifting animatronics combined with the eerie, colorless environment are every bit as intriguing as their frequently-visited inverse (the gaudy 3-D set pieces used by many attractions). The sound effects employed by the actors, each uniquely unsettling, are also very effective. Both Summoning and Krampus feature their own enormous, animatronic villain which feature as the ultimate goal of your travel. These towering mechanizations are both impressive and horrifying. Set design for The Summoning remains intricate and complete, with journeys through several enigmatic halls of doors and a fantastic theater sequence which, combined with a visit to "The Master", is certainly the apex of the haunt. The good/bad segment of Krampus, featuring Saint Nick, and the section immediately following are also very well done. The group before ours became so hopelessly lost here that they were actually trying to return to Saint Nick for sanctuary – a true testament to the effectiveness of this darkened pathway.
---
Theme:

9.65
The Scarehouse is divided into three sections. The Summoning is more in line with traditional haunted themes, and the only carry-over from last year's roster. The Second segment at Scarehouse always seems to be something a little different, be it more experimental, 3-d, or just a groovy, clowny, dance party. This year, it's Trick 'R Treat, a very surreal journey through a living children's book. Finally, Scarehouse appears to have developed a first: a haunted attraction based on a film that hasn't been released yet. Krampus, featuring props used in the forthcoming film of the same name, is a dark spin on everyone's favorite altruistic old-timer. For originality, Scarehouse certainly deserves huge points. Excluding its relationship to a film, the Krampus theme is a rare one in the haunt world, as is the very unique Trick 'R Treat, and both follow their themes perfectly. The Summoning even features its own unfolding narrative, a foreboding path that continuously warns you of your approaching visit with "The Master." The method by which you arrive there is a bit circuitous, but it does keep returning to that primary narrative until your (spoiler alert) journey's end.
---
Fright Effect:

9.47
With its unambiguous name, this attraction states it goal directly within its title, and that goal is repeatedly achieved from our experience. Something that intensely stood out to us in the aftermath of our visit was the commendable design of like-life props. There are a LOT of "is that an actor; is that going to scare me?" instances, whether it be with mannequin-like dolls, prop-monsters, and the like. The many mannequin-esque creations that we saw (and who turned out NOT to be actors) were best described as "mannequins meant to look like actors meant to look like mannequins." Scarehouse is really masterful at this technique and it was the single most effective influence on their fright effect. When you can't tell that a seeming-prop is an actor, or vice versa, CONSISTENTLY, you are left in a continuous state of paranoia, which amplifies the startle when you do encounter an actor. There was a lot of this within The Summoning and it was very effective. Many other distraction and prolonged scares were employed. The latter was often linked to foreshadowing warnings of future plight (threats about the Mater or Krampus) which ensured that a trickle of dread never quite dried up. TrT isn't nearly as terrifying as the other two, but it's really not trying to be; regardless, the actors within actually tended to be among the best of the haunt for their ability to generate unique (and loud) startle scares. The Scarehouse team are very good about multi-positioned scares – making sure to hit each member of your group, instead of only focusing their scares on the person in front; better than most actually. This ensures that everyone in your party will get their proper fill of torment.
---
Value:

9.42
Weekend tickets are 28 dollars (27 if you purchase online), and slightly less during the week. We spent approximately 30 minutes travelling through all 3 attractions, putting the SCA-lue a little over 1 minute of entertainment per dollar spent. A VIP ticket for any night is 40 dollars, and there as an optional EXTREME experience called "The Basement" that is available for an additional fee (see the website for more information and pricing). The Summoning is largely unchanged from last year, but both Trick 'R Treat and Krampus are entirely new for this season. A permanent, professional haunt that changes 2/3 of its haunt for a season is pretty remarkable. Scarehouse remains as one of the absolute best haunted attractions in an area (Pittsburgh) that boasts a pretty extensive list of possible contenders. For anyone looking for a truly professional, unique, and (most importantly) horrifying haunted experience this Halloween season, we definitely recommend Scarehouse. Don't miss it.
---
Have you visited this attraction?