Find Reviews for a Haunt near You! Find Reviews for a Haunt near You!
Find Reviews for a Haunt near You!
Bloodshed Haunted Attraction
608 South Main Street, Franklin, KY 42134View All Details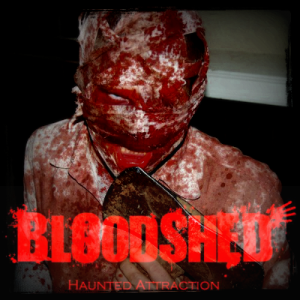 Features:
Free Parking, Restrooms On-Site, "Old-School" (Low Tech), You will NOT be touched, Original Characters, Uncovered Outdoor Waiting Line, All-Indoor Attraction
Team Zombillies reviewed this attraction on October 23, 2015.
Final Score:

7.77
Summary:
Bloodshed Haunted Attraction is brought to you by Horror Industries, which is who previously owned "The Massacre" in Bowling Green, KY, and also acts as the 2nd part to that haunt. As a brand-new haunt to the area, as well as for The Scare Factor, Bloodshed is currently an old-school attraction that focuses on the most basic element of a haunted house… and that is scaring people! With only a couple of months to set up before the season began, they hadn't had a chance to meticulously detail their scenes (at least "yet"), so fancy animatronics and "eye candy" are sparse for this year. However, they HAVE successfully integrated many of the scare tactics and techniques that gave "The Massacre" its reputation and, we'll tell ya… they work! Many welcomed surprises were experienced from these deranged individuals during our review visit (you can read all about them below) and their intensity and enthusiasm more than made up for their last-minute startup issues. If you read nothing else in this review, know that we must advise you to check out Bloodshed Haunted Attraction before it's too late!
---
Cast:

9.13
Around 8 actors were present on the night of our visit. Even though we saw most of them two or three times during our walk-through, they did an excellent job at eliminating most of the dead spots that are common at attractions with triple the cast size! These guys are very energetic and used the power of dialogue quite well to make their characters extra evil and sinister. We did hear most of them using somewhat generic dialogue at one point or another (i.e. "Wanna play?" was heard multiple times during our visit), but, on the other hand, they did refer to other characters by name, reinforced the theme and most of them even called out OUR names as they taunted us throughout our endeavor! This made for some very believable confrontations and we couldn't make them break character for anything. Our review time was also dotted with quite a few weaponized threats, as the actors would often be carrying, waiving around or coming at us with various bludgeoning devices and power tools! If they can keep up this intensity in the future while adding in some more creativity and diversity to their acts, they'll have the potential to be a force to be reckoned with in the very near future.
---
Costuming:

7.13
The costumes at Bloodshed seemed to be very consistent during our review visit. Most of the actors were seen sporting white shirts and jeans or bibs (or some minor variation thereof) that were slathered from top to bottom with copious amounts of blood, which certainly justified the name of their attraction! Makeup was very similar and mainly consisted of blood splatters that coalesced with their clothing quite flawlessly and finished the look of having just finished slaughtering a slew of victims. One partial mask was noticed and appeared to be a freshly-skinned face that reinforced the in-house human victimization that's explained in the video before walking through. All things considered, they seemed to match their respective, bloody scenes quite well, although they didn't really come across as the workers you'd imagine seeing in a casket-manufacturing woodshop.
---
Customer Service:

6.81
Our GPS lead us to a noticeable sign near the road that directed us towards the abandoned-looking warehouse that is Bloodshed Haunted Attraction. We noticed an unfinished ticket booth and multiple, parked vehicles, so we assumed we were at the right place. Parking was free and dimly lit in their small, gravel lots. As we made our way to the supposed ticket booth, alas! Tickets prices were displayed on the exterior of the shack and confirmed that we had, in fact, arrived at Bloodshed. The multiple staff members that we came across inside the ticket booth and at the entrance of the haunt were friendly and helpful. Tickets sales are cash only at this attraction so be sure you come prepared to pay with something other than plastic. As mentioned above, this is their first season, so there wasn't much going on outside of the attraction yet. The entire attraction was easy to navigate, although there are a few raised, rough areas in the concrete along the route.
---
Atmosphere:

5.9
There really wasn't anything going on outside to let us know we were at a haunted house. Bloodshed does take place in an abandoned-looking warehouse with minimal signage so, even though you are very close to town, it feels like you're out in the middle of nowhere. As we neared the ticket booth, loud bangs and demanding dialogue echoed from within the building and, at that moment, we knew we were at the right place… or (at least) we hoped we were! The introduction video in the first room explained the theme in great detail and helped prepare us to enter the attraction even further.
---
Special Effects:

7.37
The majority of the effects consisted mostly of props that appeared to be either built in-house or vintage items, but we also ran across some purchased effects as well. Ominous and harder music were heard throughout the majority of the building, but it was harder to hear in a few areas, mainly because of the ranting and yelling characters! We were informed that the attraction wasn't completely finished and we did, indeed, notice a lot of blank areas. However, we also noticed some authentically-detailed rooms too. There was a lot of blood splattered all over the place (including the floors) and left us with little doubt as to how this attraction got its name! Some of the other effects contained within Bloodshed included creepy pictures, a rotting bathtub corpse, a giant saw blade, strategic lighting, a nasty kitchen, caskets, poppers, hanging bodies and a black tunnel that you must crawl through (complete with a "possible" plexi-glass surprise)!
---
Theme:

9.61
Bloodshed has a well-thought-out theme and they did a nice job of making sure we knew what it was before we started. The owners of Bloodshed used to run "The Massacre" which took place in Bowling Green, Kentucky several years ago and we were informed that "Bloodshed" is the second part to their previous establishment. As soon as we stepped foot into the first room, we were prompted to have a seat and watch a movie that would warn us of what we should expect to see and explain what we shouldn't do once we got inside. However, we're pretty sure you just might get cut to pieces no matter how hard you try! The video spoke of a man named "Otis Shaeffer" who was always trying to escape his mother's criticism. When his mother died in 1972, Otis left their home and never returned. It's said that he took up residence in a saw mill and hired his friends and family as his casket-factory employees. People, locals and travelers alike, started vanishing and Otis and his workers would often be seen as the last ones conversing with those who went missing. But the pay was good at the factory, so Otis' crew grew blind to his strange ways. Law enforcement began to suspect him and questioned the missing persons, but they didn't have enough evidence to pin him for the disappearances. Eventually, Otis fired his entire workforce (including his entire family) and, shortly after doing so, it's believed that they may have led the authorities back to him because the investigation resumed once again. This time, they reeled in some gruesome findings. Otis had abducted 7 travelers and a few locals and savagely murdered and dismembered them in the factory. Otis was then arrested for his demented acts of murder, but in 1986, he escaped and hasn't been seen or heard from since! The theme flowed rather well throughout the building, as we made our way through Otis's office, living quarters and many unexplainable and treacherous areas that obviously mocked the murder scenes! Although the characters yelled to Otis, reiterating the theme, Otis wasn't as obvious to our group as the story prepared us for. However, the scenes throughout the attraction were very much so reminiscent of a wood shop/casket factory with lots of dead bodies to round off this one-of-a-kind, original theme!
---
Fright Effect:

8.18
You know that personal space bubble that we all like to have, especially when we are around strangers? Well, you might as well leave it at home if you come here! Although this crew doesn't touch, they were all over us and as close to our faces as they could possibly get without touching us. They also figured our names out and used them against us, so the scares were more personal towards us the whole way through. Other types of frights that we encountered during our trip through Bloodshed consisted of demanding dialogue, perplexing encounters, threats and chases with various weapons including shovels, pipes and numerous power tools! Most of the scares were also difficult for us to predict because we never knew which direction they were going to come from! One second, we would be getting our butts chewed out by one of the workers and then someone else would come crawling out from underneath something or above us! Bloodshed may not be the most detailed haunt that we've been to, but they sure do have quite a few fright tricks up their sleeves! The finale of the attraction was rather intense and made us think we just might lose a limb or our heads by something other than a circular saw!
---
Value:

8.02
General admission tickets to become a victim of… uh, we mean… to witness the horrors within Bloodshed will cost you $15.00 per person. It took our group about 14 minutes (including the introduction video) to escape these frenzied maniacs, bringing this value to just below our "average" at 0.93 minutes of entertainment per dollar spent (*average is 1 minute/dollar). Considering the shorter duration, $15.00 seems a bit hefty for a new attraction that wasn't quite finished at the time of our visit. If you scare easy, we predict that your tour time may be shorter; that is, unless you cower in the corner when faced with horrifying experiences, which could make for a rather lengthy journey. If the wait is long on a busy night, VIP tickets are available for $25.00 per person. This is more of an old-school haunt, driven by energetic and enthusiastic actors and they do have plans to expand and elaborate next season with a lot more time to work on the haunt. If you are looking for a lot of "eye candy," this is not your haunt (at least "yet")! Our group had a great time trying to flee Bloodshed, and we can't wait to see what they bring to the table to saw up for next season!
---
Promo Images:
Click to Enlarge
---
2016 Awards
Most Unsuspecting Atmosphere (Given by: Team Zombillies)
Actor Shout Out Award - Skanky Franky (Given by: Team Zombillies)
---
2015 Awards
Actor Shout Out Award - Travis Bilbrey, A.K.A. "Shanky Franky" (Given by: Team Zombillies)
---