Find Reviews for a Haunt near You! Find Reviews for a Haunt near You!
Find Reviews for a Haunt near You!
Field of Screams PA
191 College Ave, Mountville, PA 17554View All Details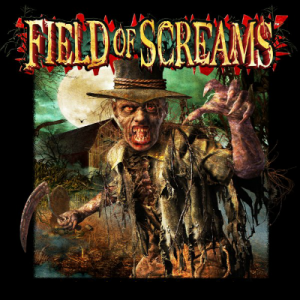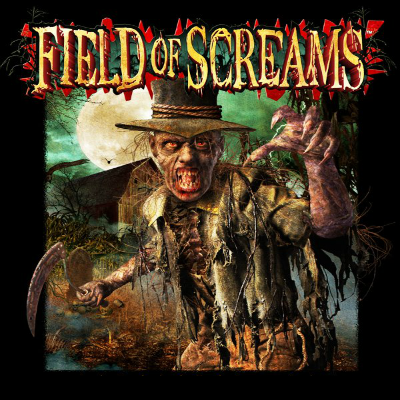 Features:
Free Parking, Restrooms On-Site, Food/Concessions, Gift Shop/Souvenirs, Optional Games/Midway, "Hi-Tech" Attraction, "Extreme" Attraction, You may be touched, Uncovered Outdoor Waiting Line, Indoor/Outdoor Attraction
Team Scary Potter and the Hauntwarts Express reviewed this attraction on October 23, 2015.
Final Score:

9.47
Summary:
Looking for a high-scare, high-quality haunted attraction in eastern Pennsylvania? Look no further. Field of Screams in Mountville/Lancaster Pennsylvania is a multi-attraction scream park that features a little bit of something for everyone. Featuring two indoor attractions, Den of Darkness and Frightmare Asylum, one Haunted Hayride, and one outdoor trail, Nocturnal Wasteland, the frights come in HEAVY doses at this extreme haunted playground. I hate suspense, so let me tell you upfront: this is a FANTASTIC attraction, requiring between 75 and 90 minutes to complete the four haunted attractions. But with so much else going on (see Customer Service), expect to spend your entire night with the Screamers, giddily enjoying every minute. Lancaster, Pennsylvania, may I present: your Halloween paradise.
---
Cast:

9.26
Field of Screams is inhabited by an impressive number of wretched residents. The Den of Darkness was the most actor-packed of the attractions, though Frightmare Asylum and The Haunted Hayride were not lacking for numbers by any stretch of the imagination. Nocturnal wasteland could have used a few more actors, but most of that attraction was environmentally-based, so the lack didn't feel very noticeable, and may have only seemed apparent after being conditioned by the first three attractions to expect such a plethora of monsters. Our favorite group of actors were definitely the hillbillies from the Hayride; their exchange had us laughing out loud, with their dialogue being frequently quoted for the remainder of the night and beyond "MOON-shineeee." The first actress that we encountered in the Asylum, who insisted that a member of our group required an immediate kidney transplant, was the most memorable throughout the rest of the attractions. Overall, outside of the hayride, most actors engaged in quick-scares, so there weren't huge amounts of extended dialogue, nor was there much need for it. Instead, many focused on prolonged interaction of a different type… letting their mechanical side arms do the talking. THOSE we couldn't get to shut up!
---
Costuming:

9.17
With so many actors tramping (and in one case, trampezing) around the Field, one may expect a break-down in costume quality for some of the less integral roles, but this was definitely not the case. There were plenty of good outfittings, professional make-up jobs, and appropriate costume choices. This isn't Field of Screams' stand-out category, though, but that's mostly because it's overshadowed by the effects, environment, and actors. Still, there were plenty of quality costuming arrangements on display.
---
Customer Service:

8.84
Finding the farm was easy, with plenty of signage and, frankly, just following the stampede of cars heading toward the property. The parking system is very precise and one or two of the spotters were surprisingly aggressive. Still, they got the job done, parking was free, and getting to the actual attraction was no problem. Once inside we were really impressed with just how much was available to do. The four attractions almost seemed like an afterthought as we perused the grounds, checking out the many food vendors, merchandise booths, games, and live entertainment. This definitely went beyond "midway" and into full-blown carnival. The hayride even had its own DJ playing songs for the anxious line-dwellers. All of the employees we encountered were very helpful. One thing I must unfortunately note: this is definitely an extreme attraction – that fact is well-known. However, on the hayride, one particularly over-zealous chainsaw monster really caused a good bit of pain to my arm when he smacked his chainsaw into my elbow. These sorts of interactions were common throughout all of the attractions and mostly were fine, and even enjoyable, but this one particular actor was definitely too belligerent in his interaction. I didn't have any lasting damage, fortunately, but was in a substantial amount of pain for the remainder of my time at Field of Screams. I am forced to adjust the Customer Service score for this appropriately.
---
Atmosphere:

9.47
The environment at Field of Screams is probably "bigger" than anything that we had seen this season. As a sort of creepy fair or carnival, the grounds made a great departure point to enter each of the four haunted realms. Of these, we really liked the facade of the Asylum, an old manor house, detailed to the brim. It surprises no one that the better the exterior of an attraction is made up to match the forthcoming interior, the better the immersion for the customer. With the Asylum, this transition was seamless. The Hayride has a spectacular gate-keeper who levies the rules to customers – in the literal sense, he has an absolute spectacle. In all, the very active throng of the carnival area didn't detract from the haunted experience. It really helped that each attraction was tucked away from that bustle within its own unique aura and ambiance – it allowed the two environments to go co-exist within infringing upon one another.
---
Special Effects:

9.87
Ah, the shining jewel of the Field of Screams experience – their effects. We began our tour with the Den of Darkness and our impressions within proved a great representation of the entire haunt – acutely detailed sets, and intricate and complex animatronics (both stand-alone "scarers" and those that were integrated into the environments), with a varied use of lighting to enhance the scenery. There was almost too much to see on one walk through. The set design of the Den of Darkness stood out as the most impressive, but the animatronics from the Asylum were tops. The "Nurse Room" from the Asylum giddily administered flashbacks from Silent Hill, while the tentacle room felt like a grotesque amalgamation of The Thing and Little Shop of Horrors. Everywhere we turned within the two interior, walkthrough haunts, we were taken aback by the cleverness and attention to detail. The opening set piece from the Den of Darkness was a nice combination of effects that definitely "shook" up our expectations. It's much harder to build up elaborate sets and effects for hayrides, but those at Field of Screams were superior to most of what we have seen previously, particularly those that occurred in the handful of "interior" scenes, as well as the cemetery and hillbilly sections. And, for the record, having speakers on the actual wagon, itself, with a soundtrack to match the scenes was a great idea and very effective. The Nocturnal Wasteland was a different sort of animal (covered in Fright Effect), with many different kinds of tunnels to pass through, and a truly antagonistic environment with which to contend. And the smells – especially in the Asylum, oh, the smells.
---
Theme:

N/A
Really only Nocturnal Wasteland (and if we're really stretching, the Asylum) had any specific theme, but even that was pretty loose, especially for the way that we calculate it, so a score doesn't apply here.
---
Fright Effect:

9.88
I haven't said a lot about Nocturnal Wasteland up until this point, but this is definitely its bread and butter. There are actors, certainly, but what we noted most prominently was the sheer number of environmental scares, more than any other attraction we've seen. It seems that EVERYTHING is out to get you in the Wasteland – you can't trust the walls, the ground; heck, even the pots and pans are out for blood. In truth, the attraction started off pretty slow, but as soon as the intensity kicked up, it didn't simmer again until we had safely escaped. Well, most of us; there are always casualties in this line of work. As for more traditional scaring across the other attractions, there was a healthy amount. Due to the vast ensemble available, multiple simultaneous actor-scares often occur to different sections of your group, allowing everyone their opportunity to be the victim. Further, you get to be that victim MANY times over. Environmental scares aren't hosted only by the Wasteland, too. Ambulophobia is the fear of walking. Write that down, you may need to repeat it to your doctor at a later date. Remember, being a hands-on attraction, the actors will definitely touch you… they love to grab hair, and harass you with chainsaws and nail guns, so, you know, enjoy the complete destruction of your personal space. Two additional points: the hayride has several sections that I shall refer to as "locked door…hell breaks loose." These are very chaotic, multi-directional scare fests that will leave you panicked and apprehensive… oh, and very scared. At one point the ceiling actually fell on my head; chicken little, eat your heart out. Lastly, in my notes, I have written, "Cockroach halls!" Yes, sir, that's all that needs to be said about that.
---
Value:

9.81
The "Scream Pass" is 34 dollars (15 more for a VIP upgrade) and includes access to all 4 attractions and as much time as you'd like to spend in the entertainment center. Realistically, this is the option that you want to choose. You could pay a few dollars less for fewer attractions, but that would be silly. We spent around 75 minutes in the haunts (15 for each of the walkthroughs and 30 for the hayride), making the SCA-lue a little over 2 minutes of entertainment per dollar spent. While that numerical equation does illustrate, independently, that the Scream Pass is a really good value, it doesn't really tell the whole story. Understand, there really isn't any padding here. You're not going into an attraction that has 5 minutes of "meat", with ten minutes of fluff – you're getting the good stuff from end to end. We had an absolute blast and HIGHLY RECOMMEND to anyone reading this to make time in your weekend to visit Field of Screams this year. Definitely one of this year's best.
---
Have you visited this attraction?