Find Reviews for a Haunt near You! Find Reviews for a Haunt near You!
Find Reviews for a Haunt near You!
Literally A Haunted House at Culbertson Mansion
914 East Main Street, New Albany, IN 47150View All Details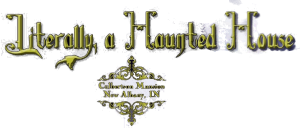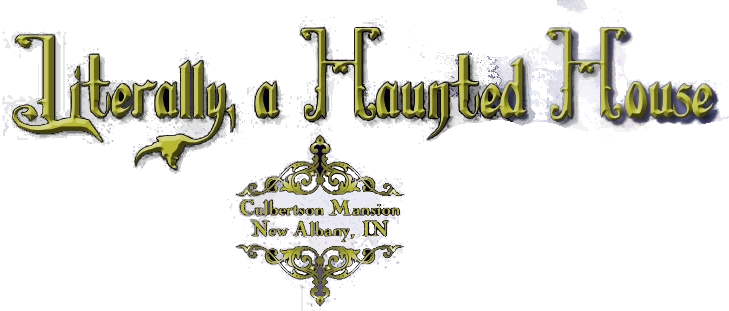 Features:
Free Parking, Restrooms On-Site, Gift Shop/Souvenirs, "Old-School" (Low Tech), You may be touched, Original Characters, Covered Outdoor Waiting Line, Indoor/Outdoor Attraction, Family Friendly
Team Zombillies reviewed this attraction on October 24, 2015.
Final Score:

8.97
Summary:
"In 2015, things at the Culbertson will get a little crazy!" We couldn't have said it better ourselves. Culbertson changes their theme every year and, this season, they're recreating a 1940's insane asylum. You can visit their pharmacy, maybe mourn your beloved friends in the morgue, interact with intense, psychotic patients and get yourself some shock therapy all in one visit. What's better? It can all be had for less than 15 bucks! These guys have been in the haunt industry for 30 years and the experience shows in their ever-escalating scores from our review group. If you haven't witnessed the slap-happy and horrendous horrors that roam the rooms inside Culbertson Mansion's "Literally, A Haunted House," then make sure they're on your "haunts to visit" list this season. They're definitely a haunt that you're NOT going to want to miss in the Louisville/Kentuckiana area!
---
Cast:

9.3
An asylum-load of crazed patients pile into Culbertson Mansion's old carriage house to bring their 2015 haunt (dubbed "Culbertson Sanitarium") to a horrific reality. It became evident that they're running amok when we ran into "Psycho Patient #1" in the queue area as she glared at us with an ear-to-ear grin and chewed on her bloody arm incessantly! A few other roaming actors helped reiterate the asylum theme before we finally entered the cemetery, where a couple of shovel-toting, grave-robbing clowns that had escaped informed us, "If you come into the graveyard, you gotta die!" After nearly becoming additions to the graveyard ourselves, we were greeted into "Culbertson Sanitarium" by a couple of friendly hospital workers before all Hell broke loose and the patients started to overthrow their attendants with a maddening mutiny. Plenty of sinister screams and ludicrous laughter filled the halls of the hospice, but the pharmacist, Professor Epidermis, Margaret, Simon, the patient in the bathroom and the blade-handed victim were noted as having some of the most exceptional dialogue for their characters. Some of these excellent actors even referred to characters in other scenes, which maintained the continuity of the theme and reinforced a believable experience.
---
Costuming:

9.26
Pretty much every costume at Culbertson was well-constructed and seemed to match the '40s asylum theme they were trying to follow. Some intricate airbrush details were noticed as well and several masks were used to get just the look they wanted when makeup wasn't enough. Even outside in the queue area, Psycho Patient #1 had broken free from her straight jacket constraints, still had a shock therapy cap on her head and even had a bloody spot on her arm from where her self-biting habit had clearly become uncontrollable! The clowns in the graveyard didn't make much sense at first, but then it was explained to us that the brothers had broken free from the sanitarium and taken up grave robbing as their new obsession, so we were able to make the connection to the theme a bit easier. Aside from that, their masks were all that indicated they were clowns and their authentic dusters made for quite an original pair of characters! The rest of the masks that we noticed seemed to be original pieces that we hadn't seen before and effectively enhanced the looks of those wearing them. Makeup was well-done, when used, but we did notice a couple of actors that didn't have any at all in places where some type of application would've been beneficial. A variety of articles were chosen to clothe the characters in Culbertson and mainly consisted of lab coats, nurse scrubs, patient gowns mixed with a few more-original pieces as well. Several of them had key accessories, like bladed fingers, goggles and exposed brains, to round off their specific looks and match the scenes they were in.
---
Customer Service:

9.43
Free parking is normally available on the side street (East 10th Street) adjacent to the Mansion and there's a decent-sized gravel lot further behind the property across the railroad tracks. Several friendly staff members can be found in the ticket booth/gift shop/concession tent and more in the queue area tent as well that can help you with any questions or concerns. The area before the haunt is lit pretty well, yet dimly enough so as not to ruin the "haunted house" feel, and finding where to go is fairly simple. Culbertson Mansion is a State Historic Site throughout the year and, although the attraction used to run through a portion of the impressive structure, haunt customers are not directed through there anymore, so be sure to get your tickets from the appropriate tent instead of knocking on unattended doors and expecting to gain entry. From the 10th Street entrance through the fence, you'll notice the "carriage house" to your immediate left (where all the screams will be coming from) and you may even notice some petrified patrons scurrying out from the exit in front of you (depending on when you arrive)! The ticket tent will be located to your far right, along the fence, close to the Mansion. Navigating the haunt itself (the carriage house) is pretty smooth, but several sets of stairs will need to be travelled in order to experience all 3 levels that the path takes you through. A startle or two may be delivered in these areas, so be mindful of your footing while doing so. Overall, the folks at Culbertson Mansion are wonderful people that appreciate each and every one of their customers and that's been a fact for as long as they've allowed us to review (6 years now)!
---
Atmosphere:

8.17
Upon arrival, the Victorian-style Culbertson Mansion caught our attention and, even though the actual haunt doesn't take place IN the Mansion, it's still a beautifully-creepy site to see! Despite the rain, fog was rolling out from within the haunt's graveyard as it always does each time we visit. As soon as we climbed the stairs near the carriage house (where the haunt is located), it was on! Multiple roaming characters were lighting the crowd up and chasing those who had escaped the attraction! We even watched as one guests fled one of the assailants, skipping three steps on her way down the stairs and onto the sidewalk! The dimly-lit mansion, foggy graveyard surrounded by a wrought iron fence and customers' screams gave the spooky atmosphere of this haunted attraction the proverbial "wind in its sails!" As we neared the waiting area, we met Psycho Patient #1, an additional hospital worker and "Baby Face" who stabbed one of us with a knife! Once we got in line, we started surveying the coffin and tally board that hangs in the queue area that had 52 quitters listed for the 2015 season! Also while we were in line, an employee marked two "criers" on the board. The collaboration of the roamers and the tallied chalk board multiplied our eagerness to enter!
---
Special Effects:

8.44
Culbertson delivers more of an old-school show, so a lot of their effects are original creations that they've constructed in-house. Writing that's present on the walls, a fully-stocked pharmacy, grungy areas, a poo-covered restroom and other scene details were appropriate for the theme and helped in making it obvious as to what each room was portraying. The cemetery was the most authentic area that we walked through, consisting of coffins that were half dug up from grave robbers, gravestones, strategic lighting and dense fog. Sound effects were noticed in the kids' room and in the brain surgeon's operating room but, if they were present in other scenes, we sure couldn't hear them due to the screaming and dialogue of the actors! Other contraptions that we came across during our admittance included a spinning box transition, a moving wall surprise, appropriate smells, a coffin conveyor, authentic medical equipment, an electrical charge, gurneys, body parts, an animated patient and many props being used as weapons!
---
Theme:

9.31
Culbertson follows a different theme each year and, this year, the "Culbertson Sanitarium" has been brought to life and the patients have taken over! As we entered, it was obvious that the sanitarium had recently gone "under new management," and they were very delighted to begin our treatment as they reminded us of how important it was for new patients to sign in! As we made our way past the sickos and psychos residing within, a lot of theme-related dialogue was heard. The theme was fairly obvious all the way through as we snuck through the pharmacy, multiple treatment rooms, a restroom, patient rooms and more!
---
Fright Effect:

8.93
We must warn you, you may want to watch who you tell your name to upon arrival at this attraction! All of the cast members knew ours quite well, which personalized and heightened the experience for our group. They were even calling out to one of our group members as they frantically pleaded for help. This crew can also touch you, but they don't take it too far or anything, just enough to provide additional energy to their fright techniques. As we made our way through the graveyard, a strong-armed clown came at us with a large sledgehammer and, as it soared through the air towards us, we were thinking, "Surely that's just foam." Wrong! A loud "thud" was heard and felt as it sunk about 6 inches into the ground, narrowly missing us! This was only the beginning of the attraction and we were already looking at one another thinking, "Oh sh!t." It sure didn't end there either. Other types of scares that we encountered inside were a suicidal scene, a doctor who cut his victim's tongue from her mouth, division of the members in our group, persistent confrontations, a hanging surprise and multiple agonizing encounters involving persecutions by deranged patients! Some were armed with weapons, including a large blade that was used to move us where the character wanted us and various items that the irate patients beat to death on their surrounding areas! At one point, one of our group members was actually summoned to pull the lever to "shock" a berserk patient! Everyone in our group was evenly-targeted throughout our visit and the scares remained rather unpredictable the entire way through. The finale is built-up by a very original and unique scare that eventually drives you towards a growling chainsaw! After we finally surfaced back to safety, the reasoning for the 52 quitters marked up on the tally board in the queue area, along with criers and other customer accidents, became quite evident to our group!
---
Value:

8.92
General admission to tour this old-fashioned asylum will cost you $14.00 per person and, of course, your permission for treatment! This ticket price is the same as it was last season and, ironically, the length of the attraction has remained about the same as well at 14 minutes. That puts this value right at the average of 1 minute of entertainment per dollar spent. We have seen them sharing coupons on their Facebook page so be sure to follow them to take advantage of special discounts! Culbertson always surpasses our expectations each year and this season was absolutely no different! As a matter of fact, they completely covered our expectations with dust and buried them in their cemetery! This is one of those haunts you can go to every single year and get a different show because they tear the inside of the attraction down and re-theme it every season! Although we loved the vintage asylum this season and believe it is one of their strongest shows to date, we can't wait to see what they conjure up for next year! We have been to quite a few attractions this season and we are proud to say this was one of the most entertaining shows that we experienced. If you enjoy originality and creativity in a haunted attraction filled with a passionate and intense crew, you MUST pay Culbertson Mansion a visit! "[They're] crazy excited to meet you!" But remember, whatever you do, "…don't look the patients in the eyes!"
---
Photos from Review Trip:
Click to Enlarge
Promo Images:
Click to Enlarge