Find Reviews for a Haunt near You! Find Reviews for a Haunt near You!
Find Reviews for a Haunt near You!
Grim Trails
12009 Rehl Road, Louisville, KY 40299View All Details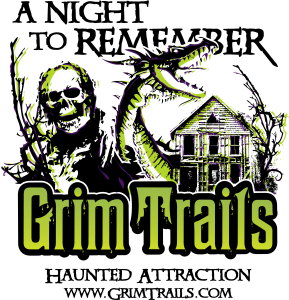 Features:
Free Parking, Restrooms On-Site, Gift Shop/Souvenirs, You will NOT be touched, Uncovered Outdoor Waiting Line, Indoor/Outdoor Attraction
Team Zombillies reviewed this attraction on October 24, 2015.
Final Score:

8.58
Summary:
Grim Trails is in their 3rd year as a "pro" haunt at their current location for the 2015 season. Their ¾-mile-long tail features several changes this year and, for those that have never visited them before, is themed around classic fairy tales and legends… but these aren't your normal "Disney characters!" Grim Trails has taken the wondrous worlds of stories like Alice in Wonderland, The Three Little Pigs, "Maleficent," and Hansel and Gretel and stripped away the classic tales to reveal the realities that your parents never wanted you to know! You'll likely recognize many of these areas and new additions for 2015 include scenes from "The Jungle Book." We must admit that it was raining on the night of our visit, which is less than ideal for an outdoor attraction, but we still believe there were plenty of highly-detailed sights to see and scares to be had, so be sure to visit Grim Trails during your Halloween excursions!
---
Cast:

7.54
Around 25 actors and actresses become the classic and original characters and creatures that Grim Trails has to offer on a typical night during haunt season. Most of the scenes generally utilized one and sometimes two actors each, but due to the length of trail in between scenes and the large sizes of most of the sets, this number seemed to leave quite a few "dead spots" where no actors were encountered. Most of them did use their scenes well to enhance their performances and make their scares less predictable, but this was more-so the case with approximately the first half of the attraction. After the initial scares, very little dialogue was generally used and creepy stares were utilized to maintain their intimidation. Overall, this decreased their believability and left us with seemingly-unfinished performances, but we were grouped with several terrified children during our visit so this may have been intentional for their sake. However, this was not true for all of the actors! Several of them had good, scene-related dialogue that fulfilled their roles, made their identities known and reiterated the haunt's fairy-tale theme when appropriate. Some of the most memorable characters were Miss Muffet, the Bird Witch, Maleficent, the Clown, the Goat, the Skin Collector and the evil-looking creature at the end of the trail.
---
Costuming:

9.28
Many familiar faces and a few original ones can be found at Grim Trails and their costumes are carefully selected to identify each and every one of them. Clothing ranged just as much as the characters and seemed to be made of good, quality articles that identified each of them very well. When combined with realistic masks, accessories and makeup, we had little doubt about who most of them were supposed to be! The vast majority of them seemed to be complete and believable as well, although some areas of the trail were pretty dark and, because of that, some of the fine details of the costumes were difficult to make out. Some of the most memorable outfits were those worn by the Skin Collector, the skull-headed girl, the pirate, the clown, Maleficent, the Bird Witch, the Mad Hatter, Kaa and the Goat!
---
Customer Service:

9
A small sign by the highway and a larger, well-lit sign is located at the entrance to let you know you've arrived. A flagger is present to wave customers around the well-decorated house to the haunt's parking lot and a large entrance with pictures of various characters acts as the transition away from "normalcy." Lines were added to each of the spots in the parking lot to aid organization this year, so that's a nice "plus" for the busy nights. The friendly folks at the ticket booth are available to assist you with any questions and direct you into the queue line after making your purchase. Speaking of the queue line, we noticed some VERY creepy sounds in this area for the second year in a row and they never get old! As the ghostly whispers and horrifically-ominous sounds echo from tree to tree as you make your way to the entrance, it can be a bit difficult to keep your hair from standing on end from the fearsome feelings that occur as a result. It had been raining on the night of our visit, so there were a few small puddles here and there along the trail, but we were actually surprised at how well the path stayed navigable. Small candles in glass jars line the entire path through Grim Trails, so finding your way around in the vegetation is mindless. However, be informed that you may have to overcome a few small obstacles if you intend to complete the journey intact!
---
Atmosphere:

9.3
Multiple signs can be seen showcasing some of the wretched characters that can be found along this timbered trail. Grim Trails has built a new ticket cabin this season that's complete with surrounding décor and landscaping work (including a small waterfall) that welcomed us to the attraction in a more calming way. However, as we started to walk up to the entrance of the attraction, things were no longer calming! We feel sorry for anyone who gets stuck standing by one of the speakers lining the path because the sounds they were emitting were extremely hair-raising! The queue path was also dark with small, flickering candles in mason jars as the only light source all the way until we entered the attraction, which followed suite and remained dark and eerie the entire way through. This creepy atmosphere definitely aided in preparing us to enter! It was raining during our visit so there wasn't much of a line. However, when there is, we bet the people there tend to get frights from just the sounds and darkness they must endure while waiting their turn. Even the kind lady taking our tickets said the noises mess with her as she waits for customers at the entrance to the attraction!
---
Special Effects:

8.88
Grim Trails uses a mixture of effects that have been purchased and created in-house. The owners of the attraction also do landscaping, and their talent became evident rather quickly! It was fairly easy for our group to figure out what the majority of the scenes were prior to entering due to their picture-perfect quality. Some of them were built so dead-on that the younger, petrified children that we were grouped with recognized them and told the rest of our group what we were entering before WE did! Suspenseful and eerie music accompanied the majority of the scenes, although the areas between them remained quiet for the most part. Some of the effects that we encountered include colored fog, various well-placed accent lights, a corpse surprise, a jumping spider, a realistic castle and temple, a "rabbit hole," strobe lights and a rope bridge just to name a few! They normally utilize at least one device that blasts customers with air at a given moment, but we were informed that it wasn't operational at the time of our visit, so be informed that THAT's normally an effect used here as well.
---
Theme:

9.24
The name is the game! At Grim Trails you will come across scenes wrapped around familiar fairy tails and legends, but we highly doubt your parents prepared you to experience them this way! This attraction presents itself in more of a theatrical fashion rather than a lot of blood, guts and gore. Don't let that fool you though, the fairy tale creatures that will hunt you down here just may send you running home crying to your mommy! As we began our journey, we felt as if we had flown to some sort of unearthly fantasy world! The majority of the scenes and characters were familiar to us and followed the theme very well, while a few original twists existed as well. We stumbled upon houses of bricks and another made of sticks, their very own "Wonderland," a gingerbread house, Maleficent's castle, a temple and wilderness from "The Jungle Book," guarded bridges and much more! This attraction has a story to tell alright and, if you're not careful, you just might become part of their story for the next group!
---
Fright Effect:

7.31
Just navigating the encompassing woodlands at Grim Trails gives off a spooky vibe all by itself. This area of the woods closes in on you and creates a dark, chilling atmosphere. As we ventured through the trail, multiple good hiding spots were encountered which made it harder for us to predict where the creatures would come from. Scares were mostly directed towards the very front or back of our group, although a clever distraction or two provided startles to seemingly everyone in our group! The most effective fright techniques at Grim Trails proved to be the multiple run-ins with towering beasts that made sure to express their intimidating dominance! Several common phobias were also encapsulated throughout Grim Trails and one even sent the majority of the group backwards upon revealing itself! The finale of this attraction was included when we mentioned towering beasts, although suspenseful music and a perfectly placed, blinding light made it unpredictable and stand out above the rest!
---
Value:

8.08
General admission to walk along the eerily-lit, timbered path at Grim Trails will cost you $17.00 per person. It took us approximately 20 minutes to experience the entire attraction, putting this value at 1.18 minutes of entertainment per dollar spent (right above average). Each group's tour time may vary, however, depending on how fast you skip through the scenes or stop dead in your tracks in fear. The trail's length remains about the same as it was last season and ticket prices have taken a $2.00 increase. Despite the price hike, this attraction continues to bring a new realm of haunting to the Louisville area and its diversity and attention to detail in areas is still worth the price of admission to experience. Our group did attend Grim Trails on a rainy night and we were grouped with smaller children who were absolutely petrified and crying almost the entire time, so your journey may differ a bit from ours. Our excitement to return for the 2016 season was increased when we noticed multiple signs near the entrance of the attraction stating, "New for 2016, Salem, The witches are back….and there's Hell to pay!"
---
Photos from Review Trip:
Click to Enlarge
Promo Images:
Click to Enlarge
Have you visited this attraction?
---
2016 Awards
Most Unique Haunt (Given by: Team Zombillies)
Actor Shout Out Award - "Hansel" A.K.A John Probus (Given by: Team Zombillies)
Actor Shout Out Award - "Rabbit" A.K.A Shane White (Given by: Team Zombillies)
Actor Shout Out Award - "Tituba" A.K.A Max Glidewell (Given by: Team Zombillies)
---
2015 Awards
Memorable Scare - "The Maleficent Dragon" (Given by: Team Zombillies)
Actor Shout Out Award - "Pappi," A.K.A. "The Goat" (Given by: Team Zombillies)
Actor Shout Out Award - Matthew Moneypenny, A.K.A. "The Skin Collector" (Given by: Team Zombillies)
---
2014 Awards
Most Intimidating Character (Given by: Team Zombillies)
Most Realistic Costume (Given by: Team Zombillies)
Actor Shout Out Award - Mad Hatter (Given by: Team Zombillies)
Actor Shout Out Award - Miss Muffet (Given by: Team Zombillies)
---