Find Reviews for a Haunt near You! Find Reviews for a Haunt near You!
Find Reviews for a Haunt near You!
Asylum Haunted Scream Park
3101 Pond Station Road, Louisville, KY 40272View All Details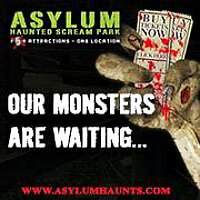 Features:
Free Parking, Restrooms/Porta Potties On-Site, Food/Concessions, Gift Shop/Souvenirs, Optional Games/Midway, Special Events, You will NOT be touched, Original Characters, Uncovered Outdoor Waiting Line, Indoor/Outdoor Attraction
Team Zombillies reviewed this attraction on October 30, 2015.
Final Score:

9.17
Summary:
Asylum Haunted Scream Park has upgraded from their 4-featured complex to now offering 5 separate attractions at one location! New for 2015 is "Zombie Hunting," which is a zombie paintball bus ride that winds you through Paragon's zombie-killing training facility. For those new to AHSP or unfamiliar with Paragon, they're the organization behind the un-dead outbreak in "Zombie City," which is the Park's fully-renovated and -immersive haunted attraction experience where YOU become a key element in the action within! Even though we were advised, "What you don't touch can't kill you," there was talk of Blackwood City time shares being available for purchase in the 2016 season and they let us use a random guy in our group as a down payment! By the way… we never saw him leave. "Darkness Falls" is Asylum's scariest haunt that features all sorts of classic fears with 42 acres of unique scenes and characters that'll surely send you home with a mental scar or two… just don't get in the ice cream truck. "Xterminate: Mutant Attack" has also been completely revamped for this year and has switched gears into a haunted laser tag adventure with two stories of scares and zombie chases to boot! Finally, the "Carnivale of Lost Souls" returns to keep the crowd entertained between haunts by providing live entertainment, a variety of freakish talents and fire-twirling displays with carnival-style game booths and Asylum souvenirs. With such vicious variety and sinister scares, Asylum Haunted Scream Park continues to offer plenty of new things each year so everyone can find something to enjoy during the Halloween haunt season. Over 70 minutes of entertainment can be had at AHSP, so be prepared to get a full night's worth of screams!
Zombie City: 9.36
Darkness Falls: 8.83
---
Cast:

8.73
Beginning with the haunt that started it all, "Darkness Falls'" characters varied just as much as the scenes and things got creepy quite quickly when the older receptionist lady started chanting, "They're gonna get you," to the tune of "Ring Around the Rosie!" Her mortician counterpart, among many other actors in Darkness, was pretty energetic and made sure everyone in the group got examined at some point. Equally believable was "Hepatitis Hogslaughter's" performance as he menacingly taunted his desperate, caged victim and made sure we didn't leave his shanty without a prop-assisted scare! Many of the rest of the actors in Darkness also used intimidating and scene-related dialogue with our group which increased their believability and, often, interactivity. Some of the most notable in this attraction from our visit (besides those already listed) include the Blackwood Sisters, the clowns, the witches, the cook in "Hell's Diner" and "Chainsaw Pete!" However, there were also several others that, despite their hair-raising looks, demonstrated shallow or basically non-existent roles during our encounters by doing little more than pointing out the way for us to go or "chatting" to our group with a non-chalant demeanor, which resulted in good scare opportunities that weren't taken advantage of (this was particularly the case in the maze area). "Zombie City," on the other hand, was undoubtedly the most verbally and physically interactive attraction at AHSP! We could tell that most of their dialogue was carefully scripted, but many of them were able to throw in some ad-libbed stuff to make the experience much more personal and entertaining for each of us! Each of them reiterated the Paragon-zombie-outbreak theme very well, which made for a smooth, enjoyable experience that's dotted with a few frights as well. The office worker and lab workers gave believable performances and Dr. Riker continued to be a crowd-pleaser with his consistently-schizophrenic tendencies. After he shed some insight on the Paragon Corporation, we ran into various other staff members and locals that had been affected by the outbreak, including the Butchers (one of which carried on a rather eerie conversation with his "soft-spoken" wife), a worker who saved us from an attacking airborne threat, a guy that needed us to deliver a suitcase for him, a disgruntled (and intimidating) pump operator and more! "Xterminate" and "Zombie Hunting" also had some charismatic characters at their entrances that really helped set the tone for the experiences to follow and "Bobby Briggs" threw in some humor to make our "training" a little less monotonous in the latter attraction.
Zombie City: 9.61
Darkness Falls: 7.86
---
Costuming:

8.99
The clothing used for costumes at Asylum consist of various articles that have been distressed, altered and/or modified in ways that give each of the characters their unique looks. "Darkness Falls" contained the scariest and most diverse arrangement of attire and ranged from clown suits, black cloaks and bloody butcher aprons to grungy lab coats, dirty grave-digging clothes and sinister, slave-driving dominatrix outfits that were suited most appropriately for punishing (just to name a few). Many of the characters also utilized several types of accessories, such as weapons, jewelry and tools, to give them even more reasons to be feared! Some impressive, high-quality masks were utilized throughout Darkness Falls, but it seemed that some of the actors wearing them didn't use them to their full advantage. Makeup was applied pretty well, although a few of the applications stood out to us more than the rest. Debatably the most creative and unique outfit at Asylum was found in the voodoo area of this haunt during our tour! "Zombie City's" dominating theme execution was carried into their costume designs this year, as we noticed many of the Paragon employees and various other characters subtly sporting the corporation's logo on their uniforms! Even when the looks weren't supposed to be so scary, such as with the office employee and some of the lab workers, each of them were well-constructed and made for a bounty of believable characters. Detailed makeup applications and distressed costumes seemed to be less apparent in Zombie City compared to Darkness, but it served to maintain the realistic and life-like experience that they're shooting for instead of the fantasy-filled "face-your-worst-fears" looks that most haunts shoot for. But don't let that fool you! There's still some bloody (and even glow-in-the-dark) surprises that add authenticity to the ones using it. The makeup in "Xterminate" seemed to have been improved upon this season which also added an extra layer of realism to the "live action" experience.
Zombie City: 9.13
Darkness Falls: 8.85
---
Customer Service:

9.75
Although our GPS lead us to AHSP without a problem, their road is kind of hidden when approaching from the Interstate exit ramp. Be on the lookout for it and their signs, which were also a bit hard to see when we pulled in, as you approach the railroad tracks. Additional signs were found as we made our way to the free parking area, which was complete with flaggers who conveniently and quickly helped us find a spot. A newly-decorated ticket booth was easily spotted upon entering and the park was easier to navigate this year than seasons past due to the haunt-specific signs marking the entrances to each queue line. We felt that all of the staff members (at the head of each attraction, explaining the rules) were very helpful and friendly, but one in particular really increased our anticipation to enter and that was "Will," who gave us his believable spiel of "Zombie Hunting" before entering. Thank you Will! Friendly staff members can also be found at the ticket booth that can help find answers to your questions if you have any. "The Carnivale of Lost Souls" was providing unique queue entertainment during our wait as well as "Pogo" the clown and "The Demon of Darkness Falls" who were doing a fantastic job of scaring the crap out of innocent customers during their wait. Multiple photo opportunities are available so don't forget to take advantage of those!
---
Atmosphere:

9.57
As soon as you enter AHSP, you will know it! The haunt's post-apocalyptic hearse guarding the entrance and multiple signs instantly let us know we'd arrived. That wasn't our initial clue though, which was the multi-color-illuminated, large, white building that was emitting some very loud, edgy sounds! This structure's reverberations could be heard in many areas of the park, acting as central queue sounds, and especially so while standing in line for "Zombie Hunting," "Xterminate" and "Zombie City." "Darkness Falls" had its own menacing music playing at the entrance that, when combined with its frightening façade, helped in preparing us to enter. The "Carnivale of Lost Souls," multiple roaming creatures, facades of the other attractions, echoes of "Pete's" chainsaw and additional signs kept the haunted house spirit floating amongst our group. The winged "Demon of Darkness Falls" was seen preying upon innocent customers and made us wonder if we truly wanted to enter those woods or not…
---
Special Effects:

8.7
There's a lot of ground covered by the attractions at AHSP which means that there are a lot of special effects to endure! Many of the effects have been created and built in-house by Asylum's crew but some were also purchased. AHSP has their own prop company (Asylum Props) which serves as a nice convenience to the complex. It was obvious that "Zombie City" went through quite a technology re-vamp this season! There were some gadgets and devices in there that literally had us saying, "Wow!" Talk about realistic, they had a few scenes that truly made you feel as if you were within the tarnished limits of "Blackwood City" and not Louisville, Kentucky anymore! Convincing sound effects accompanied some of the scenes including waiting-room music, oldies and gun shots that added to the legitimacy of the areas they were heard in. Other effects derived from Paragon's negligence included an explosion, hazardous gases, a surveillance camera demise, running sewer water, a suitcase surprise, strategically-placed lighting and a helicopter that opened fire on us! We are also going to consider the badges that were only given to some our group members as special effects as well since they added a whole new dimension to the experience. In "Darkness Falls," we encountered additional appropriate and menacing sounds, although some of the scenes were rather quiet. Many innovative items were noticed in DF including giant popsicles, a popping popcorn machine, an ice cream truck, an over-the-head witch, an overturned school bus, molded food, a poor fellow suspended from large hooks through his rectum (yes, his butt) and they even sent us on a fast track to their waste disposal area! Traditional, yet effective items were also noticed and consisted of thick fog, a claustrophobic passage, mutilated bodies, flickering lights, tombs, sliding floors and more! In "Zombie Hunting" the military bus's exterior was black light-illuminated which made it easy to see where our neon paint was hitting! They had buildings, facades, targets and vehicles in place for the onslaught of customers' rapid-fire rampages. "Xterminate" is a laser tag arena as its day job so everything that is normally used for that is also used for the haunt. The two-story design and complete overhaul of the attraction made for a much more realistic experience. The sound effects were our favorite though, as they were so overpowering that they were heard throughout a lot of the park! They were also crazy sounds like airplanes, dive-bombs, loud roars, etc.
Zombie City: 9.24
Darkness Falls: 8.14
---
Theme:

10
Between all of the attractions at AHSP, quite a plethora of creatures and scenes are available to behold! It's always hard to predict what one may come across in "Darkness Falls." This one-mile hike along a wooded path slithers in and out of various dwellings and is good at conjuring up some of your worst fears! This year, this uneasy trail led us right into some crazy individuals and we suggest that you tread lightly; some of them have been showing their faces when the "darkness falls on Asylum" for years! During our undertaking, we came across many different scenes and themed zones including a morgue, a walk-in freezer, a junkyard, a gas station, a church, "Shanty Town," "Clown Town" and much more! Due to the universal and random tendencies of this trail, we have decided to leave this score unrated for this category. "Zombie City" is an immersive, theatrical attraction that showcases the strongest theming aspects at AHSP. For those who haven't been through ZC before, this attraction feeds off the same storyline that changes from season to season. Don't let that worry you though, they make the story obvious enough that you will understand it even if you haven't been here before. A chronological list can be found on their site that explains bits and pieces of the story as it's unfolded since 2011. In short, this season you will witness the work of "Paragon Technologies Corporation," the company responsible for the zombified and toxic mess within Blackwood City, as they try to clean up after themselves with the aid of government and private corporate funding. Paragon believes they have created a cure for those who have fallen victim to "Pandora's Rage" and they are more than happy to show you stages of this treatment during your tour of the city. Did their treatment work? Was this property cleaned up and zombie-free during our visit? Well let's just say they thought they could control and cage dinosaurs in Jurassic Park too, now didn't they? From beginning to end, everything that was going on around us was fairly obvious to our group. This haunt will make you feel as if you have plunged right into the set of a movie or, better yet, a real-life disaster! The theme introduction was very unique and clued everyone in on what was happening before we entered. Their new attraction, "Zombie Hunting," actually parallels with ZC's theme! This is no ordinary paintball ride, this is Paragon's zombie-killing training facility! This military bus is equipped with zombie-slaying paintball guns! We're sure you know the drill… shoot them in the head! In "Xterminate: Mutant Attack" you will be armed with laser guns. Your mission will be explained to you prior to being released and these mutants also had to be shot in the head or they just wouldn't die! We would also like to mention that we went through "Darkness Falls" after "Zombie City." We still had our Paragon badges on as we meandered through the forest and some of the characters appropriately commented on them which was rather entertaining.
Zombie City: 10
Darkness Falls: N/A
---
Fright Effect:

8.18
"Zombie City" and "Darkness Falls" are where the most of the scares can be found at AHSP. However, a few surprises still caught us off-guard in "Xterminate" and we watched many victims cowering and screaming in fear as they waited in the lines! The majority of the scares that were delivered to our group came from within the dark, timbered paths of "Darkness Falls," where the black areas of the forest may be enough to keep you on edge! Other types of frights that DF threw at us included threatening dialogue, overhead surprises, gruesome sights, common phobias, several distractions, trickery and sudden movement of inanimate objects that brought the flinching reaction out of more than a few of our group members! On multiple occasions, the crew members would call the weakest link(s) of our group (the biggest scaredy-cat) to the front, making them go first! Our group was paired with some pretty skittish folks and the creatures in the forest seemed to sniff it out and magnetized to them the most. Darkness' finale consisted of a rather unique experience, known as "Re-Pete," we aren't going to spoil what this area entails but we can tell you that the skittish ones in our group bolted out the exit like greased lightning (as fast as their legs would allow them)! "Zombie City," the more theatrical attraction, shared more diverse surprises with our group and delivered frights on multiple levels. Some of them consisted of intense areas, dangerous encounters, sudden zombie activity, an explosion, gun shots, loss of visibility and others! The second scene we entered in ZC turned out to be one of the scariest portions of the attraction! Everyone in our group was a target at least once, but we sure feel sorry for the one who made it all the way through the city without finding a badge. The finale starred this person and actually didn't allow them to leave Blackwood City with the rest of us! We never did see her exit, so we are unsure as to what happened to her in the end…
Zombie City: 8.13
Darkness Falls: 8.23
---
Value:

9.42
AHSP offers something for everyone within their 5 diverse attractions all at this single location! If you enjoy the scares, you can purchase their "Scare Pass" for $28.00 that will get you into "Zombie City," "Darkness Falls" and "Xterminate." If you want to go all out and enjoy all of the attractions, you can purchase an "All Access Pass" for $40.00 per person. We can tell you now… hitting all of the attractions will take a large portion of your evening, so plan to spend most of your night at the Park if you choose that combo ticket route. If you are limited on time, they also have you covered! General admission tickets to any of the individual attractions are available for $20.00 each (on-site only). It took our group approximately 12 minutes to accurately shoot all of the mutants in "Xterminate," another 11 minutes to kill all of the "zambies" on the Zombie Paintball ride (starting from when we entered the bus), 25 minutes to retrieve badges and escape "Zombie City" and 25 more minutes to flee the creatures within "Darkness Falls!" That combines to a total of 73 minutes which brings the value of the $40.00 combo tickets to 1.83 minutes of entertainment per dollar spent (not including "Carnivale of Lost Souls")! When looking at the value of the "Scare Pass" (same price as last season but includes the revamped "Xterminate" attraction), this ticket option actually comes out to the highest value while still offering 62 minutes of haunt and 2.21 minutes of entertainment per dollar spent! If you want to skip the longer waits in line, an "Asylum VIP Add-On" can be purchased for an additional $20.00 and includes the "All Access Pass," fast pass entry, a t-shirt and a wristband! For those who are trigger happy or those who fly through your 100 rounds, you may purchase an extra 100 rounds of paint for $5.00; just hold up your money and yell at "Bobby Briggs," he will hook you up with paint and "a happy ending and love you long time!" Discount information can be found on their website as well as special event information that covers their "Slenderman: the Live Action Experience" event! If you are looking to spend your evening at a fun and spooky Scream Park during the Halloween season, be sure to check out Asylum Haunted Scream Park, but watch out, "Only the dead are allowed in the grave yard!"
---
Photos from Review Trip:
Click to Enlarge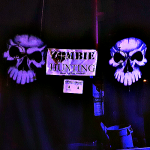 Promo Images:
Click to Enlarge
Guest ReviewsGuest Average: 10 out of 10
Brandi – 10/10This is by far my favorite haunted attraction! The interaction between actors and guest is by far …show more the best. They really make you feel like its real life!! A+++++
---
2016 Awards
Best Haunted Trail - Zombie City (Given by: Team Zombillies)
Highest Dead Body Count (Given by: Team Zombillies)
Actor Shout Out Award - "Annette Jenkins" A.K.A Nurse Ratchet (Given by: Team Zombillies)
Actor Shout Out Award - "Dr. Piper Arden" A.K.A Lluvia (Given by: Team Zombillies)
Actor Shout Out Award - "Isaak Oleander" A.K.A Jake Wheat (Given by: Team Zombillies)
Actor Shout Out Award - "Uncle Rig" A.K.A John Cowgell (Given by: Team Zombillies)
Actor Shout Out Award - "Will James" A.K.A Dr Mimnom (Given by: Team Zombillies)
---
2015 Awards
Best Usage of Fog - "The Gas Leak" in "Zombie City" (Given by: Team Zombillies)
Most Creative Finale - "The Turnstile" in "Zombie City" (Given by: Team Zombillies)
Most Realistic Scare - "The Zombie Uprising Scene" in "Zombie City" (Given by: Team Zombillies)
Highest Rated Theme - "Zombie City" (Given by: Team Zombillies)
Actor Shout Out Award - Annette Jenkins, A.K.A. "Nurse Ratchet" (Given by: Team Zombillies)
Actor Shout Out Award - George Flarsheim, A.K.A. "The Pump Jockey" (Given by: Team Zombillies)
Actor Shout Out Award - J.P. Perry, A.K.A. "Hepatitis Hogslaughter" (Given by: Team Zombillies)
Actor Shout Out Award - Paul Cecil, A.K.A. "The Evil Executive" (Given by: Team Zombillies)
Actor Shout Out Award - Riker Hill, A.K.A. "Dr. Riker" (Given by: Team Zombillies)
Actor Shout Out Award - Thomas Herchenrader, A.K.A. "The Butcher" (Given by: Team Zombillies)
Actor Shout Out Award - Will James, A.K.A. "Dr. Mimnom" (Given by: Team Zombillies)
---
2014 Awards
Most Interactive Character (Given by: Team Zombillies)
Memorable Moment (Given by: Team Zombillies)
Actor Shout Out Award - Darkness Falls: Hepatitis Hogslaughter (Given by: Team Zombillies)
Actor Shout Out Award - Darkness Falls: Voodoo Woman (Given by: Team Zombillies)
Actor Shout Out Award - Zombie City: Dr. Yuri (Given by: Team Zombillies)
Actor Shout Out Award - Zombie City: Jumping on Car Zombie (Given by: Team Zombillies)
Actor Shout Out Award - Zombie City: Lt. Commander Barnes (Given by: Team Zombillies)
---