Find Reviews for a Haunt near You! Find Reviews for a Haunt near You!
Find Reviews for a Haunt near You!
Shattered Nightmares
1609 Lafayette Avenue, Terre Haute, IN 47804View All Details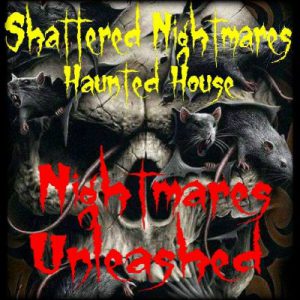 Features:
Free Parking, Restrooms On-Site, "Old-School" (Low Tech), You will NOT be touched, Movie Characters, Original Characters, Indoor Waiting Line, All-Indoor Attraction
Team Zombillies reviewed this attraction on October 31, 2015.
Final Score:

8.42
Summary:
On April 17th, 2015, the crew members of Shattered Nightmares Haunted House received some extremely devastating news. Their beloved attraction and "second home" had caught fire! After firemen battled the blaze for hours, the building was deemed a complete loss… along with everything in it. Despite the damage and destruction, the Hoopingarner family never lost hope as we watched them share their tragedy with their many friends, including those within the haunt industry. Fellow haunters aided in different ways and they were even able to set up a booth at one of the Halloween conventions this year to raise rebuild money. As their story was shared throughout the haunt industry, vendors became aware of their struggle to once again be able to instill fear into others as they'd done for the past five years. As a result, monetary donations and many items that are needed to create a successful haunted house were sent to Shattered Nightmares. Since their building was completely destroyed in the fire, they searched and searched for a new location, and… alas! A building was found! Enough donations, sponsors, hard work and faith made the Nightmares "rise from the ashes"! We present to you the newly-resurrected Shattered Nightmares, now in their new location for 2015! If you have ever been to SN in the past, you may notice that some of their creative ideas still exist under their new roof. Even though it was constructed in only 6 weeks, this attraction continues to deliver the frights they are known for and the very long line wait during our visit was living proof! If you're looking for a haunted house where you can meet some of your worst nightmares face-to-face… well, you've found it! Be sure to visit the exhumed Shattered Nightmares Haunted House this season, "From the ashes, [they] have risen with a vengeance!"
---
Cast:

8.93
Shattered Nightmares generally uses around 30 actors and actresses on a typical night and most of them seemed to have been trained for "pop-" or startle style scares. Intense war cries and short phrases like "get out" and "boo" were commonly heard during our tour with their enthusiastic attacks, but a few characters (such as the butcher and the mortician) used excellent and believable dialogue for their characters and scenes. The towering, zombified Army guy was rather intimidating as well and so was the "teddy bear" that violently tried to escape his containment when we passed by! Most of the actors portrayed original characters, but one familiar face from a "Halloween" movie just may be lurking in one of the nightmarish scenes too!
---
Costuming:

8.76
A few costuming improvements were noticed this year at SN, but mainly in the mask department; high-quality, purchased pieces were in use by most of the characters and we noticed a few originals that we've never seen before! Some of the most memorable ones were those worn by the teddy bear, the 3-faced skull, the Army zombie, the clown and the mortician (whose scalp was held back by forceps revealing his brain!). The priest and the girl in the gravestone were noted as having decent makeup among those who wore it; although it was dark in several areas of the attraction so it was difficult for us to completely see several of them. The clothing used for the costumes themselves seemed to be adequate with some street clothes and off-the-shelf used articles being visible. However, we suspect this to be mainly due to their recent arson losses and limited time to build and prepare them for the 2015 season, so we'll look forward to what they come up with next year in this category!
---
Customer Service:

8.72
Shattered Nightmares' flashing arrow sign was clearly visible at the turn onto their road and the phrase, "Shattered Nightmares Haunted House, Welcome Team Zombillies!" let us know we had arrived at the right place! A pretty large, FREE and grassy area proved to handle enough vehicles to keep their queue and ticket lines packed, which were longer this year and completely indoors. Friendly staff members were found in the ticket booth and multiple tour guides rotated through the front of the line as they took groups of customers into the attraction. From a customer service standpoint, our guide escorted us through (most of) the haunt in a safe and consistent manner and kept us spaced away from the other groups very well (thank you, Bri)! The flooring through the haunt is very smooth, but you may be required to navigate some very dark, obstacle-filled rooms so be careful in these areas. No queue entertainment (actors, music, videos, etc.) were noticed during our visit, which definitely didn't help pass the time for those in the long wait in line. However, the various sounds that could be heard coming from within the haunt kept us wondering, "What the heck is going on in there?!"
---
Atmosphere:

6.93
Shattered Nightmares' new home is in a very large, orange, metal sided, steel-framed warehouse. Despite the haunt's sign, a coffin and a couple of green accent lights, the new building just doesn't really give off a "haunted house" vibe… at least yet. We were informed that SN only had about 6 weeks to resurrect their haunt, so this was highly understandable, but we must report our findings, nevertheless. No artificial sounds were heard outside the building or in the queue area to help set the mood, so that didn't help things either, but the REAL sounds coming from inside the attraction could've easily been enough to scare the more skittish souls away all by themselves! As we neared the entrance to the haunt, we noticed a very similar façade to the one at their old building that helped build our excitement to enter.
---
Special Effects:

7.91
Even though Shattered Nightmares lost everything in the fire earlier this year, the haunt was almost up to par with what they had last season! Ample amounts of black walls helped reinforce the "nightmares" theme of the attraction, but they also caused scene detail to suffer in those areas by default. That's not to say, however, that there weren't any well-detailed sets because several of them were. The morque, church, toy room and the Myers house were very well done… especially considering their lack of time to build before their season began! Some classic special effects like electric poppers and drop panels are implemented throughout the haunt and the latter were noted as being very effective and providing several distraction-type scares to our group. Most of them were timed correctly and/or combined with some of the more-elaborate scenes, so you can bet that scares were delivered! Sound effects were heard in several areas and were very effective and sometimes even scary in those cases, particularly the morgue, cemetery and "groundbreaker" scenes, but they weren't consistently present for the duration of our tour. Our guide even hummed a circus tune to us in an appropriate area, which helped her add an extra bit of flare to the scene!
---
Theme:

8.95
Shattered Nightmares is the name of the game here! Their ultimate goal is to bring such a wide variety of fears to life that they have something for nearly everyone to be afraid of! With that being said, it's possible to run into almost anyone or anything in this place! Before entering, our tour guide explained the theme to us, so we did have an idea of what we were getting into before we even started. From a confessional, a funeral parlor, a hall of nightmares, a cooler, a familiar fiend from "Halloween," a morgue, dolls and areas constructed specifically to trick your mind, they are attacking quite a few weaknesses for many folks! They also included a few things we've never seen before that may become new nightmares for some of you!
---
Fright Effect:

9
The Shattered Nightmares crew sure has gotten good at keeping their customers on their toes as they traverse their dark hallways. A single tour guide was utilized for each group and it was obvious that ours was familiar with the scenes because she was able to perfectly set us up for the scares! Our guide also randomly used our names, which helped to personalize the experience even further! We fell victim to two fright techniques more often than others while living our nightmare. The first being multiple scares used in the same area at the same time. They would catch us off-guard once, then do it again in the same scene and sometimes even a third time before we could escape their entrapments! When you can surprise us multiple times like that, we're sure that plenty of the customers are receiving the same treatment! The second was their excellent usage of distractions which also coincides with the first type as well. This haunt found their sweet spots for these scares and they used them to their advantage on multiple occasions. They successfully surprised us so well that some inappropriate words may or may not have been said at times (sorry about that)! Other fright techniques that inhabited this warehouse include the awakening of evil spirits, a power tool attack, loss of sight, disorientation and at one point we turned around to notice we had three stalkers!
---
Value:

8.18
General admission to watch some of your hellish dreams come to life will cost you just $9.00 per person at Shattered Nightmares. It took our group about 12-½ minutes to escape the dark and twisted corridors this season, bringing this value to 1.39 minutes of entertainment per dollar spent ("average" is 1 minute per dollar). Although the build crew only had 6 weeks to put the haunt together, similar variations of fan-favorites from their other building have been continued throughout their new show! This attraction has always excelled at keeping our group members on our toes and this season was no different! If you're looking for some haunted house fun that won't break the bank, we recommend that you pay Shattered Nightmares a visit, where they continue to "put the 'Shat' in Shattered Nightmares!"
---
Photos from Review Trip:
Click to Enlarge
Promo Images:
Click to Enlarge