Review of Ultimate Terror Scream Park Haunted Attraction
Review of Ultimate Terror Scream Park Haunted Attraction
Review of Ultimate Terror Scream Park Haunted Attraction
Ultimate Terror Scream Park
Ultimate Terror Scream Park is a Haunted Attraction located in Sacramento, CA.
4909 Auburn Blvd, Sacramento, CA 95841View All Details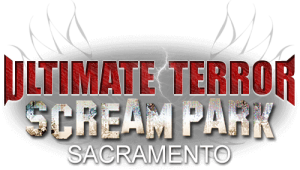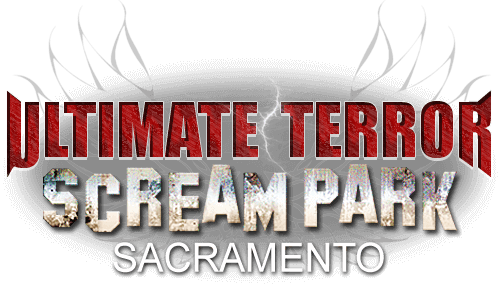 Features:
Free Parking, Restrooms/Porta Potties On-Site, Handicap Accessible, Gift Shop/Souvenirs, "Old-School" (Low Tech), You will NOT be touched, Original Characters, Indoor/Outdoor Waiting Line, All-Indoor Attraction
Team In-Corpse-A-Rated reviewed this Haunted Attraction on September 29, 2018.
How Do We Get These Scores?

Final Score:

8.17
How Did We Get This Score?

Summary:
Ultimate Terror Scream Park returns with 3 new haunt mazes, which are a feast for the eyes, because they are one of the best decorated haunts in Northern California. The grungy, dirty, and unkempt look made us feel unsettled, which allowed scare actors to startle us at various points in the haunt. This year's haunt mazes are Paranormal Playground, Optic Surgeon, and Cabin Sickness. Located in Sacramento, Ultimate Terror is the sister haunt of Fear Overload in Sacramento and has grown larger over time.
---
Cast:

7.4
How Did We Get This Score?

First thing to note is we wish there were more actors in the three haunts. Granted, there were transitional areas where there was impressive scenery to view, but there were too many "dead zones" for our taste. We saw many of the same actors appear in several scenes, which we found predictable after a while.
The actors overall did come across as believable, enthusiastic, and engaged. To their credit, they all stayed in character and even the victim characters made us feel sympathetic. There wasn't much interactivity with the cast; even though they did startle us here and there, they didn't really get us to move or react differently than our normal walk-through. The dialogue was pretty standard in a haunted house, with a few "Get Outs", "Fresh Meat", and the victims' "Help Me's." There were a variety of characters, some who would confront us, and some would startle us from a distance.
---
Costuming:

7.83
How Did We Get This Score?

The actors were dressed well and no one appeared to be incomplete in their clothing ensembles. Ultimate Terror used high-quality outfits that appeared to be aged and tattered. Make-up was applied properly, especially the abrasions and trickling blood. They tend to use more primitive styles of makeup, but there were interesting uses of prosthetics. There were a few masks, and they did make the actors appear more intimidating. Overall, the costumes were appropriate for their respective scenes and themes.
---
Customer Service:

10
How Did We Get This Score?

Ultimate Terror was easy to locate, find parking, and navigate the premises. We found this place to be very safe, with enough lighting, no tripping hazards, and plenty of emergency exits. There were enough staff for security and emergencies. Their staff was friendly and respectful, and easy to identify. Their information is easy to find, because they are on various social media sites and have a very nice website.
---
Atmosphere:

9.2
How Did We Get This Score?

Upon arrival, there was no question we arrived at a haunted house. From the huge marquee banner and the theatrical lighting, to the line actors in the parking lot and loud music, Ultimate Terror makes its presence known. The atmosphere gives a small clue, but it is insufficient to show how big this haunt really is.
---
Special Effects:

9.23
How Did We Get This Score?

Ultimate Terror is a very sound effect-driven haunt. They use both soundtrack and ambient noises at various areas in the haunt. Sound level is loud and disorienting, and intensifies the experience.
The sets and props were spectacular – some of the best we've ever seen. This place is a set designer's dream. We could tell that there was a considerable amount of time invested in décor. This year, they added a sewer canal that was amazing to see. As we traveled through each maze, the different types of walls looked very realistic, such as wood, stone masonry, and concrete. We never lost our suspension of disbelief anywhere in the haunt. Among the lavish decorations are various dismembered human bodies, and the decapitated fat man on the dining room table really stood out in its realism.
---
Theme:

7.4
How Did We Get This Score?

The webpage of Ultimate Terror gives the backstory to each of the three mazes, which does help understand what's going on. When we attended this haunt without the background stories, it was difficult to understand.
Paranormal Playground tells a story of a scientist trying to communicate with the dead, and he succeeds with disastrous results. Optic Surgeon is about a vengeful doctor attacking the hospital staff. Cabin Sickness depicts a family that was exposed to a pathogen that transforms them into diseased cannibals.
All three haunts are similar in that they all feature abandoned and decaying places, and they all have gritty realism, so they are hard to distinguish from one another. The location gives the haunt a fair amount of authenticity, because Ultimate Terror is in an abandoned store, which works with the abandoned themes used.
---
Scare Factor:

6.38
How Did We Get This Score?

Ultimate Terror was scary at various times, but because of several dead zones, we felt like we wanted more. When the actors did come after us, they delivered a few good quality scares. If they had more of a variety of actors, it would have improved the overall scare factor. The ending of each haunt maze was fine, but not any stronger than the beginning or middle.
---
Entertainment & Value:

8.33
How Did We Get This Score?

We were satisfied with the entertainment received from the three main attractions. Paranormal Playground took us 8:22 minutes to walk through, Optic Surgeon took 4:35, and Cabin Sickness took 11:40. For a combined total of just under 25 minutes, Ultimate Terror also provides just under 1 MPD (minutes of entertainment per dollar spent).
There isn't much queue entertainment other than the line actors roaming and interacting with guests. The ticket prices are appropriate for the experience. We felt that Ultimate Terror used their available space very well, and we did not see any "dead areas" outside of what we experienced in the haunts.
---
How Did We Get These Scores

Photos from Review Trip:
Click to Enlarge
Promo Images:
Click to Enlarge