Review of Wicked World Scare Grounds Haunted Attraction
Review of Wicked World Scare Grounds Haunted Attraction
Review of Wicked World Scare Grounds Haunted Attraction
Wicked World Scare Grounds
Wicked World Scare Grounds is a Haunted Attraction located in Nicholasville, KY.
5817 Tates Creek Road, Nicholasville, KY 40356View All Details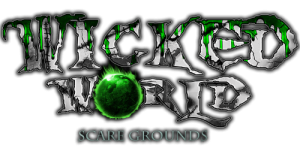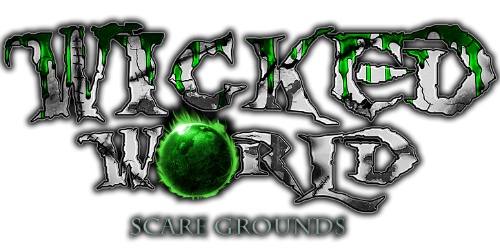 Features:
Free Parking, Food/Concessions, Original Characters, Indoor/Outdoor Waiting Line, Indoor/Outdoor Attraction
Team Zombillies reviewed this attraction on September 24, 2016.
Final Score:

8.93
Summary:
Wicked World Scare Grounds consists of three, full-sized, haunted attractions all at a single location for one price: The Darkwood Carnival, Mercy Hospital and Quarantine. Each have their own unique themes, but still fit in very well with where they are located. For those who are returning visitors, quite a few changes were noticed in the hospital this season and for those who haven't… well, you're in for a treat! If you are familiar with "Sarah" from the original Nightmare Haunted House, she is back! As you navigate your way through the hospital, watch out for her imaginations that have sprung to life… they seem to be in a "killer" mood! In the Darkwood Carnival, you will come face to face with Ivan Darkwood himself! Ivan controls this 'dark' carnival and would like for you to check out his rides while you get to know his freaks. In Quarantine, things have gone down hill (so to speak); it seems that most of the military personnel that were stationed in this now zombie-infested facility have all become infected! Watch your backs out there; some of those creatures can run REALLY fast! Before we even entered any of the attractions, the queue entertainers interacted with us and made for an overall entertaining environment. So, if you think checking out three totally different haunts sounds like fun, then give Wicked World a try. We guarantee they have plenty of things you haven't seen before! Oh yeah, and "watch out for them infected folk!"
Mercy Hospital: 9.15
Darkwood Carnival: 8.81
Quarantine: 8.83
---
Cast:

8.91
On the night of our visit (which was only their second night open), Wicked World's management informed us that they had a large portion of "fresh meat" join their acting crew for the 2016 season. Well, we couldn't really tell! These guys (and gals) must have an outstanding training program, as most of the cast knew their roles very well already and some of them had the most entertaining dialogue we've seen so far this season!
Mercy Hospital: 9.43
These actors/actresses took our attention with a death grip from the moment we walked in. Julia, the Physician's assistant, introduced us to the haunt and gave us the rules in a believable manner. With her english accent and a demeanor that would imply we were all keeping her from doing her job, we knew that we were in for a show! From there, we were greeted at the front entrance to Mercy Hospital by Milosha, who ensured us that the hospital door was very strong and that it came from a real haunted house, so there was no need to worry; the patients would not get out of it. She was among the most believable characters on the grounds that night! She had many other things to say to us as we waited our turn to enter, like how we needed to clean our shoes when we got home because their janitor doesn't do a very good job at cleaning the floors! So, keep that in mind people; you don't want to take pee home with you, do you? Nurse Lilly Ann Patterson was verbally and physically interactive with us as well as Lucious, the estranged butcher who made all of our group members let out a big "whoa!" All of the cast members seemed to stay in character, they knew their roles pretty well and some of them even referred to other cast members that we came across later, which helped increase the realism of the experience. This was the case with the Preacher, who told us we were "all going to burn" when, right after, we walked into an area where a lady was telling us that they ran out of coals for the furnace and she thought our bodies would "make good substitutes!" Even the actors in the drop panels didn't use your typical "pop scare" dialogue and, instead, interacted with us as much as they could after delivering their scares… all while staying in character.
Darkwood Carnival: 8.86
The first perso… err… clown that we met in the carnival was Ivan Darkwood himself. Even though this was our first encounter with him since we started visiting Wicked World several years ago, he was still very believable and interacted with the crowd as if he'd been doing so for years. He also surprised us with his presence several times which was impressive. Overall, this cast worked very well with their surroundings by referring to things that lay ahead of us, deterring us from the path we were supposed to stay on and more. They were also another interactive bunch, both verbally and physically. The Barker, for example, blocked our path and explained to us the Strong Man in quite a creepy manner. Once we ran into him (the Strong Man), he was ready to crush every one of us as he spewed threatening dialogue at us! One thing we really liked about this trail was the counter-references between the characters. The Barker referred to the Strong Man, the Strong Man vouched for him and mentioned how "Crow" could fix us up as a meal for him ("after all, [he] could use the protein") and then Crow told us how we would make "good food for Strong Man." We don't see this very often in most of the haunts we visit and it really helped to convey their story and keep things realistic. Of course, be mindful of any clowns that pop out of the woods with all of the recent news happenings; one woman, Victoria Wormwood, popped out of the woods gave us some mouse brains, but we definitely recommend NOT eating them (oh yeah… we went there). There were a few "dead" spots along the trail where no actors were encountered, but this partially comes with the territory when you've got an outdoor trail with some distance between the scenes.
Quarantine: 8.43
There wasn't much talking going on in Quarantine, as most of the crew we stumbled upon (or that stumbled upon us) appeared to all be infected. However, the two that did speak to us in the beginning had great dialogue and helped us start our journey off right by making sure we weren't already infected, informing us that we needed to be quick to keep from getting that way and attempting to give us a ride to safety! Many of those who were infected made realistic growls, squeals and vicariously bit and grabbed at us from within their enclosures… at least while they were still contained! One of them that may have still been somewhat "with it" tried to defend herself against us with a taser! Some of these "personnel" were a little more ferocious than others, but we must make mention of one that sprinted towards us after we thought she was down for the count and the two very energetic and intimidating ones near the end. We later discovered that one of them was named "Cujo," which was very fitting, given his demeanor and size!
---
Costuming:

9.17
Mercy Hospital: 9.43
When you walk into a hospital and the head nurse has a glowing, green syringe sticking out of her head, you kinda start to question whether you should really be there… then realize you just might see some other unique costumes throughout the facility as well! Medical staff wore appropriate clothing, consisting of scrubs, gloves, jackets, uniforms etc. that had been distressed to better match the crazy characters wearing them. Makeup made many of the characters look "deadish" while the Priest had a more-detailed and unique finishing touch to his makeup. Other memorable attire that we noticed include the bunny, Sarah (who was wearing a freshly-ripped-off face), Dr. Drizz (and his exquisitely-pointed moustache) and Lucious (who exceptionally matched his frigid surroundings).
Darkwood Carnival: 9.38
The costuming in the carnival consisted of a lot of clown attire, along with a few more original costumes as well. Almost all of the wardrobes we saw on the trail were complete and some of them had special features, such as clicking gloves and colored contacts that increased their effectiveness. The makeup was believable and helped in bringing some of the characters to life. Roadie was sporting a half-amphibian body that even had spikes sticking out of his face! His makeup was so realistic we wondered if it was actually even makeup! All of the costumes seemed to match their surroundings except for one that was mostly street clothes. Quite a few masks were noticed and were of high-quality silicone as well as a partial face piece. Other memorable costumes include those worn by Ivan, Pickles, the vampire and the Strong Man.
Quarantine: 8.71
The costumes in Quarantine seemed to fit fairly well with their military facility backdrop. Clothing primarily consisted of traditional army camo jackets and pants, so there wasn't much variety, but that's probably the case with any real facility of this nature. The bloody flesh sores, lacerations and deadish-looking skin left us with little doubt that these folks had just been through something BAD… but it almost seemed that some of it had came off throughout the night. In all fairness, it was unseasonably warm during our visit, so this could very likely improve as the season progresses and the nights get cooler. We did also notice a clean article or two of clothing during our tour that were being worn by some of the infected. Now, does this imply that those particular soldiers had just recently become infected? Maybe. Did it help them match their grungy, bloody, zombie-infested surroundings? Ehh, not so much. Despite that, each of them still looked realistic and scary enough to make us run a time or two!
---
Customer Service:

9.25
Several well-lit "Wicked World" signs that display some of their iconic characters greeted us by the road as we pulled in. If you miss this place, it'll be a feat. Parking attendants and a friendly fellow riding a UTV directed us to an available parking spot in their large, grassy and free parking area. When you get to the top of the hill, the ticket booth will be the first thing you come to, which is a small, two-window shack. Plenty of concessions are available and you're not allowed to leave until you try their deep-fried oreos… we say so! An energetic assortment of clowns, freaks, monsters and rock music kept the crowd entertained; watch out for the sliding clowns and "Roadie" with his frog leg moonshine… just because you're not in line somewhere doesn't mean you're safe from their own brand of cooky wrath! There's some uneven ground in Mercy Hospital and Darkwood Carnival, so be sure to watch your step and wear appropriate footwear. If you have any questions or concerns, the folks at Wicked World are very professional and friendly and can assist you with any of your needs. After you get your tickets, you can go through the haunts in any order you want; just look for the colored rope lights that mark the entrances.
---
Atmosphere:

9.08
A portion of the Carnival's trail can be seen as you make your way to the ticket booth, including part of a broken down roller coaster that'll be sure to get some reactions going for any first timers to Wicked World. Seeing all of the wound-up clowns and other characters may just make you want to go back to your car! The carnival-style concessions, the coffin simulator ride and the different styles of music playing at the entrances to Mercy Hospital and Darkwood Carnival really seal the deal for the feeling of a haunted house. However, the same energy wasn't really carried back into the Quarantine area. This kinda made it feel secluded from everything else, but, with that being said, the name is "Quarantine" after all and the train caboose where you get in line is a nice touch, given their theme. Seeing the large building that Mercy Hospital takes place in also depletes the realism just a bit, but The Carnival, on the other hand, has an aged, wooden facade and, when combined with the overlooking roller coaster, it really helps set the tone for that attraction!
---
Special Effects:

8.22
Mercy Hospital: 8.92
The first thing you'll experience in Mercy Hospital is the large movie screen and theater-style seating as they show you a brief film that explains the history of the haunt. Without spoiling anything, we'll say the picture looks so good that it almost "comes to life!" The second queue area is where you'll actually find the aged, "Mercy Hospital" facade in all of its grungy grandeur and inside is where you'll encounter all of the real "darkness" that has taken over. The first thing we saw was an old quill pen in the receptionist area that already had one of our group members' name "in the books"… did we mention that it was writing ALL BY ITSELF?!? Just a few steps into the haunt and we're already seeing some pretty wild stuff! Almost every wall in the Hospital is very nicely detailed with plenty of moldy, nasty drywall and holes where you can see the wooden slats (or should we say, "hospital bones") underneath. Flickering fluorescent lights, electrical pops, ample quantities of real medical tables (some with still-flailing bodies on them), gurneys, x-rays, tools, equipment, a walk-in freezer and a bottomless elevator shaft left our review group with a LOT of stuff to take in. Along with plenty of rotting and dismembered corpses throughout the haunt, we definitely knew we didn't want to stick around long (remember to clean your shoes before you get home)! However, we did happen to notice a few areas with plain, black or white walls that didn't share the same level of detail as the rest of the hospital, which took away from some of the realism that was built up. Aside from that, some of the other effects that we noticed include a chapel, a curved, brick archway, a boiler room, a "rabbid" chainsaw, monsters that lunged up out of their seats, drop panes and more!
Darkwood Carnival: 7.5
This old, run-down, carnival-themed attraction certainly has the props and scenes to convey that notion to customers of Wicked World. Some black plastic sheeting is hung up in places to keep you from prematurely gazing into other parts of the haunt, but some of the actors were at least able to make good use of it (no spoilers here). Parts of the trail were eerily quiet, but old carnival music, taunting actors and other sounds could be heard in a few areas as well that helped tie in the theme. A long string of rope lighting aided in this as well as it lit the path and gave just enough light to make out the old, dilapidated carnival rides. You may also encounter a cemetery, loud noises, a "swampy" scene (with brick walls…??), a two-headed man and baby, a "lively" zombie, scarecrows, a spinning room (no, this one is not a "vortex tunnel"), a sparking chainsaw, some strobing, fluorescently-colored frights, and a giant clown that'll probably give clown haters nightmares!
Quarantine: 8.23
The special effects in Quarantine start as soon as you get in line and board the train (through the caboose). When you get to the engine, the conductor will get you started on your way… but look out for things that might be on the tracks; it could make for a bumpy ride (and yes, the engine actually moves)! Your journey "may" end with the train getting derailed into the building where Quarantine takes place and this is verified when you see the front end sticking through the wall in one of the first scenes. One of the cool, but simple things about this haunt is how many of the hallways are decorated with labeled arrows that guide you into the respective rooms. For instance, when we saw "Boiler Room," we were getting ready to enter the boiler room, with pipes and steam (fog) shortly thereafter. Most of the walls were made of plywood, which hinders some of the realism that was put into detailing the scenes, but it was still evident that quite a bit of effort was put into each of the rooms' appearance. Throughout our tour of the complex, we could hear the alarm system going off, electrical pops, machine guns, a taser and, of course, plenty of hissing and growling from the infected! A pallet maze and a chain-link maze made it harder to escape the zombies in those areas and the strobe lighting added a disorienting effect. Other things that we noticed include military equipment, falling barrels (watch out for those), a zombie horde, a crate surprise, a surveillance area and lasers.
---
Theme:

9.43
Each of the themes at Wicked World are completely unique and separate from one another. A refreshing feature is that each of the themes are explained to you at the beginning of each attraction. We feel that this makes for a more fulfilling experience because you're able to better understand "the method to the madness" that each haunt has to offer.
Mercy Hospital: 9.54
Mercy's theme is introduced in a very unique way that we've yet to see at another attraction. Customers are first loaded into a room with theater-style seating to watch a brief film that explains the new twist that Wicked World incorporates into the Hospital's theme each year. Granted, we've been to other haunts that sit you down and make you watch a video about the haunt before you go through… but movie-style? That's a Wicked World exclusive, for us! For those that have followed this haunt since they were called "Nightmare Haunted House," Sarah is BACK… and so is her bunny! What's this have to do with a hospital? Well, Sarah was admitted to the hospital for insanity when "the darkness" within her started to come out, which affected everyone around her. Not long after her admission, the same darkness started to affect the hospital in a much more sinister way. The rest of the story is up to you to discover once you go inside. All we can tell you is that each of the characters and scenes in the hospital reiterated this theme quite well. While many of the characters are played by new cast members this year, the returning vets have embraced their roles over the years and, as a result, have become icons of Wicked World Scare Grounds!
Darkwood Carnival: 9.25
The first perso… err… clown (dangit, we did it again!) that we met was the great Ivan Darkwood himself (the owner of Darkwood Carnival). Quite the charismatic fellow, Ivan welcomed us to his establishment with a few quirky puns and a request that we spend a buck or two on his rides to "help pay [his] child support and keep the judges off [his] rear end!" We were happy to oblige, but the rides looked a little shady, so we skipped on that one. However, we did see the rides and the freak show that he referred to and there were even a few other scenes that kept the carnival / clown theme going. We weren't really sure about the graveyard and swamp areas, although the haunt is located next to a pond and Wicked World's website suggests that Ivan, at one time, was dragged off, beaten, and left for dead years and years ago by his disgruntled crew…. Is he really dead? Does the spirit of the entertainer live on to this day? Or is Ivan back with a vengeance?
Quarantine: 9.5
Upon boarding the train for Quarantine, we first were asked if we'd been bitten, scratched or anything else that may have caused us to "get infected." With what, you may ask? Well, we asked the same question. Whatever it was, our conductor told us that he had a cure for it… running over anyone that's infected with his train! Luckily, we were in good shape, so there we were… off to Fort Greenwall. The bumpy ride had us wondering if we'd get there in one piece, but he assured us "she's old, but she'll get us there" as he wiped the splattered blood of the infected off his windshield! The lone survivor at the now-post-apocalyptic military facility sternly informed us that they were now "in decontamination" and the subjects would help themselves to anything that moves… including us, so we needed to stick close together if we wanted to make it through. That became pretty obvious when they were the last person that was able to speak legible English to us! The rest of the staff and soldiers had succumbed to the contagion that General DK has been working with to create "disposable soldiers." Can YOU make it through without becoming disposable yourself?
---
Fright Effect:

8.01
Each of the attractions at WW offer their own variety of frights and you should visit them all to get the full experience. This is one of those haunts where the queue entertainers are set on scaring patrons while they wait in line, and they're pretty darn good at it!
Mercy Hospital: 8.19
This place definitely isn't where you want to find yourself if you need medical attention! All joking aside, these monsters have got some good hiding spots and their realistic personalities really let "the darkness" sink in. They were also able to keep us on our toes with some heart-pounding sounds, blasts of air, sparks, deceiving pictures, complete darkness, the sound of a large, metal blade getting scraped on the wall, plenty of blood and guts and more. Many of the actors used intimidating and threatening dialogue, intent stares, creepy stances, and we wish you luck if they ever figure out your name! Although, we will recommend that you go ahead and give it to them if they ask because… well, come on… it makes it just that much more fun! As for the finale, we noticed that the music got insanely more intense as a very hoppy bunny greeted us with his chainsaw friend and chased us out the exit!
Darkwood Carnival: 7.8
We noticed a better usage of hiding spots this year in Darkwood Carnival, along with several good distractions in some of the scenes with multiple actors. The best one, by far, was while Ivan was telling us about his old fortune teller booth! (What happened, exactly? Not a chance.) While many of the actors had great dialogue, as we mentioned before, several of them are relatively new to haunting, so some of their surprise tactics could've used some refining at the time of our visit. A few lengthy "dead" spots along the trail also accounted for some lost "scare time," given the Carnival's length. Other surprises that we encountered during our visit include a lively graveyard, a waist-high swamp scene scare, large creature sightings, sudden, loud noises and an overhead hiding spot just to name a few. However, if you're not careful, you might get eaten by a clown before you get a chance to leave!
Quarantine: 8.04
Ever wanted to try to escape a zombie horde in a post-apocalyptic military facility? Well, here's your chance! But, with falling barrels, sirens, dense fog, machine guns and even a taser, that skinny board that's holding that zombie back may be the least of your worries. There's plenty of them, though, and not very many of them are the lethargic, one-leg-missing, meat piles you'd hope for in a situation like this. No. They'll claw at you through cages (if you're lucky), try to break through wooden boards and, yes, even take off running towards you if they get the chance. One of them was even smart enough to act like a prop until after we passed and almost made it to the end of its hallway! We'll admit it… we even ran, ourselves, when the one named "Cujo" came after us; he'll be waiting for you in the cage maze.
---
Value:

9.39
General admission tickets to any single attraction can be purchased for $12.00, two haunts for $20.00 or you can join the cool kids club and purchase the "Triple Threat Combo," which includes admission to all three haunts for $25.00. If you're in a hurry and want to avoid waiting in the lines, you can upgrade to a FastPass for an additional $10.00. All of these prices are the same as they were last season. It took our group a combined total of 49 minutes to navigate through each of the attractions (including the theme intro to Mercy), which brings this value to 1.96 minutes of entertainment received per dollar spent (MPD)! That is considered "above average" and it's also among the highest values we've seen so far this season! Wicked World ScareGrounds is a great place to visit if you are looking for three totally different, but well-themed haunts all at the same location! If you only have time for one, even the $12.00 ticket prices aren't bad for any of these haunts. If you're anywhere near the Lexington, KY area this season, we highly suggest paying them a visit. We are over two hours away and don't hesitate to make the trip each year!
---
Promo Images:
Click to Enlarge
Guest ReviewsGuest Average: 10 out of 10
Andrew johnson – 10/10Best haunted house ever. Will go agin this year.
---
2018 Awards
Scariest Clown - "Wiggles" (Eric Secen) (Given by: Team Zombillies)
Creepiest Vocals - Carnage (Given by: Team Zombillies)
Most Suspenseful Scare - Carnage (Given by: Team Zombillies)
Most Interactive Queue Entertainers (Given by: Team Zombillies)
Actor Shout Out - Momma JuJu - Kimberly Coakley (Given by: Team Zombillies)
Actor Shout Out - Sarah - Kaitlyn Jones (Given by: Team Zombillies)
Actor Shout Out - Tinker - Michael Cravens (Given by: Team Zombillies)
---
2017 Awards
Scariest Creature - Carnage (Given by: Team Zombillies)
Best Original Characters (Given by: Team Zombillies)
Best Character Introductions (Given by: Team Zombillies)
---
2016 Awards
Scariest Actor - Cujo (Given by: Team Zombillies)
Most Realistic Costume - Roadie (Given by: Team Zombillies)
Best Clowning Around (Given by: Team Zombillies)
Most Interactive Queue Entertainers (Given by: Team Zombillies)
Most Evident Character Backgrounds (Given by: Team Zombillies)
Actor Shout Out Award - "The Barker" A.K.A Evan Lawson (Given by: Team Zombillies)
Actor Shout Out Award - Darkwood, "Ivan Darkwood" A.K.A Shorty Smith (Given by: Team Zombillies)
Actor Shout Out Award - Mercy, "Lucious" A.K.A Randy Wayne Smith (Given by: Team Zombillies)
Actor Shout Out Award - Mercy, "Milosha" A.K.A Sara Sakowich (Given by: Team Zombillies)
Actor Shout Out Award - Mercy, "Nurse Lilly Ann Patterson" A.K.A Belinda Smith (Given by: Team Zombillies)
---