Review of Literally A Haunted House at Culbertson Mansion Haunted Attraction
Review of Literally A Haunted House at Culbertson Mansion Haunted Attraction
Review of Literally A Haunted House at Culbertson Mansion Haunted Attraction
Literally A Haunted House at Culbertson Mansion – Full Review
Literally A Haunted House at Culbertson Mansion is a Haunted Attraction located in New Albany, IN.
914 East Main Street, New Albany, IN 47150View All Details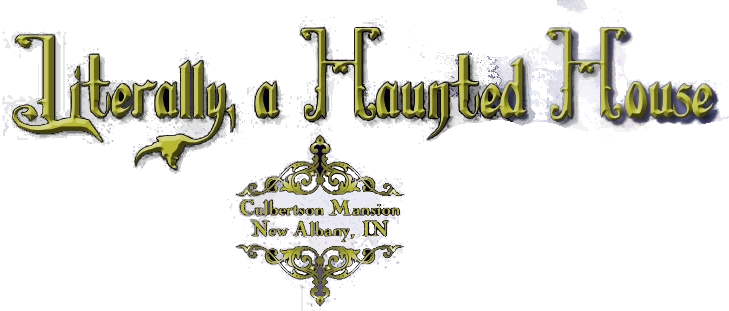 Features:
Free Parking, Restrooms/Porta Potties On-Site, Food/Concessions, Gift Shop/Souvenirs, "Old-School" (Low Tech), You may be touched, Original Characters, Covered Outdoor Waiting Line, Indoor/Outdoor Attraction, Family Friendly
Team Zombillies reviewed this attraction on October 21, 2017.
Final Score:

8.51
Summary:
The Culbertson Mansion's haunted house, dubbed 'Literally, A Haunted House,' is located just on the outskirts of Louisville in New Albany, Indiana. The attraction takes place in the Mansion's carriage house, a 2-story building that sits just behind the magnificent structure it once served. Culbertson's crew has transformed the old carriage house into a haunted attraction that's been scaring locals and tourists alike since 1985.
Culbertson Mansion changes their theme each season and, this year, the carnival has come to town! Not only that, they've caused mass destruction and total chaos after wrecking their train. Ironically, there's an active set of train tracks that pass directly behind the property. Coincidence? We think not!
Take a journey through – Literally, A Haunted House – and discover the wretched story behind the unfortunate tale of the Hagenbecker-Wallace Circus' a calamitous display of entertainers and freaks that you won't soon forget!
---
Cast:

8.86
The owners informed us that they've had upwards of 48 actors present on a given night. On the eve of our visit, though, there were about 36 scareactors inside the haunt and scaring folks silly! This number did seem to fill the haunt pretty well, but we could still see where having a few more would probably be beneficial.
One of the most noticeable improvements that we noticed this year was character development and dialogue use. So many of these characters were into their roles and giving enthusiastic performances that it's hard to pick out the ones who stood out the most! Bungus was one of the most believable characters of the night, energetically filling us in on why all of the freaks and clowns were running around and one even asked us if he could eat our skin! The latter was also one of the most physically invasive of the night, blocking our path and forcing us to interact with him and his skin-peeling ways. The ringleader was also very much in character (he even had an accent!) and effectively had us choosing the wrong paths in his 'pick a door' scene. One of the most memorable, however, was the carnival character that stabbed herself in the face with an ice pick! We've all seen the knife gag that collapses into its handle when you press the blade into something, but we had to take a good hard look at this one to convince ourselves she wasn't about to start oozing blood all over the place. Well done!
Throughout the rest of the haunt, we also crossed paths with a contortionist, a fortune teller, several clowns (of course) and a realistic victim whose doctor '…speaks in blades and bodies.' We aren't 100% sure how he fit in with the 'circus' theme (aside from his harlequin makeup), but he did have everyone in our group pretty thoroughly freaked out. Overall, each of the characters were embracing their characters and doing a great job of sticking to their acts while we were in their scenes.
---
Costuming:

8.71
Another notable improvement at Culbertson this year was their costumes. Of course, clowns, ringleaders and side-show freaks come in all shapes and sizes and you'll see quite a few of them here. A good mix of masks and makeup were used and each application seemed to be custom designed for the characters wearing them.
Some of the most memorable outfits include those worn by the clowns near the train wreck. They had some realistically-burned skin and faces (one even handed us a piece of what we can only describe as 'clown jerky'). The ringleader was exceptionally dapper, sporting a nice skull makeup application as an evil finishing touch to his clean-cut apparel. The siamese twins were something we can say that we haven't seen very often and they (or 'it?') were sure to get right up in our faces to make sure we didn't miss them. The black-and-white character matched their scene very well and we also came across one costume with a very large head. In fact, we never would've guessed that it was real! Perhaps the most entertaining costume of the night, though, was the one that looked like a caped man carrying a woman in front of him that had been sawed in half. Despite her lower half being completely missing, she had no issues chatting with us. Talk about creative!
---
Customer Service:

9.45
From the main road, it's hard to miss Culbertson's 'Literally, A Haunted House' banner that's draped across the street. When available, street-side parking can be had, but we've always found better luck with parking in the gravel lot that's located just on the other side of the railroad tracks behind the haunt's property. This lot is accessible from East 10th Street (the side street just to the left of the mansion, looking at the front of their building from the main road).
The ticket booth / gift shop / snack stand is located in a tent that sits just off the back side of the mansion. Several friendly staff members are stationed there, as well as at the tent where the queue line is, in case you have any needs or questions. Don't forget to pick up a glow-in-the-dark t-shirt before you leave (because who else has self-illuminating t-shirts?)!
Speaking of the queue area, it can again be found under the yellow- and white-striped tent that sits adjacent to the ticket tent. Portable restrooms are conveniently located between these two tents, should you decide that emptying your personal tank might be a good idea before you get in line to be scared. A couple of very creepy (and large) clowns moseyed through the crowd, towering over those of us who weren't gawking at the fog-filled bubbles that were floating about. (Yes' fog-filled bubbles. A modern miracle by all standards.)
Navigating the haunt does involve ascending and descending a few flights of stairs, one of which is made of metal grating, so be sure to leave your stilettos at home for this one. Aside from that, there's a spinning room that you'll need to step up to get into, but making your way through the haunt should be otherwise uneventful from a safety aspect. No scares were delivered on any of the stairs and adequate lighting is in place to help ensure safe passage.
---
Atmosphere:

8.17
Upon parking the car we could see fog rolling out of the haunt and into the sky and we could hear the faint jingles of circus music playing off in the distance. The towering, historical Mansion was illuminated with a fire-and-ice light and was a true beauty to behold, helping set the stage for a haunted attraction. The haunt takes place in the carriage house behind the mansion but multiple queue line actors, fog bubbles, and Halloween-style music playing in the waiting line continued building on the feel of a haunt during our wait.
At this point, some were already screaming from fright when the clowns would come to interact and play with them. If that wasn't enough, near the door of the queue tent is the haunt's annual tally board of 'spooky oopsies' that they keep track of. This board includes quitters, those who cry, those who pee or poop themselves, get sick inside the haunt and more. Sometimes we've even been standing in line while they've marked one on the board! As everyone stood in line, we just know the wandering thoughts of whether they would become the next tally on that board crossed their minds as it did ours!
---
Special Effects:

7.66
Many old-school and custom effects are being utilized by the circus this season. Although Culbertson is more of an actor-driven haunt, there are a lot of other surprises waiting for you inside, including some new ones this season that you can't miss! One may even try to eat you on multiple occasions!
Some areas of the haunt were quiet while others were accompanied with dark, suspenseful music (including circus music). One particular sound track made the hair on our arms stand up, while another sound pairing with an actormatronic made us feel like we needed to run! Some of the memorable effects we came across include an optical illusion, poppers, great utilization of everyday items to produce scares, their infamous spinning room and magician's box this year, smells, medical equipment, a pick-a-door room and more!
---
Theme:

9.2
Before entering the carriage house, a worker of the circus, 'Bungus,' explained to us why there was so much fire, destruction and smoke before we entered the building. The full story for the theme can be found on their website this year, but the quick gist of it:
On a foggy October morning in 1918, a train was down for maintenance repairs. They put out several flares to let other trains know that they were stopped on the tracks, but an oncoming train whose engineer had fallen asleep didn't notice the stopped train or the flares signaling it. Traveling at full speed, this train hauling 20 empty cars hit the circus train, demolishing the last four sleeping cars. Shortly after wrecking, a fire started which created so much smoke that nearby rescuers were no longer able to reach the crash victims. The next morning, it was determined that more than 80 people had died from the tragedy. On October nights, much like the one we visited on, it is said that you might hear some circus music in the area. As they say in the business, 'The show must go on…' despite the death and destruction. Are you brave enough to see what this circus has salvaged from the wreckage to continue performing?
As it states on their site, many bodies were found all over the wreck site as well as some that were fused together and it is correct. This theme was evident throughout the duration of our tour and we were pleased when we saw so many pieces of this story come to life before our eyes! Even the real train tracks next to the hide were smoky/foggy upon our arrival!
---
Fright Effect:

8.04
Afraid of clowns? What about chainsaws? Well, if you are, there's no way to get away from them here! We sure saw some people that were (afraid of them) during our trip to Culbertson this season and they didn't let them get away unscathed! As soon as we neared the carriage house when we arrived, we could already see people running across the lawn.
But' chainsaws aren't the only scary thing that await you from inside the brick walls. This crew knows how to take the most simple, yet least-predictable items and use them against you! All we are going to tell you on this one is to watch the walls and doors because you just never know what – or when something – could be behind them. Multiple effective distractions nailed us and our group members here, which took our once-single-file group and made us look like we'd been thrown into a blender. They also did an great job at targeting everyone in our group, even though we had several with us that were quite a bit younger than the rest (our group of 2 was paired with a family group of 4 through the house).
Loud bangs on the walls, an act of victimization, claustrophobic areas, several phobias, sudden loud noises and more will emerge when you least expect them. They also tried to switch up our group order as we traveled through the halls and they also split us up at one point!
---
Value:

7.95
You can experience what the Hagenbecker-Wallace Circus still has to offer this season for a mere $14.00 per person. As we are sure you have gathered from above, this is no ordinary show. There are things waiting to perform for you beyond your wildest nightmares! We've been visiting Culbertson for a long time now and, this year, our tour was much longer than it has been in the past. We clocked them at 18 minutes, even being paired with a group that was terrified! Of course, this time may vary per group, but that length brings their MPD (minutes of entertainment per dollar spent) to 1.29. Although this is slightly below the average of 1.5 that we've seen most often, it's a massive improvement over last year and we feel that the passion these haunters put into their show is well worth the ticket price.
We always look forward to our visits at Culbertson. This is one of the only haunts we go to that completely changes their layout and theme each season so you can experience something totally different and unique. The fact that they're all volunteers makes this feat even more impressive.
If you aren't familiar with the New Albany area, it is just a hop, skip and jump across the Ohio River from Louisville. Well really it's just a drive across the bridge in your car and you can take an un-tolled bridge to get there! If you haven't been to Culbertson before during the haunting season, we don't know what you are waiting for and, if you have been, you should go again because we can promise you it's totally different!
---
Promo Images:
Click to Enlarge
---