2017 Stats:

Via Google Analytics
Users: 219,438Sessions: 272,351Page Views: 1,473,764% New Sessions: 80.43%Avg. Session Duration: 7:42Bounce Rate: 4.81%
The Scare Factor is a haunted attraction and escape room review website with a very popular directory of these unique local businesses. Each year, hundreds of thousands of users flock here to find haunted house and escape room reviews and other information about the attraction.We help supply haunted house and escape room owners and marketing managers with an affordable way to put their business in front of the right people… and here's how:
---
Banner Ads on The Scare Factor
These simple display banners are a great, easy way to put your business in front of our visitors. Service is billed annually and each ad's placement within the "Advertisers" block of the page is continually randomized. Depending on your image and the page/s you purchase, advertisers can expect to see Click-Through Rates (CTR) between 0.21% – 0.67% from our visitors (which is about 3x-11x the national average*).
Below is a table of the different placements that are available, as well as the requirements and price for each:
*According to a study performed by SmartInsights.com in March of 2017, the national average for banner ads across all industries was 0.05%.
| | | | | |
| --- | --- | --- | --- | --- |
| Ad Type | What You Get | Price | Requires | Qty. Available |
| Extreme Hi-Viz Banner | Rectangular banner @ top of Home, Main Haunt Directory or PA Haunt Directory page. | $350/yr. | 406×52 logo image | Home: 1Main HD: 6Search: 5 |
| Scary Hi-Viz Banner | Rectangular banner @ top of Search Results page, or FL, IN, or OH Haunt Directory page. | $150/yr. | 406×52 logo image | IN: 5OH: 9PA: 10 |
| Creepy Hi-Viz Banner | Rectangular banner @ top of CA, GA, KY, TN or WV Haunt Directory page. | $50/yr. | 406×52 logo image | CA: 6FL: 6GA: 7KY: 5TN: 7VA: 6 |
| Spooky Hi-Viz Banner | Rectangular banner @ top of a popular Haunt Directory page. Includes all States not listed above. | $20/yr. | 406×52 logo image | IL: 2KS: 5NC: 4SC: 3TX: 3UT: 5WA: 5WI: 4All Others: 6 |
| Premium Listing Upgrade | Add a large logo image to your attraction's listing in our Directory and Search Results, making it more noticeable and easier to find by our visitors. | $40/yr. | 400×400 logo image | 1 per Attraction |
| Haunt Advisor Sponsorship | Rectangular banner in the "Sponsors" section of our "Haunt Advisor" email newsletters. | $75/yr. | 406×52 logo image | 7 |
| State-Specific Escape Room Directory Banner | Rectangular banner @ top of your State's Escape Room Directory Page. | $30/yr. | 406×52 logo image | 8 (All States) |
---
Online Ticketing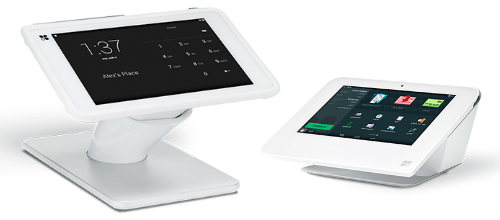 Now that you've got their attention, it's time to make the sale! New for 2018, The Scare Factor has partnered with Ideal Software Systems and FirstData to help make a full-service ticketing solution available to haunted attractions and escape rooms of all shapes and sizes!From simple point-of-sale devices to massive, multi-attraction networks, you can create your own solution that suits your unique needs and helps you stay on top of where your money is coming from. The software can include Groupon integrations, waivers, online booking, season passes, concessions, merchandise/inventory and more. Use the mobile app or portable scanner for redeeming online tickets virtually anywhere!Visit our Ticketing page to see the most popular products.
---
Free Stuff
Everybody likes free stuff, right?Get a free image next to your haunt's listing by linking back to us from the home page of your website with one of these banners:
In the code below, change "http://www.thescarefactor.com/" to the URL for your attraction's "Details Page" on our website.You can find this by searching for your attraction and copying the link in your address bar once you get there.
---
---

More styles and custom sizes are available.
---
Review Widget
Have you been reviewed by one of our Scream Teams? Build excitement for your attraction by adding this simple widget to your website!The code below creates a small box on your web page and fills it with a snapshot of your professional review. It includes your overall score and a short clip from the review with a link to "Get the Full Review." The best part is, it'll update itself automatically whenever your newest review is published, so you'll never need to add it to your "To Do" list again!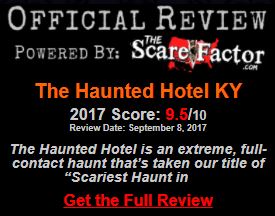 When copying this code to your website, be sure to replace "Your-Haunt-Name-Here" with your haunt's name, taking special care to spell it EXACTLY how it is listed on our website. Be sure to replace any spaces in the name with hyphens (aka: dashes, or 'minus' signs), as shown in the example above. This is to make sure the code communicates with our website correctly and you don't end up with an empty box. If you need assistance adding the code to your website, feel free to contact us.
---
Don't have a website?Mention The Scare Factor in the "About" section of your Facebook Page and get a FREE "backlink image!" Contact Us to learn how…
---
Directory Listings
We manually search the web to make sure we have as many accurate listings as possible. But, we do miss some occasionally and attractions may update their information after we've updated our listings. Here's how to make sure your haunt or escape room is listed and the information is accurate:
For starters, visit our Haunted House Directory to see if we've got you listed already.
If we've missed you, or if your information needs an update, contact us here with your info and we'll make the appropriate changes (usually same-day).
Standard listings are 100% free and always will be! If you're interested in upgrading your listings, see the "Banner Ads on TSF" section of this page.
Notes:
We're sure you have questions, so here's a few things you should know about how we handle our advertisements:
1. Emails. We may attempt to contact you via email after you submit your "Contact Us" form. Be sure to add "TheScareFactor@Gmail.com" and "Info@TheScareFactor.com" to your contacts to make sure we don't end up in your spam folder.
2. Payments. Invoices are sent via PayPal, so you can pay securely through them with your favorite credit card.
3. Stats. Impressions (aka "views") and clicks are tracked for your ads, which helps us determine your Click-Through Rate (CTR). This is a vital performance metric for your ad, which can help you understand how well your ad is performing and meeting your goals. Such information will be made available to you upon request.
Of course, if you have any other questions at all, just ask!