The Massacre Haunted House – Full Review
The Massacre Haunted House is a Haunted Attraction located in Montgomery, IL.
299 Montgomery Road, Montgomery, IL 60538View All Details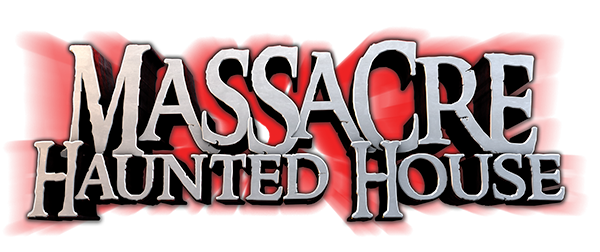 Features:

Free Parking, Food/Concessions, Gift Shop/Souvenirs, Special Events, "Hi-Tech" Attraction, You may be touched, You will NOT be touched, Original Characters, Indoor Waiting Line, All-Indoor Attraction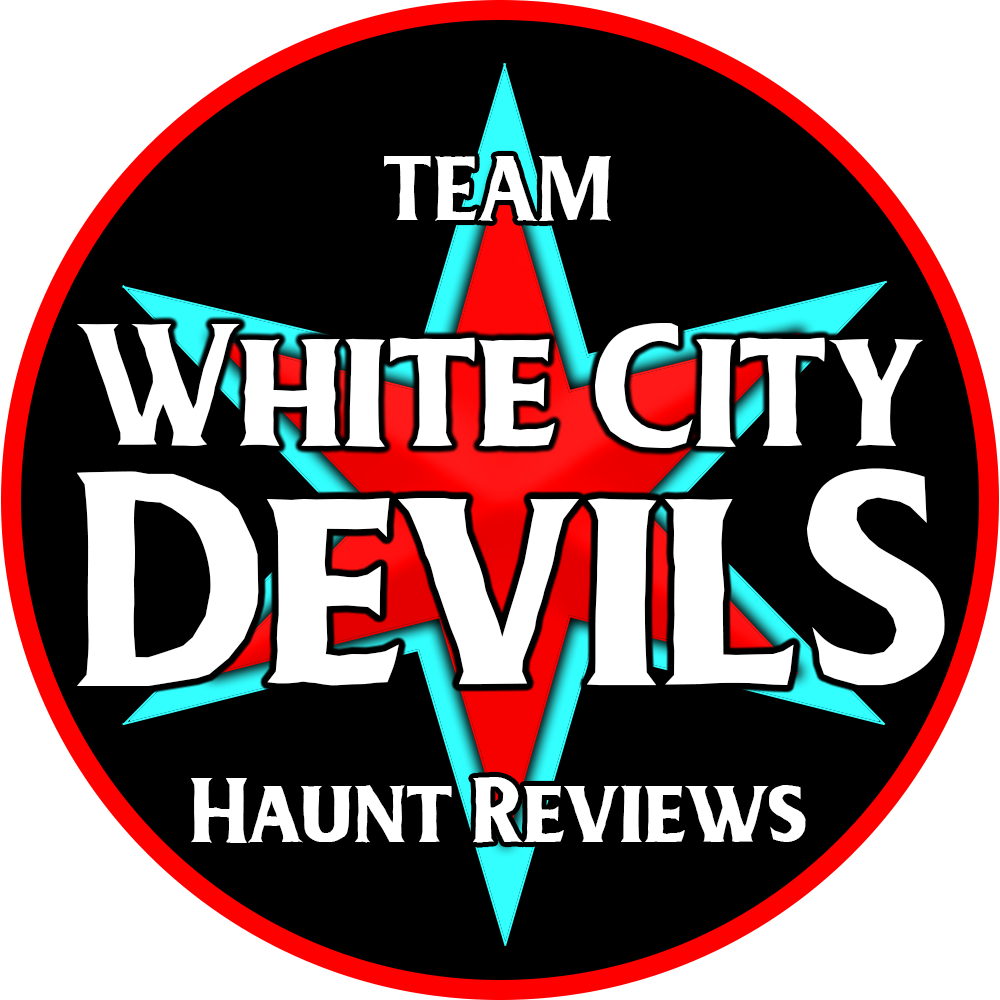 This attraction was reviewed on October 22, 2021 by Team White City Devils.
How Do We Get These Scores?

Final Score:

9.4
How Did We Get This Score?

Summary:
The Massacre Haunted House (MHH) has been a yearly stop for us for a few years now. Throughout the years, we have had the opportunity to see all changes and additions and attend the off-season events. MHH does not disappoint and always puts on a great show with its energetic actors and their convincing costumes, high-tech props, and meticulous scenes. The best part is that it is 2 attractions for 1 price deal!
This year, MHH has posted on social media about something new, vampires! Vampires are not a common topic in haunts we have been to so we were excited to see something that would be new to us.
Come check out what we experienced this year and see how I almost had a panic attack!
---
Cast: 9.32
How Did We Get This Score?

On the night we visited there were about 55-60 actors, which is about the average amount we are seeing across other haunts. The actors were able to cover most, if not all, of the walkthrough which was enough to keep the scenes flowing as they walked around their designated rooms.
Right as we entered there was an actor following us around, which was extremely useful as we couldn't see down the dark hallways and the sparks coming from his hands scraping the walls were enough to illuminate the way.
The interaction we were getting were mostly screams (and some loud ones), growls, and a bit of mocking. A few times we were scared and were given feedback on how many scaredy cats we were. Maybe we deserved it since we did just get scared of a little sound. In the clown section, the mocking was a bit more fitting. One actor dressed as a clown came out of the corner, frightened us, and disappeared. We walked around to a slanted room, making our way using the rails supplied walking in a U-shaped path. The same actor ran up to us while we were in the middle section, giving us a scare, and used the same momentum of the run-up to fall back down to his hiding hole all the while laughing at us. Shout out to the actor dressed as a clown using the bungee harness that leaped towards us, we thought we were having a crowd-surfing moment.
When it comes to interacting with the group, there were moments it was solely the front of the group and sometimes the actors lingered and followed us to then target the back of the group. A unique experience is when we took the train, which at that point our group was in a circle and not in line. The actor, dressed like a homeless person, boarded the train with us and made it genuinely feel as though we were taking the CTA by jumping and rolling around. I commute on the CTA every day since I work downtown so this just made it even more terrifying as it is something I experience. As we exit, he uttered the words 'You think this is over? It's not over until I say it is!' which was terrifying.
MHH is known for covering every possible theme which means that there are a variety of characters. There are even sliders inside the haunt! One new character we got to meet is the vampire in a new scene. The vampire followed us around as we looked around at the mausoleums. The way he crept around without saying a single word was unsettling.
Everyone did a fantastic job staying in character and giving a variety of scares.
---
Costuming: 9.25
How Did We Get This Score?

MHH is known for its use of airbrush makeup and having highly detailed costumes. Depending on their designated rooms, some actors would have masks to enhance their characters better.
Let's talk about makeup first. This section will also include the use of face masks and not costume masks. We were introduced to Mabel right when we walked in. She was wonderfully frightful with air-brushed enhanced facial features, then blood slathered on and dripping from the mouth and all over the arms all while wearing mismatched special effect contacts. If actors were not wearing a cloth mask, they wore transparent plastic masks, so the full makeup is still visible.
Full face masks were also effectively used here. The first actor we saw with a mask on was none other than The Harvest King. We had to take a second look as we weren't sure if it was a mask or a real carved pumpkin. The mask (or pumpkin) has a decayed look as if it was left out for a while and one of the eyes has started to wilt down, while the carved grin is still visible. Throughout the haunt, many masks were being used effectively as they were either the excess parts on the neck were either tucked in the costumes or they were fit snug on the jawline, which helps keep the illusion that this is not a Halloween mask but a believable part of the character. Another character that had a detailed mask was The Butcher, which was a pig mask on a person, or is it a pig that evolved into a person with a vendetta? Also new this year is the vampire! While in the vampire scene we saw a creeping vampire with a detailed mask. The eyes and mouth look like they have both suffered damages and the skin has started shutting but the soul inside has not given up and has stretched enough skin to be able to see and speak.
Looking at the costumes, everyone's costume was well put and fully detailed. Mabel's costume is a green silk corset dress, but don't let the cute dress fool you since it's covered with blood which is obvious proof of foul play. To complement the outfit the shoes were… nonexistent. Mabel was running around with no shoes, but the feet were wrapped in bandages. I'm not sure if I would personally be able to do that but that takes a lot of guts. Another costume we got to check out was The Harvest King that is similar to a scarecrow. He was dressed in an orange plaid shirt and straw was coming out of the arms and used as hair as well. The patches on the pants complimented the costume, giving it a finished look. The vampire had on a long black trench coat that gave a Nosferatu vibe. The doll will also forever be our fear as you can't even pick out which one is the imposter by how believable the costume is to the mannequins.
Overall, we love how everyone inside the haunt did not look out of place with their costumes and blended well enough with their surroundings. The makeup was on point, and everyone had a very sinister look.
---
Customer Service: 9.86
How Did We Get This Score?

As always, we must check out the website to find out all the information we need before we get there. Ticket prices and the different days and hours were also on the website, along with being able to buy tickets online and the recommended passes to get. Getting the directions is easy when you pop the information into the GPS. Years ago, we used to miss the entrance to the front side of the building, and thankfully there is a big truck with an MHH banner on it to guide you in and a huge spotlight that can be seen from miles away. Once inside the parking lot, we found out there is another lot on the other side of the building so finding a parking space is not an issue. Finding the queue line was also a breeze since we showed up on a day when the tents were up.
There is security with marked uniforms around and inside the haunt. They directed the people to the box office and again to their designated lines. There is also a camera person taking pictures who was professional. At the other side of the haunt, a few staff members were cheering you on as you walk out and they were eager to hear your thoughts and favorite moments. Overall, they were super friendly and professional.
During our walkthrough, we noticed a few inclines, declines, uneven floors, moving floors pieces, and stairs. Though not necessarily handicapped accessible, there was nothing to indicate that there was any danger. Where there were uneven or moving floors, there was normally a sturdy rail at arm's reach that was easy to help catch your balance if you weren't prepared. Pressure pads were flattened as much as possible so there were no trip hazards. We also noticed a few emergency exit signs throughout our walkthrough.
A few things to note is that hanging items, fear flaps, and claustrophobic walls have been taken down to decrease the spread of Covid-19. Masks are also being enforced for both customers and staff.
---
Atmosphere: 9.4
How Did We Get This Score?

If you happen to be within a 1-2 mile radius, just follow the spotlights in the sky to lead the way! As we parked, we noticed there were a few activities outdoors like ax throwing, escape rooms, and even a tamale food truck. Leading up to the queue line, there is a covered outdoor and indoor line. While outside you can hear the music that is coming from the inside. The music playing is upbeat and entertaining since the line looked a bit long.
Once inside, there is a professional photographer taking pictures with your group and a big prop in the background. Physical copies are an added charge, and they are uploaded to social media and shared for free.
The queue actors are walking around and interacting with everyone. They love to take pictures so make sure to snag a few for memories. Mabel approached us with a tiny version of wet wipes and sanitized our hands beforehand. She let me choose a miniature item and I chose the soy sauce since I love sushi. I chose our team lead's item which was a tiny shaving cream for his beard.
After the general wait line, there is a section where the next groups are put in their separate line awaiting approval to go through. The music heard is a bit ominous, separating from the queue line party music to getting you ready for a frightful time.
---
Special Effects:

9.45
How Did We Get This Score?

I couldn't wait to get to this part. MHH amped up the scares using their sounds, air cannons, and their highly detailed scenes.
In the first section of the haunt, there was more background noise to create an unsettling atmosphere. Every prop has been placed to fill the room and create some presence where an actor is not positioned. A few air cannons have been added in very unexpected places. A few notable examples are when an air cannon was placed behind a curtain facing towards you in a bathroom, below a wooden wobbly deck exiting a shed, and turning a corner into a room.
The rooms were beyond detailed. Taking the time to look at everything, it is noticeable that there was a lot of time taken to detail every single room and the scenes are believable according to their respective theme. There are also moving floor pieces and uneven floors. The swamp scene has squishy floors, and the jungle scene had a bridge with a few sections on the floor that moved with us.
A new scene added this year was the vampire room. Upon entering, it is clear it is meant to be an outdoor scene due to the trees and the mausoleums. Oversized statue bats were hanging and the concrete of mausoleums looked weathered. It was well put together and clear as to what the scene is.
Inside the clown room section, there was a use of strobe lights to enhance the creepiness of the 3D effect without using the glasses. The music playing is a slowed-down version of carnival music that fits the twisted and demented clown props posted up.
The next detailed scene was the elevator. With the use of the flickering lights, real elevator sounds, and the room itself moving to imitate an unstable elevator going down. We were given the impression that it was not a well-working elevator and it was convincing.
There is also the CTA train that had had the real CTA announcement playing in the background while moving and using air cannons to mimic the sounds of the rails scraping as well as light effects to make it seem as if we are speeding along during rush hour. Remember to check out above you, there will be a real CTA blue line route and a few spoof advertisements.
Overall, we found the use of the detailed rooms and all props to create incredibly real scenes. With every year, there are new additions, and we can't wait to see what next year brings.
---
Theme:

N/A
How Did We Get This Score?

MHH does not follow a flowing theme/ storyline so we figured it would be proper to skip this category.
---
Scare Factor:

9.46
How Did We Get This Score?

Depending on what your specific fear might be, we are sure MHH can hit whatever it is. I did manage to get a bit of a panic attack while walking through, and we have been coming here for years! This shows that no matter how well you think you know a haunted house, MHH can change things around for the better.
Using the distraction of the detailed rooms and props, the actors were able to use that to their advantage to scare us. The scares were well-timed so that the whole group would be in the room altogether and able to see it all. The actors seemed well trained to be in tune with their surroundings and their moving props.
We noticed a few changes from previous years but also noticed what doesn't change, which is the foundation and sometimes the staple of MHH. My love/ hate relationship is 'The Train' because of how loud and life-sized it is. The loudness of it triggered something inside of me that caused me to hyperventilate and having the face mask on wasn't helpful. Thankfully, there was a transition that was a bit light, so I was able to calm down and keep going. This is a perfect example of being able to balance out the heavy scares with a few low interactive scenes to not overwhelm the customers.
To keep the suspense going, there was a variety of scares. If we weren't interacting with actors, then we were getting animatronics moving around either flying above us and using moving objects to create a sense of real movement. Though it is a little predictable when a scare is coming up with visible pressure pads, you just don't know where it is going to come from.
The ending had us going. We had just left the train and realized we were in a very sketchy neighborhood. Trying to look around, we did not notice an actor hiding behind a barrel and used a power drill to create an unsettling vibrating sound.
The combination of all these scares has been how MHH has gotten a reputation for being scary. Every year there is no telling what might come up or change to keep people on their toes. The scares were effective, and we can't wait to see what the next years are like.
---
Entertainment & Value:

9.18
How Did We Get This Score?

We noticed that this year, prices did not go up and stayed normal for general admission at $29.99 and fast pass at $39.99. There is also a skip the line choice for $49.99 ($59.99 on-site) which gives you instant access to the front of the line.
With the walkthrough at a total of 23 minutes, the MPD value comes up to 0.77. This is the average number we have been seeing throughout haunts which is a great deal. Including the entertainment inside and queue line, the ticket price is worth it due to the number of scares.
For an added charge, you can buy a physical copy of your picture that was taken in the queue line. There is also ax throwing and an escape room option for an added charge as well.
If you need a sign to finally attend MHH, consider this review as your sign.
---
How Did We Get These Scores

Promo Images:
Click to Enlarge
---
Guest ReviewsGuest Average: 8.67 out of 10
Alicia Pequignot – 10/10 – October 15, 2022It was really terrifying I've never been to a haunted house before and I didn't really think I'd be …show more scared.
Sofia – 10/10 – February 12, 2022honestly it was a great experience, it was pretty long for a haunted house and the workers are funny …show more and nice and they are always in character. And i loved that we didnt have to wait outside. I will definitely be coming back again.
Jakob – 6/10 – October 15, 2022Was a great time love the costumes and attraction