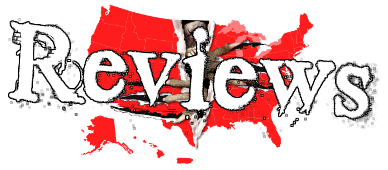 Scroll to Select a State
About Our Reviews
Welcome to the "Reviews" area of The Scare Factor! Here's where you'll find our unique, professional haunt reviews as written by our nationwide network of "Scream Teams."Please note that *NOT ALL ATTRACTIONS CAN BE FOUND HERE*… just the ones that our reviewers have visited.If you can't find the haunt you're looking for, go to our Directory.
The Scare Factor's 'Reviews' section gives haunt-lovers a place to find quality reviews for haunted houses. Our collection grows every year as we add new Scream Teams and visit new haunts during the Halloween season. We promise to give YOU… our readers… the most complete and up-to-date information possible so you can get your scare on as easily as possible!If we don't already have a review for the attraction you are looking for, you can use our Directory to find their location, links to their web or Facebook pages, and maybe some customer reviews as well!.If you STILL can't find the haunt or review you are looking for, Contact Us today and let us know which haunt you're looking for. We're always checking our inboxes, so you can expect to hear from us in as little as a few minutes!
Like The Scare Factor? Prove it!
Sign Up for our Newsletter!
Keep Me Updated
Follow our
and stay updated on haunted house happenings, new reviews, giveaways, year-round events and more!
Follow us on
Follow us on
Subscribe to our
channel!We've got videos from behind the scenes of haunted houses, pro makeup demonstrations, haunted attraction industry conventions and more!