13th Hour Rising Haunted Hayride – Full Review
13th Hour Rising Haunted Hayride is a Haunted Attraction located in Fulton, NY.
84 Merrit Road, Fulton, NY 13069View All Details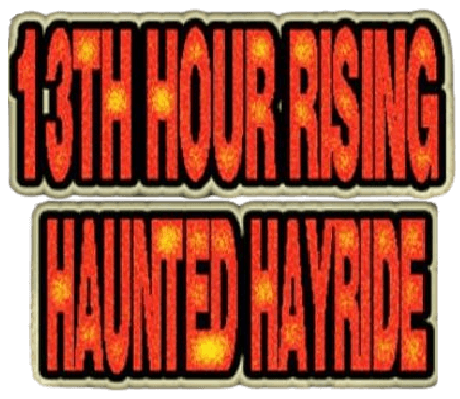 Features:

Free Parking, Restrooms/Porta Potties On-Site, Food/Concessions, Gift Shop/Souvenirs, "Old-School" (Low Tech), You may be touched, Movie Characters, Original Characters, Uncovered Outdoor Waiting Line, Indoor/Outdoor Waiting Line, Indoor/Outdoor Attraction, Family Friendly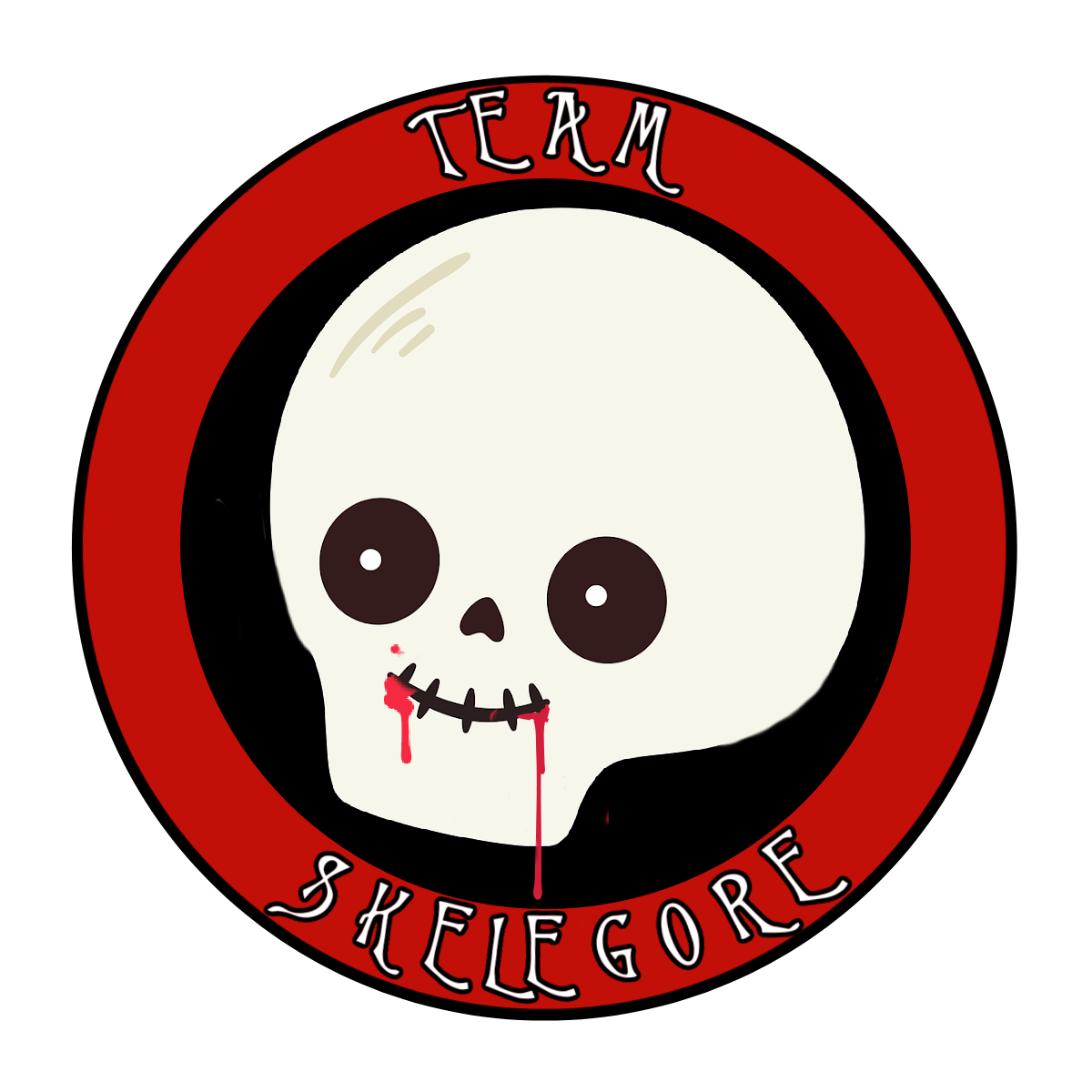 This attraction was reviewed on October 15, 2021 by Team Skelegore.
How Do We Get These Scores?

Final Score:

7.5
How Did We Get This Score?

Summary:
This year marks the 8th anniversary of the second coming of 13th Hour Rising at Chengarian's Tree Land. Fred and Terrie have more than 60 years of combined experience in the haunt industry as home haunters, effect builders, and everything in between. Fred's experience in building props really shines through on the hayride showcasing 50-foot tall blasts of fire, and custom-built scenes along the 25-minute ride. This is a great 'in-between' show that caters to families, and Halloween lovers alike.
---
Cast: 7.61
How Did We Get This Score?

The Passage
The Passage is an indoor walkthrough attraction that was designed as an add-on to the hayride. With that being said, it is not intended to have a large number of actors or to be a main attraction. We saw about 3-5 actors inside and they all had great energy and showed their passion for scaring their victims. The characters prey on common fears such as clowns, the monster in the closet, and religious figures. The latter being the scariest of the three. The actor in the clown scene engaged in some fun banter with me as we passed through his scene, and the closet monster really did his best to embody our childhood fears of what might be lurking in a closet. This is not a very actor-driven attraction, but the few we did encounter were giving us 110% energy which is always appreciated.
Hayride
The hayride is 13th Hour's main attraction, and as such has the majority of the cast. Just about every scene had at least one actor, and a majority of those had two or three to cover all sides of the wagon. Unlike the actors in The Passage, these actors may touch you. They are more interactive, and in your face. I do think the number of actors along the ride as a whole is a little bit low, as they only have about a minute or two to scare the entire wagon which holds 40-50 people at a time.
In at least a few scenes, actors will climb aboard the wagon, and engage with individual guests. We could hear some of them saying something, but we could not discern specifically what they said, as neither myself nor my partner were ever targeted with any scares. There is a large variety of characters throughout the various scenes, including clowns, demons, medical staff, and yes, religious figures.
---
Costuming: 7.75
How Did We Get This Score?

The passage
I feel like I'm repeating myself here, but The Passage is not an actor-driven show, therefore there are not many actors. Of the ones we did see, the costuming ran quite the range in terms of creativity and realism. The actor in the clown room had a very well polished, and completed appearance which blended very well into the several mannequins in the scene. The monster in the closet, while providing a very good scare, did not have much of a costume apart from a mask and the standard 'basic black' base layer. The nun character also had a very good overall look; the black dress blended in very well with the dark shadows, and the mask, although reminiscent of the film 'The Nun', fit the character very well. We also liked that characters stayed in their respective scenes, and didn't wander out of place, leading to a clown in a church for example.
Hayride
Costuming on the hayride was naturally more varied, and focused. One of the better-looking characters was a dragon-man, or maybe he was just a dragon, but as far as I know, his name was not Trogdor. He wore a gothic-esque trench coat, and from what I could see, a rather detailed mask. This character had a monologue which was played from a speaker, and the actor used a lot of body language throughout. One of the things we noticed was that the mouth on the mask didn't appear to move when the character was supposed to be speaking. The clowns in one of the final scenes were well done, but we noticed a mask that was used in The Passage, as well as some others that were used in other scenes on the hayride. The medical area showcased characters in tattered lab coats, and weathered attire you might expect old-timey doctors and nurses to wear.
Other characters didn't seem to fit a specific theme, but rather monsters lurking in the dark which works well if an actor needs to jump between scenes, or as characters between themed sets. 13th Hour Rising is primarily a family-friendly show providing scares for children as young as 8 or 9, so we didn't expect to see any over-the-top $4,000 costumes, and what we saw was in line with our expectations. Every character fit the scene that they were in and played the roles to match their surroundings.
---
Customer Service: 7.9
How Did We Get This Score?

This is the area where 13th Hour Rising really outshines almost everyone else. Every single staff member we encountered from start to finish went above and beyond our expectations. The haunt is hosted at Chengarian's Tree Land, and folks in central NY are generally familiar with the farm, and its owner Bob. What we didn't expect to see was Bob helping out at concessions. He made a suggestion on a cinnamon donut that turned out to be one of the best things I'd ever eaten in my life. We also got the opportunity to chat with him for a little bit, and talk about what we do with The Scare Factor. He was so genuine, kind, and interested even though we could tell he had no real idea how this whole internet thing worked. The day after we visited, I had the opportunity to meet with Fred and Terrie who own the haunt, and they were just as warm and welcoming as everyone else we had encountered during our visit.
Fred and Terrie are taking precautions everywhere they can in terms of safety from closing the hayride due to rain to following health guidelines regarding COVID protocol. It was a little bit difficult to hear what some of the staff members were saying due to them wearing double-layered masks in a noisy environment, so we do recommend putting your listening ears on when interacting with staff. The walk from the car to the entrance was a little hairy, as we had to walk on a strip of wet grass that was not lit very well, and the entrance to the main building could be lit up a little bit more, but we found our way inside without too much trouble. Once we were inside though, figuring out where to go was much easier.
13th Hour's website has all of the information patrons could ever want, like dates and times, ticket prices, directions, FAQs, and even some photos. One of the things that we did not see answered in the FAQ was if guests will be touched or not. It turns out that you may be touched; at least on the hayride. We did not see or hear anything regarding this for The Passage, so we cannot comment either way. We also noticed a lack of signage for concessions, leading us to be unsure of what anything cost, including any merch.
---
Atmosphere: 7.6
How Did We Get This Score?

When we pulled into the parking and headed towards the main building, I could see all of the trees that surrounded us and the very large skull that sits atop the entrance door. All of this begins to paint a picture about the horrors that lie within. Then as we stepped inside and we were greeted by a very good-looking display of props and scenery items including a very creepy doll that tied it all together. We also found some hanging ghoul props in this area as well as a queue actor that was dressed up as a clown. The creepy vibe definitely helped to set the scene early on and prepared us for the collection of frights inside The Passage and aboard the hayride.
It's fairly obvious that there's a haunt as you drive down the road. There are parking attendants with flashlights directing people into the parking area, and the exterior decoration cements it. Once inside, there are clearly marked signs for the entrance of each attraction, and it's nearly impossible to miss them.
---
Special Effects:

7.65
How Did We Get This Score?

The Passage
The Passage is a short version of the classic haunted house. The scenes are dressed with plenty of mannequins and animatronics. One of the first scares we got was a great animatronic drop down from the ceiling. It was a friendly reminder to look up throughout the scenes because the ceiling is prime real estate for scares. The clown room was bright and festive with a lot of mannequins concealing the actor, and the closet scene utilized a unique method of hiding the actor. We also found mannequins with light up eyes, and a well-made church scene for the nun.
The scenes were detailed well enough to simulate the supposed place, but not so detailed that we couldn't take it all in while walking through. While staying in line with the family-friendly aspect, none of the special effects were really over the top scary, but a few pack quite the punch if you're not expecting it. And regarding the suspension of disbelief, the nature of a traditional style haunt doesn't really ask anyone to believe that they're anywhere but a theatrical set. This also comes stems from the fact that 13th Hour Rising doesn't have a theme that they're trying to stay in, but rather creating unique scenes that are based in horror and designed to scare. Sound effects were primarily the sounds of pneumatic pistons actuating animatronics, and some ambient sound in the scenes.
Hayride
We definitely saw a lot more in special effects on the hayride. One of the first things that we saw was a well-made entrance gate that led right into the first scene. The scenes are primarily built inside tent-like structures and tarps close off each end, completely sealing the wagon inside. A common theme in those types of scenes is the use of a jet fogger that is centered directly over the wagon and helps to set the mood. Lighting is definitely a step up on the hayride, showcasing black lights, strobe light, and fire. Yes, fire. Fifty-foot jets of flame are used in a few scenes, and it is spectacular. We also noticed a number of animatronics used throughout, and one that sprang forward really took some people by surprise.
One effect that worked rather well were the explosions that occurred when we were least expecting it. Sounds were used very well throughout the attraction, like the purge scene where the announcement from the movie plays before the chaos ensues, or the dragon demon guy that had an obviously pre-recorded monologue. We also really enjoyed some of the mannequins that were used in some scenes, but we did see at least a few movie characters like the Tim Curry version of Pennywise in the clown scene. On the other hand, we liked the use of a bubble machine in the clown scene. Set design is quite varied, and ranges from log structures to the gates of Hell, and everything in between. Because 13th Hour Rising doesn't adhere to a theme, each scene is a stand-alone set, and that allows for greater creative freedom in set and scene design.
We did notice in one scene that a few pickup trucks were clearly visible just outside of the scene, and that didn't help the suspension of disbelief aspect. Not that we think anyone was completely immersed in another world, but blocking the view of non-set pieces is always a good rule of thumb.
---
Theme:

N/A
How Did We Get This Score?

The attractions didn't seem to follow a blanketing theme.
---
Scare Factor:

6.56
How Did We Get This Score?

So here we are at the meat and potatoes of any haunted attraction review. Just how scary is it? Well, that's a complex answer. 13th Hour Rising exists in a middle ground between charity events for very small children and over-the-top super bowls of haunts. They are a family-friendly show that is intended for ages 8-88, but guests should be aware that they may be touched on the hayride. I think that this is an important market to cover because no two families are looking for the same experience in a haunt. Too often, haunts will market their shows to older teens and young adults, offering decidedly gruesome scenes that may be a little too intense for some of the younger viewers.
Now, let's talk about specifics. In The Passage, although we didn't encounter a large number of actors, the interactions are more personalized and tend to be a little bit more nerve-wracking due to the close proximity to the actors and sets. Dialogue is a little bit more dynamic as actors don't have to contend with the sound of a tractor, and jump scares are a little bit easier to accomplish due to the set design. Granted, the scares are quite predictable for anyone that's familiar with haunted houses; you know there will be a clown in the clown room, you know there will be a jump scare from the dark, shadowy corner. As we only went in as a group of two, scares were provided equally to both of us, and timing was very good. The finale was a bit lackluster, but we understand that this is not supposed to be a main attraction.
On the hayride, scares were turned up, but still at about the same intensity level as The Passage. As we noted, guests may be touched on the hayride, and that certainly helps to terrify. One of the things we noticed is that the same few people were being targeted by actors throughout the ride. Look, I get it, I don't get scared easily and actors feed off of the energy of screaming patrons. But we did not have a single actor come over and even attempt to scare us, rather they focused on the teenage girls. I understand that giving a scare to every single patron at every scene is just not feasible on a 50 passenger wagon, but the dads and boyfriends on board who all paid to be there were being completely ignored by actors that would come aboard the wagon.
The predictability of scares was quite varied, as there might be an actor in the trees, or there might be an explosion that you're not expecting. In a few scenes, we could see an actor waiting behind a bit of scenery for the wagon to come through before doing their scare, or performing their scene.
The finale is a little bit confusing. Should we count the very last scene or scare as the finale? Or is it possible to have another scare after the 'final' scene? If we go with the actual last scare, the finale needs a lot of work; it's a small scene that the tractor just goes past, and a small scare manages to surprise a few guests. If we go with the last scene that is likely intended to be the finale, it's not bad. There is a lot of energy in the final scene, and it definitely preys upon a fear that most people will probably have. However, we thought that the purge scene would make for a better finale as it has a build-up, and then culminates with an outburst of chaotic energy.
---
Entertainment & Value:

7.62
How Did We Get This Score?

In 2021, guests may only buy a combo ticket for $25, because of this we have timed the attractions together as if they were one. I punch those numbers into a calculator, it makes a happy face. We get a total of 1.15 minutes per dollar which is one of the best values we've ever seen in this region for these specific terms.
Guests will have the opportunity to take a photo with a dressed-up mannequin, or even a clown if he's out wandering around. One of the sponsors is Ontario Orchards who provided some products for sale. When we spoke with Bob, he recommended some apple cider and a cinnamon donut which was out of this world good. There were also other pastries for sale, all of which looked very good. Guests could also purchase 13th Hour Rising merch.
In terms of appropriate ticket prices, we think that $25 is very fair for what you get. Not only will guests take a ride on a 25-minute hayride, but they're also provided entry to The Passage, and the common area inside the barn is really nice when it's raining. 13th Hour Rising is definitely a stop to make for families looking for a scare in October, and is even a great place to bring the kids for their first haunted attraction.
---
How Did We Get These Scores

Promo Images:
Click to Enlarge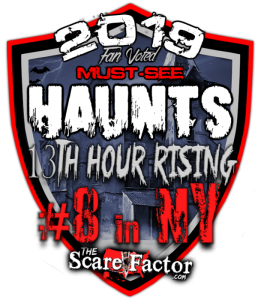 ---
Guest ReviewsGuest Average: 10 out of 10
Joe Jackson – 10/10 – October 15, 2021Place was incredible Definitely wasent what we expected Grounds were wet but because of rain so …show more just had to watch your step The snacks were delicious Definitely perfect the cinnamon donut and apple cider great combination especially after a rainy day Hayride started out ok as always ya never know what to expect but the props characters and loud damn bangs got me outta my seat,or can't forget the 20 foot flames Definitely have never seen that before anywhere we will return. Oh I really can't forget to mention how there just awesome customer service as we witnessed them singing happy birthday to guests and even accompanied and took extra care of a guest in a wheelchair which was beyond great ful thank u guys for an awesome time!!!!
Steve williams – 10/10 – October 15, 2021The place was just amazing and the staff was incredibly friendly. Watching them sing happy birthday …show more to people to helping put that person in the wheelchair so they could do the haunt was incredible I've never seen any haunts do that for any customers I also noticed the vehicles parked way up by the xmas trees so I asked a worker about them cause yes I was curious and the reason for it was because 13th hour has actors that use canes so it's easier on them to get to there scenes it didn't effect any scene The fire was incredible scared the crap outta me then while I was crapping my pants especially after that first cannon the guy with the chainsaw made me jump off the hay bales lol Way to go to the whole staff and everyone at 13th hour rising we will be back next year and can't wait to see what's in store, keep being you guys and keep being an incredible haunt thank you!!!