13th World – Full Review
13th World is a Haunted Attraction located in Cumberland, RI.
4097 Diamond Hill Road, Cumberland, RI 02864View All Details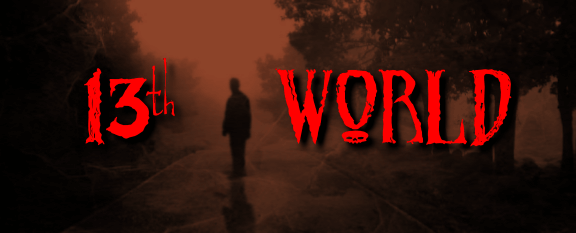 Features:

Free Parking, Food/Concessions, You will NOT be touched, Original Characters, All-Outdoor Attraction

Team Hallowoosh reviewed this attraction on October 8, 2016.
Final Score:

8.08
Summary:
Starting stronger than ever in their 15th season, Haunted Hill was beyond what I was expecting. I first experienced the horrors of Haunted Hill back in 2012. As I walked to the ticket line there was a little girl in a ghost mask staring right at me waiting with her mother and aunt. I didn't know if she was afraid of me or if I was supposed to be afraid of her. When I came within reach of her she threw up her arms and screamed 'BOO!' and I laughed too hard to speak. Her mother told me she was getting people all night but they were not part of the show. We talked about how much the girl loved going to different haunts all over the place and the ones she was traveling to next weekend and we all went through the haunt together. I remember leaving Haunted Hill loving it just as much as they did and before they drove home I reached into the trunk of my car and pulled out a Haunt World magazine, a few fliers for a couple local haunts, a simple makeup kit that I was never going to use and a rubber snake as gifts to this seven year old girl who clearly was on the right path. Does that have anything to do with Haunted Hill? No, but it's a heartwarming story that happened there. I was so impressed with the amount of work they put into their 2012 season I had to put it on the calendar for 2013. That year was a little bleak to me so I haven't been back since but I never felt good about that decision. 2016 was great on all levels. The bus ride to start the night is always a treat and it seems to change themes every year. When boarding the bus that takes you to the start of the trail you might be asking yourself, 'Do I really need to walk through these bloody guts and skin curtains to get onto this bus?' I'm here to tell you, don't worry ' you do!
---
Cast:

7.8
Walking through Haunted Hill I spotted somewhere between 40 to 50 actors. All are volunteer positions and the majority of them have significant characters. Very few times I spotted an actor popping out for a scare and running back to their hiding spot. Unfortunately, I did come across one chainsaw actor who thought it was appropriate to rev his saw once or twice and then dodge back behind a fence all the while having a lit cigarette hanging out of his mouth. I really didn't appreciate that. I also can't stand the times when a voiceless actor gets right in your face for a few seconds before walking away. However, there are quite a few actors who have established themselves as key figures to the attraction. Haunted Hill has been the home of 'Buddy' the ventriloquist doll for several years now. He is always there to get your hopes up that maybe things won't be as scary as they sound. But he lies, or he just doesn't know. This year a whole section of the trail was dedicated to Buddy. He gave me a lollipop and a hug ' it was kind of creepy so good job I guess. A doctor and his assistant invite you into the trail after your terrifying bus ride drops you off. One or two demented patients were laughing hysterically in their asylum scene. The majority of the second half of the trail was given chainsaws. Chainsaws to me are becoming a thing of the past. They are used way too much and it seems like they are used to compensate for lack of acting sometimes. I'm recalling at least 10 actors with chainsaws spread out over the latter half of the trail. There was even another chainsaw that was supposed to get you at the very end as you made your way back to the parking lot but he didn't seem to want much to do with me.
---
Costuming:

7
From the meat wagon bus to the clown room at the very end, every actor was sporting a costume. Not too many painted faces can be seen but they all are representative of their respective areas. This year Haunted Hill had a Purge themed area where every actor had a different mask from the series. I found that to be quite genius since the masks themselves represent characters who don't speak and are creepy enough to just be a mask. Just like Michael Myers and Jason. Other than one clown in the mix at the end there were a few mental patients in the asylum scene with Michael Myers that had face paint. Every other actor was wearing a mask.
---
Customer Service:

8.5
Cumberland Rhode Island recreational department is fortunate enough to have the best staff on hand for any and all emergencies. There are law enforcement officers positioned at the ticket booth all evening long engaging the customers with friendly talk to ease any tensions. They had plenty of staff organizing the lines and making sure the show ran smoothly. Show operators Zeek and Richard were constantly running around taking care of their actors and staff. Exiting the haunt there is an 'I Survived' billboard with an accompanying actor for free photos. Popcorn and candy were for sale while waiting in line for the meat wagon bus, which is just fun for me to say, I have no idea if they call it something else.
---
Atmosphere:

8.2
The fog that emanates from the attraction mixed with the overwhelming natural fog on that particular evening made everything that much more creepy. Everywhere I turned I wanted to take a picture of the lights making cool fog silhouettes in trees and barn houses. One of the first things you see when you park is all the colored lights through the park. A splash of blue in the dark distance and a strobe light even further up the hill are just some of the sights to see. Almost every scene in Haunted Hill is accompanied by its own music. For some reason the sounds that stood out while you walk toward the ticket line was the Purge scene. That buzzing emergency broadcast sound followed by the female's voice talking about the Purge rules. I had to laugh because of how well it worked with the crowd when they all started getting worried after hearing it. The trail itself is spooky enough but very well-lit with all different colored lights. Buddy's fun zone is a great way to break up the scares with a functioning bouncy house and inflatable yard decorations. After exiting each scene you have a chance to process the fact that you are about to enter a different scene. A proper amount of normal trail walking, sometimes accompanied by a spook or two, builds up the next world you are about to walk into.
---
Special Effects:

7.7
The fog plays an essential part at Haunted Hill. The first real 'go through here' moment you experience is a giant fog maze. There is no way you can possibly see anything in this maze other than the light that is reflecting off the fog. Eventually you find your way out of the maze and you are in Buddy's Fun Zone. At some point in the trail a body might happen to fall on you but you won't see it coming. The clown room is accompanied by a few laser lights that are fun to watch for a while. The lights have always seemed to play a part in the effect of Haunted Hill. The colors are so powerful that it makes you feel like it's a dream world.
---
Theme:

N/A
Haunted Hill has never used a singular theme for their attraction.
---
Fright Effect:

8.4
What is lacking in some actors they gain in the atmosphere and the timing and spacing of each scene. You might hate chainsaws before you enter but you will actually hate chainsaws leaving this year. Jason, Michael and the people of The Purge are a few familiar faces you can bump into. Just the sound of their iconic music is enough to creep out some people. The original characters of Haunted Hill are fantastic and if they don't scare you they will entertain the hell out of you.
---
Value:

9
Tickets are only $15 per person and they offer a fast pass for $25. When purchasing a fast pass know that you are only purchasing a skip the line ticket to the bus, not the rest of the attraction. The walk took me about 30 minutes but I know I'm pretty fast when it comes to the mazes. You could find yourself trapped in there for a while. With only a few minor things I wouldn't mind seeing them do better, I can honestly say that Haunted Hill is a great attraction and puts on a great show. It's hard to go wrong for this ticket price!
---
---
Guest ReviewsGuest Average: 9.94 out of 10
Jason – 10/10 – September 28, 2023Me, and my family have been coming here for years we love it! Every year it gets better and better. …show more We did the touch of fear for an extra 5 dollars. It really added to are experience awesome place
RICH – 10/10 – October 16, 2021Best haunted attraction in RI
Breana – 10/10 – October 17, 2020Hands down the best attraction around