Review of Castle Blood Haunted Attraction
Review of Castle Blood Haunted Attraction
Review of Castle Blood Haunted Attraction
Castle Blood
Castle Blood is a Haunted Attraction located in Monessen, PA.
100 Schoonmaker Ave, Monessen, PA 15062View All Details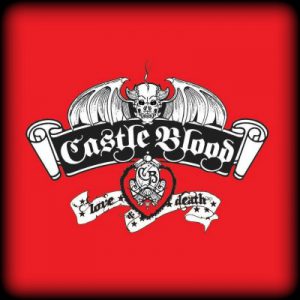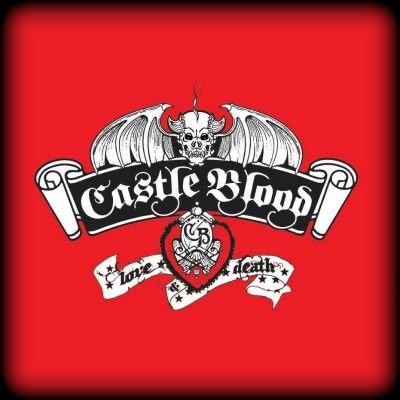 Features:
Free Parking, Food/Concessions, Special Events, "Old-School" (Low Tech), You will NOT be touched, Original Characters, Uncovered Outdoor Waiting Line, All-Indoor Attraction
Team Scary Potter and the Hauntwarts Express reviewed this attraction on October 1, 2016.
Final Score:

9.01
Summary:
With over 20 years of haunt-xperience under their belts, the Maccabre Family have developed the act of entertaining the living into a fine art. Take Castle Blood, the family estate that they've built up inside a 100-year-old funeral parlor… part spookhouse, part interactive, narrative game. It continues to attract droves of the mortality-challenged every Halloween season and it's back again… better than ever! So come down to Monessen, Pennsylvania to see if you are brave enough to challenge the castle's undead denizens, solve their puzzles, and escape with your soul.
---
Cast:

9.85
There are opposing coin faces to examine here, as Castle Blood features two very distinct types of actors. On one hand, the Scarers, the Castle's version of traditional haunted miscreants – for an attraction that pretty openly decries the boo-scaring associated with other haunted jaunts, they're surprisingly good at it. These hit-and-run haunters appear seemingly out of nowhere, offer their dismay, and then shrink back into the woodwork. There seemed to be a few dozen of them and their interloping was usually effective.
The primary residents of Castle Blood, though, are it's interactive hosts. Each of these nocturnal tour guides helps you along your quest (albeit begrudgingly at times), usually providing information before requesting a token or challenging you to a test of some sort. The bulk of Castle Blood is a form of interactive theater, so the quality of their main actors is the single most important component toward providing a successful experience. Fortunately, the cast of Castle Blood were competent and convincing. Varied and colorful, each face brought an entirely new experience. Some inhabitants were friendly, jovial; others exceedingly menacing and brooding. One particularly-scornful fellow was belittling and demeaning in all the best ways (as ironic as that may sound).
Our favorite castle denizen appeared early in our trek – an off-color chap named Digger. His parting words, clearly improvised, reverberated bouts of spontaneous laughter throughout the remainder of the attraction. We also felt that the lass in the dining area (who playfully mocked us relentlessly for over-thinking her puzzle), the last two characters (the first a hulking stone-faced giant; the second a light-hearted scoundrel) and the gentleman in the trophy room were particularly memorable in their own unique manners.
One actress did appear to be having a very difficult time with her lines. She was pleasant enough, mind you… but, during our entire conversation, she seemed fixated on some out-of-sight premonition to the left of our party. It became so distracting that several of us began visually searching the environment for a prompter or cue cards. She was presumably focused on recalling her lines, but it really came off as extremely unnatural and bizarre.
---
Costuming:

9.78
A great cast needs a great wardrobe, and Castle Blood didn't disappoint. Thematically drifting between varying degrees of classically-gothic, steampunk, and all motifs between, all of the actors appeared appropriately adorned to be wandering the halls of the castle. It's very rare to see such a variety of really wonderful apparel at an attraction – every character was "all done up" in elegant finery (or an equivalent that suited their moniker). It lended a definite air of authenticity beyond what we are used to experiencing.
Make up was often subtle, but effective and efficient. Being primarily human or undead, the residents didn't require a great deal of visage alteration.
---
Customer Service:

8.56
The Castle's facade was well-lit and easy to find and a nearby parking lot provided refuge for our trusty steed – amidst a few unfortunate, man-sized tree limbs that were scattered around the lot. Several restrooms are available on site, as well as a merchandise/food booth, and there was a security guard on duty.
A ukulele-equipped, roving band entertained guests preparing to enter the castle. His tales bemused and delighted us.
---
Atmosphere:

8.09
Castle Blood feels like a gothic monolith removed from a Hammer Films-infused, altered reality and relocated to a random city block of Anytown, USA. In a perfect world, the castle would occupy a darkened hillside, enshrouded in perpetual mist. There'd be a foreboding forest, timely lightning cracks – the whole works. With our imperfect reality, however, the castle stands at odds against its surroundings – a defiant embodiment of the eternal Halloween spirit holding back the surge of urban sprawl. All city-based haunted attractions face similar battles, but the clash felt even more prolific at Castle Blood.
Still, upon entering the sanguine oasis, this struggle faded from memory rapidly. The castle's ambiance retunes your perceptions abruptly.
---
Special Effects:

9.01
Special effects within the castle were limited mostly to a handful of animatronics. Lighting was adequate an accentuated the natural, spooky ambience of the rooms and hallways of the manor. There weren't a great deal of sound effects in use, but any that existed blended in with the environment.
Set design, though, is a different story. Each room that we passed through was meticulously decorated, giving the entire castle a legitimately "lived-in" feeling that enhanced the experience immensely. Every relevant odd-and-end was on display. Instead of over-the-top, blood-splattered vestibules with rotten animal carcasses stacked impossibly high, Castle Blood is arranged in a fashion that a collection of undead dwellers may actually choose to live – function over unbelievable spectacle. The result lends itself perfectly to enhancing the unfolding narrative, not overshadowing it.
---
Theme:

9.66
The haunted attraction community has adopted the label "haunted house" or "haunt" to generically represent any halloween-themed entertainment complex; you know, that's how a hospital replete with zombified, cannibalistic fungi can nominally become a "haunted house." Castle Blood, though, represents the term much more intrinsically.
Castle Blood is an adventure game/haunted walkthrough/interactive theater that is both entertaining and challenging. Unlike standard "haunted attractions," the customer is a direct participant in the unfolding storyline and helps to shape its direction… with success at the various obstacles proving critical to guiding the narrative to its most positive conclusion.
The situation we found ourselves caught up in involved the vengeful spirits of a pair of witches, a protective talisman and the construction of a mighty obelisk. All in night's work, surely.
---
Fright Effect:

7.42
Though Castle Blood's primary function is interactive storytelling, the experience is certainly not without it's creepy moments. Like the omnipresent dread of a classic horror film, several of our interactions with the residents rose into uneasy crescendos – an invocation by a medium, and a forced possession granted a trickle of nervous fear, for instance.
Additionally, the Scarers, scattered across the castle in hidden spaces, were good for more than a few abrupt jolts. There wasn't a great deal of variety in their tactics, but their appearances were plentiful and always unexpected.
Castle Blood is not the best attraction for anyone solely interested in being scared, obviously, but they do provide just enough of a fearful presence to keep you on your toes and frequently glancing apprehensively over your shoulder.
---
Value:

9.68
A general admission ticket to Castle Blood is $20. A VIP Guest Admission is $25 (available online only), and a Nightmare Pass is $30. The latter includes a general admission plus a t-shirt and a premium gift. There's also a matinee, no-scares tour for 8 dollars. It took us nearly 1 hour to complete our tour – placing the SCA-LUE at 3 minutes per dollar spent, an excellent deal.
It's no secret that we love interactive haunt experiences. The one-sided booing and scaring are fun and all, but there's nothing quite as fulfilling as actually being a part of the experience; attractions that require you to complete puzzles or challenges as an integral aspect of their storylines reign supreme in my book.
It's true that Castle Blood is NOT a lot of things that haunt-goers have become accustomed to seeing and, for a certain percentage of scare-fans (those interested only in extreme, in-your-face-style attractions), Castle Blood is really not going to satisfy that masochistic itch.
HOWEVER, for the vast majority of the haunt world, Castle Blood has a lot to offer – a truly-interactive, gothic quest with a smattering of frights and a whole cauldron-load of fun. From us, Castle Blood comes recommended!
---
Promo Images:
Click to Enlarge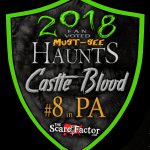 Guest ReviewsGuest Average: 0 out of 10
Sarah – 10/10Challenge Accepted was awesome! Me and my boyfriend were looking for escape rooms in our area, and …show more as poor college students, price was a big factor. Despite being only two small locations in the mall, they have multiple rooms, at 20, 40, and 60 minutes long, with the 20-minute rooms being only $10 each! We've been back multiple times, and loved every one! Staff is very helpful and enthusiastic about their job, and is thrilled to explain all the little secrets after you escape. Will be back every time they make a new room!
Norma – 4/10We visited this attraction on the last night of their 2018 season I believe. We did show up late …show more (about 20 minutes before they closed) and it was dead in the waiting line. Regardless, every group that was in the haunt somehow ended catching up to one another. We walked as slow as we could knowing there wasn't anyone behind us but we still couldn't stay away from the group in front of us. They had one teenage female that was petrified of everything so all the monsters kept taking advantage of it, cornering her every chance they got. They also followed her through multiple scenes that weren't theirs while our group tried to stay behind some and there were no entertainers around because they were all following her. When they would stop and turn around to go back to their base spots (if they even have them there), some of them just walked passed us without any effort towards scaring us. It was a disaster. This chic's name was Lauren and by the time we got to the exit of this thing, we were relieved that we didn't have to hear her name called out over and over and over anymore. She had to of been extremely annoyed by it herself. It took all of the fun out of it. Actors even stopped us in some of the maze portions so the other monsters could entertain their group for quite some time and they would just be staring off into outer space. The only way we knew they could talk is because they said Lauren's name already. Besides that, costuming was mostly store-bought quality. Nothing different to look at here. Scenes were the same. Some looked as if they had been built out there in the woods for years and they've sat through the seasons and no one's ever gone back to touch them up. Parts of the maze where there's a lot of plastic and wood seem to possibly be a danger. We didn't see any actors for quite some time in them bc they were following Lauren and if someone ignited one of these things, I'm afraid it would have taken us a long time to find the exit. Some spaces were very tight for us, if those were to fill with smoke where there are roofs, I don't think that would be good at all. At one point, we didn't know where to go at all so we weaved through these pipe-like things and found a hole and we started walking on this really dark path into the woods. There were props and things out there but 0 lights. Come to find out, it looked like a previously closed portion of the trail because when we got to the end of it, there was no way to get back into the maze. We had to crawl under caution tape to get back in. That right there tells you that no actors were paying any attention to our group. We paid full price for our tickets that night and we honestly should have just passed this place up. We've been here before too and it wasn't that bad. The highlights of the trip were the gentleman that introduced us to the park and gave us the rules before we went in. There was also one clown (Pickles, maybe
?) that actually put effort into scaring us but he was mostly one of the only ones. In one of the mazes there was a chainsaw assailant behind a door and we could hear the saw and see him through the crack of the door but we couldn't get in. When that door finally opened, holy shit! That was the best scare in there for sure! Also, there are places where you will need to duck down, tight corridors as mentioned above, uneven terrain, and a lot of walking (especially if you're bad at mazes) so be prepared for that.
Norma – 6/10Maybe we just went on a bad night but we weren't very impressed with this haunt. We had heard many …show more good things about it and we ended up with a free Saturday night so we gave it a shot. We showed up at probably 9:30 at night. Waited in line maybe 15-20 minutes so that wasn't bad. We really didn't have problems with spacing inside the haunt except for a few times but we were able to slow down and it helped when there wasn't anyone behind us. I will say, there were a lot of unique things in the haunt portion. One interactive set was very different and unnerving. Some of the characters were really into their roles while others were bland. One was sitting on top of a washing machine and he jumped down and we were thinking, "Oh shit" but he didn't do anything, he just jumped at us a little and said, "What?" In the outdoor portion of the haunt it was a bit too dark to see the characters, especially the Creeper. Our favorite part was the alligator! They know how to utilize this now, commonly-seen prop to the fullest for sure! If you are likely to pee your pants, you just might lose it on that one! I would give the house itself a 7 out of 10. Now we were under the impression that the corn field was haunted too. Although it was a good maze, there were three scareactors in it and they were terrible. No lights, sounds, sets, nothing but mud and corn and the dark. At first it was creepy but after we walked and walked and nothing happened, we were aggravated and ready to find our cars. The last actor that we came across could have hidden well since they were in all black but they didn't, they stood in the middle of the trail acting like they couldn't see, whispering to us as we walked asking us if we were customers. Wow. Don't upgrade to the corn if you're expecting a fright in there, it won't happen.
---
2018 Awards
"Put on your Sunday Best, kids, it's time to go to Sears!" - Best Costumes (Humanish) (Given by: Team Scary Potter and the Hauntwarts Express)
"Game over man; game over!" - Best Game Elements (Given by: Team Scary Potter and the Hauntwarts Express)
"We're all in this together" - Most Interactive Cast (Given by: Team Scary Potter and the Hauntwarts Express)
---