Review of Chamber of Horrors NY Haunted Attraction
Review of Chamber of Horrors NY Haunted Attraction
Review of Chamber of Horrors NY Haunted Attraction
Chamber of Horrors NY
Chamber of Horrors NY is a Haunted Attraction located in Hauppauge, NY.
1745 Expy Drive N, Hauppauge, NY 11788View All Details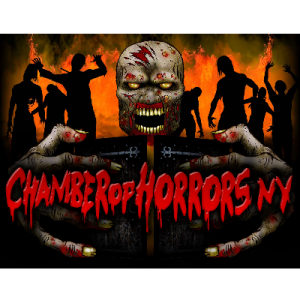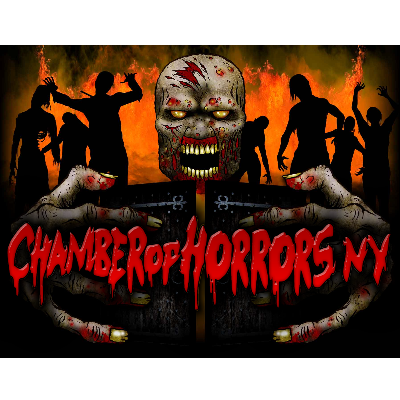 Features:
Free Parking, Gift Shop/Souvenirs, Special Events, Original Characters, Indoor/Outdoor Waiting Line, All-Indoor Attraction
Team Crypt Creepers reviewed this attraction on October 1, 2016.
Final Score:

8.21
Summary:
There may not be any crying in baseball, but when Matt Guiliano's "Play Like a Pro" turns into Chamber of Horrors, you can be sure there's gonna be some tears of fear. What normally is a baseball training camp becomes a trilogy of terror during the Halloween season. Three mini-themed haunts open up for one ticket price; on select nights, you can venture through the haunt with the lights off and just a glow stick to guide your way. That is what we did. To take a small break from the normal haunts, we took advantage of Chamber's "Kill the Lights" night to experience terror in the dark. Not only do you go in with the lights off, but you go through backwards… double the madness! We reviewed the haunt for its "Kill the Lights" night, so be aware of that as you read this review.
---
Cast:

8.3
The cast here all have a lot of energy in them and they use it to really scare their guests. Some of whom go bending backwards, literally, to get a scream from their prey. They are interactive with their new friends and, if they learn your name, you'd better be prepared for some personalized torture. A good portion of the dialogue is scripted to the rooms, but that doesn't make it any less creepy. Each character definitely fulfills their role, whether it be a decoy, a scare or a surprisingly-realistic animatronic that you can't help but watch as it just sits and spins slowly, distracting you and making you get lost in… wait, where was I?
---
Costuming:

7.7
The makeup here is very uniform among the actors; faces were painted in black and white to blend into the darkness of the theme for the night and no two faces alike. All were very complete, with no empty or missing spots. Each makeup job was like its own special, crazy snowflake. Where the makeup wasn't used, there was usually the mask of a well-known movie maniac and each looked very much like the real deal. There was also the occasional bloody makeup job, but I'm sure there are a lot more of those on the normal nights… when the lights are on and you can really enjoy the gruesome details put into them.
---
Customer Service:

8.83
The staff here is extremely helpful and willing to assist their guests before the residents inside make all that help for naught by taking their lives. The queue is normally outside, but if there is rain, snow or, as their website publicizes, a "shower of toads," then they have two indoor waiting rooms where they can fit up to 500 people to shield them from whatever plague descends from the sky. The red emergency exit curtains are noticeable, even in the dark, so it is easy to get out if there is a real emergency (or if you are just about to have an emergency in your pants). The haunt itself is located on a service road, right off the side of the L.I.E., so as long as you stay on the service road, you can't miss the giant, gray face and hands waiting to take you in.
---
Atmosphere:

7.9
During the rest of the year, Chamber of Horrors is actually home to a baseball training camp. Then, towards the end of the summer, the walls start going up and most of the area becomes the hell-house known as Chamber of Horrors. While most of the time you are peering around, looking for which side the next scare may come from, there is a chance you will catch a glimpse of sports equipment. It may take you out of the moment for a split second, but don't let that deter you; the actors here are quick to pull your attention right back to them. There is even one spot where it is intentionally left open so roaming creeps can take full advantage of you letting your guard down. A feature I actually really enjoyed.
---
Special Effects:

8.14
This haunt uses a good mix of animatronics and home-grown sfx. They even admitted that they played around with a few fun ideas and "may" have had some appliance casualties. But, you can't make an omelet without breaking a few skulls, right? I enjoy home-grown special effects because it gives someone like me, with no technical know-how and a tight budget, ideas to play with at my own home. (Note: DO NOT try at home. Possible dangers when not done by a professional. Try at a friend's house instead.) But, don't let my talk of the simple scares fool you, they have some great animatronics to either grab your attention or catch you when you least expect it. All of which will take you by surprise and cause at least one member of your group to think twice about assuming what is just part of the set… and what is more.
---
Theme:

8.5
Aside from the "Kill the Lights" theme, the haunt itself has three mini-themed sections. The first of which is a well-detailed manor of mayhem where the maniacs wait to massacre you. You go from den, to kitchen, to bathroom… all normal rooms within a home, and each room is presented in a very homely manner. You know, besides the bodies hanging from the ceiling, dripping blood. The second is a psychiatric ward where not all the patients are 100% human anymore and, again, the details here all correspond to the feeling of being trapped in an asylum of torture and undead. The last is an homage to the people who gave us nightmares growing up… both fictional and very much real. All three themes are done very well in their own right, but the overall theme for the night was "Kill the Lights…" and trust me, they did just that. Not literally of course; light is inanimate and, therefore, cannot be killed, but you know what I'm getting at.
---
Fright Effect:

8.3
This haunt uses a lot of misdirection and distractions to throw guests off their game. They do a good job at scaring the whole group… making sure that whoever is in the front or back aren't the only ones getting a taste of fear. There are a number of different types of scares used, while the drop portrait is a steady favorite here.
---
Value:

8
The length of this haunt is somewhere between 25-32 minutes, depending how fast you power-walk through it (remember, no running in the haunt!). They make very good use of the space allotted to them within the confines of this sports complex and, for the price of $25, you get a lot of varied rooms and some high-energy performers. This is another of the ScreamLI.com haunts that have teamed up to offer guests the opportunity to buy tickets to 4 different haunted houses for $80. There are also other discounts available online, as well as R.I.P. passes to let guests skip the line and greatly reduce their wait time.
---
Promo Images:
Click to Enlarge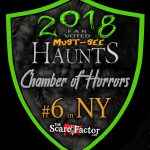 Guest ReviewsGuest Average: 0 out of 10
Sarah – 10/10Challenge Accepted was awesome! Me and my boyfriend were looking for escape rooms in our area, and …show more as poor college students, price was a big factor. Despite being only two small locations in the mall, they have multiple rooms, at 20, 40, and 60 minutes long, with the 20-minute rooms being only $10 each! We've been back multiple times, and loved every one! Staff is very helpful and enthusiastic about their job, and is thrilled to explain all the little secrets after you escape. Will be back every time they make a new room!
Norma – 4/10We visited this attraction on the last night of their 2018 season I believe. We did show up late …show more (about 20 minutes before they closed) and it was dead in the waiting line. Regardless, every group that was in the haunt somehow ended catching up to one another. We walked as slow as we could knowing there wasn't anyone behind us but we still couldn't stay away from the group in front of us. They had one teenage female that was petrified of everything so all the monsters kept taking advantage of it, cornering her every chance they got. They also followed her through multiple scenes that weren't theirs while our group tried to stay behind some and there were no entertainers around because they were all following her. When they would stop and turn around to go back to their base spots (if they even have them there), some of them just walked passed us without any effort towards scaring us. It was a disaster. This chic's name was Lauren and by the time we got to the exit of this thing, we were relieved that we didn't have to hear her name called out over and over and over anymore. She had to of been extremely annoyed by it herself. It took all of the fun out of it. Actors even stopped us in some of the maze portions so the other monsters could entertain their group for quite some time and they would just be staring off into outer space. The only way we knew they could talk is because they said Lauren's name already. Besides that, costuming was mostly store-bought quality. Nothing different to look at here. Scenes were the same. Some looked as if they had been built out there in the woods for years and they've sat through the seasons and no one's ever gone back to touch them up. Parts of the maze where there's a lot of plastic and wood seem to possibly be a danger. We didn't see any actors for quite some time in them bc they were following Lauren and if someone ignited one of these things, I'm afraid it would have taken us a long time to find the exit. Some spaces were very tight for us, if those were to fill with smoke where there are roofs, I don't think that would be good at all. At one point, we didn't know where to go at all so we weaved through these pipe-like things and found a hole and we started walking on this really dark path into the woods. There were props and things out there but 0 lights. Come to find out, it looked like a previously closed portion of the trail because when we got to the end of it, there was no way to get back into the maze. We had to crawl under caution tape to get back in. That right there tells you that no actors were paying any attention to our group. We paid full price for our tickets that night and we honestly should have just passed this place up. We've been here before too and it wasn't that bad. The highlights of the trip were the gentleman that introduced us to the park and gave us the rules before we went in. There was also one clown (Pickles, maybe
?) that actually put effort into scaring us but he was mostly one of the only ones. In one of the mazes there was a chainsaw assailant behind a door and we could hear the saw and see him through the crack of the door but we couldn't get in. When that door finally opened, holy shit! That was the best scare in there for sure! Also, there are places where you will need to duck down, tight corridors as mentioned above, uneven terrain, and a lot of walking (especially if you're bad at mazes) so be prepared for that.
Norma – 6/10Maybe we just went on a bad night but we weren't very impressed with this haunt. We had heard many …show more good things about it and we ended up with a free Saturday night so we gave it a shot. We showed up at probably 9:30 at night. Waited in line maybe 15-20 minutes so that wasn't bad. We really didn't have problems with spacing inside the haunt except for a few times but we were able to slow down and it helped when there wasn't anyone behind us. I will say, there were a lot of unique things in the haunt portion. One interactive set was very different and unnerving. Some of the characters were really into their roles while others were bland. One was sitting on top of a washing machine and he jumped down and we were thinking, "Oh shit" but he didn't do anything, he just jumped at us a little and said, "What?" In the outdoor portion of the haunt it was a bit too dark to see the characters, especially the Creeper. Our favorite part was the alligator! They know how to utilize this now, commonly-seen prop to the fullest for sure! If you are likely to pee your pants, you just might lose it on that one! I would give the house itself a 7 out of 10. Now we were under the impression that the corn field was haunted too. Although it was a good maze, there were three scareactors in it and they were terrible. No lights, sounds, sets, nothing but mud and corn and the dark. At first it was creepy but after we walked and walked and nothing happened, we were aggravated and ready to find our cars. The last actor that we came across could have hidden well since they were in all black but they didn't, they stood in the middle of the trail acting like they couldn't see, whispering to us as we walked asking us if we were customers. Wow. Don't upgrade to the corn if you're expecting a fright in there, it won't happen.