Review of New York Haunted Hayride Haunted Attraction
Review of New York Haunted Hayride Haunted Attraction
Review of New York Haunted Hayride Haunted Attraction
New York Haunted Hayride
New York Haunted Hayride is a Haunted Attraction located in New York, NY.
20 Randalls Island Park, New York, NY 10035View All Details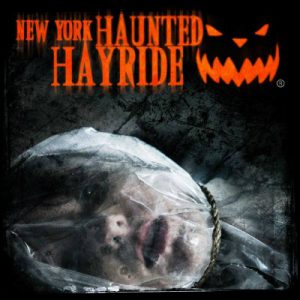 Features:
Free Parking, Food/Concessions, Gift Shop/Souvenirs, Optional Games/Midway, You will NOT be touched, Uncovered Outdoor Waiting Line, Indoor/Outdoor Attraction
Team Crypt Creepers reviewed this attraction on October 13, 2016.
Final Score:

8.41
Summary:
If you take the NYC Subway, then chances are you have seen an advertisement on one of the trains for the NY Haunted Hayride. This haunt is back for its second year on Randall's Island, and takes you on a tractor-pulled hayride of doom, let's you fend for yourself in their dark maze of the House of Shadows, and even brings a laugh at their Midway called Purgatory. I cannot stress enough how happy I was that the dark maze was an actual maze, with dead ends, looping hallways, and a constant wondering of "wait, wasn't I just here?" While it may not be anything fancy or elegant, it does exactly what it's supposed to do: make the guests uneasy and uncomfortable, wandering through the darkness unsure of which direction they are meant to go. The hayride itself features some high energy performers, and the stage shows feature some talented fire dancers/performers, and some funny clowns who use volunteers for their reenactment of famous horror movie scenes.
---
Cast:

8.6
Before even starting your journey, there are wandering creatures looking for some fresh meat. Whether it be sneaking up on you to scare you from behind, or joining you for an Instagram dance video, they skulk (and sometimes shimmy) around the midway area to interact with the guests as they wait in line, or sit waiting for one of the shows to start. Once on the hayride, the actors are energetic and very into their performance. Since it is a hayride, a lot of the show is an act, and one that these actors perform very well. Whether they are pretending to be animatronics and mimicking that very rigid, mechanical movement, or contorting their bodies to crawl in ways that seem inhuman, they certainly make it believable. The bit of dialogue that you get is scripted to the theme of the area you are in, but that is to be expected since they only get a few seconds to mess with each person on the hayride before it is off and moving again.
---
Costuming:

8.2
There is a decent mix of masks and makeup here, and a variety of costumes along this terrifying trail, including one set of costumes that really caught my attention. Each of the costumes work in the areas they are used in, and nothing is out of place. Some are simple, such as black robes for a dark mass where you may just be their next sacrifice. And some are detailed and eerily done, like the bodies of those who stayed a bit too long in a burning orphanage. The masked monsters' bodies matched their faces, so even the masked creeps seemed realistic as they attempted to rip you limb from limb.
---
Customer Service:

8.8
The staff here is very friendly and willing to hold conversations with guests, make jokes, and help of course. There are also booths that hand out free snacks and coupons for Lyft, since those companies are sponsoring the event this year. You can purchase tickets online or at the booth (cash only). Since lines for both attractions are in the Midway, the roaming creatures can wander around and mess with those waiting. Or, guests can try to catch a glimpse of one of the two shows that are happening on the stage that is set up between the lines. A fire show, and a troupe of comedic clowns who pick audience members to help reenact scenes from horror movies keep guests entertained. So feel free to stop by the food truck, grab a bite, then take a seat for one of the stage performances. I recommend the cider. As long as you don't run in the nearly pitch black House of Shadows, then this haunt isn't dangerous, but it also isn't wheelchair accessible since it is a hayride and dark maze. Emergency exits are easily located in the dark maze as well, in case you find the darkness a bit too much for you. Just a heads up though, if you decide to walk to the haunt, you may end up on an epic adventure over bridges, through police precinct parking lots, and a few hundred feet away from a circus which oddly enough has nothing to do with the haunt, but you kinda wish did.
---
Atmosphere:

8.5
Once you find the haunt, you walk down a long path with fog machines and creepy music and sounds in the distance. A giant stack of jack-o-lanterns greets you at the entrance, marking your departure from normality. I mean, free stuff in NY? Definitely not normal, even if it is just a small bag of snacks. The constant fog and smoke from enclosed bonfires creates a tense thickness to the air, while the creepy sounds unease you. But not to worry, the stage shows will give you momentary relief before your trek.
---
Special Effects:

8.8
The hayride is very audibly creepy. Most of the scenes actually use music instead of spooky sound effects to frighten or creep out the guests. The first room you are taken to is a rock-n-roll circus that quickly goes from soft lullaby to intense rock music, which then leads into a mechanical country romp similar to that of Lester's Possum Party Jamboree (Anyone? A Goofy Movie? No? Alright, I think I just dated myself, so moving on). A good handful of rooms are creative reimaginings, or just things I wouldn't have thought of putting in a haunt, and it works. When they say they are gonna take you to church, they mean it. There were two giant puppets used, and one elevating platform that raises an actor high up into the air, but not many animatronics, which isn't always a bad thing. Some of the sets are detailed, while others purposefully go for simple. When you go through a graveyard scene that is nothing but tombstones for a long time, you start to wonder if you've reached your final destination. Also, this is the first time that a dark maze was exactly that, a MAZE. Everything so far that has publicized itself as a dark maze has just been a dark path, with one solitary path to travel along. But there was at least two times that I wandered into the same dead end in the House of Shadows, and that makes me happy, because the feeling of uneasiness and possible entrapment is heightened when you know you aren't on a set path and are left to your own devices to find your way out.
---
Theme:

N/A
There are only two attractions here; a hayride and a dark maze, so there isn't really a theme used. The hayride itself is a grab bag of sorted scares, and the dark maze is, well….dark.
---
Fright Effect:

7.8
If there is one thing the actors definitely try to do, it is to scare each person on the hayride. They run from side to side, getting in the faces of those watching, and sneaking up on those too busy watching their friends' reactions. A lot of them have props that they use to bang on the edges of the hayride, or on the metal boxes on the side. There are a few times where misdirection and distractions are used very well to take your attention off the real scare, but a lot of the time it is straightforward and very loud. Contrasting to the loud, in your face frights of the hayride, though, is the subtle scares you get from the dark maze. Just dark enough to make out the outlines of some walls and the occasional body just ahead of you, the dark maze has a soundtrack of creepy sounds and light whispers to unnerve you as you traverse the blackness. And what I am assuming was an unintentional but very effective feature is the tarp used as a ceiling, which is constantly rolling due to the wind, which will catch the corner of your eye and make you think something is moving just above you. The actors skulk about muttering and making random noises, almost none of them using actual words (the exception being the guy who tells you to go through the tunnel to freedom).
---
Value:

8.2
The base ticket price of this haunt is $37, and the front of line pass is $55. You do not need a ticket to enter the midway, from where you can see the lines, so it may be smart to step in first and see just how long the lines are before buying a skip-the-line ticket. For $37, you get two attractions, two stage shows, and a tiny bag of chips. Oh, and also possibly a random piece of candy from one of the wandering creeps. One of the ones with a mask on that obviously works for the haunt, do not take candy from random creeps outside of a haunted house setting. The hayride was about 25 minutes, and it took me 10 minutes to get through the dark maze, so you practically get a 1:1 ratio on minutes to ticket price. Then each show is about 20-30 mins, so that's a little under an hour and a half of entertainment.
---
Guest ReviewsGuest Average: 0 out of 10
Sarah – 10/10Challenge Accepted was awesome! Me and my boyfriend were looking for escape rooms in our area, and …show more as poor college students, price was a big factor. Despite being only two small locations in the mall, they have multiple rooms, at 20, 40, and 60 minutes long, with the 20-minute rooms being only $10 each! We've been back multiple times, and loved every one! Staff is very helpful and enthusiastic about their job, and is thrilled to explain all the little secrets after you escape. Will be back every time they make a new room!
Norma – 4/10We visited this attraction on the last night of their 2018 season I believe. We did show up late …show more (about 20 minutes before they closed) and it was dead in the waiting line. Regardless, every group that was in the haunt somehow ended catching up to one another. We walked as slow as we could knowing there wasn't anyone behind us but we still couldn't stay away from the group in front of us. They had one teenage female that was petrified of everything so all the monsters kept taking advantage of it, cornering her every chance they got. They also followed her through multiple scenes that weren't theirs while our group tried to stay behind some and there were no entertainers around because they were all following her. When they would stop and turn around to go back to their base spots (if they even have them there), some of them just walked passed us without any effort towards scaring us. It was a disaster. This chic's name was Lauren and by the time we got to the exit of this thing, we were relieved that we didn't have to hear her name called out over and over and over anymore. She had to of been extremely annoyed by it herself. It took all of the fun out of it. Actors even stopped us in some of the maze portions so the other monsters could entertain their group for quite some time and they would just be staring off into outer space. The only way we knew they could talk is because they said Lauren's name already. Besides that, costuming was mostly store-bought quality. Nothing different to look at here. Scenes were the same. Some looked as if they had been built out there in the woods for years and they've sat through the seasons and no one's ever gone back to touch them up. Parts of the maze where there's a lot of plastic and wood seem to possibly be a danger. We didn't see any actors for quite some time in them bc they were following Lauren and if someone ignited one of these things, I'm afraid it would have taken us a long time to find the exit. Some spaces were very tight for us, if those were to fill with smoke where there are roofs, I don't think that would be good at all. At one point, we didn't know where to go at all so we weaved through these pipe-like things and found a hole and we started walking on this really dark path into the woods. There were props and things out there but 0 lights. Come to find out, it looked like a previously closed portion of the trail because when we got to the end of it, there was no way to get back into the maze. We had to crawl under caution tape to get back in. That right there tells you that no actors were paying any attention to our group. We paid full price for our tickets that night and we honestly should have just passed this place up. We've been here before too and it wasn't that bad. The highlights of the trip were the gentleman that introduced us to the park and gave us the rules before we went in. There was also one clown (Pickles, maybe
?) that actually put effort into scaring us but he was mostly one of the only ones. In one of the mazes there was a chainsaw assailant behind a door and we could hear the saw and see him through the crack of the door but we couldn't get in. When that door finally opened, holy shit! That was the best scare in there for sure! Also, there are places where you will need to duck down, tight corridors as mentioned above, uneven terrain, and a lot of walking (especially if you're bad at mazes) so be prepared for that.
Norma – 6/10Maybe we just went on a bad night but we weren't very impressed with this haunt. We had heard many …show more good things about it and we ended up with a free Saturday night so we gave it a shot. We showed up at probably 9:30 at night. Waited in line maybe 15-20 minutes so that wasn't bad. We really didn't have problems with spacing inside the haunt except for a few times but we were able to slow down and it helped when there wasn't anyone behind us. I will say, there were a lot of unique things in the haunt portion. One interactive set was very different and unnerving. Some of the characters were really into their roles while others were bland. One was sitting on top of a washing machine and he jumped down and we were thinking, "Oh shit" but he didn't do anything, he just jumped at us a little and said, "What?" In the outdoor portion of the haunt it was a bit too dark to see the characters, especially the Creeper. Our favorite part was the alligator! They know how to utilize this now, commonly-seen prop to the fullest for sure! If you are likely to pee your pants, you just might lose it on that one! I would give the house itself a 7 out of 10. Now we were under the impression that the corn field was haunted too. Although it was a good maze, there were three scareactors in it and they were terrible. No lights, sounds, sets, nothing but mud and corn and the dark. At first it was creepy but after we walked and walked and nothing happened, we were aggravated and ready to find our cars. The last actor that we came across could have hidden well since they were in all black but they didn't, they stood in the middle of the trail acting like they couldn't see, whispering to us as we walked asking us if we were customers. Wow. Don't upgrade to the corn if you're expecting a fright in there, it won't happen.