Review of Seven Cedars Farms Haunted Hayride Haunted Attraction
Review of Seven Cedars Farms Haunted Hayride Haunted Attraction
Review of Seven Cedars Farms Haunted Hayride Haunted Attraction
Seven Cedars Farms Haunted Hayride
Seven Cedars Farms Haunted Hayride is a Haunted Attraction located in Smithfield, RI.
7 John Mowry Road, Smithfield, RI 02917View All Details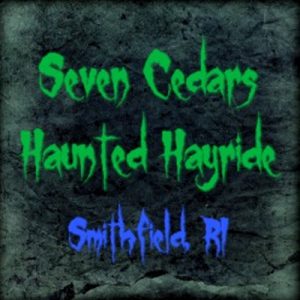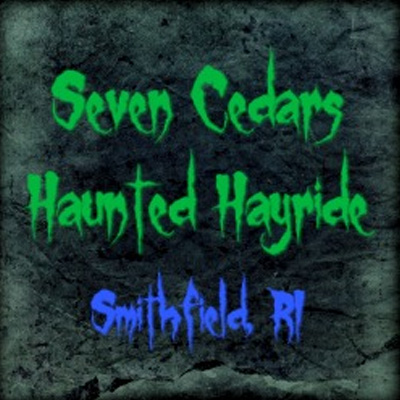 Features:
Free Parking, Handicap Accessible, Food/Concessions, Optional Games/Midway, "Old-School" (Low Tech), You will NOT be touched, Movie Characters, Covered Outdoor Waiting Line, All-Outdoor Attraction
Team Hallowoosh reviewed this attraction on October 2, 2016.
Final Score:

8
Summary:
In its third season at Seven Cedars Farm, the hayride is now bigger and better than ever. Longer trails and more scenes are just a few surprises you will see this year. The newest of only four haunted hayrides in Rhode Island also offers haunt fanatics a few treats that are rarely or never seen anywhere else. With its hometown style that's far from the over-populated areas, you are sure to have a good, old-fashioned, October night. Hold on tight, bundle up and pray for mercy deep in the hills at Seven Cedars Farm!
---
Cast:

7.5
The entire crew of Seven Cedars Farm hayride is completely volunteer. The show brings you from one scene to the next with two to six actors per scene. Between these scenes, you will usually bump into a dark face or two that are trying to get you. Almost every scene has a victim and a killer or monster (which impressed me). More often than not, I find myself on small, local, community hayrides and I'm lucky to get one victim scene while the rest are simply pop-out scares. Even a good portion of the "big name" haunted hayrides have just their scary monsters and killers in their scenes. At Seven Cedars' hayride, the victims don't only get what's coming for them during your brief drive-by… they also come back to attack you for not rescuing them.
---
Costuming:

7
The crew operates on a shoestring budget, but the haunt does provide costumes to their cast. You will find familiar characters along the way and they are all dressed up properly. Trust that you will not see Freddy Kruger running in shorts and flip flops. Many of the cast members between the sets will be wearing masks and black robes. Unfortunately, I had to attend on a night where many of the cast decided to stay home. Someway, somehow, they were able to call in quite a few favors and get a decent crew onto the trail. With what little time they had to prepare, or plan, or even discuss anything, it did feel like they had to put on a mask and go to a spot that looked empty. Just being able to get people to show up is impressive, let alone with only an hour or two before show time.
---
Customer Service:

8.3
Free parking on a large, grass lot with plenty of generator lights greets you on your way into the farm. A giant hangar provides a nice, indoor waiting space… complete with a projected movie and a bouncy house for the kids. Tickets were "buy one, get one" on opening weekend. There is a great "Dough Boy" stand just outside of the waiting area where you can get plain with sugar and cinnamon or apple-filled. The hayride operates three tractors through the night, so the wait time is usually minimal.
---
Atmosphere:

7.9
There really isn't much leading up to the hayride. You show up, grab a ticket, maybe a dough boy, chill for a bit while watching a movie, then you go on the ride. The best build up I would have to say is there are no lights on the tractor. You are completely in the dark on the wagon until you get to the first scene, which is when a big spot light turns on and immediately directs your attention. When the scene is done, it's lights out again. Just being in the dark on the hayride is a really creepy experience.
---
Special Effects:

8
The few of the special effects that Seven Cedars Farm has to offer shall remain a mystery for you and your friends and family to find out. I will say that there are things on this ride that some big budgets attractions will wish they had thought about themselves… not to mention that the entire production is built by one man in his off time.
---
Theme:

N/A
There is no theme for the hayride. Classic scenes from classic movies and fun scenes of terror to keep you awake all night long.
---
Fright Effect:

8.3
The hayride is a long one. You can always count on some actors being ready to pop out at you, but you just never know when, exactly. The scenes give us a few familiar faces from your favorite horror movies and, for some people, that is the "ultimate" in scariness. A killer walking up to you with a chainsaw means nothing unless it's Jason Voorhees, right? The darkness of the hayride is definitely the scariest element. They are the only hayride in New England that drives with no lights. Most would question the safety of the driver and the actors and passengers, but the drivers have been doing it for three years now and know the back woods like the back of their hands.
---
Value:

9
At $10 a person for a thirty-minute hayride, you could consider this a great deal. Also, while you are not waiting in line, you can be enjoying a great Halloween movie and a nice, warm dough boy. Not being even a one minute drive off the highway and far away from the loud noises of the city, Seven Cedars Farm keeps getting bigger and better and offers new changes every year. This is a great way to celebrate your October in the sticks of Rhode Island!
---
Guest ReviewsGuest Average: 0 out of 10
Sarah – 10/10Challenge Accepted was awesome! Me and my boyfriend were looking for escape rooms in our area, and …show more as poor college students, price was a big factor. Despite being only two small locations in the mall, they have multiple rooms, at 20, 40, and 60 minutes long, with the 20-minute rooms being only $10 each! We've been back multiple times, and loved every one! Staff is very helpful and enthusiastic about their job, and is thrilled to explain all the little secrets after you escape. Will be back every time they make a new room!
Norma – 4/10We visited this attraction on the last night of their 2018 season I believe. We did show up late …show more (about 20 minutes before they closed) and it was dead in the waiting line. Regardless, every group that was in the haunt somehow ended catching up to one another. We walked as slow as we could knowing there wasn't anyone behind us but we still couldn't stay away from the group in front of us. They had one teenage female that was petrified of everything so all the monsters kept taking advantage of it, cornering her every chance they got. They also followed her through multiple scenes that weren't theirs while our group tried to stay behind some and there were no entertainers around because they were all following her. When they would stop and turn around to go back to their base spots (if they even have them there), some of them just walked passed us without any effort towards scaring us. It was a disaster. This chic's name was Lauren and by the time we got to the exit of this thing, we were relieved that we didn't have to hear her name called out over and over and over anymore. She had to of been extremely annoyed by it herself. It took all of the fun out of it. Actors even stopped us in some of the maze portions so the other monsters could entertain their group for quite some time and they would just be staring off into outer space. The only way we knew they could talk is because they said Lauren's name already. Besides that, costuming was mostly store-bought quality. Nothing different to look at here. Scenes were the same. Some looked as if they had been built out there in the woods for years and they've sat through the seasons and no one's ever gone back to touch them up. Parts of the maze where there's a lot of plastic and wood seem to possibly be a danger. We didn't see any actors for quite some time in them bc they were following Lauren and if someone ignited one of these things, I'm afraid it would have taken us a long time to find the exit. Some spaces were very tight for us, if those were to fill with smoke where there are roofs, I don't think that would be good at all. At one point, we didn't know where to go at all so we weaved through these pipe-like things and found a hole and we started walking on this really dark path into the woods. There were props and things out there but 0 lights. Come to find out, it looked like a previously closed portion of the trail because when we got to the end of it, there was no way to get back into the maze. We had to crawl under caution tape to get back in. That right there tells you that no actors were paying any attention to our group. We paid full price for our tickets that night and we honestly should have just passed this place up. We've been here before too and it wasn't that bad. The highlights of the trip were the gentleman that introduced us to the park and gave us the rules before we went in. There was also one clown (Pickles, maybe
?) that actually put effort into scaring us but he was mostly one of the only ones. In one of the mazes there was a chainsaw assailant behind a door and we could hear the saw and see him through the crack of the door but we couldn't get in. When that door finally opened, holy shit! That was the best scare in there for sure! Also, there are places where you will need to duck down, tight corridors as mentioned above, uneven terrain, and a lot of walking (especially if you're bad at mazes) so be prepared for that.
Norma – 6/10Maybe we just went on a bad night but we weren't very impressed with this haunt. We had heard many …show more good things about it and we ended up with a free Saturday night so we gave it a shot. We showed up at probably 9:30 at night. Waited in line maybe 15-20 minutes so that wasn't bad. We really didn't have problems with spacing inside the haunt except for a few times but we were able to slow down and it helped when there wasn't anyone behind us. I will say, there were a lot of unique things in the haunt portion. One interactive set was very different and unnerving. Some of the characters were really into their roles while others were bland. One was sitting on top of a washing machine and he jumped down and we were thinking, "Oh shit" but he didn't do anything, he just jumped at us a little and said, "What?" In the outdoor portion of the haunt it was a bit too dark to see the characters, especially the Creeper. Our favorite part was the alligator! They know how to utilize this now, commonly-seen prop to the fullest for sure! If you are likely to pee your pants, you just might lose it on that one! I would give the house itself a 7 out of 10. Now we were under the impression that the corn field was haunted too. Although it was a good maze, there were three scareactors in it and they were terrible. No lights, sounds, sets, nothing but mud and corn and the dark. At first it was creepy but after we walked and walked and nothing happened, we were aggravated and ready to find our cars. The last actor that we came across could have hidden well since they were in all black but they didn't, they stood in the middle of the trail acting like they couldn't see, whispering to us as we walked asking us if we were customers. Wow. Don't upgrade to the corn if you're expecting a fright in there, it won't happen.