Review of The Dark Crop Haunted Corn Maze Haunted Attraction
Review of The Dark Crop Haunted Corn Maze Haunted Attraction
Review of The Dark Crop Haunted Corn Maze Haunted Attraction
The Dark Crop Haunted Corn Maze
The Dark Crop Haunted Corn Maze is a Haunted Attraction located in Hollis, NH.
172 Nartoff Road, Hollis, NH 03049View All Details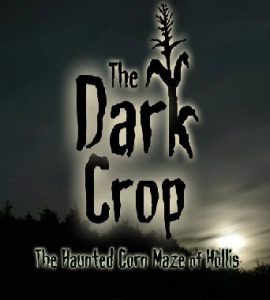 Features:
Free Parking, Food/Concessions, "Old-School" (Low Tech), You will NOT be touched, Original Characters, Uncovered Outdoor Waiting Line, All-Outdoor Attraction, Family Friendly
Team Hallowoosh reviewed this attraction on October 7, 2016.
Final Score:

9.08
Summary:
While other haunts are focusing on how to get bigger and better, The Dark Crop keeps getting creepier. This haunted corn maze began in 2011 making this year its sixth season. I remember visiting in 2013 for the first time and how I constantly worried about how freaky the experience was. Although the farm is located hardly a ten minute drive from the city of Nashua, you feel like you are in the middle of nowhere and no one is around to save you. The Dark Crop is hosted by Lavoies Farm, a local produce farm and farm stand. They have been great to the crew of The Dark Crop all these years giving them creative freedom and a whole section of their fields for the event. Year after year they express the importance of their number one rule: Don't Touch The Corn! I've always been in love with this rule because you will never find a corn maze with paths as narrow as The Dark Crop's. It's almost comical because it's literally impossible to not touch the corn. Obviously the rule is to stick to the path and don't break or rip off the corn stalks, but even sticking to the path is challenging enough and I think that's all part of the fun. One side of your brain is telling you to watch out for the next crazy about to attack you and the other side is wondering if you've broken the rules and if that might make them crazier.
---
Cast:

10
The majority of the cast is made up of dedicated, passionate performers from the local improv theater groups. Director, Chad Zingales, tells me each actor is given the basic framework for what the story is and they are charged with developing the ins and outs of their own characters. "It's an amazing process to be a part of seeing how people's creativity can take them to new, theatrical levels." There are twelve main cast members and a handful of fill ins to keep the suspense in check. They have always been crazy redneck killer farmers, but every character has their own story. There is a lot of comfort in knowing that many of the actors in the Dark Crop are legitimate, career-minded talent. You will never hear just screams or yells unless it's from one of their victims. All actors are very interactive and never shy away from an opportunity to prove they are more than just a typical teenaged screamer.
---
Costuming:

9.4
Much like how the actors work with the director to develop their own characters, the same goes for their wardrobe and makeup. Costumes are designed in a collaborative process between the actors and director to best match the character. To stay true to the spirit of The Dark Crop, the makeup has stayed traditional with mostly pale faces and blacked-out eyes. Blood splatters and contact lenses and teeth are what sets the difference between character's faces and they all do a great job. I don't believe I saw any masks when I went through. The actors are much too devoted to establishing their characters to be muffled by a mask.
---
Customer Service:

8
Tickets can be purchased at the farm stand during business hours. The farm stand is hard to miss because it's literally the brightest thing you'll see all night. Parking is free and alongside the road but you have to be very careful on this dark stretch. I do wish there was a way to make parking a little more comforting or at least some signs to direct you where to go when you arrive. But, because they stay true to the element of "Dark" with the lack of light and direction, I find that to be part of the haunt's charm. From the farm stand to the beginning of the corn field is a 500+ yard walk with only the smallest little tea lights in old fashioned lanterns to guide your way. Much of the corn field itself is lit like this. You are given a small key chain flashlight to help you make your way. At no point do you ever feel in danger but you are constantly cautious of where to step. Although if something bad were to happen (ex: sprained ankle, panic attacks) it is tough to see where the nearest exit is. Easy enough to say just walk through the corn but unlike most other fields, The Dark Crop's corn isn't in aisles. Again, this is part of its charm. Not to mention you can shop for pumpkins and squash and all kinds of fresh organic local produce if you make it out alive. Cider and the best pumpkin whoopee pies are available inside the farm stand as well.
---
Atmosphere:

8.9
After parking and exiting your vehicle all you will be able to hear is the screams and laughs in the distance. The entire property, other than the farm stand, is pitch black. It is one thing when you can hear the laughing and chainsaws and music on the other side of a fence where you park. There is something super creepy when you can stare into a black sea of corn and only hear what you can describe as a massacre. It is a long walk from the ticket booth to the trail. More often than not you will be walking with just the group you came in with. The screams get louder and louder the further you walk into the fields still not knowing where exactly they are coming from or what is causing them. This year The Dark Crop introduces a great intro. Group by group you are forced onto a blacked-out bus and for a few minutes you hear nothing. Suddenly the entire bus screams bloody murder and they exit through the back. The whole time you are in line you are wondering what the hell is going to happen when they finally shove you inside. The cornfield is a series of thick tall corn stalks constantly brushing against you while you check your surroundings for what could be lurking. There is quite a few surprises in the corn field that fit the story of the maniacs that inhabit The Dark Crop. You will just have to trust me when I say corn is not the only thing you will be crawling through.
---
Special Effects:

N/A
The Dark Crop is made to use the natural creepiness of the corn field as well as the integrity of their actors. What other haunts might use to spice up the scares is completely unneeded in this demented corn field.
---
Theme:

8.3
Chad Zingales describes his haunt in the best way possible: "The Dark Crop is a self-guided tour through a dimly lit corn field, in the middle of nowhere. A group of demented harvesters, farmers, mechanics, and outcasts await as guests proceed single file through the stalks. You can scream; you can hustle; you can cry; you can pee……but you better NOT touch the corn!!" Sometimes the crazies are crazy just for the sake of being crazy and that is frightening enough. My favorite saying from any haunted attraction is "Don't touch the corn." I repeat this rule when I walk through the fields every year. The group I travel with might say it gets a little annoying. This year the wonderful actors at The Dark Crop made my dreams come true by writing a song all about it, and now it's my ringtone and I have no more friends.
---
Fright Effect:

9.5
The thing I love the most about The Dark Crop is that you really don't know when and where something is going to happen. As a seasoned haunt tourist it becomes easier and easier to predict what is about to happen. Most cornfield paths are cut wide and the stalks grown short but The Dark Crop has always kept it tight and tall. There is hardly any spots cut out in the corn specifically for actors to hide in. They are always IN the corn. The scenes just creep up on you when you've been walking in the corn for three minutes and suddenly BOOM an RV in the middle of nowhere. Instincts would tell you that someone is waiting for you inside but at The Dark Crop they could be outside, underneath, on top, nowhere in sight and it's different every time you go through. They are masters at keeping you nervous the whole way through.
---
Value:

9.5
Given the creepy aspects of just getting to the line of the main attraction I would say the entertainment starts before you get out of your car and doesn't end till you are far away from the farm. For only $14 ($12 for 12 or younger) you get a twenty minute corn maze filled with menacing maniacs. Have I mentioned the pumpkin whoopee pies and cider? To Die For … literally (but not really, but maybe). If you're on a diet they have a great selection of fresh picked apples and tomatoes and other produce. Huge selection of pumpkins all different shapes and sizes and colors available at the farm stand. The Dark Crop continues to be one of the great and unique attractions of New England that I have thoroughly enjoyed for the past four years. It has become a staple in the name of New England haunted attractions. A great October even at a great price.
---
Promo Images:
Click to Enlarge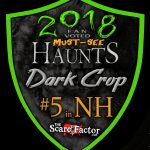 Guest ReviewsGuest Average: 0 out of 10
Sarah – 10/10Challenge Accepted was awesome! Me and my boyfriend were looking for escape rooms in our area, and …show more as poor college students, price was a big factor. Despite being only two small locations in the mall, they have multiple rooms, at 20, 40, and 60 minutes long, with the 20-minute rooms being only $10 each! We've been back multiple times, and loved every one! Staff is very helpful and enthusiastic about their job, and is thrilled to explain all the little secrets after you escape. Will be back every time they make a new room!
Norma – 4/10We visited this attraction on the last night of their 2018 season I believe. We did show up late …show more (about 20 minutes before they closed) and it was dead in the waiting line. Regardless, every group that was in the haunt somehow ended catching up to one another. We walked as slow as we could knowing there wasn't anyone behind us but we still couldn't stay away from the group in front of us. They had one teenage female that was petrified of everything so all the monsters kept taking advantage of it, cornering her every chance they got. They also followed her through multiple scenes that weren't theirs while our group tried to stay behind some and there were no entertainers around because they were all following her. When they would stop and turn around to go back to their base spots (if they even have them there), some of them just walked passed us without any effort towards scaring us. It was a disaster. This chic's name was Lauren and by the time we got to the exit of this thing, we were relieved that we didn't have to hear her name called out over and over and over anymore. She had to of been extremely annoyed by it herself. It took all of the fun out of it. Actors even stopped us in some of the maze portions so the other monsters could entertain their group for quite some time and they would just be staring off into outer space. The only way we knew they could talk is because they said Lauren's name already. Besides that, costuming was mostly store-bought quality. Nothing different to look at here. Scenes were the same. Some looked as if they had been built out there in the woods for years and they've sat through the seasons and no one's ever gone back to touch them up. Parts of the maze where there's a lot of plastic and wood seem to possibly be a danger. We didn't see any actors for quite some time in them bc they were following Lauren and if someone ignited one of these things, I'm afraid it would have taken us a long time to find the exit. Some spaces were very tight for us, if those were to fill with smoke where there are roofs, I don't think that would be good at all. At one point, we didn't know where to go at all so we weaved through these pipe-like things and found a hole and we started walking on this really dark path into the woods. There were props and things out there but 0 lights. Come to find out, it looked like a previously closed portion of the trail because when we got to the end of it, there was no way to get back into the maze. We had to crawl under caution tape to get back in. That right there tells you that no actors were paying any attention to our group. We paid full price for our tickets that night and we honestly should have just passed this place up. We've been here before too and it wasn't that bad. The highlights of the trip were the gentleman that introduced us to the park and gave us the rules before we went in. There was also one clown (Pickles, maybe
?) that actually put effort into scaring us but he was mostly one of the only ones. In one of the mazes there was a chainsaw assailant behind a door and we could hear the saw and see him through the crack of the door but we couldn't get in. When that door finally opened, holy shit! That was the best scare in there for sure! Also, there are places where you will need to duck down, tight corridors as mentioned above, uneven terrain, and a lot of walking (especially if you're bad at mazes) so be prepared for that.
Norma – 6/10Maybe we just went on a bad night but we weren't very impressed with this haunt. We had heard many …show more good things about it and we ended up with a free Saturday night so we gave it a shot. We showed up at probably 9:30 at night. Waited in line maybe 15-20 minutes so that wasn't bad. We really didn't have problems with spacing inside the haunt except for a few times but we were able to slow down and it helped when there wasn't anyone behind us. I will say, there were a lot of unique things in the haunt portion. One interactive set was very different and unnerving. Some of the characters were really into their roles while others were bland. One was sitting on top of a washing machine and he jumped down and we were thinking, "Oh shit" but he didn't do anything, he just jumped at us a little and said, "What?" In the outdoor portion of the haunt it was a bit too dark to see the characters, especially the Creeper. Our favorite part was the alligator! They know how to utilize this now, commonly-seen prop to the fullest for sure! If you are likely to pee your pants, you just might lose it on that one! I would give the house itself a 7 out of 10. Now we were under the impression that the corn field was haunted too. Although it was a good maze, there were three scareactors in it and they were terrible. No lights, sounds, sets, nothing but mud and corn and the dark. At first it was creepy but after we walked and walked and nothing happened, we were aggravated and ready to find our cars. The last actor that we came across could have hidden well since they were in all black but they didn't, they stood in the middle of the trail acting like they couldn't see, whispering to us as we walked asking us if we were customers. Wow. Don't upgrade to the corn if you're expecting a fright in there, it won't happen.