Wells Township Haunted House – Full Review
Wells Township Haunted House is a Haunted Attraction located in Brilliant, OH.
101 Market Street, Brilliant, OH 43913View All Details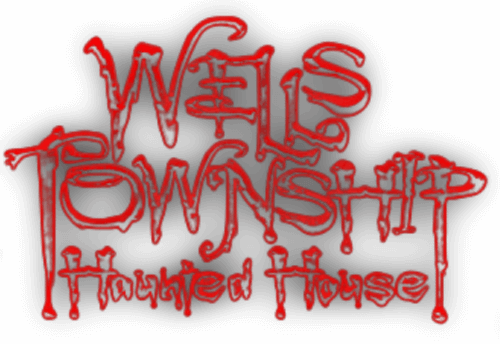 Features:

Free Parking, Restrooms/Porta Potties On-Site, Food/Concessions, Gift Shop/Souvenirs, "Old-School" (Low Tech), "Hi-Tech" Attraction, "Extreme" Attraction, You may be touched, Original Characters, Uncovered Outdoor Waiting Line, All-Indoor Attraction

Team Mysterious Misery reviewed this attraction on October 7, 2016.
Final Score:

8.63
Summary:
Mr. Norman and his scream team have been working on making the haunt their own unique piece without any help from outside entities. They finally have been successful at doing so and the pride shows bright in the haunt this year. Wells Township has a passionate cast who gets to help design their scenes, thus making them work harder and more proud of what they accomplish. This haunt uses imagination and pure ingenuity to bring you a frighteningly good time. They have the Dinkus II and the Spinning Dinkus which are exclusively brought to you from the rotting brains of the team at Wells. They are a haunt that you should check out this year and be sure to tell Pappy we say, 'Hey!'
---
Cast:

8.25
On the night we attended, we came in contact with some awesome creatures who performed very well with their roles. We also came across people that we didn't even know were there until later, which made the after effect feeling even more creepy. Many of the spectacular souls that roam around are on a volunteer basis and have a love for the haunt. On an average night, it takes between 75-80 creatures to keep Wells in working order. This crew helps tell the stories in their scenes. Wells also offers their actors and actresses 4-5 training classes before the haunt season starts so they are in tip-top shape. Shout out to the furry bears who made me smile!
---
Costuming:

8
Each space at Wells tells a different story and the crew does such a great job at making sure the costuming and makeup fit their respective scenes so that no one is out of place. You will see some of Wells' iconic characters such as Pappy, the cowboy and the local bum. They were fortunate enough to have two students come in from the Douglas Institute to show them tricks to FX painting and special effects, which helped them in adding even more realistic touches to some of the characters. Shout out to the five main makeup artists who make everyone look as hauntingly flawless as possible every night!
---
Customer Service:

9.55
Mr. Norman and his amazing crew excel in this area every year and this year is not any different. It was obvious that each cast member that was working during our visit has a love for their haunt like no other and they are eager to assist you in any way. Mr. Norman and the crew are making many enhancements as we speak. For example, they are making a bigger parking lot for future use. You just never know what they might be up to! They also have a t-shirt place on site and ready to create a t-shirt just for you. They have concessions with items to consume besides brains. They have items for sale besides t-shirts too so be sure to take a look around. They also have kick ass bands on stage entertaining the crowds while you roam around. Yes, you get to roam around because of the ticketing-number system that they utilize! If you want to sit around the fire with your group or watch the local game playing on the ball screen, they have you covered. The haunt also takes safety seriously so they are up to code, and have action plans in place. Forty two cameras are hidden in the haunt for your safety as well.
---
Atmosphere:

8.15
There's nothing like pulling up to a brick building with a lighted, Wells Township sign that looks like it has blood running from it! As you get out of your car in the darker areas you can hear the band playing music on stage. You can also witness people standing around fires making small talk. If you want to take pictures you can do so in their picture areas or you can get cozy with a creature that has escaped from the inside. Wells utilizes a ticket number board so you don't have to stand in one place, allowing you to be free to roam around like lost souls looking to feed. There's nothing more creepy than the first few minutes after you enter the first room. It truly set the tone for the rest of the night.
---
Special Effects:

9.25
The one thing that I learned about Wells Township is to be scared when they tell you to have a seat. Since this haunt is a guided tour, your soul collector will make sure you are in all the best places to experience the special effects. We've never experienced anything else like their signature Dinkus II and the Spinning Dinkus. They are one-of-a-kind items that were built by the haunt members with their pure imagination and ingenuity. Both of them will take you back to the amusement park days. Remember where you ralphed your guts up? Yeah, those days. Wells also utilizes other special effects such as lighting, sounds and smells. They do a number on your senses too! Wells Township has an amazing crew that knows how to think outside the box and that kind of thinking helps them come up with items and effects you will only see at their haunt.
---
Theme:

N/A
Wells does not utilize a single theme because they like the flexibility of making each room its own nightmare that you must travel through to get out alive.
---
Fright Effect:

8.45
In the first few minutes of your guided tour you are greeted with the most creepy thing in the area (we don't want to spoil it). He helps you meet the little old lady who will tell you about the evil spirits. After that your senses get assaulted in each and every room. There are smells that will make your stomach turn. There are lights in the correct places to throw you off. While you try to escape the darkness of Hell, don't be surprised if you get lost or shocked or even both. You will come face-to-face with horrible things that could only come from the minds of the twisted. Be very afraid if they tell you to sit down because that is when all the fun happens. Trust me when I say you are sitting for your safety.
---
Value:

8.75
Wells Township always has a great value to bring to the table and this year is no different. With local haunts increasing their prices so much, Wells becomes an even better deal. Go for the haunt, stay for the zombie challenge and pray you make it out alive to enjoy the band or the local game on the big projection.
General Admission Only – $15
Zombie Challenge Only – $10
General Admission including the Zombie Challenge – $18
Online Tickets including Zombie Challenge – $22
You MUST PRINT OUT YOUR TICKET. Bring your ticket to the Internet Ticket Reception Window located at the attraction. Purchasing an Internet Ticket provides you with a separate ticket line dedicated for VIP and Internet Ticket holders ONLY. Pre-assigned group numbers await you at this window that are separate from General Admission. Internet Ticket groups will be assigned on a first come, first served basis.
VIP Tickets including the Zombie Challenge – $30
Pre-Assigned entry times have been set aside for those wishing to upgrade to VIP status. Once you purchase a VIP, you pick a time you want to enter the haunt, based on availability. This guarantees your entry time in the attraction. General Admission and Internet tickets can be upgraded to VIP if you pay the difference.
REFUNDS:
The show starts once you arrive at the attraction. General admission refunds will be made in the form of a pass for another day. Internet tickets, VIP tickets and passes ARE NOT REFUNDABLE!
---
Promo Images:
Click to Enlarge
---
Guest ReviewsGuest Average: 7.88 out of 10
Kara Werner – 10/10 – October 17, 2020This is one of the best haunted houses I've been too I go alot and it always gets better. The actors …show more do a good job keeping the entertainment great. The zombie mazes are fun it's just overall a great experience
Yvonne Ewing – 10/10 – October 19, 2019every year my friends and I go on a hunt for the best scare. We came a crossed This attraction and …show more booked the VIP tour. I have been doing this hunt for 5 years now and we have been all over the place, this is a top 3 for me!!! After the Staff removed two intoxicated individuals we had a great time. The first two rooms where ruined due to the two that were removed but was not a disappointment going forward. The Actors were great and the scenes where top notch. for a group that is hard to scare we got our fill of heart pounding moments! we will definitely be back next year!
Sam Welder – 10/10 – March 15, 2019Always the best when we visit. The lights out is so terrifying. I was chased in the yard by a nun. …show more The adrenaline this place gives me makes me come back year after year. Can't wait to see what this fall has in store.
---
Past Awards
---
2022 Awards
Most Creative Set - Fright Box (Given by: Team Houdini)
Highest Rated Haunt (Given by: Team Houdini)
Highest Rated Entertainment & Value (Given by: Team Houdini)
Goo - Taylor Norman (Given by: Team Houdini)
---
2020 Awards
Most Unique Scene - Donkey Kong (Given by: Team Houdini)
Most Original Character - Gameshow Host (Given by: Team Houdini)
Best Entertainment and Value (Given by: Team Houdini)
---
2017 Awards
Scariest Haunt in Ohio (Given by: Team Mysterious Misery)
---