2022 Haunt
Season Stats:


(9/1/22 – 11/1/22)via Google Analytics
Users: 602,028
Sessions: 698,168
PageViews: 2,576,267
Pages/Session: 3.69
Avg. Session Duration: 8:48
Bounce Rate: 3.28%
%New/Returning: 90.6/9.4%
The Scare Factor is a haunted attraction review website with a very popular directory of these unique local businesses. Each year, millions of users flock here to find haunted houses, in-depth reviews, and other information about the attractions they plan to visit.
"We find 'em – You GRIND 'em!"

Take advantage of our SEO and capture the attention of people that are looking for you! Here's how you can do it:
---
Banner Ads on The Scare Factor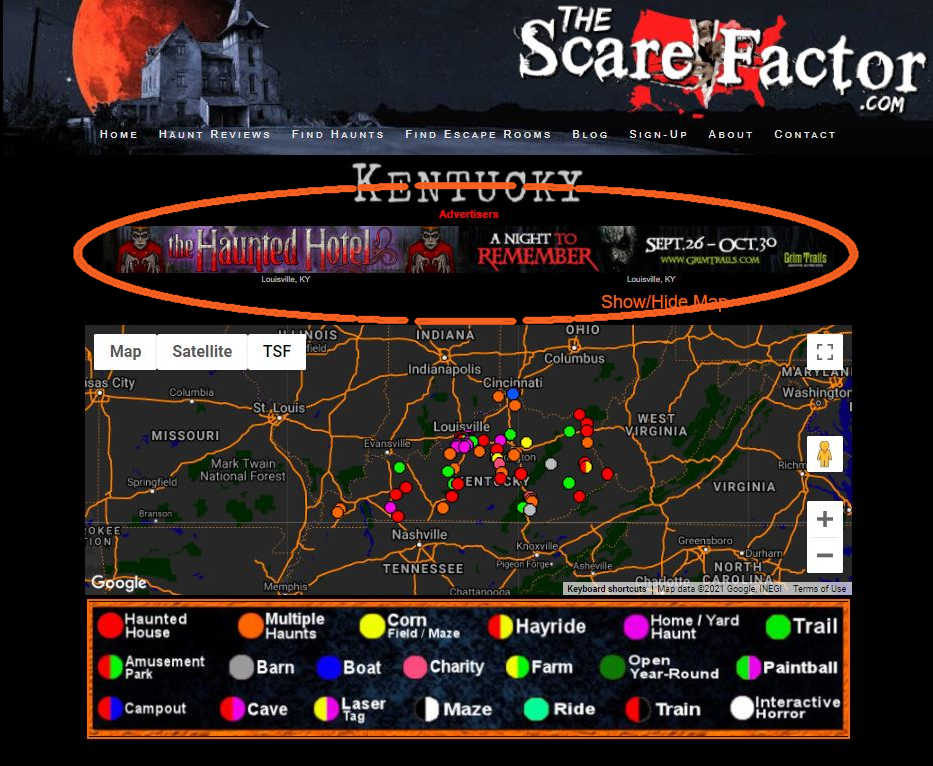 Add your rectangular banner to the top of our most popular pages!
Features:
Each page is priced separately – based on popularity.
Placement on the page is continuously randomized. Allows each advertiser equal opportunities to have that "top spot" on the page.
Click-Through Rate (CTR) stats are recorded and will be made available to you upon request.
Most advertisers can expect a CTR between 0.21% – 0.67% (about 3x-11x the national average*)
*According to a study performed by SmartInsights.com in March of 2017, the national average for banner ads across all industries was 0.05%.
Heads Up! – The following tiers are based on 2021 website traffic. The states in each tier may change shortly after 2023 arrives.
"Hi-Viz" Banners:
$350/year
Requires a 406×52 Ad Banner (you provide or we create)
Each page has a max of Ten (10) ad spots:
"State Directory" Banners:
$20-$150/year
Requires a 406×52 Ad Banner (you provide or we create)
Each State has a max of Ten (10) ad spots available:
$150 Tier
$50 Tier
$20 Tier

All others not mentioned above
"Haunt Advisor" Sponsorship:
$75/year
Requires a 406×52 Ad Banner (you provide or we create)
Placement at the bottom of every "Haunt Advisor" email newsletter that we send.
Max of 10 Banner placements. Banner placement within the ads block is "first come, first served."
---
Premium Directory Listings:
Price Range: $50-$200/yr.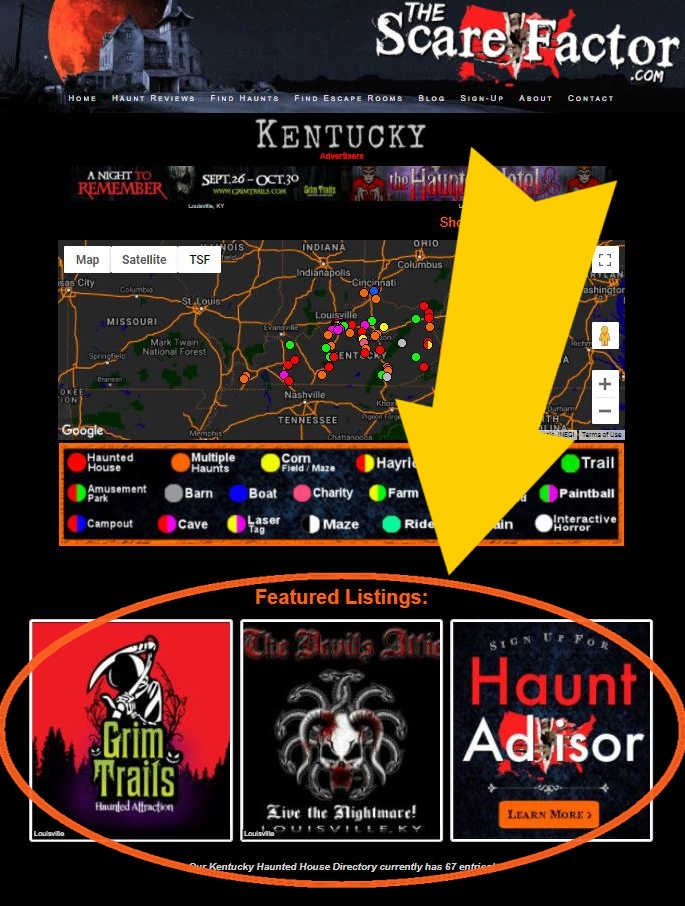 While your regular listing on The Scare Factor is 100% free, you can upgrade to a Premium Directory Listing as well!
Features:
Requires a 500×500 Ad Banner (you provide or we create)
Ad Banner placement above all other listings on your State's Directory page (just below our interactive map – see photo).
"Carousel"-style ad block allows customers to easily find your "Featured Listing."
Additional placements at the bottom of every other haunt's page in your State!

The price and number of additional placements is directly based on how many haunt listings we have in your State.
The same "Featured Listings" carousel is used in these placements as well.
Pricing:
Requires a 500×500 Ad Banner (you provide or we create)
Each State has a max of Ten (10) ad spots available:
$200 Tier

States shown in $350 and $150 tiers above

$100 Tier

States shown in $50 tiers above

$50 Tier

All others not mentioned above

(If fewer than 3 Ad holders are present, then we will fill up to two (2) spots with our in-house banners, or the "Featured Listings" section will be removed entirely. This is to ensure at least three (3) banners are present in the carousel – for science!)
Expansion Available!

Expand your Premium Directory Listing placements into a neighboring State!
Expansion price is 50% of the cost of that State's normal PDL price.
---
Standard Listing Banners:
Price: $20/yr.
Features:
Our budget-friendly way to add a simple banner above your listing!
Help your listing stand out from the rest on your State Directory page, AND within our Search Results page.
These ads receive the same Click-Through Rate (CTR) stat benefits as our "Hi-Viz" and "State Directory" Banners.
---
Free Stuff
Everybody likes free stuff, right?
Get a free image next to your haunt's listing by linking back to us from the home page of your website with one of these banners:
In the code below, change "http://www.thescarefactor.com/" to the URL for your attraction's "Details Page" on our website.
You can find this by searching for your attraction and copying the link in your address bar once you get there.
---
---

More styles and custom sizes are available. Contact Us today to receive your haunt's custom code to embed on your website.
---
Review Widget
Have you been reviewed by one of our Scream Teams? Build excitement for your attraction by adding this simple widget to your website!

The code below creates a small box on your web page and fills it with a snapshot of your professional review. It includes your overall score and a short clip from the review with a link to "Get the Full Review." The best part is, it'll update itself automatically whenever your newest review is published, so you'll never need to add it to your "To Do" list again!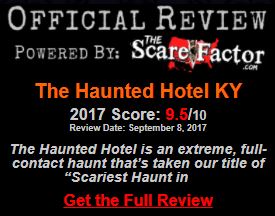 Contact us today to receive your haunt's custom code!
---
Don't have a website?
Mention The Scare Factor in the "About" section of your Facebook Page and get a FREE "backlink image!" Contact Us to learn how…
---
Directory Listings
We manually search the web to make sure we have as many accurate listings as possible. But, we do miss some occasionally and attractions may update their information after we've updated our listings. Here's how to make sure your haunt or escape room is listed and the information is accurate:
For starters, visit our Haunted House Directory to see if we've got you listed already.
If we've missed you, or if your information needs an update, contact us here with your info and we'll make the appropriate changes (usually same-day during haunt season).
Standard listings are 100% free and always will be! If you're interested in upgrading your listings, see the "Banner Ads on TSF" section of this page.
Notes:
We're sure you have questions, so here's a few things you should know about how we handle our advertisements:
1. Emails. We may attempt to contact you via email after you submit your "Contact Us" form. Be sure to add "TheScareFactor@Gmail.com" and "Info@TheScareFactor.com" to your contacts to make sure we don't end up in your spam folder.
2. Payments. Invoices are sent via PayPal. This allows you to securely pay with your favorite credit card and have a recordable expense for tax time.
3. Stats. Impressions (aka "views") and clicks are tracked for some ads, which helps us determine your Click-Through Rate (CTR). This is a vital performance metric for your ad, which can help you understand how well your ad is performing and meeting your goals. Such information (if available) will be made available to you upon request.
Of course, if you have any other questions at all, just ask!