Alice In Wonderland at Riddle Me Out – Full Review
Alice In Wonderland at Riddle Me Out is a Escape Room located in , .
435 Fifth Ave, 4th Floor, New York, NY 10016View All Details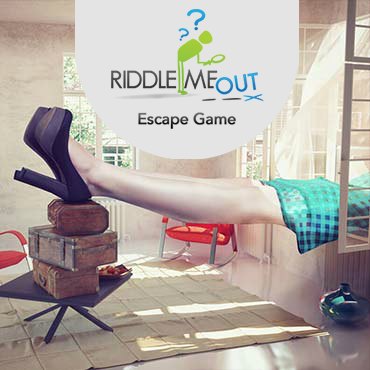 Team Scare Response Unit reviewed this attraction on July 25, 2017.
Final Score:

5.87
Summary:
Team Crypt Creepers took a trip down the rabbit hole, with an adventure to Riddle Me Out's Alice in Wonderland themed room. With promises of plot and character references, we ventured forth to witness Alice's wonderland brought to life in this multiroom tribute to Carroll's work. And while we managed to escape with 11 minutes left, we found some of the gameplay mechanics curiouser and curiouser. So call us your White Rabbit, and follow us through the looking glass and into our review for this escape room.
---
Atmosphere:

5.25
Finding the location may be a bit tricky if you aren't looking closely at your surroundings, especially above you. Located in midtown Manhattan, on the ever-busy 5th Ave, the entrance is a single glass door with a placard slightly smaller than a shoebox next to it that says 'Riddle Me Out.' Up on the 4th floor where the rooms are located, is also the name 'Riddle Me Out', and their icon of a stick figure with a magnifying glass, on the windows. So if you aren't paying close attention, you may walk right by it.
The lobby is comfortable, with plenty of cushioned seats for guests to relax on until the time of their game. But without the logo and name of the place painted on the wall, you wouldn't really be able to tell you were at an escape room.
Sitting on a small table were a bunch of metal brain teasers, which were all already done and not reset.
---
Theme:

7.5
With escape rooms popping up all over, some themes and scenarios are recurring and similar. But an escape room based on Alice in Wonderland was a new one to me, and one I greatly appreciated. Not going to lie here, I'm a sucker for anything Alice related (one of the first computer games I ever played was American McGee's Alice), so when I heard there was an escape room based on the classic tale, I jumped at the opportunity to do it.
In a city where most escape rooms are sci-fi, horror, or action themed, a literary based fantasy theme was welcome and appreciated. Many characters either make an appearance or are mentioned, as well as plot points. As with any escape room, you are locked in until you either find the way out or time runs out, but there is no real sense of urgency to get out, and you don't really need to know anything about the story itself to get out. There may be one or two clues where if you know the story, you can solve slightly faster, but not reading any of Alice's adventures won't put you at a disadvantage.
---
Special Effects:

5
This room wasn't a James Bond archive of technology, but there were a few decently hi-tech or science-y sfx. Unfortunately, some of these effects are well hidden behind the props and such which they correspond. At least two clues were explained to us after we finished, and though they sounded cool in concept, none of us could think of how we were supposed to know about them without a guided tour. There was no music or sound effects used, which made it even more creepy when the ominous voice came through the speaker system (but I'll get to that in gameplay). There were a number of props and such that were there just for looks, and at times that made it confusing to the players, especially when certain clues specifically depict something, but it turns out it's not needed at all. Lighting was used decently as well, making use of black lights and glowing paint. But ultimately there were no effects that were truly impressive or that really stood out.
---
Gameplay:

5.5
This room left us feeling as puzzled as Alice at the Mad Tea Party. Sure, we eventually escaped, but not without some serious help. This room is labeled as a moderate difficulty, and sure there were no existential conundrums or mathematical equations to be solved, but we all agreed that moderate may have been an understatement. The clues were not to be solved in any specific order, which led to confusion as to what went where and what was our next goal. The hint system seemed lenient at first, but really just became more of a chore. A touch screen counted down how much time we had left, as well as how much time until we could get our next hint (1 every 5 minutes). When the 5 minutes was up, we could pick from a list of things, and we would get a hint about the corresponding item. The issue with this was there were hints for things we already solved, which a few times led to the waste of a hint. Some of the clues and puzzles were interactive, so much so that some required multiple people acting at the same time. Again though, for some of these the hints were not helpful, which eventually led to The Ominous Voice! At the 30 minute mark, you get 'live help,' which means the game host speaks to you through the speakers. We all took that to mean 'at 30 minutes, the voice will give us 1 hint,' but instead the voice gave us riddling clues when we seemed completely dumbfounded. This caught us off-guard many times where we would be scattered about, searching or trying things, when suddenly the man behind the curtain instructed us to try something that none of us would have ever been able to think up on our own. If it weren't for the voice, we wouldn't have escaped, which depending on your point of view, could be good or bad, especially since some of the clues were hidden in places extremely difficult to tell if you managed to get them all. Overall, in a world where up is down and left is bacon, we were as lost as Alice in some regards.
---
Customer Service:

7
The staff here are friendly and personable. Our game host talked to us for a bit before getting into the nitty gritty. Some other team members had an issue and were running a little behind, so the game master let them in after the game started. If your group happens to have an issue, they are willing to help you reschedule for another day.
It is highly recommended that you make a reservation. Walk-ins are welcome, but you never know if another team has reserved that time slot, so walking in could lead to either long wait times or not getting to play at all. But making a reservation is very easy with the use of their website.
Specifically for the Alice room, there are low doorways, and at least once I did manage to pop my head against it while going in and out, but other than that there are no real hazards.
---
Value:

5
The normal ticket price for this escape room is $38. This is a bit on the higher end for escape rooms here in NYC. Though groupon and Livingsocial usually have deals ranging from $15-20 a ticket. There are no incentives for return visits, though they do have 3 different rooms to choose from.
---
---
Have you visited this attraction?
Join ourspookyadventures!
We visit Halloween haunted attractions year-round! Follow us for haunted house walkthrough videos, behind the scenes footage, and more!