AMS Haunted Attractions – Full Review
AMS Haunted Attractions is a Haunted Attraction located in Maryville, TN.
3661 E Lamar Alexander Pkwy, Maryville, TN 37804View All Details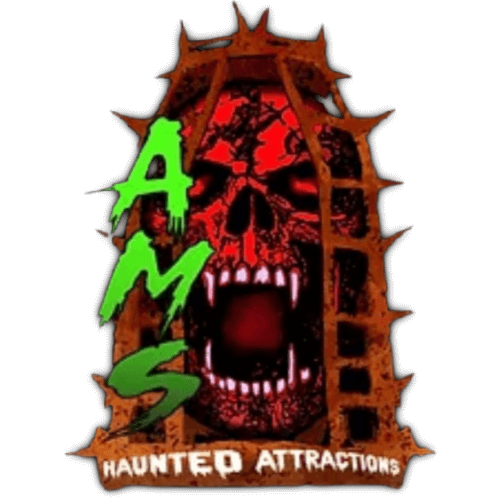 Features:

Free Parking, Restrooms/Porta Potties On-Site, Handicap Accessible, Food/Concessions, Optional Games/Midway, You may be touched, You will NOT be touched, Original Characters, Uncovered Outdoor Waiting Line, All-Outdoor Attraction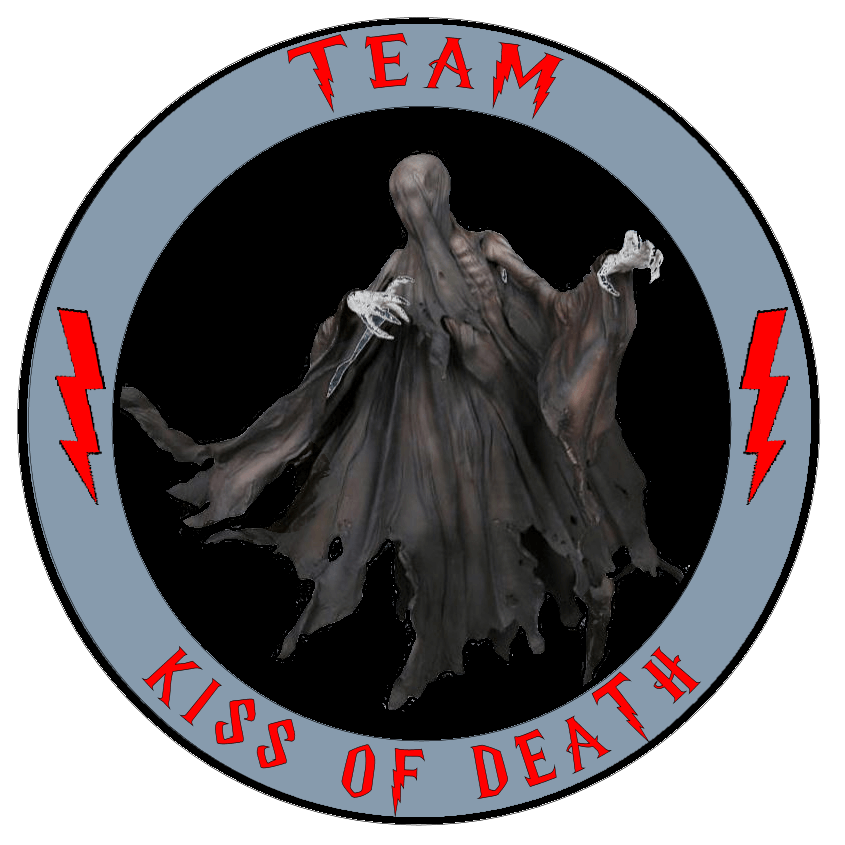 This attraction was reviewed on October 7, 2022 by Team Kiss of Death.
---
About Our Reviews and Rating System
---
Final Score: 7.75
Final Scores – By Category

Final Scores – By Attraction

Summary:
AMS Haunted Attraction is going on their 3rd year in Maryville, Tennessee, and is entirely an outdoor haunt. They offer an optional touch pass, but if you do this, be prepared to get a little dirty. The actors, it seemed, wanted us to be a part of the show too. This was our first year attending this haunt, and we were not disappointed and have decided to add it to our library of haunts!
Get ready to face your fears in this prison/asylum. Everything was running smoothly at Hillside Penitentiary and Asylum until one day the executioner lost his mind and decided to recruit prisoners and mental patients alike to kill anyone and everyone they came in contact with. We decided to brave Hillside and just barely escaped the clutches of the executioner. Can you escape too?
---
Cast Score: 7.95
Cast Scores – By Question

Cast Scores – By Attraction

Cast Review:
Around every corner, another prisoner or mental patient seemed to be waiting for us. There certainly is no shortage of actors here. They played their parts very well. One actor stood out for us the most; he was behind a fence in what was probably death row since he kept asking us to join him in death row while acting incredibly crazy, licking the fence. Yikes!
There was some interaction between the actors and my team. Most would just scream at us for help or try pressuring us to join them. The two actors in the very beginning would prompt us for responses even though they made us very uncomfortable in an eerily spooky way! Some would block our path with unconventional doors or various weapons. One actress even distracted us by showing us one thing, while scaring us with a prop in another direction.
The behavior of the characters was random and kept us on our toes. Many of them would jump out of darkened corners, while others would lurk or follow us through certain areas. The nun kept asking for forgiveness while covered in blood. I don't want to know what happened there! We even encountered some deranged kids that wanted us to stay and play.
---
Costuming Score: 5.46
Costuming Scores – By Question

Costuming Scores – By Attraction

Costuming Review:
A lot of the costumes were lacking some of the necessary details to make them seem realistic. We noticed some of them simply wearing a t-shirt and jeans while others were wearing a simple design created by a large costume franchise. With that said, others were wearing some unique and detailed designs that really seemed to fit with the theme of the haunt.
For those actors and actresses that were either wearing a mask or had some makeup done, it was done effectively. We didn't notice anything that truly stood out above the rest, but nothing seemed out of place or truly missing any important details.
Most of the costumes with their respective scenes seemed to fit together well. We saw a nun in a church, a butcher in a kitchen, victims behind a cell, and multiple escaped prisoners throughout the haunt. There were a few that seemed slightly out of place. I didn't quite understand why there was an actor dressed all in black in a prison/asylum but we are in an asylum where people have gone crazy and enjoy weird things.
We only noticed 2 queue actors and they both seemed slightly out of place. The costumes and masks were decent but it didn't make sense for them to be at a prison/asylum.
---
Customer Service Score: 8.61
Customer Service Scores – By Question

Customer Service Scores – By Attraction

Customer Service Review:
AMS Haunted Attraction was fairly easy to locate, but we also arrived when it was still daylight. We noticed the sign at the entrance was fairly small and not well-lit as we were leaving. Parking was pretty self-explanatory, but it would have helped to have a little more lighting or parking attendants.
Overall, the haunt is safe. One of the haunt owners is a police officer, many of the managers are first aid certified, and they typically have the local fire department on site. The only thing that would have made it even safer is more lighting in the parking areas.
Everyone we encountered was incredibly helpful and willing to answer any questions we had. The only thing that would have helped even more was to make it more obvious who the staff members are. It was difficult to tell who was on staff and who was a visitor.
Prior to arriving, we located most information about the haunt within a few minutes. The website is easy to navigate and most questions are answered just by browsing for a few minutes. The only questions we had were regarding parking, if the haunt is indoor or outdoor, and whether or not the haunt is ADA accessible. There isn't a place on the website that specifically says anything regarding this information. It does state that they try to stay open even if it's raining so that led us to believe the haunt is outdoor. We also had to reach out to the haunt about parking. This website is also a good place to read up on the backstory as well.
---
Immersion Score: 7.63
Immersion Scores – By Question

Immersion Scores – By Attraction

Immersion Review:
The pre-haunt areas seemed to be filled with excitement. There was a bonfire, a photo op, corn hole, and snacks and drinks available for purchase. And don't forget about the scare actors roaming around while you wait in line!
The storyline was pretty obvious. They had the entrance labeled as "The Hillside Penitentiary and Asylum." There were prison bars and chain-link fences all throughout the haunt. The only thing that would have made it more believable is if the haunt were actually in a real prison or asylum. This haunt is completely outdoors, but they did well in making it feel like we were inside.
For the duration of our visit inside the prison/asylum, we were almost consistently immersed. I noticed a small opening that was probably an actor entrance and almost walked through it when I noticed another door that was obviously meant for visitors. The chain-link fences and prison bars helped keep up the realism of the haunt. Even multiple scenes made us feel like we were inside a church or kitchen, etc.
Once we exited, we were back out in the midway area. It made us feel like we didn't have to leave immediately. It also kept up the haunting atmosphere.
---
Special FX Score: 7.63
Special FX Scores – By Question

Special FX Scores – By Attraction

Special FX Review:
We only noticed one main sound effect: an alarm. It was perfect for the atmosphere of the haunt and it makes sense to only hear that throughout the haunt. We didn't notice if the alarm was continuous though. At some point, it cut out because they wanted us to focus on the dialogue/screaming from the actors.
Most of the scenes were artfully created with chain-link fences, prison bars, brick walls, etc. We could easily tell what type of room we were in as soon as we stepped inside. Some spaces just had black plastic to separate one room from the next, but overall well done.
The props inside the haunt were realistic and creepy looking. They had bodies hanging from the ceiling, someone in an electric chair, bones, and skeletons everywhere. The animatronics that had to be triggered were strategically placed so we didn't see them until they were triggered.
Most of the lighting was just standard dimmed lights to help guide us through. There were strobe lights which effectively created a guessing game of "where is the scare actor?"
---
Scare Factor Score: 7.86
Scare Factor Scores – By Question

Scare Factor Scores – By Attraction

Scare Factor Review:
We were effectively scared and/or offended. We decided to do the touch pass option and things got a little bit weird with one of the actors. My glasses were stolen and he rubbed fake blood on our faces and clothes. Be prepared to get dirty if you decide to do the touch pass option!
There were only 2 of us going through, so we both seemed to get every possible scare they could offer. However, they seemed to single one of us out. He tends to make sarcastic remarks in a haunt so maybe that made them angry. Haha!
We never caught an actor off guard. They were catching us off guard, which makes the experience even better. Distractions were used, props were timed correctly, and actors would come out of dark spaces that we never knew were there.
Most of the scares were jump scares or victims screaming for help. They liked to scream in our faces as well. They also used dolls, camouflage, distractions, victimization, and blood and gore.
The finale had your standard guy with a chainsaw. Nobody likes to have a chainsaw in your face so that always gets us moving!
---
Entertainment & Value Score: 8.5
E&V Scores – By Question

E&V Scores – By Attraction

E&V Review:
Overall, AMS Haunted Attractions was entertaining! I wanted to do it all over again once we left just to see the things we missed the first time around. The haunt was just under 10 minutes and has a minutes-per-dollar rating of 0.95.
The entertainment provided outside the haunt was decent. At the very least, we had the option to stay warm by the bonfire. The scare actors seemed to keep things exciting as well.
The ticket price for this haunt is $10. They also offer a touch pass, fast pass, and a double take to go through the haunt twice. I felt like the price was appropriate for the entertainment provided compared to other haunted houses.
---
View Full Score Sheet
---
Pics We Took From Our Visit:
---
Promo Images:
Click to Enlarge
---
Guest ReviewsGuest Average: 9.63 out of 10
Felicia – 10/10 – October 29, 2023This Attraction was amazing!!! There were actors around every corner, full of jump scares, creepy …show more scenes, and lots of fun!!! This is one you must see!!!
Tami – 10/10 – October 14, 2023I haven't been to a haunted attraction for years. I am so glad I chose this one to visit. It was …show more awesome and enjoyed all they had to offer. It was so much fun and not sorry to admit that they got me a few times.
Jessica – 10/10 – October 13, 2023It gets better every year!!!
Join ourspookyadventures!
We visit Halloween haunted attractions year-round! Follow us for haunted house walkthrough videos, behind the scenes footage, and more!