Anderson Hotel Haunted House – Full Review
Anderson Hotel Haunted House is a Haunted Attraction located in Lawrenceburg, KY.
118 South Main Street, Lawrenceburg, KY 40342View All Details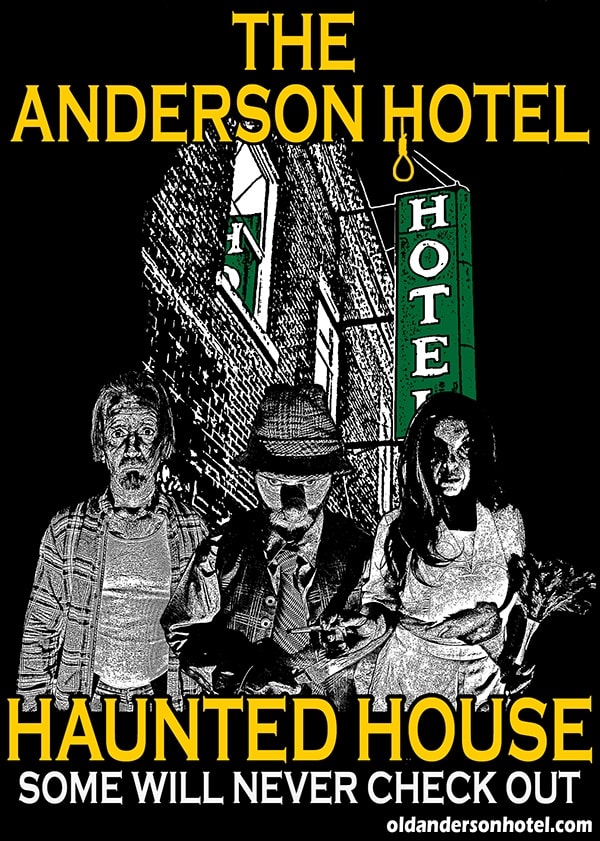 Features:

Free Parking, Restrooms/Porta Potties On-Site, Gift Shop/Souvenirs, "Old-School" (Low Tech), You will NOT be touched, Movie Characters, Original Characters, Indoor Waiting Line, All-Indoor Attraction

Most Recent Video from The Scare Factor:
(Scroll for Scores and Written Review)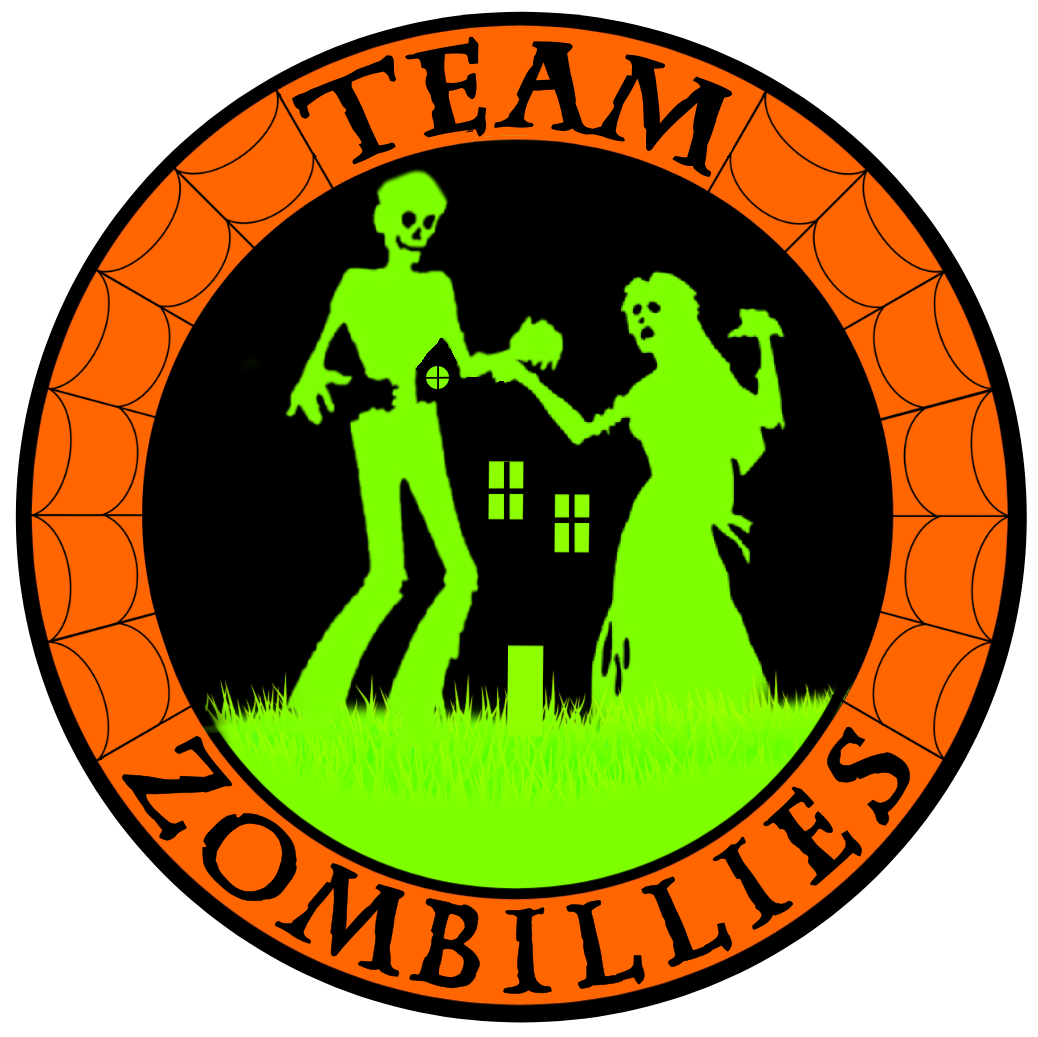 This attraction was reviewed on October 21, 2023 by Team Zombillies.
---
About Our Reviews and Rating System
---
Final Score: 8.15
Final Scores – By Category

Final Scores – By Attraction

Summary:
The Anderson Hotel Haunted house, formally the Lloyd Hotel, is in downtown Lawrenceburg, Kentucky, and was built in 1935. A dark past consumes the building that once provided a place to stay for travelers. Factually speaking, thirteen people have met their tragic deaths within these very walls.
The hotel officially closed years ago, but it is now open annually during the haunt season to let scare-seekers like yourselves get in on the frights! Paranormal investigators have reported activity within the hotel, including human bite marks on their arms!
Many attempt the haunt experience, though many check out early, unable to finish the tour. A combo ticket gives you a tour of the [more] haunted portion, followed by the traditional haunted house experience on the opposite side of the building. Who are we kidding, though? There's nothing traditional about this at all!
We opted to tour the paranormal "Bad Side" as well, but we will be reviewing the classic scare attraction where the cast reenacts the deaths of former visitors as we wait for our room to be ready!
Would you stay in The Anderson Hotel? After our visit, we can tell you we would not!
---
Cast Score: 8.84
Cast Scores – By Question

Cast Scores – By Attraction

Cast Review:
The hotel's characters formed a convincing ensemble. Almost all of them engaged with us, either pausing to perform their acts before we could move on or startling us into the next room. They kept the hotel bustling, leaving little downtime between scenes.
The first cast member inside to greet us was the manager of Anderson Hotel. This guy was quick-witted and could roll with any dialogue thrown his way! He had us sit "comfortably" as he explained that people visit the city for the bourbon and pay a lot of money to stay in his hotel. He was steadfast on the rules of no running up and down his hallways and zero partying. A slumped-over lady woke up as he spoke, staring at us from a nearby couch. As she glared into space, bugs started falling out of her mouth. The manager quickly told us to pay her no mind. Okay, then!
Additional interactive dialogue and characters ensued, including a fortune teller who removed her hood to show us her "good eye." She pulled a card for our group and soon after awakened the dead. Upon asking for one of our palms, she decided it was too pure, and upon cutting her own, she squeezed her own blood (or appeared to) into a chalice of liquid. From there, we had a run-in with the coroner, an additional encounter with the manager, and Daphne, the hotel maid that's always on break.
Daphne was another stand-out character with a cartoonish accent. She informed us that if we needed anything, she really didn't care. At times, characters were seemingly alive, interacting with us and the scenery, and then suddenly, they were gone. Or were they?
---
Costuming Score: 8.24
Costuming Scores – By Question

Costuming Scores – By Attraction

Costuming Review:
The costumes embodied the characters well, providing an authentic appearance. Each person's appearance matched their part, with meticulous details enhancing their character's story and quirks.
Both masks and makeup were utilized, with an emphasis on cosmetics. Although not super detailed, it was optional, as they could match the theming with or without it. The skull mask worn by the creature that appeared out of nowhere added to their frightfulness!
The majority of the costumes were those of hotel staff, workers, and customers. Our initial guide into the building had on a tattered and bloody shirt, a hat, dirty jeans, and ghostly pale makeup. The bellhop appropriately featured a bellman coat, pants, hat, and gloves; well done!
The manager was a dead-ringer for the role. From head to toe, he sported stained, unkempt attire, greased-back hair, a white undershirt beneath an open flannel shirt, suspenders trailing below his pockets, and worn work boots. He even sported a convincing bullet wound on his head and a jangle of numerous keys.
When the fortune teller pulled her hooded robe down to show us her "good eye," she appeared blind in the other as one of her eyes was almost entirely white. Her hair was messy, and crystal bracelets on her arms added to the mystic role!
The coroner, Daphne, and the serial killer clown were dressed appropriately. All of them had something in their hands that was pertinent to their character. The coroner had a flask in one hand, a cigar in the other, and a stethoscope around his neck. Daphne sported a maid's dress, a white apron, a name tag, dark-rimmed glasses, and cleaning gloves. She rushed out of her break room and waved her feather duster at us at the first indication that we wanted fresh linens.
The serial killer clown matched their description on the TV we had watched earlier. Other characters had bibs, a wrinkly mask, different styles of dirty-looking attire, and well-detailed makeup at times.
---
Customer Service Score: 8.55
Customer Service Scores – By Question

Customer Service Scores – By Attraction

Customer Service Review:
Finding the hotel was easy by way of Google Maps. However, with their downtown location, there was no designated parking lot, so it took us a bit to find available street parking. If you need to purchase your tickets on-site, visit the ticket tent at the back of the building *before getting in line. We did hear friendly staff members reminding guests of this. There was also a sign at the front of the building to inform guests of this.
During our visit, there wasn't much going on in front of the haunt to signify that it's a place to get your scare on. Extensive storm damage renovations are taking place on the front of the building, so there was a lot of scaffolding masking the hotel's authentic and historic appearance. Despite this, a large banner was hanging from the framing to reinforce that the haunt was still open for business.
We had to navigate several staircases inside, but they were well-lit. There were a few moments inside when we needed clarification about where to go. Sometimes, the staff noticed and guided us.
The haunt staff that we encountered outside were friendly. The haunt does have a website, and they are active on Facebook. Finding ticketing information was easy, but finding information about the haunted house and common FAQs was difficult. Their site has a teaser trailer that can give you insight into what to expect.
---
Immersion Score: 8.11
Immersion Scores – By Question

Immersion Scores – By Attraction

Immersion Review:
Although under construction as of this writing, The Anderson Hotel takes place in an authentic brick building in downtown Lawrenceburg, Kentucky. During our visit, scaffolding and large banners covered the front. Some blacklight mood lighting illuminated the front door entrance.
When we spotted a man outside wearing a bloody shirt with burn holes in it and waving around a cane with disgusting teeth, we knew we just had to be at the finest establishment in town! Before entering, we were shown a video introduction that revealed some breaking news.
In the video, we were given a glimpse inside the Anderson Hotel, where a deranged serial killer had taken root. Upon trespassing on the property, some kids found a gruesome discovery inside. Serial killer Early Ray Johnson was arrested. But, as we kept watching, breaking news revealed that the serial killer was, again, on the loose. The video pans to the city's Mayor, who warns everyone to stay safe, stay inside, and lock their doors.
The eeriest moment in the video was realizing that the Mayor on the screen was indeed the city's Mayor (Troy Young), making the serial killer story oddly convincing.
Upon our arrival inside the decrepit hotel, a tarot card reader drew the Death card, hinting at spiritual mysteries within. Before we left, she stirred the spirits.
As we ventured deeper into the hotel, the narrative from the TV and the fortune teller's words began to unfold before our eyes, intensifying the immersion. The characters reiterated each other and worked remarkably together to bring this story to fruition.
Upon exiting, the haunt's ticket tent was near the road, where guests could purchase a t-shirt or book.
---
Special FX Score: 7.48
Special FX Scores – By Question

Special FX Scores – By Attraction

Special FX Review:
The Anderson Hotel thrives on the actual hotel's genuine, old-school, raw ambiance and internal elements. You won't find a bunch of eye candy or any animatronics here.
The hotel was dirty and disorderly and reeked of death and urine! As we made our way through a clothing-confined closet, past and through hotel rooms, and down hallways, we heard some low music and swarming flies accompanying the rambunctious tenants. We swear it wasn't us making all of that noise!
A standout effect was a room that combined flames and fog to create a convincing illusion of a blazing inferno. In other rooms, we stumbled upon a seemingly self-ringing bell, dilapidated hotel furniture, flickering candles, and old TVs. The hotel's aesthetics might not have been pretty, but they were undeniably authentic.
Unexpected surprises occasionally triggered lighting changes, revealing previously unnoticed details in the rooms or on characters.
---
Scare Factor Score: 8.14
Scare Factor Scores – By Question

Scare Factor Scores – By Attraction

Scare Factor Review:
The wall of early checkout tallies certainly left our hearts racing upon entering! What made these people pay money and leave their experience early? Well, we can tell you, the smell didn't help.
The Hotel offered authentic, spine-tingling experiences that had us screaming into adjoining rooms. Leveraging the hotel's history, they brought gruesome scenes to life, with the occasional jump scares and clever surprises.
The eccentric hotel staff set an unsettling tone in a place we wanted to avoid when we detected the ominous smell. The presence of corpses, blood, and lethal inhabitants only intensified our unease. So once we were already tip-toeing through the hallways and rooms, all they needed to do was come at us from an unexpected angle, and they did!
We can't ruin all surprises, but be prepared for the unthinkable. The execution of several scenes left us puzzled. Everything seemed so real! At the finale, we got tag-teamed by multiple assailants simultaneously! There was also a chainsaw involved.
---
Entertainment & Value Score: 7.63
E&V Scores – By Question

E&V Scores – By Attraction

E&V Review:
There are several different room packages at The Anderson Hotel. You can stay in a single room for $15 per night per person. The blood-stained sheets are complimentary, but they will turn that mattress over for you!
If you are interested in expediting your stay, you can do so for $30, and that will get you a Dead Pass (VIP ticket) that includes a special tour of the "Bad Side," AKA the haunted side. If the Dead Pass interests you, you better hurry and purchase your tickets; these are limited per night!
During our visit, we spent about 18 minutes trying to find our room, including the video introduction at the beginning. This intro provided a more personal and immersive experience than we've undergone here in the past; this is not a typical, fast-paced walkthrough attraction. At the general admission price, that brings the MPD (minutes of entertainment received per dollar spent) of the main haunt to 1.2 – which is above the average that we see most often.
We experienced the Dead Pass but have only scored and reviewed the primary haunt side. Should you choose to experience the "Bad Side" – there are sounds, some lighting, and possibly a few spirits lingering inside. This tour was a self-paced journey through the very haunted portions of the hotel. We were equipped with only one glow stick as our light source. You may also encounter some scares on this side, and this tour was shorter in duration.
Other than the owner we encountered outside the hotel, we didn't receive any additional entertainment while we waited.
We are told that, on Halloween night, you can purchase a glow necklace upgrade to signify that you'd like to be touched by the cast.
Keep in mind you are entering an actual haunted building, and the ghosts like to get involved sometimes! Are you ready to come face to face with the hotel's dark past?
---
View Full Score Sheet
---
Pics We Took From Our Visit:
---
Promo Images:
Click to Enlarge
---
Have you visited this attraction?
---
Past Awards
---
2019 Awards
---
---
Past Awards
---
2019 Awards
---
Join ourspookyadventures!
We visit Halloween haunted attractions year-round! Follow us for haunted house walkthrough videos, behind the scenes footage, and more!