Asylum X Haunted House – Full Review
Asylum X Haunted House is a Haunted Attraction located in Fort Smith, AR.
223 N 10th Street, Fort Smith, AR 72901View All Details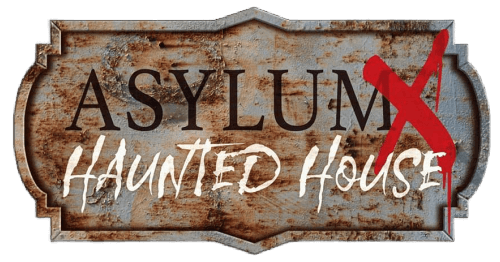 Features:

Free Parking, Restrooms/Porta Potties On-Site, Food/Concessions, Special Events, You will NOT be touched, Original Characters, Uncovered Outdoor Waiting Line, Indoor/Outdoor Attraction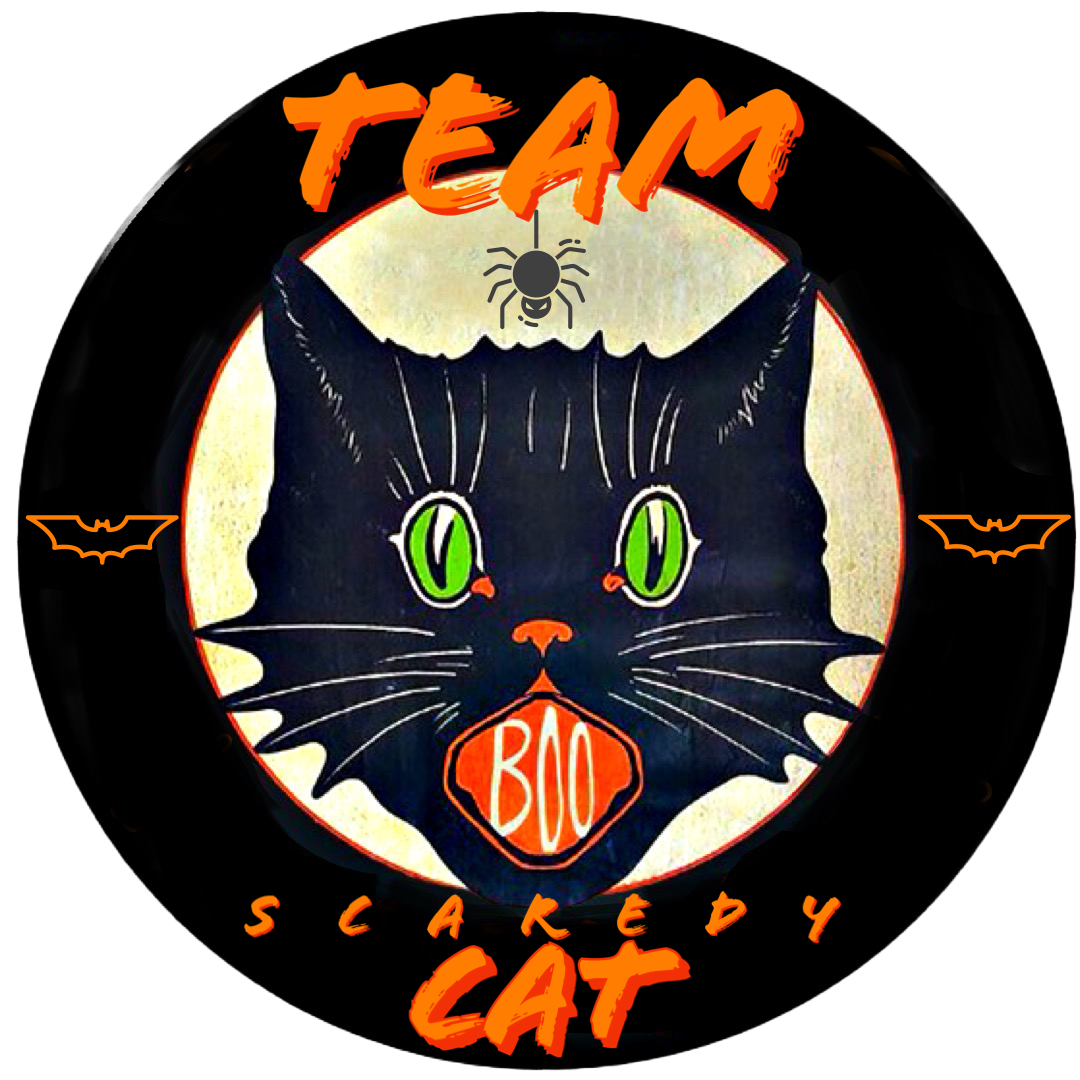 This attraction was reviewed on October 7, 2023 by Team Scaredy Cat.
---
About Our Reviews and Rating System
---
Final Score: 8.88
Final Scores – By Category

Final Scores – By Attraction

Summary:
In historic downtown Ft. Smith, Arkansas, you will find Asylum X, a haunt in its second season, eager to scare you to death! Asylum X lets you experience a total takeover of an experimental asylum with escaped, crazed patients lurking everywhere. With most of the props coming from old jails, hospitals, and asylums, it doesn't surprise us that paranormal activity has actually been reported inside this 6,000-square-foot warehouse! Asylum X even offers a night ghost tour of the building without actors after closing and per appointment!
This haunt turned up the scares this year by adding new scenes, more actors, and innovative ways to be interactive. They have even added 2,000 square feet of outdoor space! Don't let some of the young actors fool you; there are no kiddie scares in here! We love their partnership with the Ft. Smith Boys and Girls Club!! If non-stop haunt fright is what you are looking for, Asylum X MUST be on your list of River Valley haunts to visit!
---
Cast Score: 8.93
Cast Scores – By Question

Cast Scores – By Attraction

Cast Review:
Our interaction with the cast members started immediately! Cast members can be seen mingling with patrons both outside the haunt and in the queue area. The total cast is approximately 30 actors who completely embodied their original characters and filled the haunt with minimal dead space. Almost every room offered cast-to-guest interaction!
You start by holding a suitcase, then you will fill out your medical history while you wait to see the doctor, then organ identification, and so much more! The cast is inclusive to all ages, and the youngest members scared us the best! The cast all worked well together, especially the outdoor clowns! It's very apparent that every cast member gives 100% and is completely immersed in their roles. They love to scare you!
---
Costuming Score: 8.8
Costuming Scores – By Question

Costuming Scores – By Attraction

Costuming Review:
All the actors were well dressed in good quality and distressed costumes that were personalized and altered to their characters. Characters were appropriate to their sets but still uniquely individual and thoughtful. No article of clothing was generic, and everything fit well. Several actors had elaborate prosthetic makeup details. All makeup was thoughtfully applied and appropriate. The outside actors were also equally believable and detailed. You might even see a chicken running around Clown Town!
---
Customer Service Score: 9.46
Customer Service Scores – By Question

Customer Service Scores – By Attraction

Customer Service Review:
Asylum X is easy to find in historic downtown Ft Smith, AR. Google Maps had no problem finding it! The building has outside lights with lots of signage! A free parking field is in front of the haunt and within walking distance. The ticket booth is at the East end of the haunt, and you can buy tickets in person or online. The queue area is all outdoors and roped off well. The actual attraction itself was very safe. We did not encounter any uneven floors or wet, slippery areas. There was no crawling or stooping, and only a few mild inclines/declines were present. There is some pitch-black darkness, but even walking spaces.
The non-cast staff members, including one of the owners, were extremely helpful and accommodating and interacted with the guests. Everyone was friendly, courteous, professional, and excited for the opportunity to scare us!
They have a Facebook page that they update regularly, but we did not see a website at this time. However, pinned to the top of their page is an FAQ section with commonly asked questions.
---
Immersion Score: 8.67
Immersion Scores – By Question

Immersion Scores – By Attraction

Immersion Review:
You are immersed in the entire Asylum X experience the second you enter the haunt! The outside lights and actors add so much to the excitement, and the building's known paranormal activity creates a haunted and heavy feel even before entering the warehouse. We love the food truck area and would love some seating and maybe even more photo ops!
You are completely immersed in the realistic sets that build even more with the near-constant interaction! There is no break in the scare anticipation as you move from room to room. The storyline flowed flawlessly. Groups were let in the haunt every 6-8 minutes, and we did not have any issues with groups catching up. We would also love to see a post-haunt merch opportunity in the future! Many customers love merch!
---
Special FX Score: 8.8
Special FX Scores – By Question

Special FX Scores – By Attraction

Special FX Review:
This haunt has excellent set designs and props! Most of the props came from real jails and hospitals! We literally felt as if we were walking through an asylum. The actors were incredibly engaging, and it is one of the most interactive haunts we have been to! You have an interactive option of getting a little bloody!
There was pre-recorded background audio for most scenes, and there were minimal areas of dead silence. This haunt relies on practical effects and scares; they do this frighteningly well! A vortex tunnel was added this year! They also utilized strobe lighting, dim lighting, and fog. While you won't see animatronics or elaborate special effects, they perfectly utilize jump scares and boo holes! We can't wait to watch this haunt grow!
---
Scare Factor Score: 8.69
Scare Factor Scores – By Question

Scare Factor Scores – By Attraction

Scare Factor Review:
This haunt scared us! We were blown away by the realistic set design and props that created an unpredictable experience! They draw you in and interact with each member of the group. From the psych ward and library to the morgue and outdoor clown town, this haunt provides exceptional jump scares and complete immersion. They also focus on some of your greatest fears.
The history of paranormal activity heightens the overall spooky experience. We screamed. A LOT! You just never know when you could see a real ghost here!
---
Entertainment & Value Score: 8.97
E&V Scores – By Question

E&V Scores – By Attraction

E&V Review:
We were very satisfied with the scary entertainment this haunt provided. It took us approx. 20 minutes to complete. This gives them an MPD (minutes of entertainment received per dollar spent) value of 1 – which is the national average. We did not run or even walk fast through any portion, but we were in each room an adequate amount of time to appreciate the details.
Ticket prices are regularly $20 per person, and fast passes are $30 per person. There are two scheduled 'Black Out' dates with touching allowed! You can add a Monster Light for $5, which will keep the interactions lighter. The after-hours or by-appointment Ghost Tours are $25. They do offer a Military/First Responder discount. They are also offering a Krampus Christmas haunt in December! Tickets can be purchased online. Visit their Facebook page to find the ticketing link.
This is an impressive haunt! If you want a unique, interactive, and intense haunting experience, check out Asylum X Haunted House!
---
View Full Score Sheet
---
Pics We Took From Our Visit: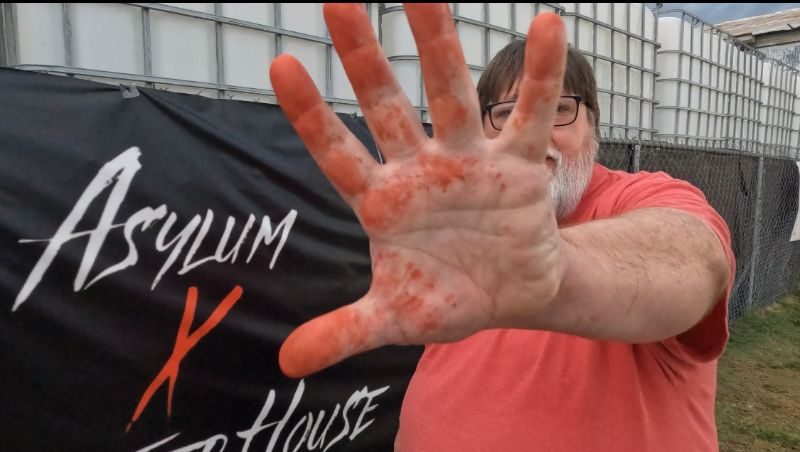 ---
---
Guest ReviewsGuest Average: 9.43 out of 10
Crystal Jones – 10/10 – October 27, 2023I love haunted houses! I did not have super high expectations because I have often been disappointed …show more by small town attractions not being as well planned and executed as larger cities- Well this could have easily been one of those! From the entry experience to the end- excellent storyline, performances, and what appeared to be an excellent team. It was clear this haunt has a lot of time and passion put into it and is very well managed.
Jessie Page – 9.8/10 – October 1, 2022The ending alone was worth it. The last couple of rooms are the perfect buildup or highs and lows.
Mark Dunavan – 8.5/10 – October 14, 2023An untraditional haunt, but in a good way. It feels completely different in 2023 than it did in …show more 2022, a lot of improvements and new areas added. It's longer than you would expect it to be when staring at the outside. You can tell there's a passion and desire to improve from the owner and actors here. Can't wait to visit again in 2024 and see the changes.
Join ourspookyadventures!
We visit Halloween haunted attractions year-round! Follow us for haunted house walkthrough videos, behind the scenes footage, and more!