Azra Chamber of Horrors Haunted House – Full Review
Azra Chamber of Horrors Haunted House is a Haunted Attraction located in Madison Heights, MI.
31401 John R Road, Madison Heights, MI 48071View All Details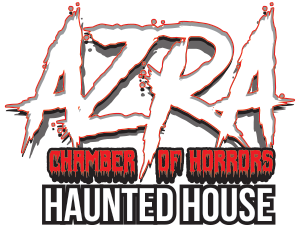 Features:

Free Parking, Restrooms/Porta Potties On-Site, Handicap Accessible, Food/Concessions, Gift Shop/Souvenirs, Special Events, "Hi-Tech" Attraction, You will NOT be touched, Movie Characters, Original Characters, Covered Outdoor Waiting Line, All-Indoor Attraction, Family Friendly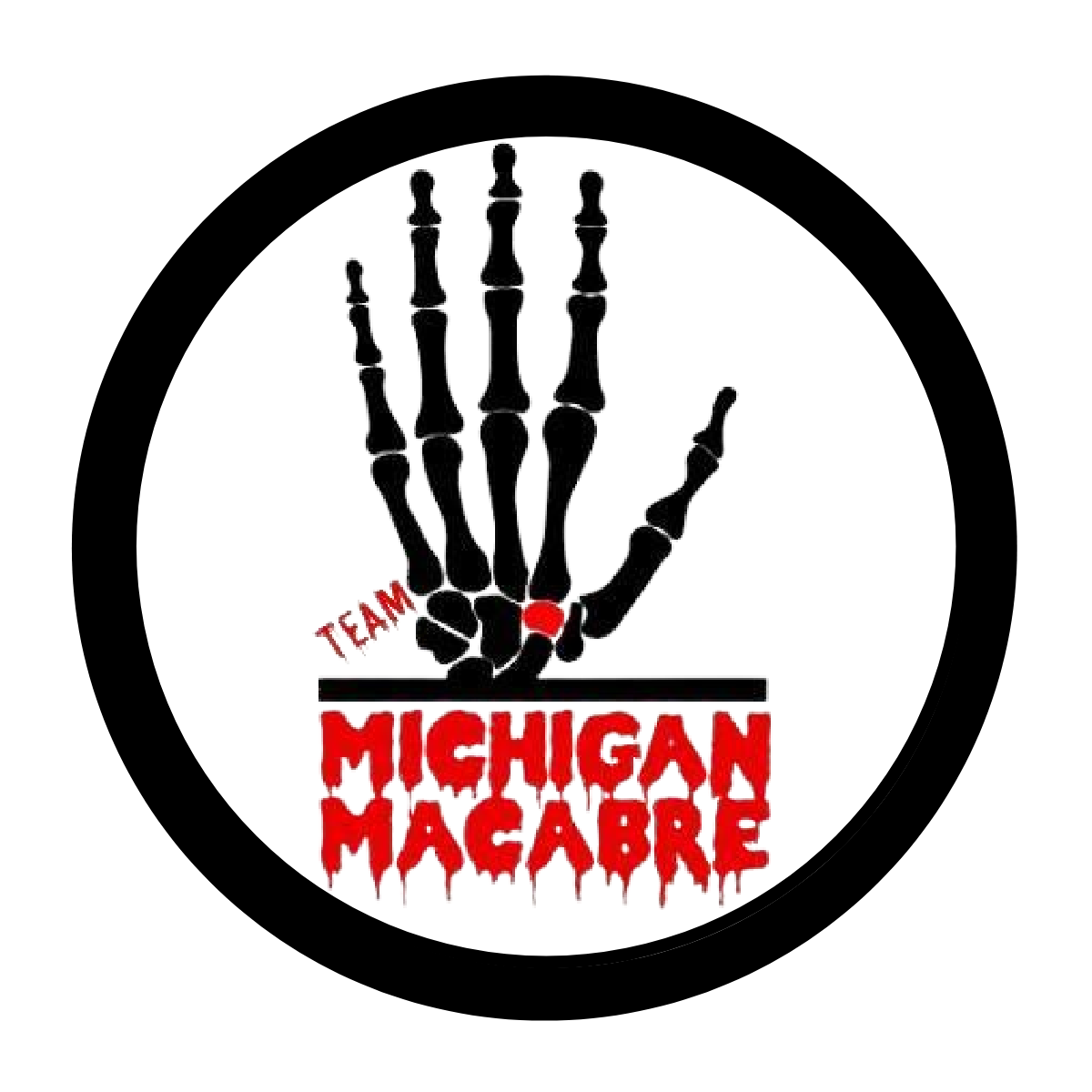 This attraction was reviewed on October 13, 2019 by Team Michigan Macabre.
How Do We Get These Scores?

Final Score:

9.1
How Did We Get This Score?

Summary:
Don't let the fact that Azra Haunted House is only in its second year deter you because, if you did not visit them last year, you MUST attend this year! Azra has many chambers of frights for you to enjoy. Every possible fear will be touched upon while you are inside their walls. Azra covers the whole gamut when it comes to oogie boogies!
This haunt is full of action without many areas for you to collect yourself in between terrors. The festivities begin as soon as you approach the haunt with its full-service party, a.k.a. the queue line, around back. The entertainment starts before you even enter. In addition to the fears the haunt has to offer, many other activities like a rage room, axe throwing, and escape rooms can keep you busy for an entire evening, if you so desire.
---
Cast: 8.59
How Did We Get This Score?

Actors are aplenty at Azra. We counted roughly 38 actors the night we went and, as that is quite a high number, we did not feel like it was overly saturated. There were still areas without actors with animatronics and other sights carrying those areas.
The actors were not very dialogue-driven this year. Being more focused on the dialogue and more engaging conversation could have made a few scenes more impactful. One masterful mention would have to be for the woman, unfortunately, being sawed in half; how awful, poor thing! She probably had the most spine-tingling screams we have heard this season! Her entire character was based on the pain she was enduring, and she truly had us feeling it through those awful screams.
The zombie area with the cage climbers was impressive yet again for fully incorporating their sets. One in particular had us crouching, ready for impact! The most involved and engaging actor would have to be the opener as soon as you walk in. She put on a creepy yet controlling dialogue.
Here's a tidbit for you: we had provided our scaredy-cat of a teammate's name to an actor upon entering and gosh-be-darned somehow everyone within the haunt knew her name and tortured her with it. It was truly terrifying for her, and I've never laughed so hard in my life!
A certain clown with some Latin name (It escapes me. Maybe I will remember before I die' ah, anyway) he stealthily popped up to startle us more than once throughout our journey. His presence made us feel as though we saw double or triple, which we actually did in the clown room! Let us explore that more in the Costuming section.
---
Costuming: 9.13
How Did We Get This Score?

Costuming: here we are now, let us speak about those costumes within the clown section, shall we?! Holy-ravioli, we noticed there was something slightly off with those costumes. It turns out, with the 3D glasses on, the costumes themselves become 3D! This was a small but powerful detail we caught onto that dazzled our already confused eyes.
Also, I refuse to produce any spoilers here, but most-exciting for us was a particular cardinal-colored villain placed carefully inside. He's hard to miss.
Outside of a few particular costumes, a majority are typical costumes you expect to see. All were appropriate for their scenes, and we did not see any that were incomplete.
---
Customer Service: 9.55
How Did We Get This Score?

The giant dragon outside the building is the first indicator you are in the right spot for Azra. As disappointed as we were that the dragon was not spewing smoke or making any sound effects the night we visited (sad-face), his presence is still staggering. Bright changing lights with people meandering, a food truck, and a packed parking lot are also some key indicators. There is minimal parking in their lot, but local businesses provide overflow. We like the Church next door as we know it is not open and will offer us a safe refuge when we come running out.
Azra has some excellent people working there, friendly, and excited to make your evening memorable. Also, the staff at the end of the haunt working the rage room / escape rooms / ax-throwing were very knowledgeable about their additional services. Security is on-site, and no safety concerns were noted. Portable and permanent bathrooms are available, as well.
---
Atmosphere: 9.84
How Did We Get This Score?

Azra wants every victim to have a fun and entertaining experience before entering the doors to their demise. Go figure. They do a pretty great job at it, though!
Food is available in the form of food trucks throughout the season and some snacks located at the end of the haunt in the escape room area. A delicious-smelling donut truck accompanied us on our evening, so bring some extra cash for goodies!
The party atmosphere by Azra is crazy, and some would say a little obnoxious, but we say, entertain us, Mr. DJ! Movies were playing on big screens, fire and LED dancers, and queue actors to keep you aware of your surroundings. Many actors roam about, and new this year is a permanent cover overhead to keep you dry. Space heaters to keep you warm on those chilly nights and all that is missing are back massages while waiting in line, get on that Azra!
---
Special Effects:

9.12
How Did We Get This Score?

Special effects galore! Azra has its claws on all forms of props, sounds, and details to fully encompass you. I know we mentioned it before, but the mannequin room and the zombie cage area are favorites of ours. This is because Azra can turn an entire room into an impactful experience, and not merely because of an abundance of items or intricate details, but for other reasons. They can use lighting, activity from all directions of a room, fog, and one's perception to their advantage. We want more!
Having details on the walls as you are sloping up to get to the different levels of the haunt is a nice touch. Going back to actor engagement, we felt as though sometimes the focus was put on animatronics to fill spaces a little too frequently. Perhaps if the actors engaged more, those scenes would resonate more, and if they used the props around them, it might help pull everything together. One example of this was an actor utilizing an animal prop near the end of the haunt. Granted, we were possibly moving at a quicker clip at the end, not allowing us to catch what the scene was entirely, but we do know there was a large prop, and it was scary. That's all that matters, right?
To quickly mention, the sweet-smelling room of the carnival area, the carnival music, and the maniacal laughing track within that area was a little disorienting; I'm sure the 3D glasses had something to do with that as well!
---
Theme:

N/A
How Did We Get This Score?

Similar to last year, we are stating that Azra does not have a theme. There is no mention of the Azra story on their website, and the theme was not included along the way. We may know that Azra is the dragon, but anyone walking in without previous knowledge would not. Thus, this section has not been scored.
---
Scare Factor:

8.54
How Did We Get This Score?

Azra's action-packed demeanor covers all the different possible scares. The actors' attention seemed to be focused on the entire group versus individuals. However, that is how Azra operates, as they are not an intense, in-your-face-haunt that singles out people of your group. So, if you are one of those scared ones out there, this may be a good haunt for you to go through and be lost in the middle of the group somewhere. Some animatronic props were hit or miss with timing. The intensity throughout Azra tends to stay the same; there are no stand-out portions that are over-the-top, but rather a constant rumble that you can't seem to kick.
The ending had good energy as personnel encourage you to hurry through the last portion after you are done taking your "ride." By doing this, it builds some anxiety as you are hustling through the last scene, and you quickly stumble upon the almighty finisher of, you guessed it, a chainsaw.
---
Entertainment & Value:

9.36
How Did We Get This Score?

General admission is $25, and it took our group 16 minutes to make it through, which is a minute per dollar ratio of 0.64, which is very much on the low side. Even with the addition, it took our group less time to go through this year than last. A lot of factors could have caused that, but we still say $25 for the haunt and the queue line entertainment is a pretty good use of your buckeroos. The VIP fast pass is $40, and there is a skip the line entirely option for $80 – (insert shocked face emoji). Maybe if you despise lines, being around people, music, and fun, that option is for you!
There is a lot packed into that haunt, and we do not see how they could use their space any better from an outsider's perspective. We were told, though, next year they are adding even more square footage! How doooooo they do it!?
---
How Did We Get These Scores

Promo Images:
Click to Enlarge
---
Guest ReviewsGuest Average: 9.13 out of 10
Jeff – 10/10 – October 12, 2019Had a great time. We got the fast pass and it made the wait a lot shorter. Worth the extra little …show more bit of $$ to upgrade imo. Even if we had waited 2 hours in the regular line it would have been worth it though. Really awesome haunt. Best I've ever been to.
Daisy – 10/10 – October 5, 2019This was our second year going to Azra. We loved it last year and this year it was even better. …show more Loved the new expanded clown area! Outside waiting in line is even fun with the lights, music, and performers!
Lindsey H. – 10/10 – October 4, 2019This is the best haunted house I've ever been to! They scared me so many times in so many different …show more ways. I am already planning on going back again next week with a different group of friends.
---
Past Awards
---
2019 Awards
Best Queue Entertainment (Given by: Team Michigan Macabre)
Highest Rated Haunt in Michigan (Given by: Team Michigan Macabre)
Highest Rated Haunt (Given by: Team Michigan Macabre)
---