Azra Chamber of Horrors Haunted House – Full Review
Azra Chamber of Horrors Haunted House is a Haunted Attraction located in Madison Heights, MI.
31401 John R Road, Madison Heights, MI 48071View All Details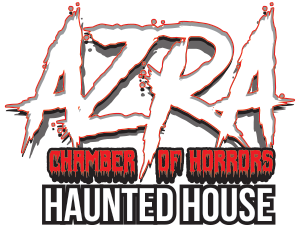 Features:

Free Parking, Restrooms/Porta Potties On-Site, Handicap Accessible, Food/Concessions, Gift Shop/Souvenirs, Special Events, "Hi-Tech" Attraction, You will NOT be touched, Movie Characters, Original Characters, Covered Outdoor Waiting Line, All-Indoor Attraction, Family Friendly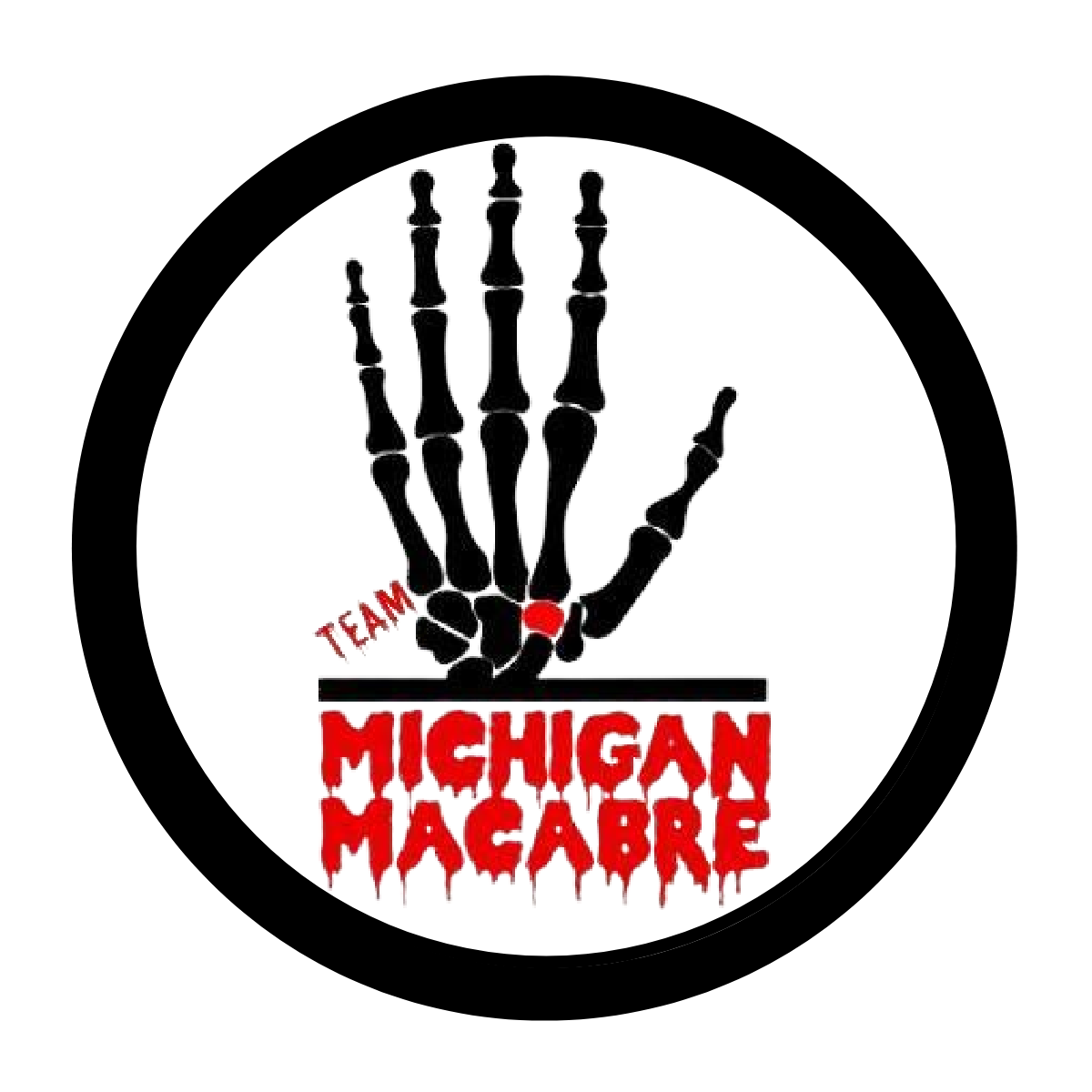 This attraction was reviewed on October 19, 2021 by Team Michigan Macabre.
How Do We Get These Scores?

Final Score:

9.09
How Did We Get This Score?

Summary:
At approximately 15,000 square feet, Azra Chamber of Horrors has plenty of ghastly fears for you to experience if you dare to enter. In their fourth year of operation, Azra added multiple chambers to its haunt to further reach into your deepest fears. Azra is a hi-tech haunt using many different scenarios from insects, to human sacrifice, and everything in between.
Azra puts on an entertaining show beginning with the queue line where you can enjoy the LED and fire performers, actors to interact with, and live DJ. Entertainment continues through the haunt with well-performing actors, larger-than-life animatronics, and special effects leaving you disoriented until you can find your way out through the madness.
---
Cast: 9.12
How Did We Get This Score?

The cast at Azra did not disappoint this year with a few chambers being driven solely by the actor's dialogue. The most enjoyable conversation we had was with the hillbilly woman in the barn scene. She was engaging and funny and left us feeling unnerved with a very awkward laughing fit during which we quickly exited.
The Collector who welcomed us in was a great start to the exploration of the chambers, hats off to him for gathering the best beings around!
We counted about 30 actors on the Tuesday night we visited and on weekends Azra has even more inside. The number of actors seemed to fit the space and there was a good balance between the actors and the special effects to carry you through the haunt. The actors worked well with the props in their areas and often with the animatronics as well.
The actors were dedicated and believable overall. The screams coming from the victims, the laughter from the clowns, and the giggling banter from the baby doll girl were all on point.
One area was slightly confusing when we were engaging with a live cornstalk. The desire for the actors to play games with us left us sometimes unsure if we were supposed to be playing along or, to keep on walking. Be prepared to do as the beings within Azra ask of you, angering them is not a smart idea.
One zombie character needs mentioning as his movements wielding his prop seemed so animatronic-like he had us fooled!
---
Costuming: 8.98
How Did We Get This Score?

The costumes were all complete and we did not see any that were out of place. Most of the startle actors who pop out to scream in your face and disappear had on dark clothing with either a mask or painted faces.
The Collector's costume with the moving mouthpiece was the perfect fit for his part of welcoming all the victims into Azra. There were a couple of masked individuals, one in the clown area and one in the swamp – if we remember correctly, who were attempting to converse with us but were muffled by the masks and we could not get a grasp as to what they were trying to say.
The victims were bloody, the clowns painted, all as it should be!
---
Customer Service: 9.5
How Did We Get This Score?

Azra is easily found due to the giant dragon, fog, and flashing lights. There is a sign on the road advertising the escape rooms and rage rooms that are also available. There is a small parking lot on-site and other businesses nearby for overflow parking. Signs mark where to go, and a covered queue line awaits.
The security guard was pleasant as he checked for weapons, and the ticket booth attendee was friendly. The DJ and accompanying 'party staff' are eager to get you amped up for the night ahead while you wait in the queue line.
There are many sloped walkways in Azra to get you up and down the multi-level attraction. You will be walking on grated floors so leave the high heels at home. No safety hazards were observed.
---
Atmosphere: 9.58
How Did We Get This Score?

Azra does an amazing job at keeping you entertained the moment you place a foot on their property. Many props are available for photo opportunities, food trucks for a snack, and a scary movie playing to watch.
Additionally, Azra goes above and beyond to capture your attention and not let go with the help of Blue Crow Entertainment providing LED and fire performers and other specialty performances throughout the season. When we were there on a Tuesday, Kristina was there doing an LED performance, which was very cool and you can take a peek for yourself in our attached photos. The live DJ keeps the energy up and provides a party atmosphere for those attempting to dance the fear away!
---
Special Effects:

9.17
How Did We Get This Score?

The wide array of effects used within Azra is at points jaw-dropping! The construction of some of the walkways is quite impressive, our favorite was the pumpkin walls! The two-story build uses see-through grated flooring which allows Azra to use dual scenes at one time as you walk above and look below. At times, there is almost too much to see to possibly take it all in!
The size of some of the animatronics and props are overwhelming and make you feel small as you maneuver your way past them. Some things you will encounter are a mini-maze, a mirrored hallway to test your ability to discern what's alive and static, a foggy swamp, a 3D glasses-required clown haven, and much, much, more.
Azra relies heavily on their ability to apply lighting and fog in a way to disorient you. In some instances, it is so extreme it is simply impossible to see where you are going. A few times we were unable to see some aspects of the haunt we wish we could. They apply the lighting well in areas to hide actors who are ready to startle but maybe a tad too much ambiance in some instances.
The scenes in Azra are unique to them and convey a one-of-a-kind experience. Many of the scenes are floor to ceiling and keep you in the moment. Due to the number of props and actors within Azra, many sounds can be heard throughout the haunt, like the screams of the victims and loud sirens and horns. One of the larger props was quite loud and could be heard in more than one room. However, Azra does well at attempting to contain those sounds with plastic strip curtains at entryways.
We especially liked the aspect of walking on the catwalk with other scenes below us. The actors below would engage with you as you were suspended above them.
Azra uses everything they can to startle you; drop walls, horns, air guns, props, actors, and simply the atmosphere they create.
---
Theme:

N/A
How Did We Get This Score?

Azra does not use a solid theme throughout the haunt other than having The Collector mention he has gathered beings for his Chamber of Horrors. Therefore, we did not score this section.
---
Scare Factor:

8.51
How Did We Get This Score?

As previously mentioned, the ability to stage areas distorted with strobe lights, darkness, and fog allows for many pop-up scares by actors to take place. There is no way around it when you are fully immersed in that way. The question of whether some of the props are real people induces a constant state of dread at every turn.
Within the clown area, a distraction technique left us jumping and nearly knocking off the 3D glasses we were wearing! Many actors left us stunned with their intense screams or sudden unexpected appearance. Many of your fears are displayed and whether it is dark rooms, crazed actors, or chainsaws we are positive you will find at least one within Azra.
Unfortunately, the ending was anticipated and lacked some luster. A muted sound effect took us out of the moment and could be improved upon. It simply did not hold up to the amazingness of what we just experienced!
---
Entertainment & Value:

9.1
How Did We Get This Score?

Azra seems to be consistent from year to year with the flow of people moving through as this is the third time it has taken our group 19 minutes to make it through. Maybe that's a creepy omen number we are not aware of?
With general admission being $35, this leaves a minutes per dollar rating of .54, much lower than we had hoped. The time spent in Azra is enjoyable and does not feel like a short time as you pass through the many chambers of horrors. This is because they use their space well and incorporate multiple levels and rooms to keep your fears bubbling. Not to mention the queue line entertainment which is not factored into this score, Azra is a very fun time from beginning to end!
---
How Did We Get These Scores

Promo Images:
Click to Enlarge
---
Guest ReviewsGuest Average: 9.13 out of 10
Jeff – 10/10 – October 12, 2019Had a great time. We got the fast pass and it made the wait a lot shorter. Worth the extra little …show more bit of $$ to upgrade imo. Even if we had waited 2 hours in the regular line it would have been worth it though. Really awesome haunt. Best I've ever been to.
Daisy – 10/10 – October 5, 2019This was our second year going to Azra. We loved it last year and this year it was even better. …show more Loved the new expanded clown area! Outside waiting in line is even fun with the lights, music, and performers!
Lindsey H. – 10/10 – October 4, 2019This is the best haunted house I've ever been to! They scared me so many times in so many different …show more ways. I am already planning on going back again next week with a different group of friends.
---
Past Awards
---
2019 Awards
Best Queue Entertainment (Given by: Team Michigan Macabre)
Highest Rated Haunt in Michigan (Given by: Team Michigan Macabre)
Highest Rated Haunt (Given by: Team Michigan Macabre)
---