Black Orchard Haunted House – Full Review
Black Orchard Haunted House is a Haunted Attraction located in Shelbyville, KY.
704 Kentucky Street, Shelbyville, KY 40065View All Details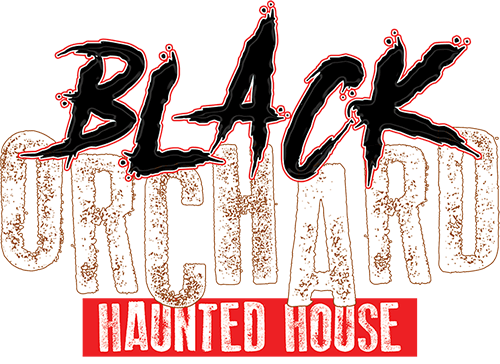 Features:

Free Parking, Gift Shop/Souvenirs, Special Events, You may be touched, Original Characters, Uncovered Outdoor Waiting Line, Indoor/Outdoor Attraction

Most Recent Video from The Scare Factor:
(Scroll for Scores and Written Review)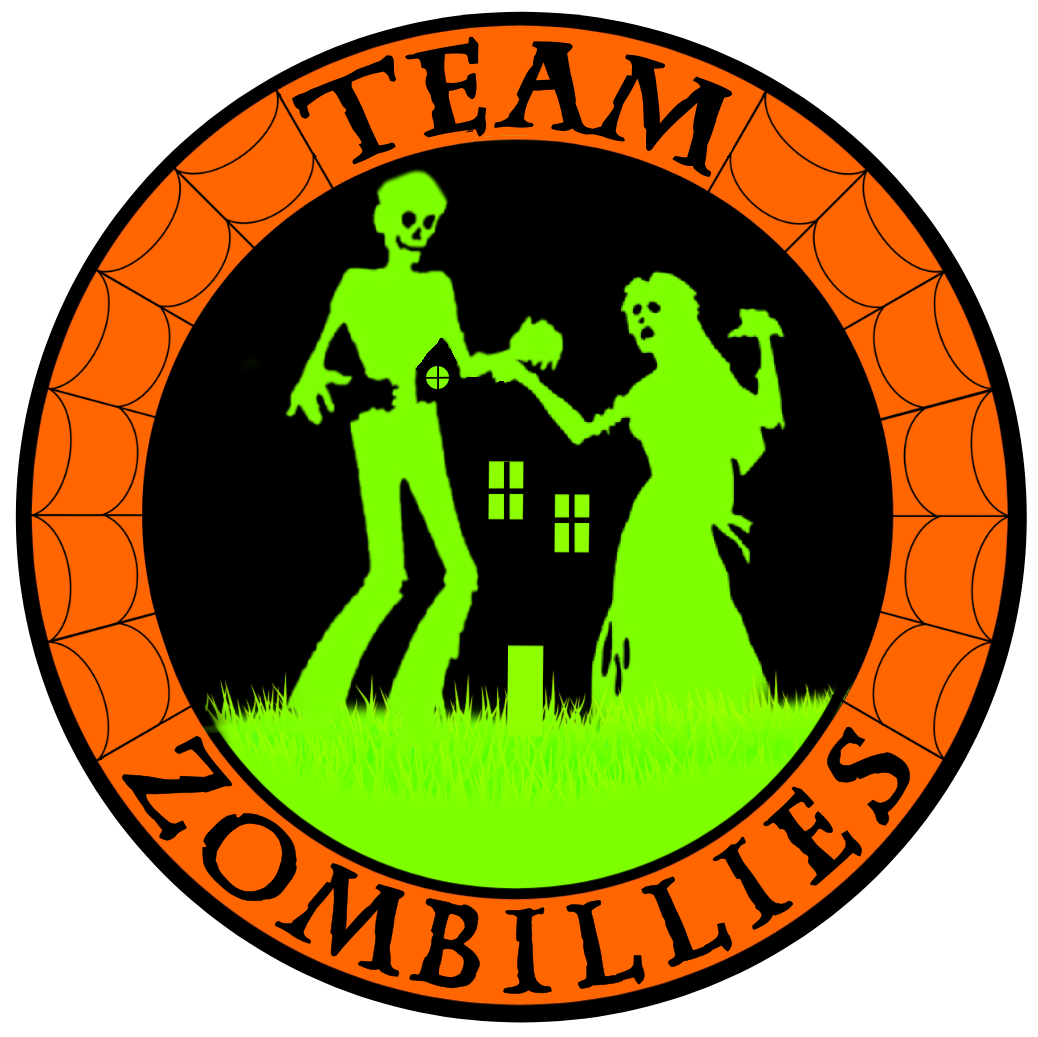 This attraction was reviewed on October 7, 2022 by Team Zombillies.
---
About Our Reviews and Rating System
---
Final Score: 8.36
Final Scores – By Category

Final Scores – By Attraction

Summary:
The rumors are true. Something dark lies within the Black Orchard Meats family business. What's inside the barn isn't the only thing you should worry about; it's what's inside their family's secret recipes!
If you've previously visited Black Orchard in Shepherdsville, Kentucky, you may be familiar with their ever-changing storyline encompassing the barn and the family that resides within it. And if you're not, they will let you in on some secrets. However, those following Black Orchard's story may notice that brothers Theodore and Stitch have flown the flock. Instead, some new family members are in town, and they may be more demented than their predecessors.
Now, before we go any further, there are some things you need to know. #1: Although the kinfolk passionately praise the buzzards (yes, the ones that fly in the sky), that does not make them a cult; they prefer to be looked upon as a congregation. #2: Living in a barn with your family in the hills of Kentucky doesn't make you incest; don't call em' that. #3: Don't try the solid milk – this one should be a given, but we're warning you just in case.
---
Cast Score: 8.18
Cast Scores – By Question

Cast Scores – By Attraction

Cast Review:
As the haunted property around the barn grows, so does the family inhabiting it. Many of the characters we encountered throughout Black Orchard were intimidating or interactive with their mannerisms. We were randomly plucked from our group and assigned various tasks before being permitted to proceed. For example, they offered us multiple items to eat or drink, and we were asked to carry these items through the haunt with us. The physicality of each task was light yet effectively invaded our personal space.
The cast members performed in various ways. This season, we noticed an uptick in believability, mostly due to their new interactions and dialogue. A few stared at us diabolically, while others would go on long tangents, asking us questions that made us feel like we were part of the storyline. Of course, for those that are introverts in nature, it is hard to avoid the fact that you will be asked to answer these crazed hellions. A few helpless victims reached out to us and begged for help, while another kept telling us, "Don't listen to them."
The maniacal milkman was one of the most memorable cast members as he viciously slammed his milk pump around, accusing us of breaking it! He took swigs from his "three month's fresh" milk and refused to take "no" for an answer when he offered us a taste. Yuck! We were also given a tiny spoon to dig around in graves in search of something, we had to sit down through a disturbing film, and we were cleansed. The milkman also gave us some homemade "Nesquik," but it came from the ground, so…
Before and after the haunt, we were thoroughly entertained by lively queue actors. Lucky and Pork Chop were a relentless and deadly duo, and another female actress drooled black fluids from her mouth.
---
Costuming Score: 8.64
Costuming Scores – By Question

Costuming Scores – By Attraction

Costuming Review:
Black Orchard made some notable changes in this category. The costumes matched the respective scenes, and their similar attire was relevant nearly anywhere in the attraction.
The congregation that inhabited the grounds wore dirty, tattered clothing, had frizzy hair and dirty teeth, and quite a bit of their exposed skin was either covered in dirt, grunge, or blood. Apart from the grungy attire, some wore bodily fluid-soaked aprons reminiscent of something a demented butcher would wear. Of course, the milkman had milk dribbling down his face and a filthy tank top from constantly guzzling his prized drink of choice.
The birds stood apart from the others with cloaks covering their bodies and beaked masks. Other realistic masks, such as pig masks and a rat, were noted. A lady hunkered down in the body bag room blended in perfectly due to her choice of headwear. Lucky also featured some layered accessories and an appalling mask.
A severed finger left our stomachs in knots as the butcher waved it near our faces. While Atticus's attire was clean (he had just gotten home), his face featured airbrush techniques, and he had Stitch's glasses clamped onto his shirt – that is, until he broke them in half and launched them into the trees. *Insert gasp here.*
Makeup consisted of various airbrush designs highlighting the characters' facial features, and sometimes down to their chests. The airbrush artwork was the best we've seen at this attraction thus far. In addition, we noticed a collection of bird-like symbols on their clothing and skin that reinforced the storyline.
---
Customer Service Score: 9.16
Customer Service Scores – By Question

Customer Service Scores – By Attraction

Customer Service Review:
Although our GPS took us straight to Red Orchard Park, there were no signs at the attraction's main entrance. Just be mindful when you get close to the park that if you pass the entrance, you will not be able to enter through the exit of the parking lot (our team members learned that the hard way). Additional signage near the road would help, especially for those who have never visited.
Parking was free in a large, grassy lot that was decently lit. Parking attendants with cones and flashing lights helped us find the right spot. In addition, they have a paved road that traverses through the lot; just follow it out when you leave. As we trekked to the barn, they added some cones and motion-activated solar lights to help guide visitors to the ticket booth.
The ticket booth and admission lines were easily recognizable. Also, port-a-potties were located near the entrance for everyone's convenience. They don't want to clean up after those types of fluids inside, so take care of that before you enter. There was some uneven ground inside the haunt, but we didn't notice anything hazardous.
We quickly found their dates, hours of operation, contact information, and directions on their website. There were also options to purchase tickets in advance for those wanting to save time. To be more helpful to those who have never attended, we would have liked to see a FAQ section that laid out what kind of experience they would be getting into, but there is an option to contact the haunt with any questions to clear up any uneasiness.
---
Immersion Score: 8.85
Immersion Scores – By Question

Immersion Scores – By Attraction

Immersion Review:
Upon nearing the ticket booth, we were immediately greeted by three maniacal members of the family and warned that it was only the beginning. Some sounds flowed through the air, flickering lights provided a sense of uneasiness, and a nearby silo reminded us we were about to enter an actual barn – a rare sight.
As we waited our turn to enter, the bell tolled. We slightly argued whether we wanted to go in, but it was time to nut up, and upon doing so, we made our way down a quieter tree-lined path outside of civilization as we knew it. From there, the storyline commenced.
Atticus seemingly came out of nowhere, ready to give us the rundown. Although their website outlines a storyline, it appears to focus more on what happened here last year. Regardless, Atticus told us what was up, so be sure you listen in. Black Orchard's performance was one of the most unique and believable storyline executions so far this season.
We came across antique farm equipment, an old delivery truck, makeshift bird statues, and an abandoned tent amongst the sounds of crows filling the air. This deepened our sense of feeling isolated from the outside world. The immersion only increased inside the barn as it is an actual barn with dirt floors. The reality that we may never escape became apparent.
After we escaped a madman wielding a chainsaw, the haunt led us straight to their gift shop, which was excellent placement. From there, we returned to our cars with smiles on our faces, but, as our luck would have it, things aren't always as they seem; creatures may even be stalking the parking lot, waiting for their next victim.
---
Special FX Score: 8.48
Special FX Scores – By Question

Special FX Scores – By Attraction

Special FX Review:
Black Orchard was jam-packed with various visually appealing (or appalling?) elements, especially inside the barn.
Outside, sporadically flickering lights, makeshift bird statues, and freshly dug graves made for an eerie excursion. Realistic sounds added an extra layer of realism. As we neared the entrance to the barn, the sound intensified.
Lighting was also well utilized inside the barn as LED bulbs accentuated small details. Blood and gore were prominent throughout, and we even left with some of the oozing substance on our clothes. As much as we hate to say it, more pungent smells could intensify the experience.
The soundtrack throughout the barn became increasingly louder as we encountered various inhabitants that welcomed us to explore the dilapidated structure. "Missing Persons" posters and what appeared to be lots of personal belongings increased uneasiness. We were forced to watch a disturbing film while we heard the predominant clicking of an old-school projector.
Lots of birds were painted on room dividers and other areas. There was an outhouse inside, curvy passageways, lattice-lined walls, and realistic bodies hanging. The flash bulb room is still intact and quite effective. The decor within the chambers was layered at times, and most of it appeared to be authentic items you'd expect to find inside a slaughter barn, minus some of the actors' personal belongings we noticed. That's definitely not normal.
---
Scare Factor Score: 8.15
Scare Factor Scores – By Question

Scare Factor Scores – By Attraction

Scare Factor Review:
Nearly all cast members and a few surrounding props tried to sneak in scares during our tour. This haunt utilizes light touch, which may give you a few extra startles.
Some characters, such as Pork Chop, have this weird glimmer in their eyes when they intimidatingly stare at you. We're sure it translates to, "MMM, you sure look good for dinner." In some areas, the loud music inside took away our sense of hearing, keeping us on edge. Along our way, we encountered a few good hiding spots, some sparks, victimization, demented dialogue, and suspense. We turned each corner, wondering what this family would do next.
We learned to stay away from those with beaks. Just when we thought we'd seen the largest chainsaw of them all, Black Orchard proved us wrong by nearly sawing our heads and limbs off with different types of saws! We played a game of hide-and-seek with Pork Chop (which resulted in a surprise), navigated through tight spaces, and got singled out. As we navigated some hanged chickens, Lester suddenly appeared out of nowhere, startling everyone in our group.
Several new interactive scenes were a welcomed addition this season. We were sure some of them would entail a surprise or two since they had us totally focused on the task at hand, but we didn't encounter them. If you have a weak stomach, we hope you're not the chosen one; a group member had to dig through freshly fouled food for a finger!
The chainsaw maniac at the finale provided an intense final scare and was relentless in his pursuit. Due to the size of this area, it would be great to see the dual chase-out as we've seen in the past, but the single actor tried his best to cover the area.
---
Entertainment & Value Score: 7.69
E&V Scores – By Question

E&V Scores – By Attraction

E&V Review:
The ticket prices to enter the facility remain the same as in previous seasons. General admission tours are priced at $25 per body. If you want in sooner on busy nights, you can do so with a fast pass for $40. For those in a hurry and need to chug some milk stat, it'll cost ya $60 to get to the front of the line.
We were impressed by a six-minute addition to the time spent inside the attraction without a price increase. Dang. It took us a solid (not milk solid, time solid) 21 minutes to fully process what we saw inside (or did they process us?), putting their MPD (minutes of entertainment received per dollar spent) at 0.84 this season which is an increase and closer to average.
Now we know time isn't everything. When it comes to the entertainment provided aside from the main attraction included in the ticket price, we got to hang out with Pork Chop, Lucky, and an actress that induced uneasiness before we went inside. The barn wasn't busy during our visit, so we're not sure if everyone will have the luxury of interacting with these folks, as a few of them were found inside too. Besides that and some sounds and decor, there wasn't much going on during our wait. However, the show inside is packed with grungy entertainment and scares, making this an excellent deal for the area.
The denizens of Black Orchard are disgustingly dark. If you haven't figured it out yet, they're killing humans and eating them inside their meat plant. If you don't believe us, they're offering tours on Friday and Saturday nights and a few select Sundays in October, so go make your own conclusion.
One last thing, "We believe in the chicken!"
---
View Full Score Sheet
---
Pics We Took From Our Visit:
---
Promo Images:
Click to Enlarge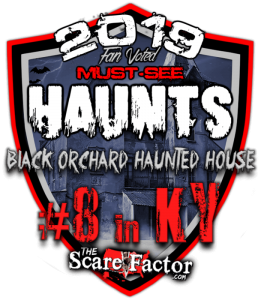 ---
Have you visited this attraction?
---
Past Awards
---
2019 Awards
---
---
Past Awards
---
2019 Awards
---
Join ourspookyadventures!
We visit Halloween haunted attractions year-round! Follow us for haunted house walkthrough videos, behind the scenes footage, and more!