Review of Blind Scream Haunted House Haunted Attraction
Review of Blind Scream Haunted House Haunted Attraction
Review of Blind Scream Haunted House Haunted Attraction
Blind Scream Haunted House
Blind Scream Haunted House is a Haunted Attraction located in Santa Rosa, CA.
98 Santa Rosa Plaza, Santa Rosa, CA 95401View All Details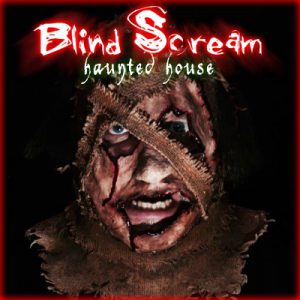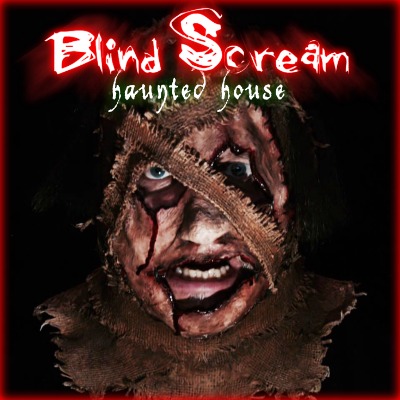 Features:
Free Parking, Restrooms/Porta Potties On-Site, Handicap Accessible, Food/Concessions, Gift Shop/Souvenirs, "Old-School" (Low Tech), You will NOT be touched, Original Characters, Indoor Waiting Line, All-Indoor Attraction
Team In-Corpse-A-Rated reviewed this Haunted Attraction on October 16, 2021.
How Do We Get These Scores?

Final Score:

8.77
How Did We Get This Score?

Summary:
After a mandated hiatus from the COVID-19 Pandemic last year, Blind Scream returns to haunt the residents of Sonoma County, California with a vengeance. During previous years, Blind Scream would feature two or three individual haunted attractions, but this year is strictly one haunted house. Due the the pandemic shutdown of 2020, owners Drew Dominguez and Judy Groverman Walker had two years to fine tune their attraction, and the results are abundantly clear. The scenes are more detailed than previous years, lighting is more stylized, and there are more animatronics then ever before. Drew Dominguez is a haunt industry veteran who started working at Knotts Berry Farm, then spent time with haunts in the Fresno area, and for over 10 years has collaborated with events production veteran Judy Groverman Walker to make Blind Scream a reality. The theme of this year is Witch House, and there's a "throwback feel" to this haunt because it uses many classic Halloween icons from years past. Debbie and I had a great time at Blind Scream, and believe this year to be their best one yet.
---
Cast:

8.69
How Did We Get This Score?

There are absolutely enough actors in Blind Scream, which is an interesting point to make, because Drew Dominguez told us that they cut down the number of actors from season's past. The change in numbers did not hurt the haunt experience at all. The actors were believable and convincing, and nobody broke character. A few actors engaged us in conversation, such as the gypsy and the snake charmer, but the pirate grave digger was the most interactive. He intentionally stopped Debbie and I just so he could warn us about our impending doom. The scary actors who talked to us used original dialogue, but the victim actors used common phrases such as "Help me" and "Save Me." We found a wide range of actors scattered throughout the haunt, which kept the experience interesting.
---
Costuming:

8.75
How Did We Get This Score?

There were many types of costumes in Blind Scream, and they were all complete, finished, and well detailed. In fact, it was hard to tell who was a real actor and what was an animatronic, such as the bride, La Llorona. There were some great makeup styles used, and the most memorable were the two female line actors with the black and white face designs. Masks were used effectively, most notably the werewolf and the corpses in the catacombs. We felt that all the costumes were appropriate for their respective scenes and themes, and nobody appeared to be out of place.
---
Customer Service:

9.11
How Did We Get This Score?

We felt the location of Blind Scream was tricky to find. We found one sign that pointed the way, but the actual building is tucked away behind a mall and a parking garage, so it's easy to overlook. It was nice to have an available parking garage next door to the haunt, and they were not charging a parking fee. When we arrived, it was easy to find the ticket booth and queue line. Blind Scream is handicap accessible. From our walk-through experience, there were no safety hazards to be found. The attraction's staff members were very professional, helpful and friendly. Security were the only members of the staff wearing identifying clothes, but the rest of the staff were wearing casual clothes. They did make their presence known to us by offering to use our phone to take pictures, and answering questions. Blind Scream has an updated website, and has a social media presence on Facebook, Instagram and Twitter.
---
Atmosphere:

8.54
How Did We Get This Score?

The location of Blind Scream makes it difficult to create a festive haunt atmosphere, but Drew and Judy do their best with what they got. The building did have a large sign with the name of the haunt, and those lights changed colors at random intervals, which did draw attention. Inside of the front glass door was the ticket booth and various mannequins dressed as scarecrows and other ghouls, which made for great photo ops. Besides the front door was a large rollup door threshold that the entrance of the haunted attraction was located. The entry point was decorated with a "Witch House" façade, and there were other displays to view, such as a coffin and a spiritualist's table. Despite the constricting space to work with, Blind Scream does create a haunted atmosphere which does build anticipation for what's inside.
---
Special Effects:

8.92
How Did We Get This Score?

Blind Scream is visually amazing. The rooms are so highly detailed, you can't see it all with one visit. Lighting is stylized from shades of dark and light, to the blue night light in the graveyard, to various fluorescent lights which made scenery piece pop out. There's a hallway with various flickering lights that cultivate a haunted mood. The voodoo witch's room and the gypsy witch's room were both detailed with appropriate props and décor. There are various rooms to see, such as a graveyard, a swamp, a treasure room, a scary doll room, and a mutilated body part room. One particularly memorable scene is the catacomb with skeletons and zombies making jump scares. There were projected images used on the ground in our walking path, one being of crawling spiders, and the other being of slithering snakes. One old school effect was resurrected at Blind Scream, electric sparks on a wire fence. There are animatronics throughout the haunt, and some of the more memorable ones are the giant spider feeding on a human's head, and the two-headed zombie whose heads vibrate. The most notable sound effects were the chirping crickets at the swamp, but there was subtle music throughout the haunt. Altogether, the special effects achieved and maintained the suspension of disbelief, and were effective at providing scares and entertainment.
---
Theme:

8.73
How Did We Get This Score?

Blind Scream's theme is titled "Witch House," and according to Drew Dominguez, there are sister witches in the haunt who each personify evil. Throughout the haunt, we get to see each witch and their companions. Though this is only one haunt, there's a sense of walking indoors and outdoors through different homes, so it feels like a journey. This haunt uses classic Halloween motifs, such as witches, werewolves, spiders, snakes, gypsies, ghosts, and zombies. The witch theme is prevalent, but with the voodoo and gypsy aspects, there's a New Orleans vibe to Blind Scream. The theme is believable and well executed through the whole haunt. Blind Scream is located in a former Sears building, so the location does not authenticate the theme, but there's enough décor and action to suspend the thought of the actual place.
---
Scare Factor:

8.62
How Did We Get This Score?

Blind Scream has several scares throughout the haunt. They mostly consisted of jump scares, from either hidden corners or drop windows. There were a few areas where we couldn't tell whether if something was an animatronic or a live person, so that uncertainty set us up for scares. The projected images of spiders and snakes did make us pause for a split second to figure out what they actually were. Scares were provided to everyone in our group, and they were not predictable. The scares varied in intensity, from intimidating stares to high energy attacks. The finale was a vortex tunnel with a scare actor jumping at the other side, and it served as a nice "return to reality" metaphor.
---
Entertainment & Value:

8.81
How Did We Get This Score?

We were very satisfied with the entertainment received during the main attraction. According to our timer, the time it took to finish walking through Blind Scream was 10 minutes, but it felt so much longer. We enjoyed everything we saw and didn't want it to end. Excluding the main attractions, we felt satisfied with the entertainment available. The location does not offer much room for extra curricular activities, but the photo op displays and line actors did hold our interest. There were sales booth, one selling candles, and the other selling candy and beverages. For the entertainment we received, $25.00 per ticket is an appropriate price. Blind Scream effectively used all of their available space, and it all contributed to the experience in a positive way.
---
How Did We Get These Scores

Photos from Review Trip:
Click to Enlarge
Guest ReviewsGuest Average: 10 out of 10
Catherine Merritt – 10/10 – October 31, 2015I say this is the best haunted house I've been to out of all the ones I've been to!!! I also enjoyed …show more the last ride.