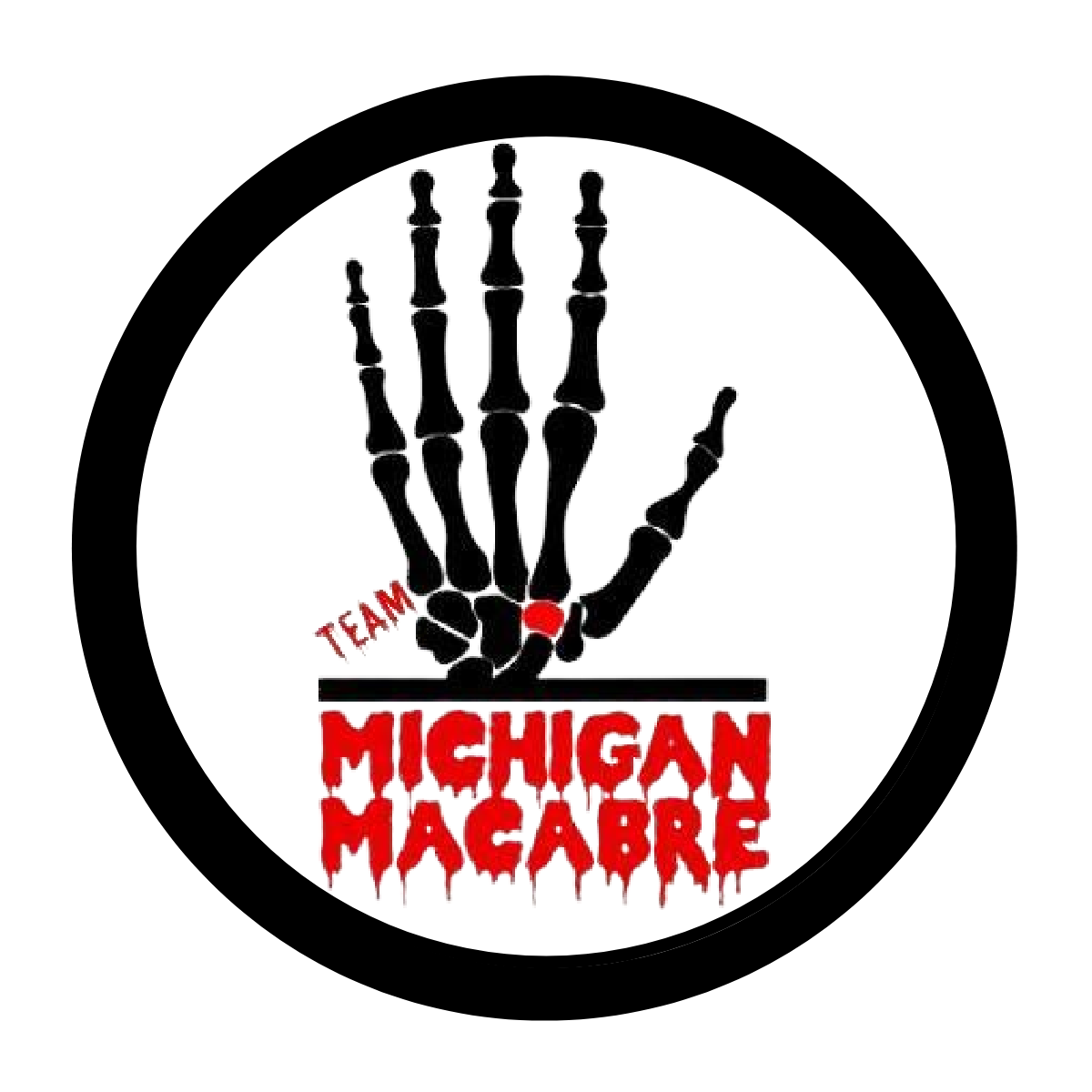 This attraction was reviewed on September 22, 2018 by Team Michigan Macabre.
How Do We Get These Scores?

Final Score:

6.98
How Did We Get This Score?

Summary:
This haunted house has been up and running since 2010, previously as a non-profit fundraiser called Skool of Terror/Fear University. Then, in 2015, The Haunted Elementary came into fruition. The fundraiser portion ended in 2017 wherein Bridgeport Gore Grounds was created and it now consists of multiple attractions, with their main attraction (the Haunted Elementary) taking place inside an actual elementary school.
Additionally, don't lose your 3D glasses while in Fright Site 3D! It is full of black lights and UV paint! Fright Site 3D is not a haunt, but an 'exhibit walkthrough,' for an additional upcharge.
For purposes of this review, the scores are solely based on the main attraction haunt: the Haunted Elementary. Outbreak is also another add-on which can be purchased and you can be part of a zombie laser tag game while going through the haunt. However, this does not come without risks; be careful because you may turn into a zombie yourself!
With mostly all of the actors volunteering their time to bring you intense scares, visiting The Haunted Elementary is nothing like child's play!
---
Cast: 7.08
How Did We Get This Score?

The cast within the Haunted Elementary had a few honorable mentions, but ultimately had around 10 actors, some we ran into more than once. The "Undertaker" as we shall call him, upon entering, was by far the most entertaining and original. From dancing with one of our team members to playing a game of throwing body parts, this man was a key actor and entertainer. He sent us away after he took our measurements for our soon-to-be coffins!
A creepy, seemingly-floating lady of death guided us through certain parts of the haunt, which set the mood. An over-zealous scientist had the most energy, and a rat-wielding woman shared her love of "pets" with us. Did I mention the rats were real and crawling on her?
There was a good variety of characters, even among the few we engaged with, and they were all original and well thought out.
---
Costuming: 8.33
How Did We Get This Score?

All of the attire matched the characters being portrayed. The Undertaker had a solemn suit that fit the older gentleman as it should. The 'lady in black' had a black dress that glided behind her to add to the mood. The others were simple, yet expected, from the scientist's white doctor's coat to the lady in the doll room wearing her doll dress.
There was an occasional white-painted face with all black clothing type of hidden actor strewn about as well. Make-up was appropriate; not extreme, but simply blackened eyes, bloodied necks and some colored contacts for good measure.
---
Customer Service: 6.4
How Did We Get This Score?

The only way we knew we were at the Gore Grounds was by the GPS guiding us. Not one sign was observed, or an entrance marker seen. The school was dark, and no lighting guided us to the entrance outside. We honestly did not know if we were in the right location. Being a school with multiple doors, we parked where there were other cars and followed another group of people inside. Luckily we were in the right location for the haunt! Staff told us the signage would be present for October, as we attended the second weekend after opening in September… thus, hopefully, more signage will be present in the upcoming weeks.
According to their website, the haunt is not handicap accessible. Also on the site, it lists, "The Haunted Elementary has a fully trained security staff, including on-call Bridgeport Police. We also have an off-duty EMT on staff each night." The only concern we had was while waiting for our time to enter, the queue line representative informed us of a screw sticking out of a piece of the set which was easily accessible to everyone entering the haunt. This was not a small screw! The employee identified this danger to us so we would not harm ourselves, indicating someone would be addressing it shortly.
The staff in the ticket booth were kind and informative. The queue line staff was a younger male who mostly spoke about his day at school. Though he tried, the engagement of this staff person could have been done without, but everyone else we interacted with was professional and helpful. All of the attractions information was easily accessible online and mimicked what was presented on television screens while at the haunt. We knew what we were walking into based off of the plethora of information located on their website.
---
Atmosphere: 4.4
How Did We Get This Score?

The outside of the venue appeared to be closed, with very few lights – only provided by street lamps – and no additional lighting or signage anywhere. Again, we were unsure if we were in the right location because there was no indication we were at a haunted house. There was no music outside the attraction; but, once inside and in the queue line, spooky soundtracks were playing.
The queue line itself was decorated well and incorporated an "outdoor" theme with corn stalks, lattice, leaves and tree stumps. Immediately before entering the haunt was a graveyard scene with loud sounds of shoveling dirt and haunting noises. A television screen was present with the rules of the haunt and some trivia and word puzzles to keep you busy.
---
Special Effects:

8.2
How Did We Get This Score?

The special effects varied within the Haunted Elementary from a sophisticated captured alien attempting to break free from its cage to store-bought props from the local Halloween store. The meat market butcher scene was detailed, yet it was very difficult to see everything on display because the lighting was so low. The butcher took us through an extensive process from where he sells his meat at the market all the way to the cooler where the meat hung. The MOST memorable part of the Haunted Elementary would have to be the smells. Revolting, smack-you-in-the-face scents which made you feel like you were surrounded by decaying meat leaving you gasping for fresh air.
Another well-done scene was the doll playroom with the stuffed animals and dolls showcased throughout. Some of the scenes were somewhat barren, but leave room for more possibilities in the future, like the scientist directing you through a mostly empty handful of rooms. However, he told his story, and it was capturing, but the scenes could have been crafted better to support his theme.
---
Theme:

N/A
How Did We Get This Score?

---
Scare Factor:

7.1
How Did We Get This Score?

Haunted Elementary had many "pop scares," but some also involved actor scares. One in particular distracted us with a game involving a light, tricking us into breaking the rules and giving us a 'shock' (and scare) for our inability to listen. One member of our team found the live rats as the most terrifying portion of the haunt, speaking to her fear of rodents! There were a lot of suspenseful silences and involved scenes leaving you to anticipate and prepare for the worst! These silences were then followed by unexpected loud noises to keep you on your toes.
---
Entertainment & Value:

6.3
How Did We Get This Score?

It took our team about 15 minutes to make it through the Haunted Elementary, which is a quarter of a mile in length. Haunted Elementary is a base price of $15, resulting in a value of $1 per minute (which is about average for this area). Also, our team did walk through the 3D Fright Site, which is an "exhibit walkthrough," but not an actual haunt. This was a quick 5-minute excursion to view. The 3D attraction is an additional $5 upgrade from the $15 general admission to the Haunted Elementary.
Another upgrade of $10 would get you the "Outbreak" feature, which is described as an Interactive Zombie Experience. While walking through the attractions, you would wear a Z-Tag and be involved in a game of laser tag with the actors. Our team did not participate in this portion, but it definitely would add another layer to the haunt experience! You can also skip the wait and purchase a Speedpass for $10. Water, soda and snack goods are available at the end of the haunt for purchase as well.
---
How Did We Get These Scores